Construction begins on MVRDV's geology-inspired mixed-use tower in San Francisco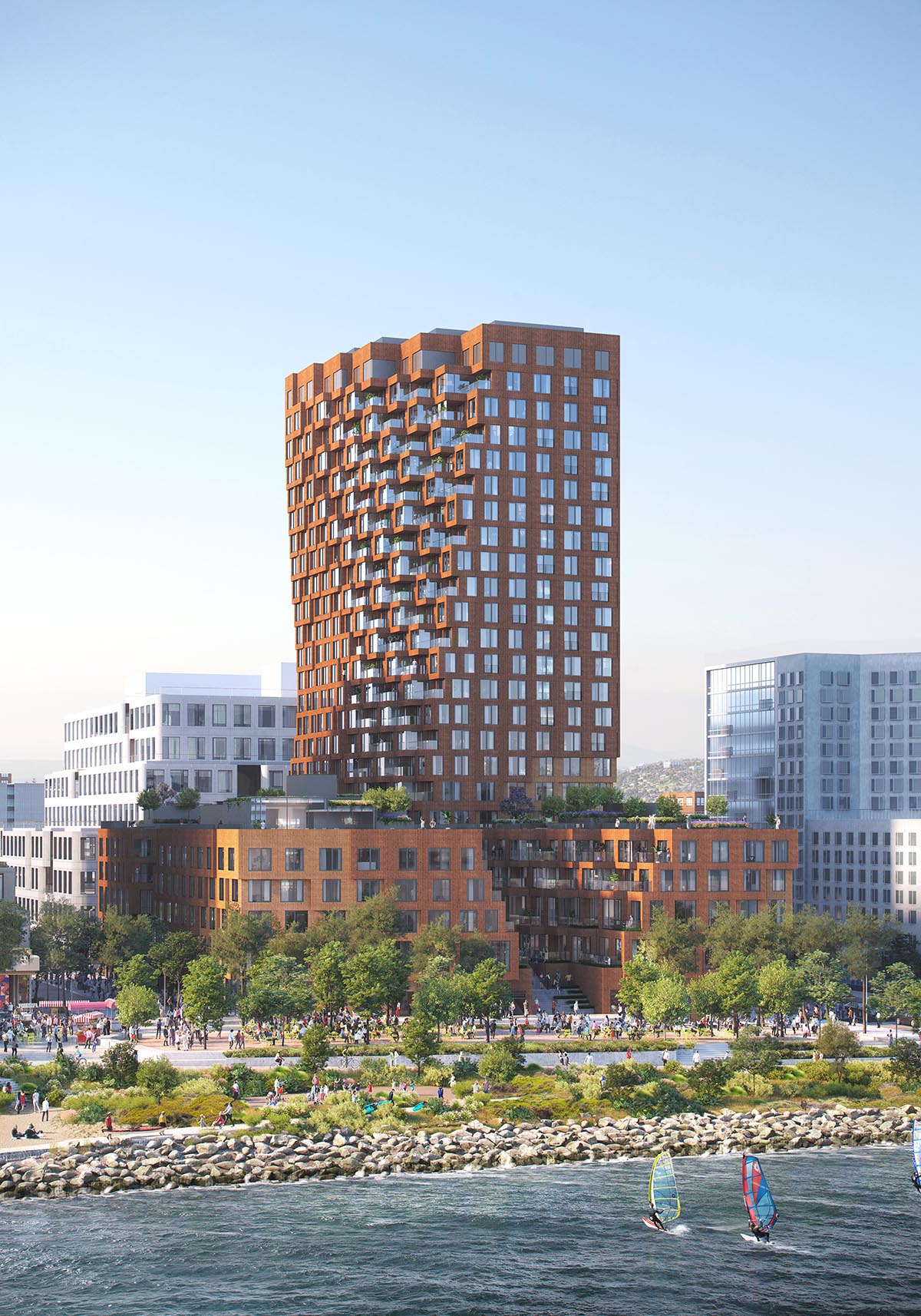 Construction work has begun on MVRDV's geology-inspired mixed-use tower in San Francisco in the United States.
Named Mission Rock, the 23-storey mixed-use building is being built in Mission Rock, San Francisco.
MVRDV first released plans on October 2019 and the project is developed as one of four buildings in Phase 1 of a multi-phase masterplan developed by the San Francisco Giants and Tishman Speyer.
Designed as part of a collaborative design process, with four architecture firms with Studio Gang, Henning Larsen and WORKac, they are designing their plot in conversation with the other three offices alongside MVRDV within the masterplan.
The Mission Rock masterplan turns 28 acres (11 hectares) of asphalt including a windswept parking lot into an exciting new neighbourhood and community gathering point for San Francisco residents and visitors.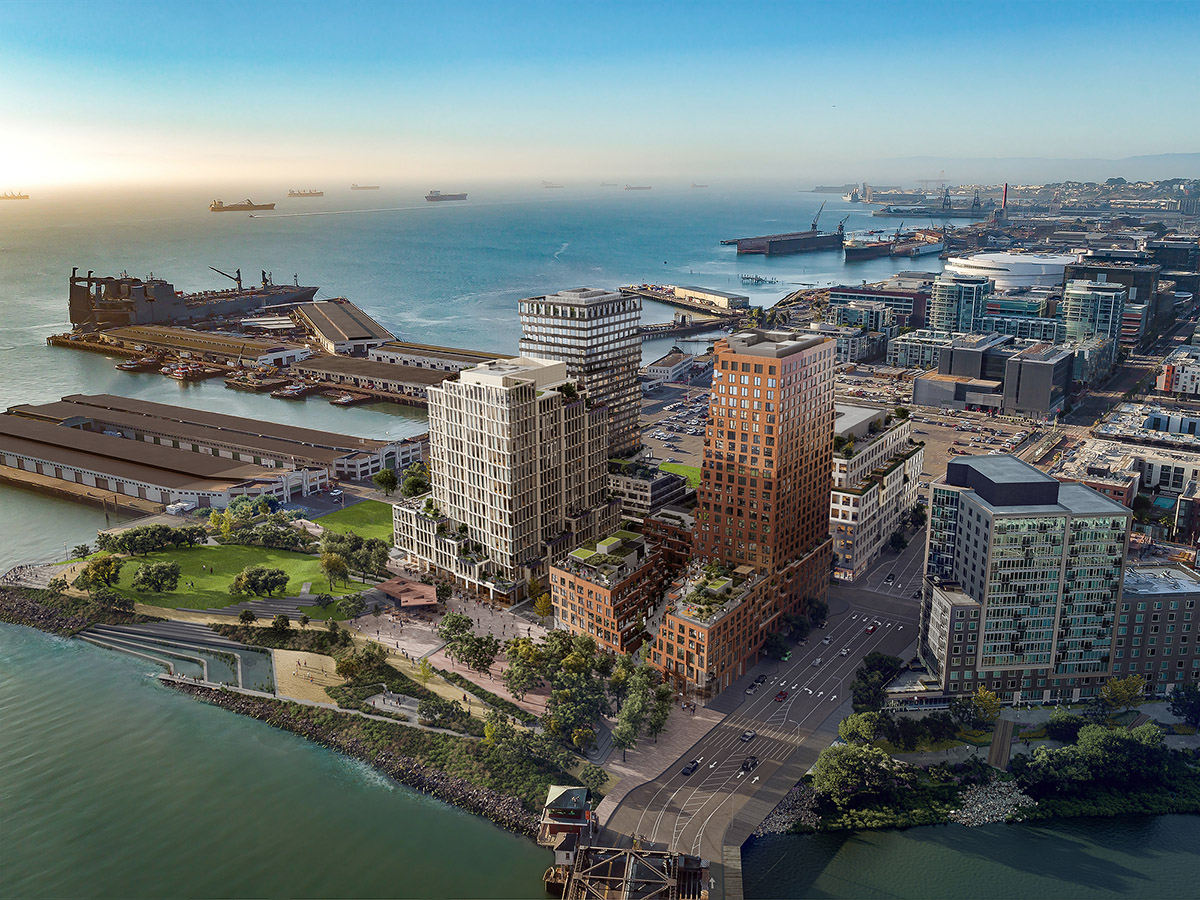 Image © Binyan Studios
The masterplan is an ensemble of mixed-use buildings that are tied together by public spaces that surround the buildings and continues through their ground floors, connecting them seamlessly to the projected China Basin Park.
Developed as part of a public-private partnership established by the San Francisco Giants, Tishman Speyer and the Port of San Francisco, the masterplan aims to develop a mixed-use waterfront neighbourhood near Oracle Park.
MVRDV's design projects onto the block a topography inspired by Californian landscapes, forming an ensemble of low and high-rise sharing a publicly accessible canyon-like space that provides a more intimate space within in the open harbour-oriented masterplan.
The block, called Building A, occupies a prime location, adjoining the "handshake plaza" that will greet visitors entering Mission Rock via the 3rd Street Bridge.
"Its internal, canyon-like street is an essential part of a sequence of public spaces, extending the landscape from China Basin Park through the building itself and into the heart of the Mission Rock masterplan, connecting the different plots," said MVRDV.
"Undulating balconies extend all the way up the western façades of the 23-storey tower, and the many setbacks and overhangs on each level create terraces that add to the vibrant atmosphere of the pedestrian space."
The 395,000-square-foot (36,700 square meters) project includes a diverse collection of apartments and approximately 58,000 square feet (5,400 square meters) of office space with a private lobby and ground-floor retail.
Roof terraces complement internal amenities for the inhabitants, while the canyon is shared with people working in offices on the lower floors. Retails spaces and restaurants are placed at the ground level, aiming to create lively streets.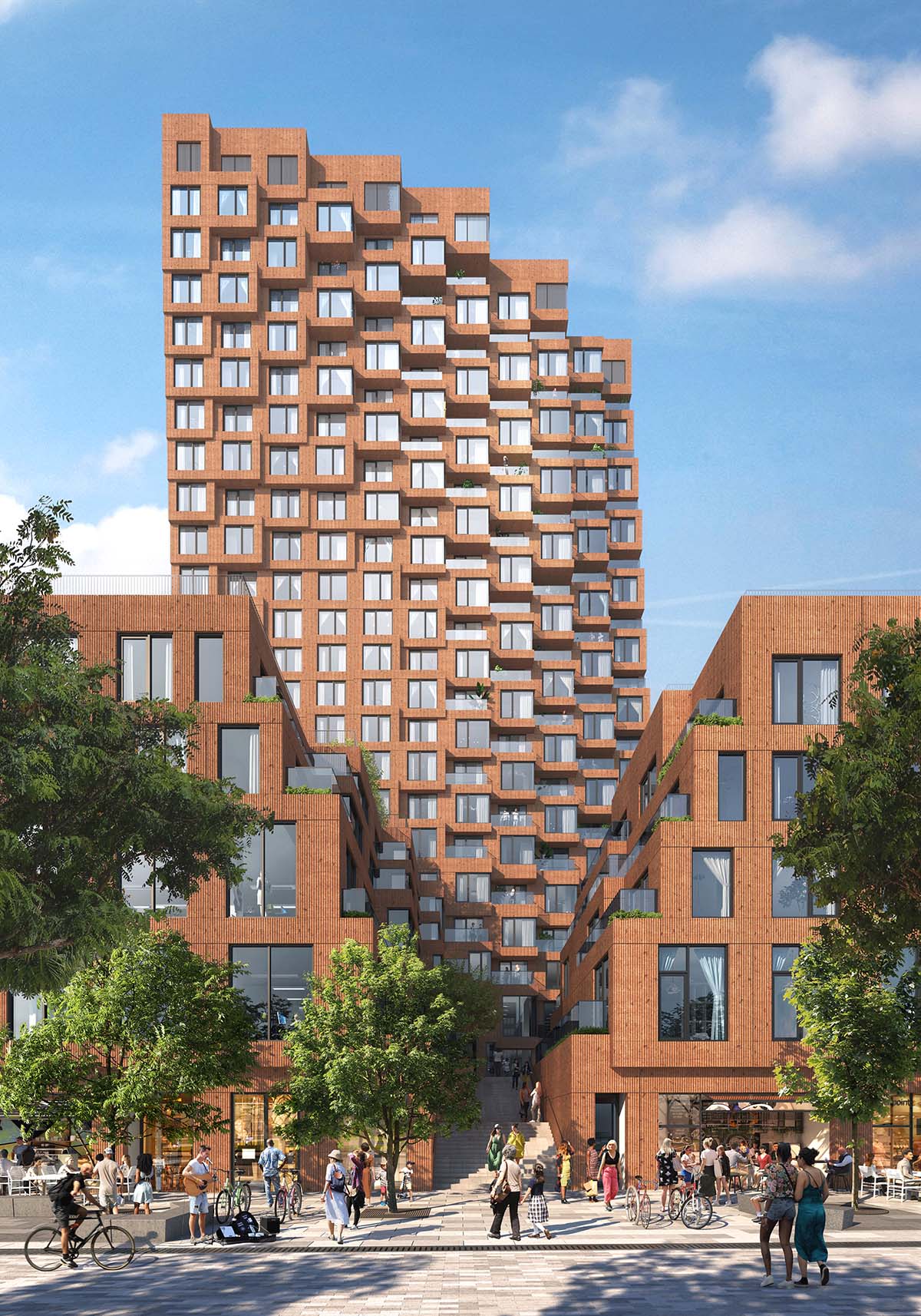 Image © Pixelflakes
"It's wonderful to see this project underway, as we really can't wait to show the result of what is, for us, an exemplary project," said MVRDV founding partner Nathalie de Vries.
"In our own design we were able to incorporate several ideas that are key to MVRDV, such as mixing functions, creating a diverse collection of apartments, and adding many lively, green outdoor spaces."
"The project is also significant due to the innovative collaborative design process we shared with our colleagues at Studio Gang, Henning Larsen, and WORKac," added De Vries.
"MVRDV's design represents a holistic sustainability strategy that builds on the strategy of the Mission Rock masterplan and targets LEED Gold certification," added the firm.
In order to reduce residences' reliance on cars in between homes, offices and retails, the studio converted a parking lot into a dense and mixed-use block with homes, offices, and retail.
The building includes a partial basement that houses on-site bicycle parking, as well as supporting space for the efficient District Energy System. In the building's external spaces, vegetation is the driving force.
Image © MVRDV
The design includes ample greenery, not only in the canyon and on residential balconies, but also on the roofs of the project's plinth level. These green spaces provide a variety of amenity spaces for the building's inhabitants, enhancing user experience while creating ecological habitats for wildlife.
MVRDV added that Building A is the second of the four Mission Rock buildings to begin construction. The first was Building G, an office building designed by Henning Larsen.
MVRDV collaborated with the San Francisco-based firm Perry Architects acting as executive architect, landscape architect GLS Landscape/Architecture, Magnusson Klemencic Associates as the structural engineer, and PAE Engineers as MEP engineer.
Top image © Pixelflakes
> via MVRDV