Fran Silvestre Arquitectos designs t-shaped private residence that reflects pool waves on its facade
Valencia-based architecture studio Fran Silvestre Arquitectos has released design for a private residence in Benahavis, Spain. Named House in Benahavis, the house creates a distinctive profile, hitting a steep slope, and reflects pool waves on its thinnest facade that marks the building from a far away.
The pool functions as a continuation of the residence and completed the overall layout through the landscape. The house, located in a privileged environment, arises from its implementation in the place, said the studio.
A plot with a steep slope that descends to the east and main views that open to the south. With this starting point the house is deposited in the upper level, supported by a single element that is arranged perpendicularly to the mountain. This element houses the technical and service areas and allows you to descend to the level of the lower garden where the pool is located.
The floor plan of the house is articulated by means of the humid core that, located in the central part of the plan and illuminated via a skylight, hides the supporting structure.
A t-shaped house includes on a lateral volume a hall, living room, stair, kitchen, storage, wc, 3 bedrooms, 3 bathrooms, a master bedroom, a master bathroom, dressing room, 2 office rooms, multipurpose room and a terrace.
The day area and the bedrooms open out to the views, protected from the sun by the terrace. The studios and the multipurpose room open out to the northern light. It is the structure that allows the site to be used that characterizes the section that configures the entire house.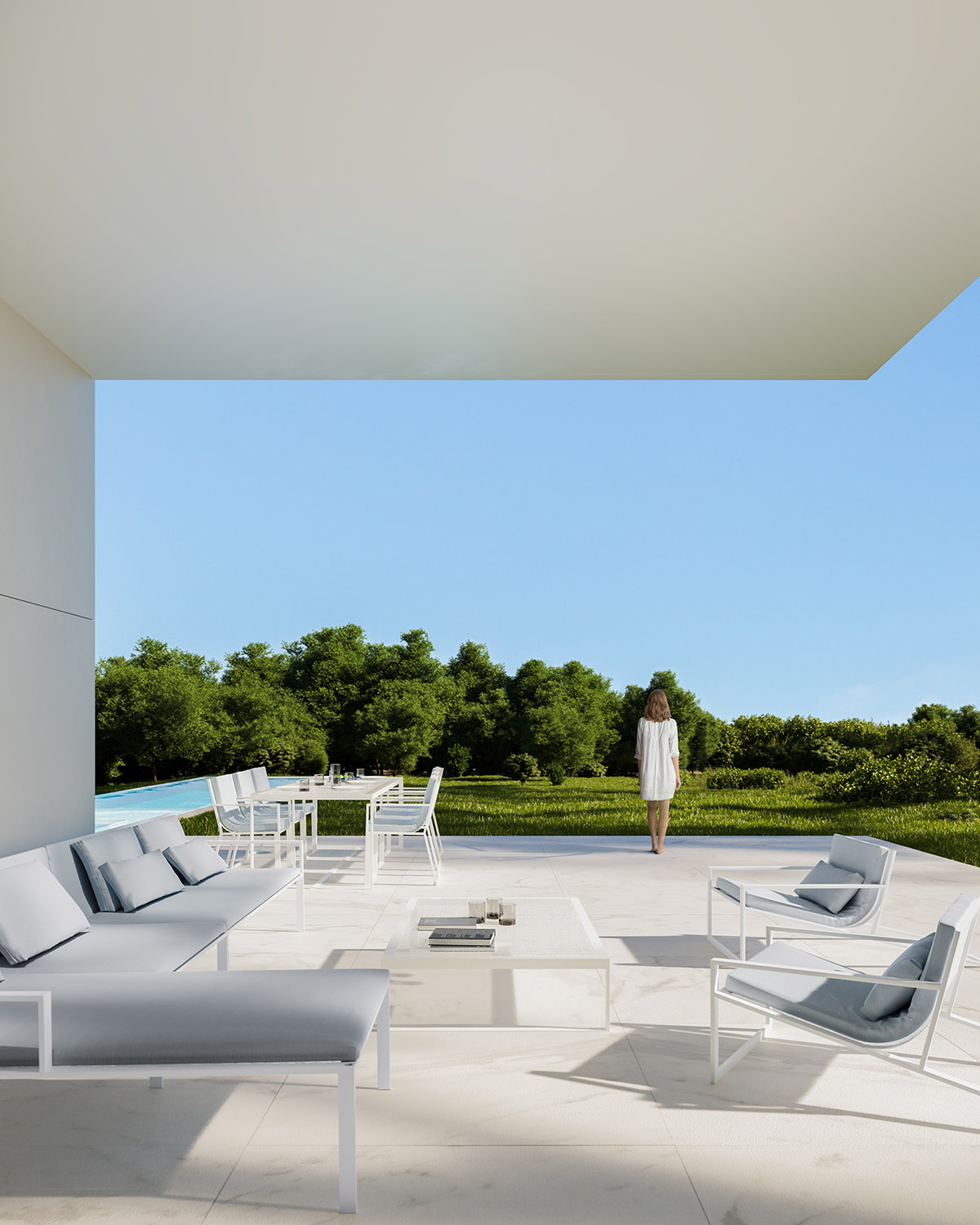 On the lower volume, the architects placed a garage, hall, service bedroom, service bathroom, laundry, room, steam room, locker room, bathroom, uncover terrace.
Sketch
Basement floor plan
Ground floor plan
Roof floor plan
Southeast elevation
Southwest elevation
Fran Silvestre Arquitectos is known with its clean and all-white geometries. Fran Silvestre Arquitectos completed the Hofmann House with extruded roof in Valencia. The House Between The Pine Forest in Valencia, Spain is another well-known project of Fran Silvestre Arquitectos.
All images courtesy of Fran Silvestre Arquitectos