Heatherwick Studio unveils new images for a freestanding lobby for its Lantern House in the US
Heatherwick Studio has unveiled new images for a glazed lobby to be added to its Lantern House development in the United States.
Placed at the center of the two towers, the east tower reaching at 10-stories and the west tower reaching at 22-stories, a fully-glazed lobby connects these towers and creates a fluid movement in between - connected under the High Line.
The Lantern House, situated at 515 West 18th Street in Manhattan's Chelsea neighbourhood, is currently under construction at the site and occupancy for the tower is anticipated for 2020.
Developed by Related Companies, the project will be Heatherwick Studio's first residential building built in the US. The towers are comprised of protruding windows that interpret traditional bay windows in a modern way.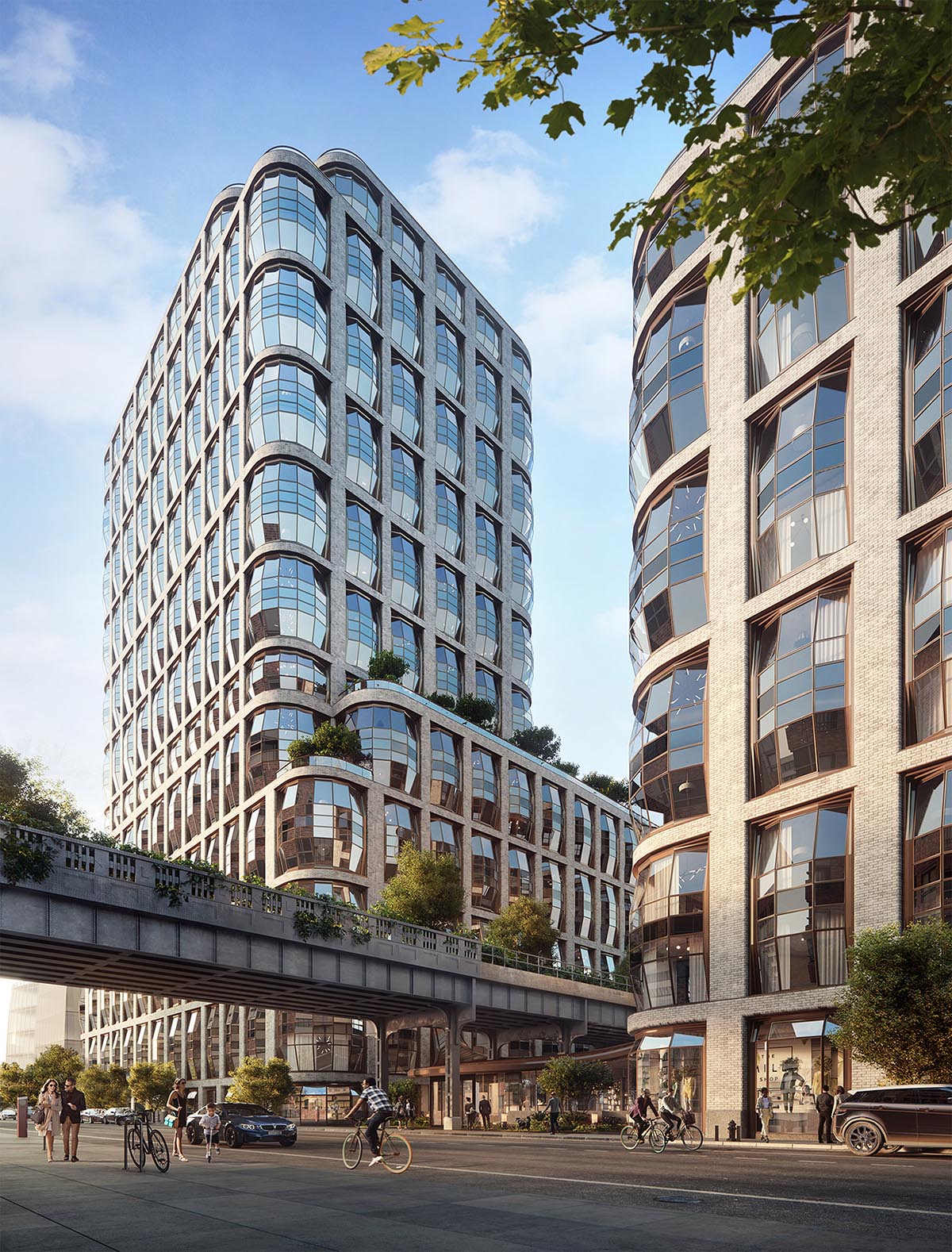 Designed as a fully glass lobby, the interior space is conceived as a free-standing sculptural lobby taking the abundant natural light with a stepped glass wall - ranging from 10 feet to 25 feet.
From the interior, guests are able to look at magnolia trees which face the building's private courtyard. Due to the fluid form of the structure, the interior of lobby minimizes corners and edges so that the interior space gets as maximum light as possible and allows for a seamless indoor-outdoor movement.
By offering a generous proportions inside, a metal seam roof catch visitors' attention upwards. A reception desk, welcoming guests, is made from cast glass and bronze. The surrounding furnishings are designed by Studio van der Akker to create a luxury but inviting space.
The 21-storey tower will include a total of 181 condos, containing one, two, three and four-bedroom residences, many of which bestow uninterrupted cityscape and Hudson River views and promise to provide residents a totally integrated lifestyle destination.
"People love to live in memorable places. As the High Line's amazing riveted steel structure goes straight through the middle of our site, we knew we mustn't miss the chance to borrow all its texture and character to make an idiosyncratic arrival experience for the building's residents," said Thomas Heatherwick.
"To not compete with the soulful materiality of this historic piece of infrastructure, we designed a lobby that barely touches it and is slung from the east building to the west, with a roof structure that gently drapes, like a piece of textile."
"With the legs of the High Line lacing through, we hope that the lobby will provide a special welcome for residents and importantly, create a sense of returning home to a place like no other," Heatherwick added.
Lantern House is part of a two-tower development that links underneath the High Line. The development is in the heart of the art gallery district and is within a short walk to sprawling parks, acclaimed restaurants, storied nightlife and several of Manhattan's finest schools.
Thomas Heatherwick recently completed The Vessel on New York's Hudson Yards and his Pier55 park is under construction Hudson River.
All images courtesy of Heatherwick Studio
> via Related Companies