Heatherwick Studio's Pier55 park takes shape in the Hudson River
Heatherwick Studio's another hotly-anticipated Pier55 park started to take shape in the Hudson River, as the Field Condition - a website documenting recent construction photography of architecture and design in New York City and beyond - has documented the recent construction photos of the park.
Located near the Meatpacking District and the High Line, the latest photographs show that the installation of 280 concrete piles is nearing completion. Heatherwick's design, forming a 2.4 acre park, features an undulating field of 132 pots with plantings sitting on 280 concrete piles.
Pier55 is designed as a unique topography that will house a public park and performance space on Manhattan's lower west side, commissioned by a non-profit organisation and funded primarily by the Diller - von Furstenberg family, which will build and cooperate the Pier in collaboration with the Hudson River Park Trust.
At the park's peak, the pots rise 30 feet (9.14 meter) into the air and can weigh more than 90 tons. To form each pot, four to six petals of lightweight concrete are combined. The Pier55 park will include a 700-seat amphitheater for music, dance, and theater productions, along with numerous pathways and viewing platforms.
Heatherwick Studio first revealed design in 2014 in collaboration with landscape architect Mathews Nielsen. The $130-million topographical park will feature fish habitat as well as various plant species, raised up by mushroom-like piles over the Hudson River.
"The pier will be a place of discovery, where visitors can wander and wonder, finding something new around every corner: places to lounge, eat lunch, or just lie in the grass," said Heatherwick Studio in its project description.
"The idea evolved to take the new concrete piles that would be needed and to continue them out of the water, extending skyward to raise up sections of a green landscape," had said Thomas Heatherwick in a project brief.
"Fusing as they meet, these individual piles come together to form the topography of the park," he had added.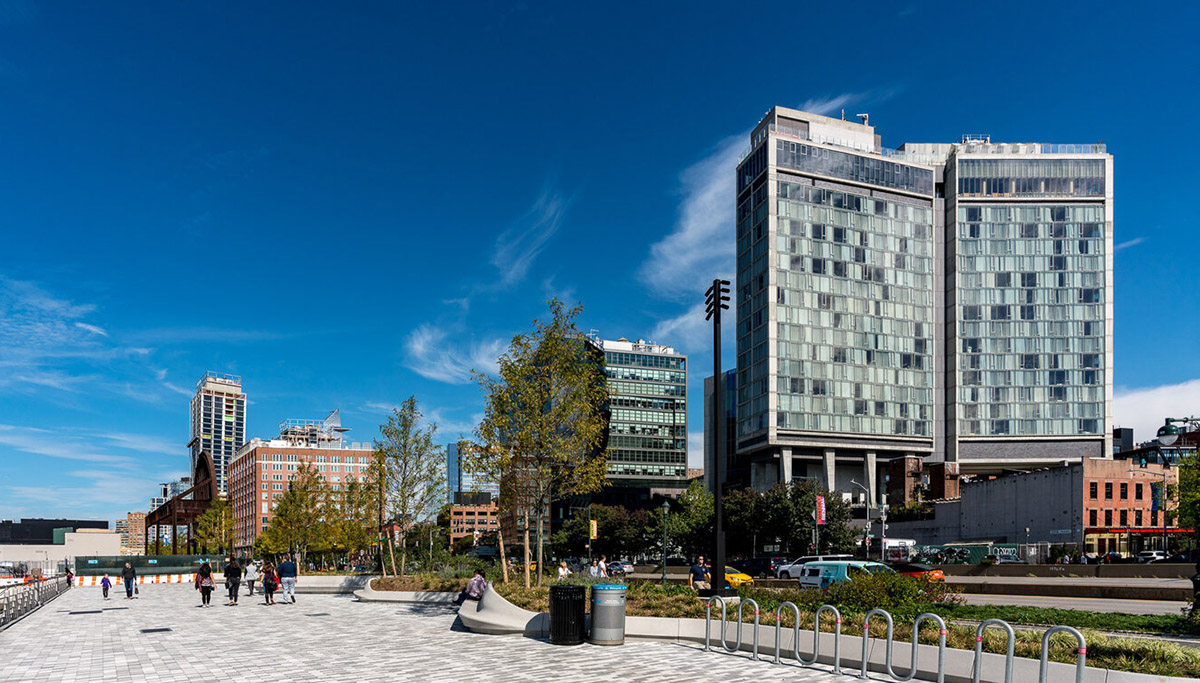 The Pier55 was given the go-ahead by the US Army's Corps of Engineers in May 2016, then in July 2016, the Supreme Court of New York terminated the construction of the park until September that year.
Diller family pulled back its financial support for the park in September 2017 and the project was scrapped but the two sides came together to make a consensus in October 2017 with the intervention of Governor Cuomo.
View of souther space looking north. Image © Luxigon
The Pier55 was another controversial project of Thomas Heatherwick after the Garden Bridge in London due to the rising budgets and complexity of the projects.
Completion of the park is expected in the spring of 2021.
Pier55 in context of the west side. Image © Luxigon
Project facts
Client: Hudson River Park Trust (HRPT) & Pier 55 Project Fund (P55P)
Location: New York, US
Appointment: 2013
Status: Current
Size: 11,000sqm
Goup leader: Mat Cash
Project leader: Paul Westwood, Neil Hubbard
Studio team: Simona Auteri, Jordan Bailiff, Einar Blixhavn, Mark Burrows, Mat Cash, Darragh Casey, Jorge Xavier Méndez-Cáceres, John Cruwys, Antoine van Erp, Alex Flood, Michal Gryko, Hayley Henry, Ben Holmes, Ben Jacobs, Stepan Martinovsky, Simon Ng, Wojtek Nowak, Hannah Parker, Giovanni Parodi, Luke Plumbley, Jeff Powers, Enrique Pujana, Akari Takebayashi, Ondrej Tichý, Ahira Sanjeet, Charles Wu, Meera Yadave
Collaborators: Arup, Charcoal Blue, Steven Daldry, Scott Rudin, Kate Horton, Mathews Nielsen, Mueser Rutledge Consulting Engineers, Hunter Roberts Construction Group
All images © Field Condition unless otherwise stated.
> via Field Condition