Stefano Boeri designs his first-ever vertical forest in Egypt's New Administrative Capital
Italian architect Stefano Boeri's firm Stefano Boeri Architetti has been commissioned to design its first-ever "vertical forest" for Egypt's New Administrative Capital, which will be built in the east Cairo, according to local newspaper Egypt Independent.
Stefano Boeri, known for his first prototype green building - called Vertical Forest - covered with trees and plants on the façade, now made an agreement with Egyptian real estate firm MISR Italia Properties to design a hotel and two residential buildings containing 300 units.
Stefano Boeri Architetti, in collaboration with Egyptian designer Shimaa Shalash and Italian landscape architect Laura Gatti, will create three seven-storey apartment buildings with planted terraces. It will be Stefano Boeri Architetti's first built project that has brought to the vertical forest concept to the African continent. The apartment buildings will be built in the new Egyptian administrative capital, 45 km from the city center.
According to Global Construction Review, a hotel chain would manage the three buildings and that the buildings' balconies and windows will be covered with thousands of trees and plants aiming to reduce pollution.
Each cubic-shaped apartment unit will be reaching 30-meter height and 30-meter wide. The three apartments are expected to carry 350 trees and 14,000 shrubs of over 100 species.
Reportedly, the real estate company will offer up the first stage of the project for sale in December 2019, with expected investments reaching LE3 billion (€163 million). Construction is expected to start in June 2020, but units will go on sale in December this year.
"There are many ways to make the city green, this vertical forest is a less expensive and faster way of dealing with climate change. The objective of the vertical forest is to limit pollution. These are small efforts but they are very important. And making people plant trees is the best way to involve them," said Stefano Boeri to a news site Ansamed.
Boeri's vertical forest, is expected to be completed by 2023, was presented by the architect at a press conference in Cairo, together with the CEO of Misr Italia, Mohamed El-Assal.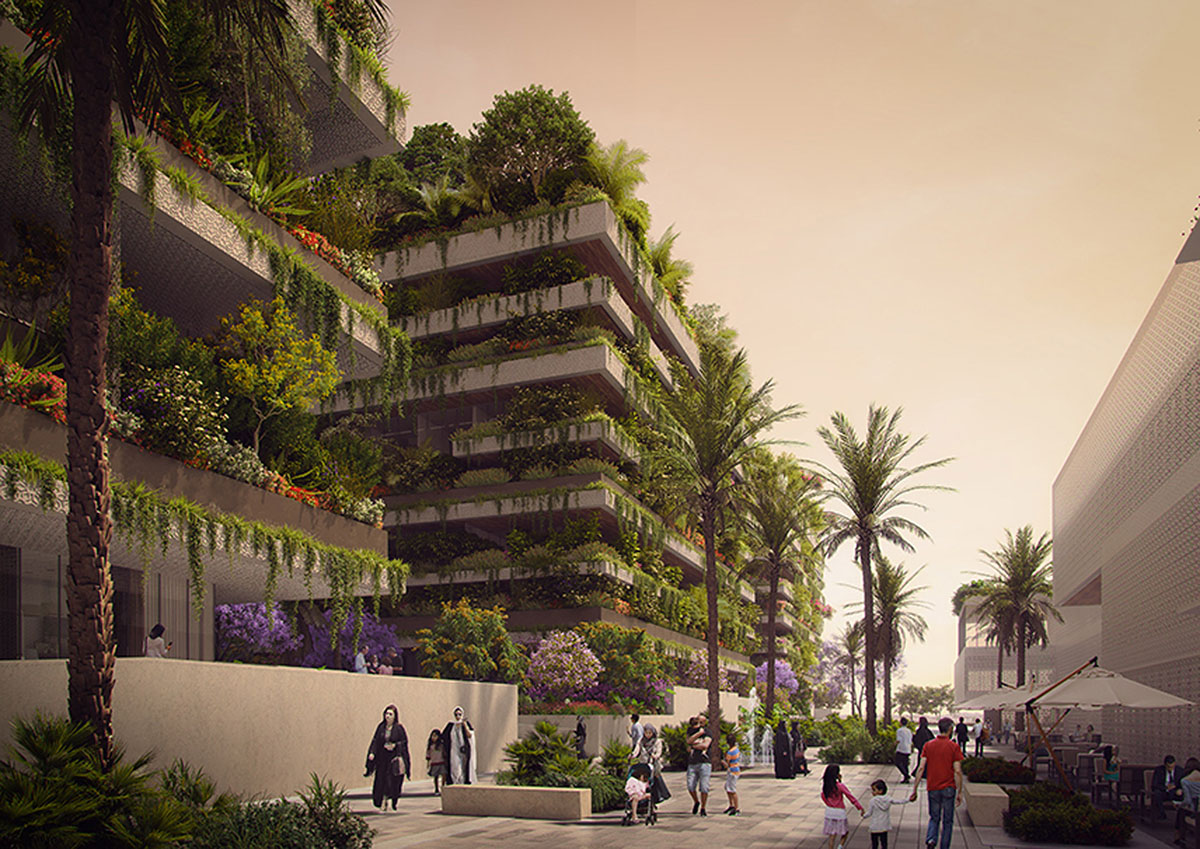 "The idea to create a vertical forest in Cairo, which has a high level of pollution, certainly represents a challenge," the architect told Ansamed.
''But there are many other projects to carry out. For example, Boeri explained: "making the city's roofs all green. Or creating an orbital forest around Cairo with green corridors entering the city. And also, replacing run-down buildings with green structures."
"When I saw for the first time the vertical forest of Milan I liked it a lot and immediately wanted to meet Stefano to discuss it. We immediately understood one another," said the CEO of Misr Italia, El-Assal.
"Here in Cairo we are the first to start and environmentally sustainable project and we hope to be able to continue, possibly involving the government," he added.
Stefano Boeri built his first vertical forest building in 2014 in Milan, Italy as a model for a sustainable residential building. Then Boeri continued to design in Lausanne, Paris, Utrecht, Tirana, Shanghai and Eindhoven, where the building is intended for social housing, and Guizhou Province, China.
All images courtesy of Stefano Boeri Architetti
> via Egypt Independent