Cooper Hewitt and Cube announce projects for 2019 Cooper Hewitt Design Triennial
Cooper Hewitt and Cube Design Museum have announced projects for the 2019 Cooper Hewitt Design Triennial, which will be held from May 10 to January 20, 2020 at both Cooper Hewitt and Cube, allowing audiences in both the U.S. and Europe to experience the works simultaneously.
The triennial, named Nature—Cooper Hewitt Design Triennial" will explore design's ability to address critical issues surrounding nature, climate and the environment. Designers are striving to transform people's relationship with the natural world.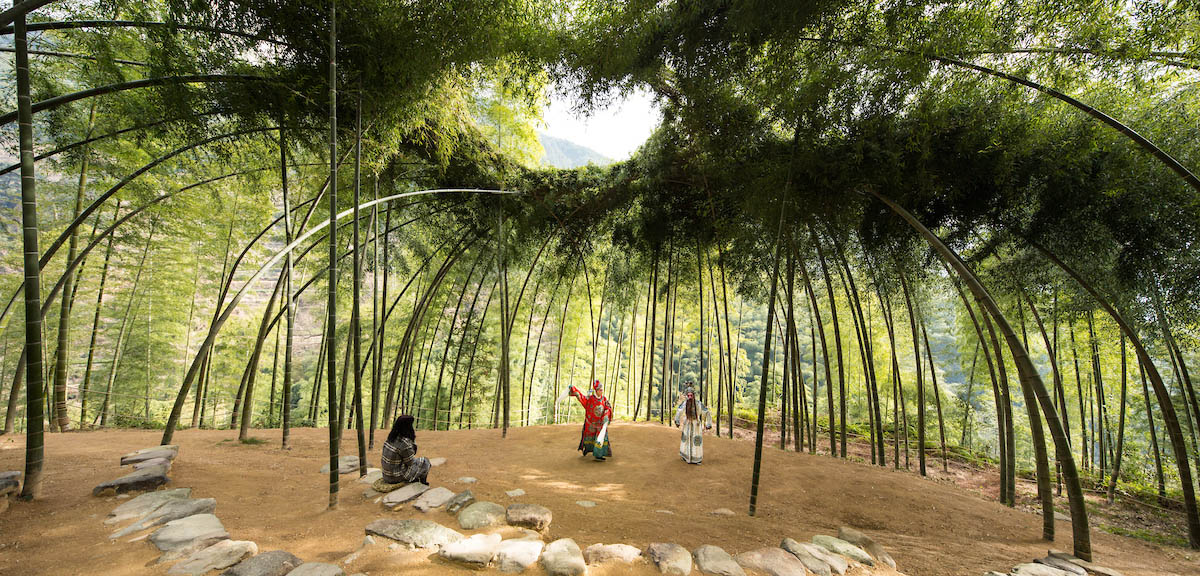 Bamboo Theater, 2015–ongoing; Hengkeng Village, Songyang County, Zhejiang Province, China, completed 2015; Designed by Xu Tiantian (Chinese, b. 1975), DnA_Design and Architecture (Beijing, China, founded 2004); Bamboo; Photo by Wang Ziling © DnA_Design and Architecture. Image © Cooper Hewitt
The exhibition, co-organized by Cooper Hewitt, Smithsonian Design Museum and Cube Design Museum in Kerkrade, Netherlands, will feature over 60 projects to demonstrate how designers are collaborating with scientists, engineers, environmentalists, academics and other stakeholders to find inventive and promising solutions to the environmental and social challenges confronting humanity today.
The exhibition is organized into seven sections, which describe designers' strategies in working with nature: Understand, Simulate, Salvage, Facilitate, Augment, Remediate and Nurture.
Aguahoja, 2017–19; Neri Oxman (Israeli, active USA, b. 1976), The Mediated Matter Group, MIT Media Lab (Cambridge, Massachusetts, USA, founded 2010); Chitosan, cellulose, pectin, acetic acid, glycerin, water; Dimensions variable; Courtesy of The Mediated Matter Group. Image courtesy of The Mediated Matter Group
Understand will focus on how designers mediate scientific knowledge to enhance humanity's understanding of nature. Simulate will offer advances in scientific understanding and technology that enable designers to simulate nature.
Salvage will explore how humanity's impact on the planet is galvanizing designers to reclaim and repurpose raw materials. In Facilitate, designers will embrace nature's dynamic forces to promote biological growth in architecture and products.
Augment will feature projects that harness nature's capabilities to enhance objects, buildings and the human body. In Remediate, designers will present works that attempt to slow, stop and reverse the negative impacts of humanity's footprint on the planet. Projects in Nurture will seek a broader realignment with the planet and challenge us to respect nature rather than dismiss it.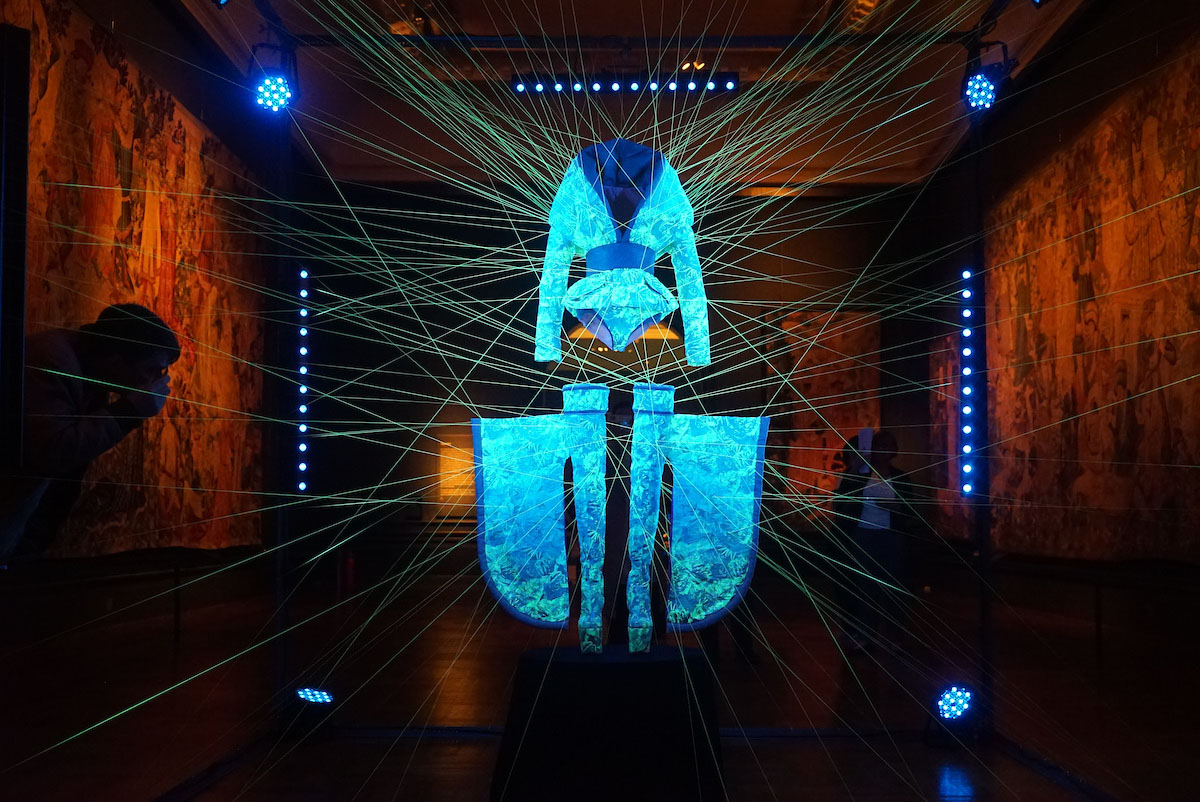 Tranceflora, 2015–19; Sputniko! (Hiromi Ozaki) (Japanese, b. 1985) and Masaya Kushino (Japanese, b. 1982), Another Farm (Tokyo, Japan), in collaboration with National Agricultural and Research Organization (NARO) (Tsukuba, Ibaraki Prefecture, Japan, founded 2006) and Hosoo (Kyoto, Japan, founded 1688); Glowing transgenic silk; Photo by So Morimoto. Photo by So Morimoto
"With 2018 the Earth's fourth-warmest year on record and global carbon emissions at an all-time high, the crisis of human-caused climate change has never been more dire," said Caroline Baumann, director of Cooper Hewitt.
"Solutions will not emerge without radical new thinking and alliances. 'Nature' brings together some of the most creative and intelligent designers whose works address our complex relationship to nature and its precious resources and advocate for greater empathy for our planet."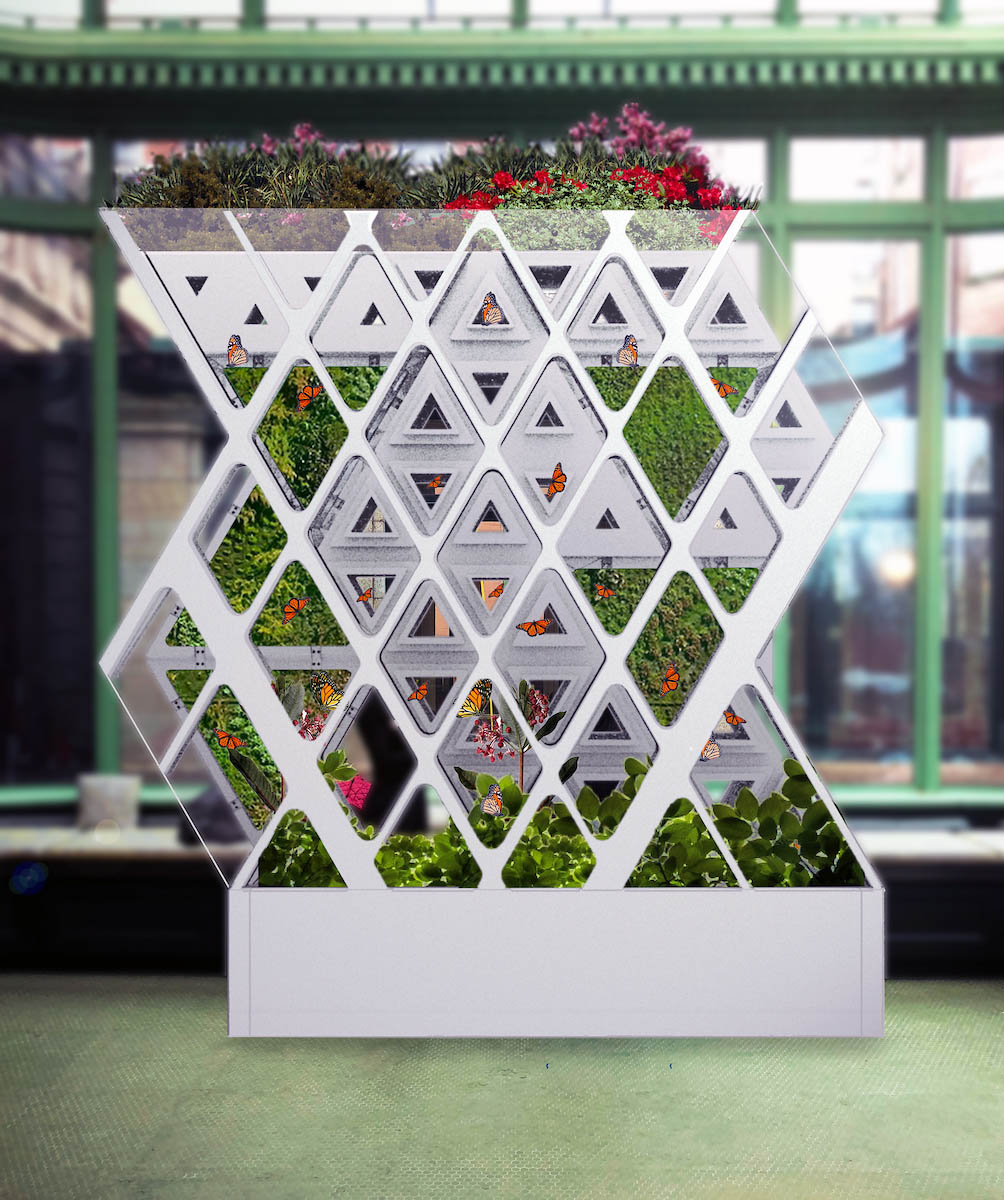 Monarch Sanctuary, 2018–ongoing; Mitchell Joachim (American, b. 1972) and Vivian Kuan (American, b. 1966), Terreform ONE (Brooklyn, New York, USA, founded 2006); Glass, metal, plastic; 365.76 x 365.76 x 91.44 cm (144 x 144 x 36 in.); © Mitchell Joachim, Terreform ONE. Image © Mitchell Joachim, Terreform ONE
"Co-operation is crucial in addressing the human-inflicted situation in which nature currently finds itself," said Hans Gubbels, director of Cube.
"The projects in 'Nature,' which we have brought together with Cooper Hewitt over the past three years, show great inventiveness. This carries the promise that we can bring human behavior back in line with nature again. Co-operation between design, science and technology thus can turn the tide for our planet."
Tree of 40 Fruit, 2008–ongoing; Sam van Aken (American, b. 1972); Cultivar tree with grafts; Dimensions variable; Courtesy of Sam van Aken and Ronald Feldman Fine Arts. Syracuse University Photo & Imaging Center
Cooper Hewitt's Arthur Ross Terrace and Garden will feature two large-scale, site-specific installations unique to the U.S. presentation of the Design Triennial. The Tree of 40 Fruit by artist Sam Van Aken will blossom with apples, pears, plums, peaches, cherries and apricots.
Complementing the Design Triennial, Cooper Hewitt's second-floor galleries will be devoted to a rotating presentation of objects from the museum's expansive holdings of over 210,000 objects.
Curiosity Cloud, 2015–19; Katharina Mischer (Austrian, b. 1982) and Thomas Traxler (Austrian, b. 1981), Mischer'Traxler Studio (Vienna, Austria, founded 2009); Mouth-blown glass bulbs, artificial handmade insects, aluminum hoods, custom made circuit boards, motors, LED lights, cables, ceiling plate, sensors; Dimensions variable. Image © Ed Reeve
Nature—Cooper Hewitt Design Triennial is the sixth installment of the series inaugurated in 2000 that looks at new developments in design as they surface in studios, fairs, shops, galleries and media around the world.
"Nature" was developed by a cross-institutional curatorial team that includes Cooper Hewitt's Caitlin Condell, associate curator and head of Drawings, Prints & Graphic Design; Andrea Lipps, assistant curator of contemporary design; Matilda McQuaid, deputy director of curatorial and head of Textiles; and Cube's Gene Bertrand, program and development director, and Hans Gubbels, director of Cube.
In organizing "Nature," the curators engaged a panel of international advisors: Aric Chen, Professor, College of Design & Innovation, Tongji University, and Curator-at-Large, M+ (Hong Kong); Michael John Gorman, founder, BIOTOPIA Museum (Munich); Suzanne Lee, chief creative officer, Modern Meadow (New York); Ravi Naidoo, founder, Interactive Africa (Cape Town); Simone Rothman, founder and CEO, FutureAir (New York); and Barbara Stauffer, chief of community programs, National Museum of Natural History (Washington, D.C.).
Top image: Bleached (II), 2018; Erez Nevi Pana (Israeli, active in Austria, b. 1983); Salt-crystallized loofah over a wooden structure; 77.5 x 55 x 56 cm (30 1/2 x 21 5/8 x 22 1/16 in.). Image © Friedman Benda and Erez Nevi Pana, © Friedman Benda and Erez Nevi Pana.
> via Cooper Hewitt