Koichi Takada Architects creates cave-like interior for museum shops inside National Museum of Qatar
Curvaceous timber walls form the whole interior of two museum shops inside Jean Nouvel's National Museum of Qatar in Doha, which opened in March. Presenting a cave-like interior, the shelves are naturally being part of the timber walls that present smooth and fluid surfaces for visitors.
Designed by Australian architecture firm Koichi Takada Architects, the architects created this sinuous interior to show " a poetic" narrative of the Qatari history. "The designs are an embodiment of the Qatari history, the beginnings of the trade, nomadic lifestyle and beautiful natural environment," said the architects.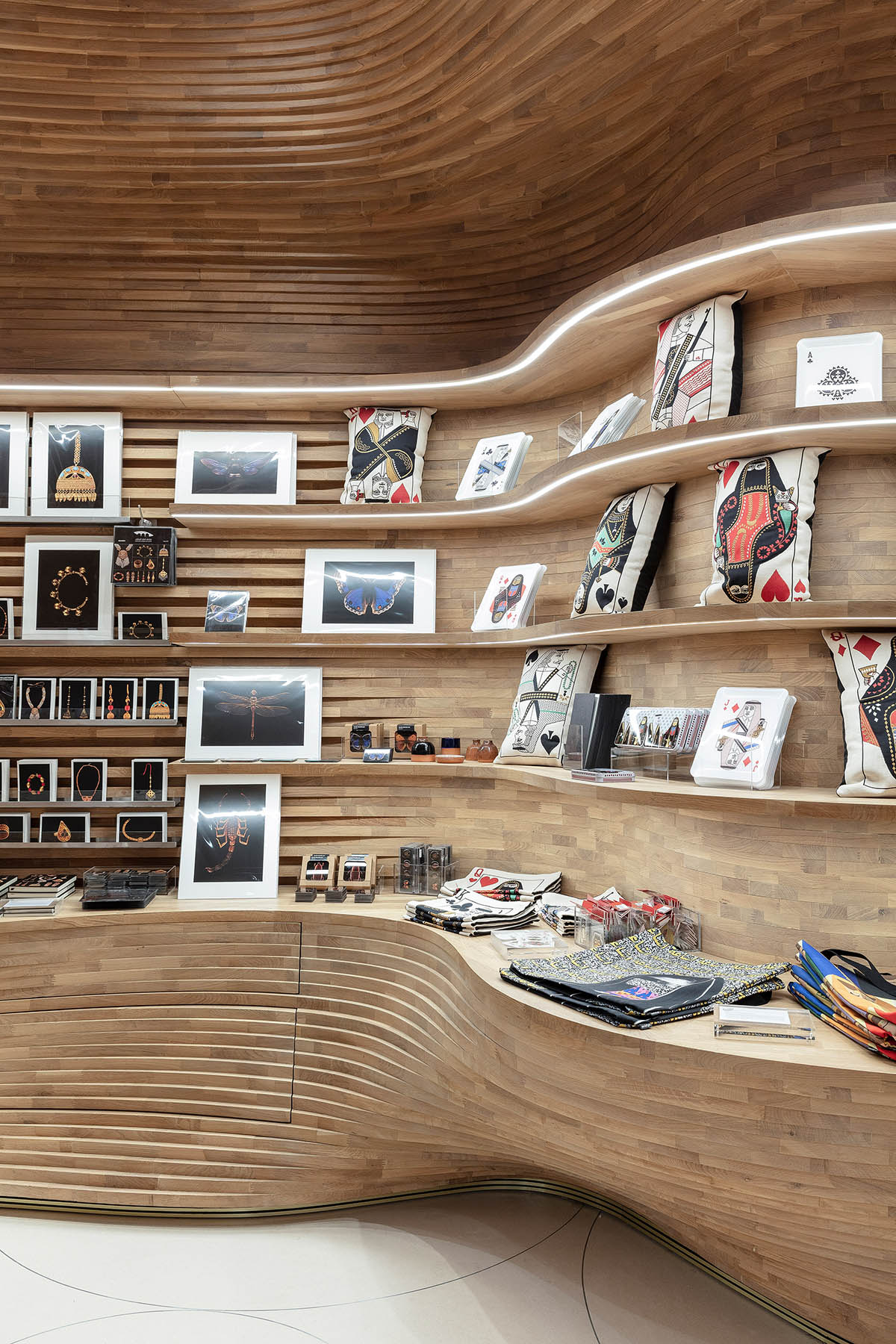 The interiors of the two shops are only one of the studio's projects completed until now, the studio will open three restaurants later this year. The overall form of the interiors was designed to complement the organic design of National Museum of Qatar.
Described as "desert-scapes", the concept was carefully curated to create a local cultural experience for visitors, while bowing to Jean Nouvel's architectural masterpiece.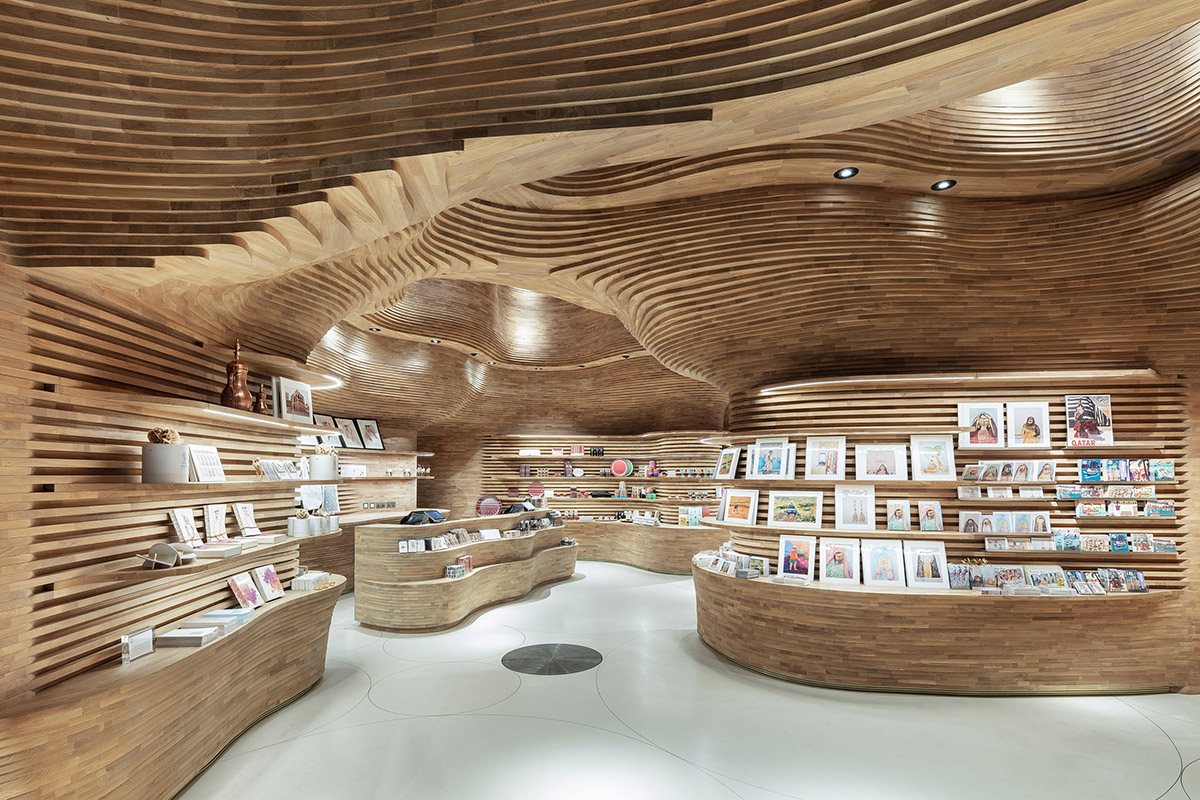 "Talking to H.E. Sheikha Al Mayassa and to the Qatar Museums Authority (QMA) has opened my eyes to a culturally rich way of life, which has inspired me. They passionately talked about the iconic nature of Dahl Al Misfir (Cave of Light), located in the heart of Qatar, and introduced me to the ritual of majlis floor dining, a bit like my favourite childhood memory of Japanese tatami floor dining," said Principal Architect, Koichi Takada.
"Designing the interiors of the National Museum of Qatar was an opportunity to create a unique experience for visitors to immerse in Qatar's cultural heritage; the traditional and historical past, and its development into a modern state as the cultural hub of the Middle East."
"The architecture is a representation of the desert rose mineral formation; a connection to nature. Each interior space offers a fragment of the Qatari history, that aims to enhance and fulfil both, cultural and memorable experience for museum visitors."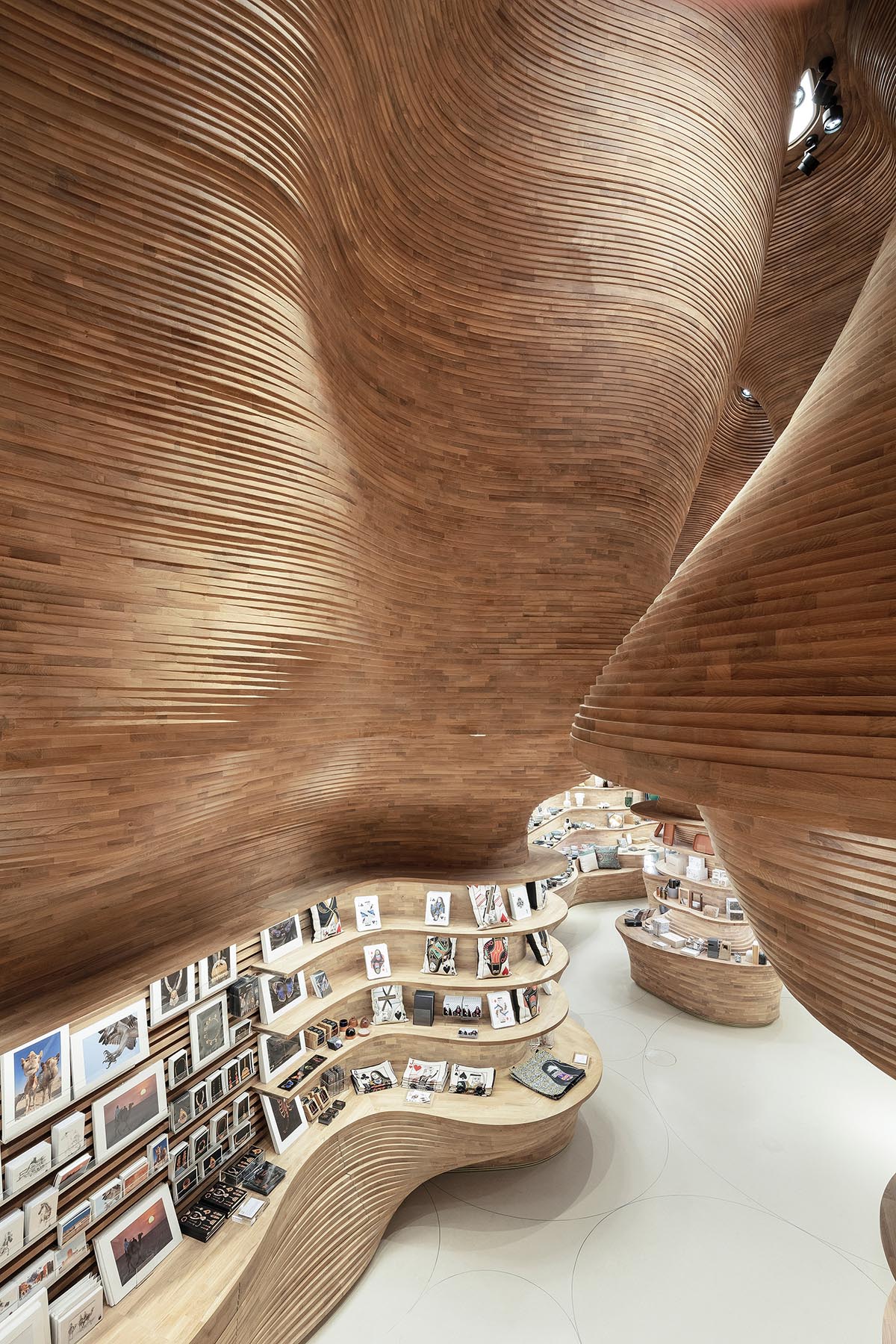 Inspired by the Dahl Al Misfir (Cave of Light) - a 40m deep cave in central Qatar - it is formed of fibrous gypsum. This beautiful underground sanctuary is formed largely from fibrous gypsum crystals that give off a faint, moon-like, phosphorescent glow.
"Gypsum can appear in formations of clusters, such as the famous 'desert rose', but can also crystallize in other forms of fluorescent and translucent shapes, interacting with light and transforming the space, evolving through the day," added the architect.
The timber walls of the museum shops were basically inspired by Dahl Al Misfir. Its organic architecture echoes Koichi Takada's vision of bringing nature back into architecture, establishing relationships that connect people and nature through design.
The architect used a cutting-edge 3D modelling software, achieving a design of curves and surfaces that words fail to describe. The studio used and put together the 40,000 wooden pieces to create a three-dimensional puzzle.
Each wooden piece was a CNC-cut realized in Italy. It is entirely unique so it could only fit with its exact complementary piece. They were assembled by hand in Doha by Italian master carpenter, Claudio Devoto and his team of artisans.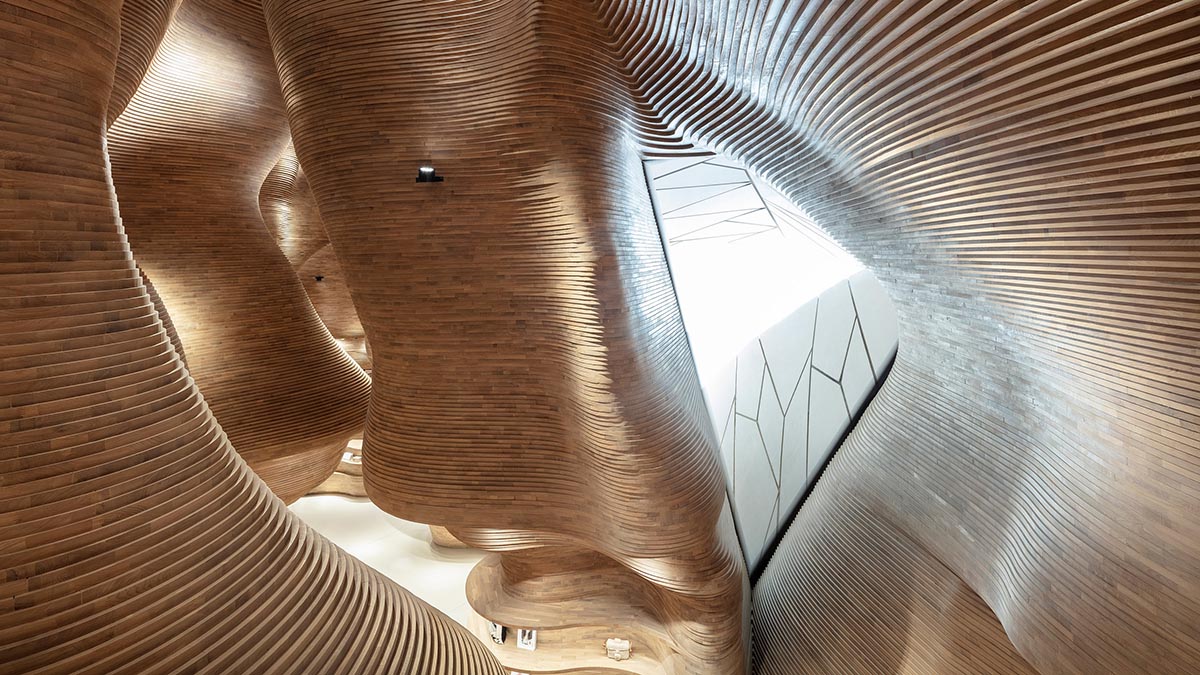 The intensity of the design and craftsmanship pays homage to Jean Nouvel's desert rose inspired architecture and celebrates the natural Qatari heritage of the desert-scape.
Koichi Takada Architects recently completed a new mixed-use tower in the center of Sydney, the buildings are made of a sculpted form of a hand-made brick materials that expands historic buildings in the streetscape.
Qatar welcomes some major developments designed by star architects. Jean Nouvel's National Museum of Qatar and OMA's Qatar National Library are one of them. Foster + Partners' golden stadium is also underway for 2022 World Cup in Qatar.
All images © Tom Ferguson Photography
> via Koichi Takada Architects