Heatherwick Studio unveils design for mixed-use project featuring terraced façades in historic Prague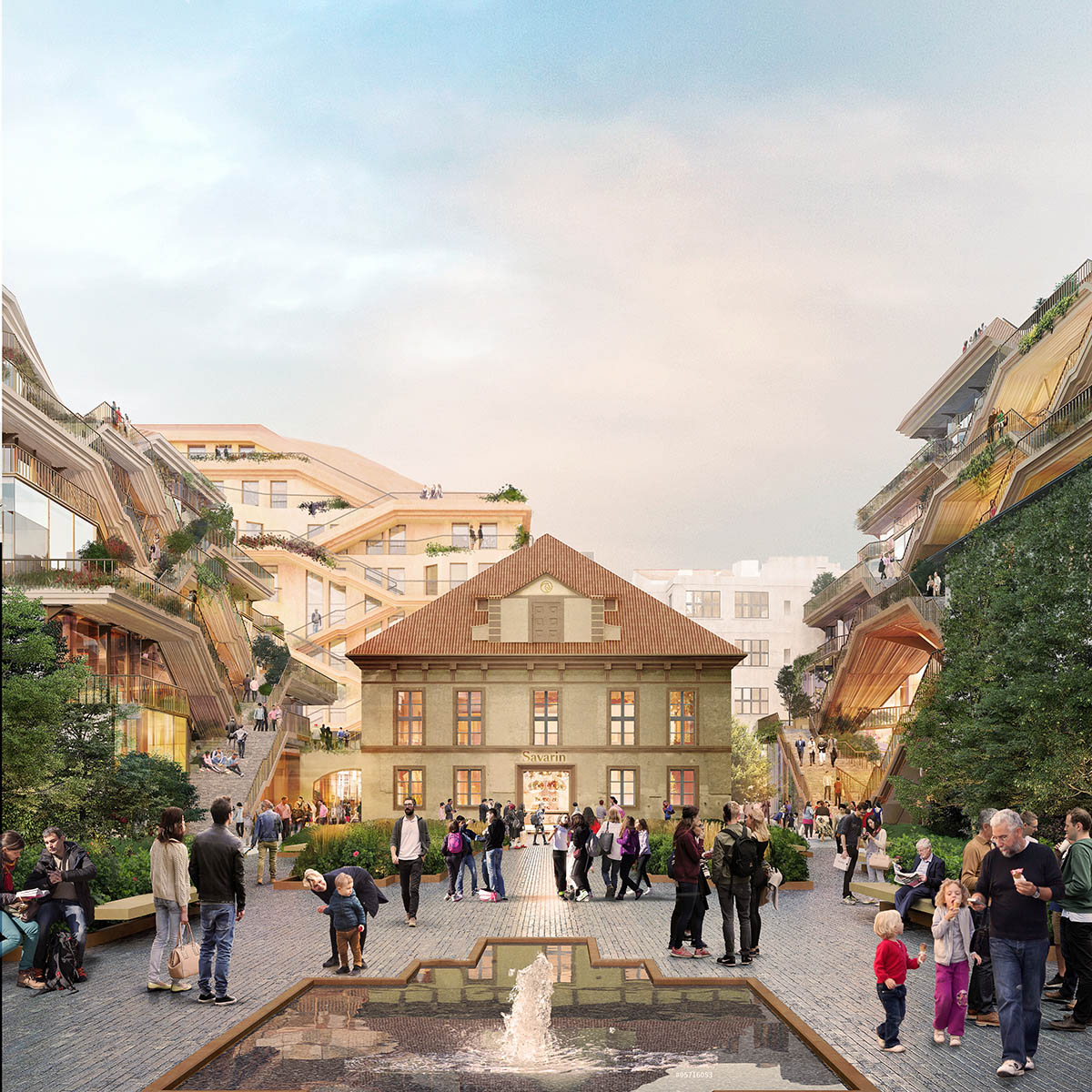 Heatherwick Studio has unveiled design for a new mixed-use project in the heart of historic Prague, Czech Republic. Officially presented at a press conference in Prague last week, the design respects the historic heritage by implementing the minimum interventions and pointing out the historic building with an open courtyard in the center - and by connecting them with an organic flow from the top to bottom.
Video by Heatherwick Studio
Thomas Heatherwick, founder of Heatherwick Studio, has also made a short presentation about the project at the reSITE in which he delivered a keynote on September 19.
Image © Heatherwick Studio and Pixelflakes
The project will be Heatherwick Studio's first project that will be built in the Czech Republic. Named Savarin, the project sits 15,000-square-metre site and is being redeveloped for Crestyl and will be a mix of retail and office space set within public gardens.
The Savarin site is surrounded by four of the main streets in Prague - Wenceslas Square, Na Prikope, Panska and Jindrisska. The development will tie together a number of heritage buildings by creating organic connections through the site and with the surrounding district.
Heatherwick Studio's design scheme restores public access to the Riding Hall and surrounding gardens and is further enlivened with new areas of public space not only at ground level but through a series of terraces leading up to the roof levels.
Image © Heatherwick Studio and Pixelflakes
"Me and my team are honoured to be working on such an important site in Prague's historic centre - and our design ideas have been inspired by the details, materials and craftsmanship that we found all around the city," said Thomas Heatherwick, founder of Heatherwick Studio.
"The project is focused around a series of courtyards and passages that stitch together a site with a number of special heritage buildings. At its heart is the creation of a major new public space, surrounding a historic 18th century riding hall."
"As well as restoring this hall and the other historic buildings, we will create three dynamic new buildings which will frame this courtyard and its riding hall. Stepped green terraces and staircases will enable people to walk up the buildings all the way to the rooftops, revealing unexpected new public spaces and views across the city."
"Our aim for the project is to create a unique and distinctive area for gathering, shopping and working that is unprecedented in Prague," Heatherwick continued.
Image © Heatherwick Studio
"Savarin has a very special place in our hearts and we feel the huge responsibility that comes with this project. We value Heatherwick Studio for approaching each project individually, considering the genius loci of the place and offering solutions that breathe life into it. That is also why we admire the studio ́s sensitive way to revitalize projects such as Coal Drops Yard and Zeitz MOCAA," said Omar Koleilat, CEO of Crestyl, the developer of the Savarin project.
The design creates an organic flow and movement starting from underground levels by giving a direct access from Wenceslas Square and the metro station to the Riding Hall, which will become the central heart of the site.
As well as bringing significant new quantities of public realm to the site, there will be new architecture within the courtyard. This has allowed the studio to create a series of set-back stepped and terraced façades which take people up to the rooftops to create unexpected public spaces.
Video by Heatherwick Studio
Heatherwick Studio is behind the project Vessel, a 16-storey landmark for Hudson Yards in New York. The studio's other major development includes Zeitz MOCAA in Cape Town, the conversion of a disused grain silo into a new museum for contemporary art in South Africa.
Heatherwick Studio's projects, including Pier55 in the Hudson River, New York and a new major headquarters for Google are also underway in both King's Cross and Silicon Valley in collaboration with BIG. The studio is currently working on approximately 30 live projects in ten countries.
Top image © Heatherwick Studio
> via Heatherwick Studio