Art and fashion meet at Louis Vuitton X exhibition with vivid colors in Beverly Hills
French fashion house Louis Vuitton has opened its new exhibition in Beverly Hills, California, where art and fashion meet in vivid and emblematic colors in which the exhibition acts as a shoppable museum space.
Titled Louis Vuitton X, the exhibition offers an impressive journey through the Maison's 160-year history of creative exchanges and artistic collaborations for Louis Vuitton.
Showcased across the two floors (comprised of ten distinct rooms) of the iconic 468 North Rodeo Drive building, the exhibition presents over 180 items from Louis Vuitton's archives and scenography to trace the Maison's pioneering journey.
The Louis Vuitton X brings together a remarkable collection of early twentieth-century special-order trunks, beautiful art deco perfume bottles and window displays commissioned and designed by Louis Vuitton's grandson Gaston-Louis, iconic Monogram bags reworked by renowned artists and designers such as Karl Lagerfeld, Rei Kawakubo, Cindy Sherman, and Frank Gehry, and original collaborations and commissions by artists including Yayoi Kusama, Richard Prince, and Zaha Hadid.
Louis Vuitton X exhibition is a rich and engaging experience and an exhilarating exploration of Louis Vuitton's ongoing dialogue between the past and the future, heritage and modernity, savoir-faire and innovation.
The exhibition can be visited until September 15th, 2019 at the 468 North Rodeo Drive building in Beverly Hills, California. The highlight of Louis Vuitton X is the premier of the Artycapucines collection, the Maison's latest collaboration with six prominent international artists – Sam Falls, Urs Fischer, Nicholas Hlobo, Alex Israel, Tschabalala Self and Jonas Wood – each of whom reinterpreted the iconic Louis Vuitton Capucines bag.
Taking visitors from one room to another - dressed with different hues of pink, yellow and powder color as well as different patterns, each room is filled with digital elements and dedicated to different themes such as Louis Vuitton on the red carpet, the new ArtyCapucines collection and Louis Vuitton's signature monogram.
Los Angeles is the exhibition's first stop. "This is the first city where we did it, and then it will go on a worldwide tour. But it starts here in Los Angeles because of the vibrant art scene," said Louis Vuitton Chief Executive and Chairman Michael Burke.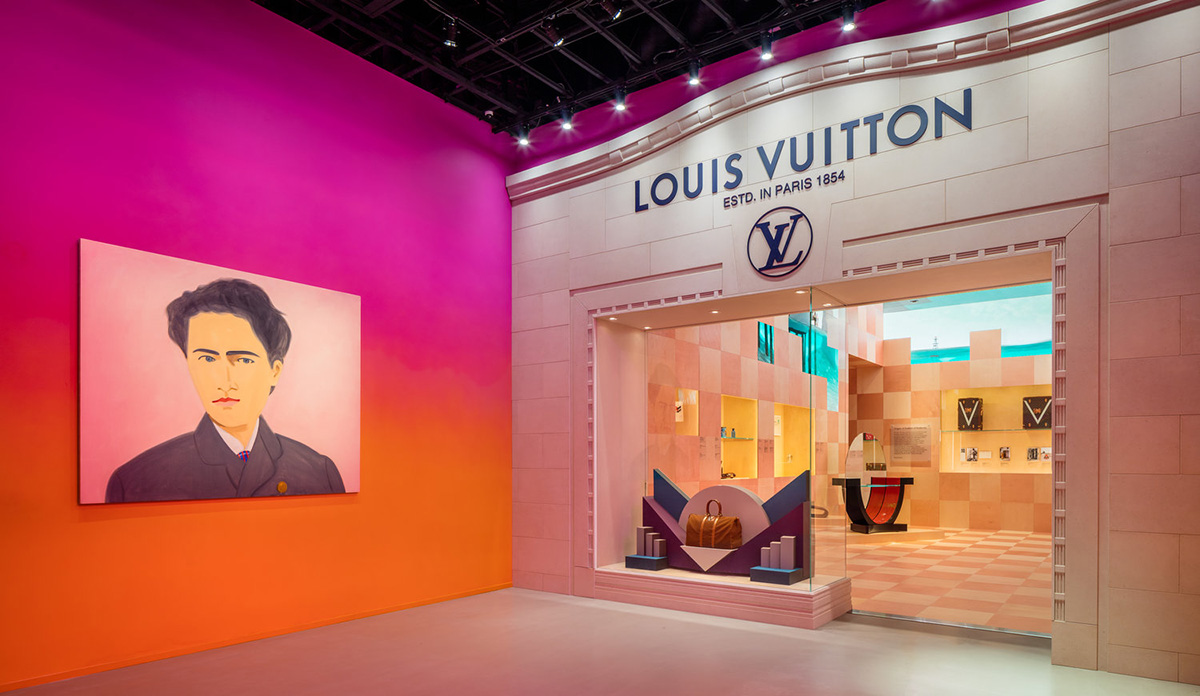 A portrait of Louis Vuitton by American Painter Alex Katz opens the exhibition. This portrait was commissioned as part of an ongoing project for the brand that will see the house commission portraits from important artists from the 20th and 21st century to re-imagine the brand's founder.
Upon entering, visitors are welcomed with multi-hued spaces and digitally-embedded installation within the walls - which have been designed by using three Louis Vuitton-inspired Instagram camera effects - specifically developed for the exhibition. While in their journey, visitor are able to use their smartphones and scan a bar code to unlock x-ray with technicolor filters that are exclusive and unique to the exhibition.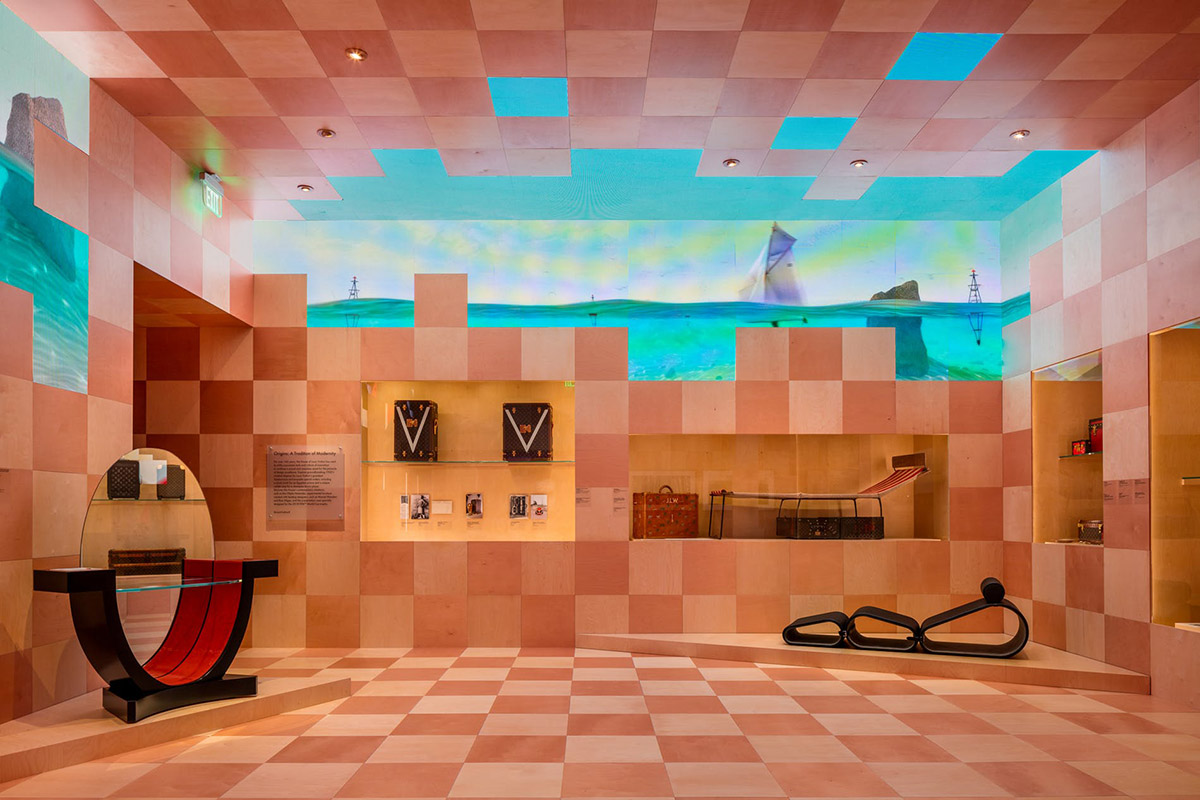 As visitors scan the room, they discover vintage orders of custom trunks and his angular furniture designs beautifully displayed by the back wall. Another room features a massively colored-wall lights the way into the next room, where visitors can discover luminous interpretations of the classic monogram on the Maison's modern luggage.
In the next two rooms, Vuitton's textile designs line is showcased on the walls with beautiful canvas and artistic layout standing in bright-patterned booths, showcasing the House's creative partnerships.
In this room, visitors are able to see collaborations with visionaries including Stephen Sprouse, Richard Prince, Marc Jacobs, and Virgil Abloh in ways that alter the traditional Louis Vuitton form.
Another striking-themes room is the Pink Room. The Pink Room contains 31 beautiful garments designed by Nicolas Ghesquière, Artistic Director of Women's collections, for Hollywood's biggest stars take center stage in their original form.
Emma Stone's long, embroidered Met Gala dress just stands next to Alicia Vikander's silk evening gown worn to the Golden Globe Awards. Each dress shows the fashion house's incredible ability to instill each star's personal character into the modern silhouettes that make them special on the red carpet.
Image © Werner Huthmacher
Zaha Hadid's iconic LV Bucket Bag - conceptually reinterpreted in 2006 for the LV - is also exhibited at the Louis Vuitton X exhibition. Hadid's design gave rise to a series of physical interventions - extruding, distorting, peeling and slicing materials to create new family of hybrid technologies, with the pochette, clutch and bucket.
Exhibition facts
Exhibition name: Louis Vuitton X
Location: 468 North Rodeo Drive, Beverly Hills, CA 90210
Exhibition Hours
From June 28th to September 15th, 2019
Monday - Saturday: 10 am - 9 pm
Sunday: 11 am - 7 pm
Free Admission.
All images courtesy of Brad Dickson, Dylan Kelly, and Louis Vuitton unless otherwise stated.
> via Louis Vuitton