Torr Kaelan creates physical and elegant relationship with street through its protruding facade
A complex but elegantly looking mixed-use building presents itself as ''the most aesthetic urban infill' situated in blighted redeveloping area of East Village San Diego. Named Torr Kaelan, a five-story building designed by San Diego and Palo Alto-based Rob Wellington Quigley in 2015.
Encompassing 14,000 square feet area, the building is harmonised with two town residences and offices, set on the edge of an emerging neighbourhood in San Diego. The basic design approach was to create a transparent, unusually interactive environment for creative tenants to live over their workplace in a redeveloping downtown neighbourhood.
Torr Kaelan is conceived as a sustainable building with enough solar energy to peer offices, residence and two electric cars. Torr Kaelan's protruding facade engages the urban street life while simultaneously creating a protective refuge for the occupants within.
''The 'juicy joint' block is animated by San Diego's bright sun and protects a series of balconies and bay windows meant to encourage and interactive 'conversation' with the street,'' said Rob Wellington Quigley.
2nd floor offices
Entry to the building is carefully choreographed as a passage from the intensity of the street to the more serene courtyard. The heart of the building is the central courtyard. It allows the four tenants as unobtrusive awareness of the activity of others and enables the serendipity of chance interaction.
3rd floor offices
In the late afternoon, the courtyard glows with reflected light from gold coloured paint on the west facing wall. At night, the space is transformed into a dining and gathering space for spontaneous or special occasions.
Two town homes comprise the fourth and fifth floors, each with its own private elevator entry.
Facade detail
''42' wide and constructed of fireproof materials, a penthouse rental unit perches above the offices and faces 13th street. Unusual in a dense urban situation, the top floor living/dining area has light from the ceiling and three sides allowing the path of the sun to continually alter the mood of the space,'' said Rob Wellington Quigley.
Ground floor-view from entry
Archaic California and City laws prohibited logical grey water recycling.The unusual roof form provides the proper angle for solar collectors and guides rain water to the back of the site where it is channeled and filtered through gardens and stones before it reaches the street.

The unique penthouse is the counterpoint that allows you to observe the city's East Village below as it evolves.
Torr Kaelan is included in an upcoming book written by Michael Webb on the world's best apartment blocks, will be released on March 21, 2017.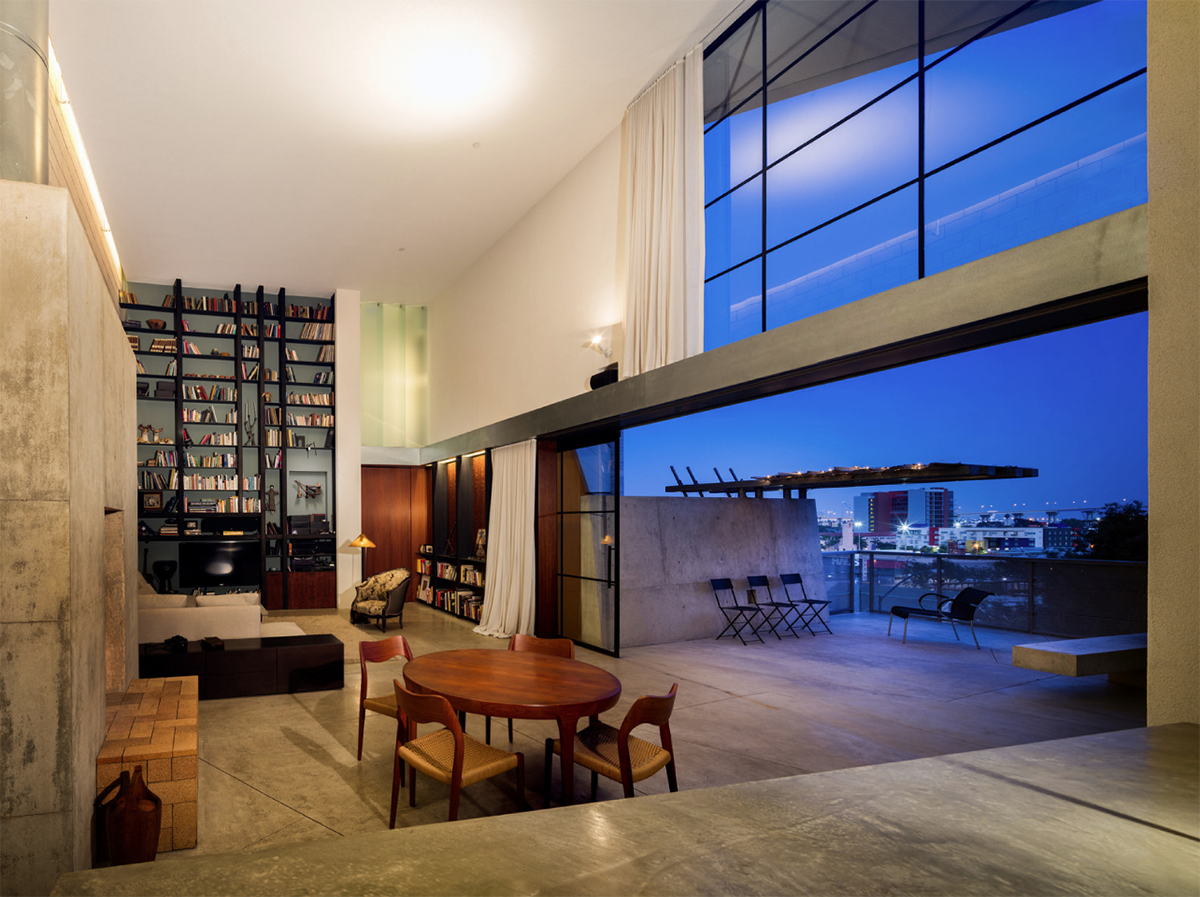 Floor plans-1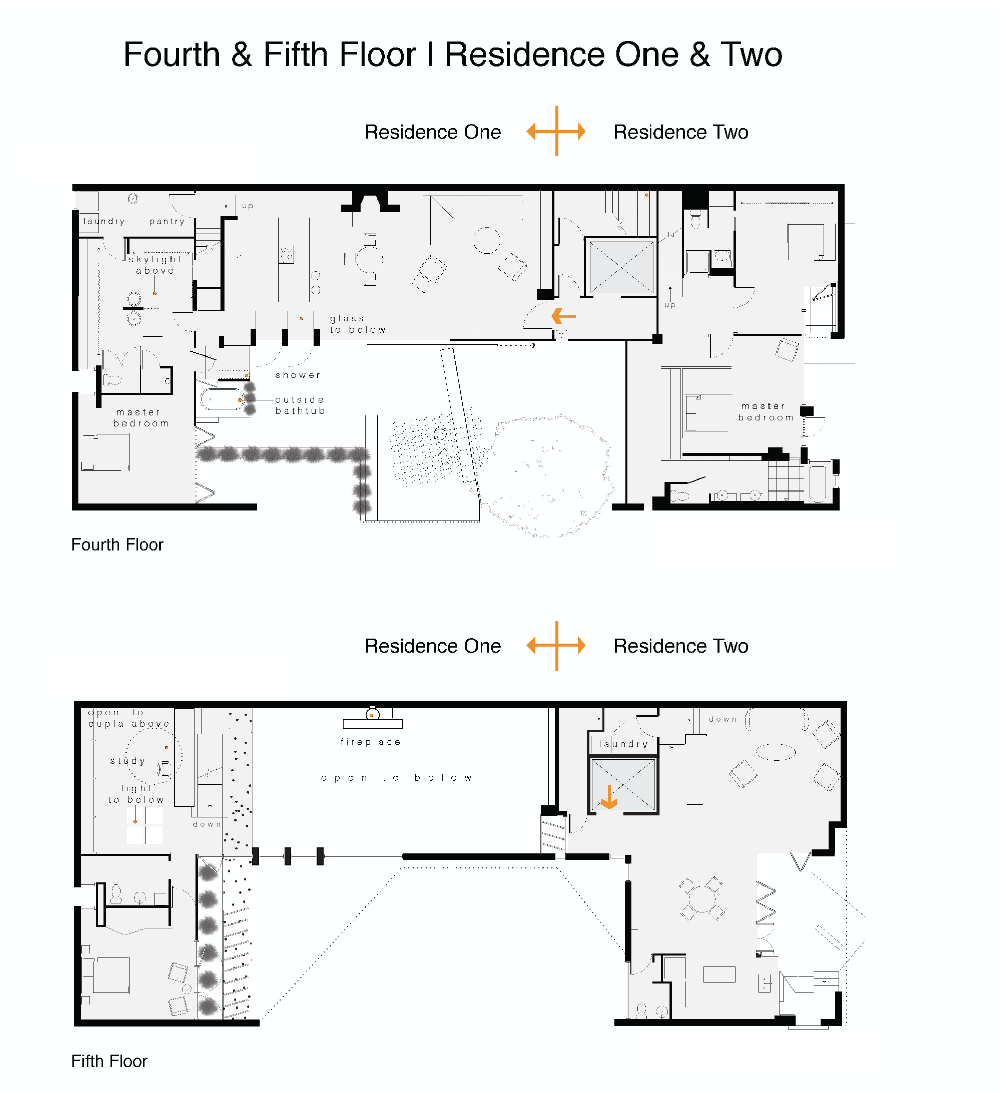 Floor plans-2
Concept sketch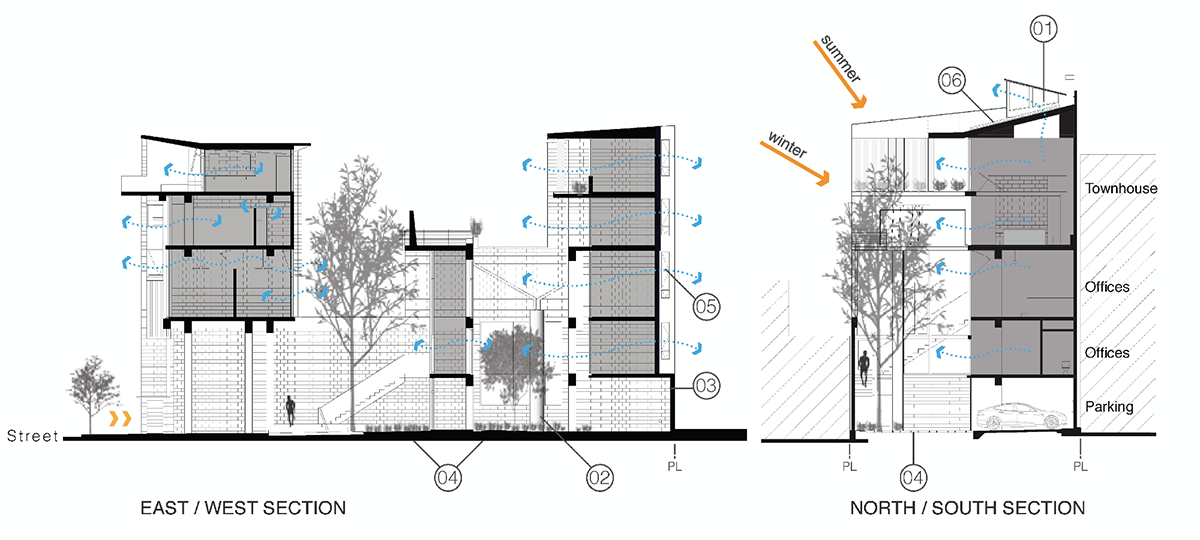 Sections
All images © Darren Bradley and Steve Simpson
> via Rob Wellington Quigley