Call for entries: Wedding Oasis Architectural Competition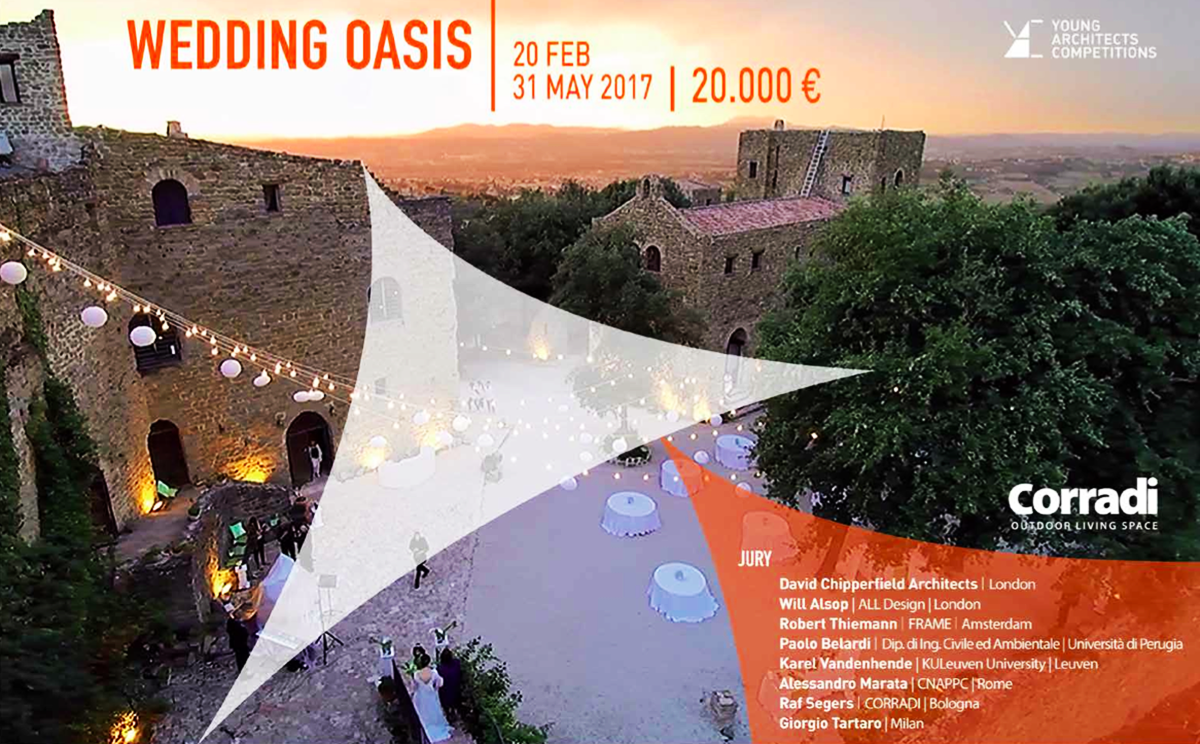 Young Architects Competitions (YAC) and Corradi s.r.l. have announced new architectural competition called 'Wedding Oasis' to design outdoor living structures that would enhance the accommodating potential of historical architectures like the medieval Castle of Rosciano.
Once upon a time, it was an unassailable fortress in the heart of Italy, near Assisi, and today this nice manor is one of the best wedding parties' location in Italy.
There will be a total amount of 20.000 € in prize money for the awarded proposals.
The international jury of the competition gathers outstanding international personalities: Rik Nys - co-director at David Chipperfield Architects-, Will Alsop -founder of All Design practice-, Robert Thiemann - founder of Frame Publishers -, Paolo Belardi - Director of the School of Fine Arts in Perugia -, Raf Segers - CEO of Corradi srl- , Alessandro Marata - leading member of the Italian Association of Architects -, Karel Vandenhende - architecture professor at KULeuven University - Giorgio Tartaro - architecture journalist.
If there is a universal experience able to connect people of all cultures, times and traditions, that experience is love. The wedding can be considered as a civil or religious ceremony. In any case, it is the natural celebration of love, the kind of love that, through the centuries, has always been connected to the renewal of mankind.
For this reason, the wedding day is a day of joy and celebration for a union that aims at being faithful and unbreakable. Consequently, it is the most celebrated moment of a couple's life.
In Italy, one of the most beautiful sites that is chosen as the best location for the wedding by lovers from all over the world is, without any doubt, Castello di Rosciano (Rosciano castle).
This Etruscan fortress, thanks to its thousand-year history and timeless charm, is a fabulous site. In this beautiful frame, every year a hundred couples promise love and tenderness starting their new life as husband and wife within the walls of the manor.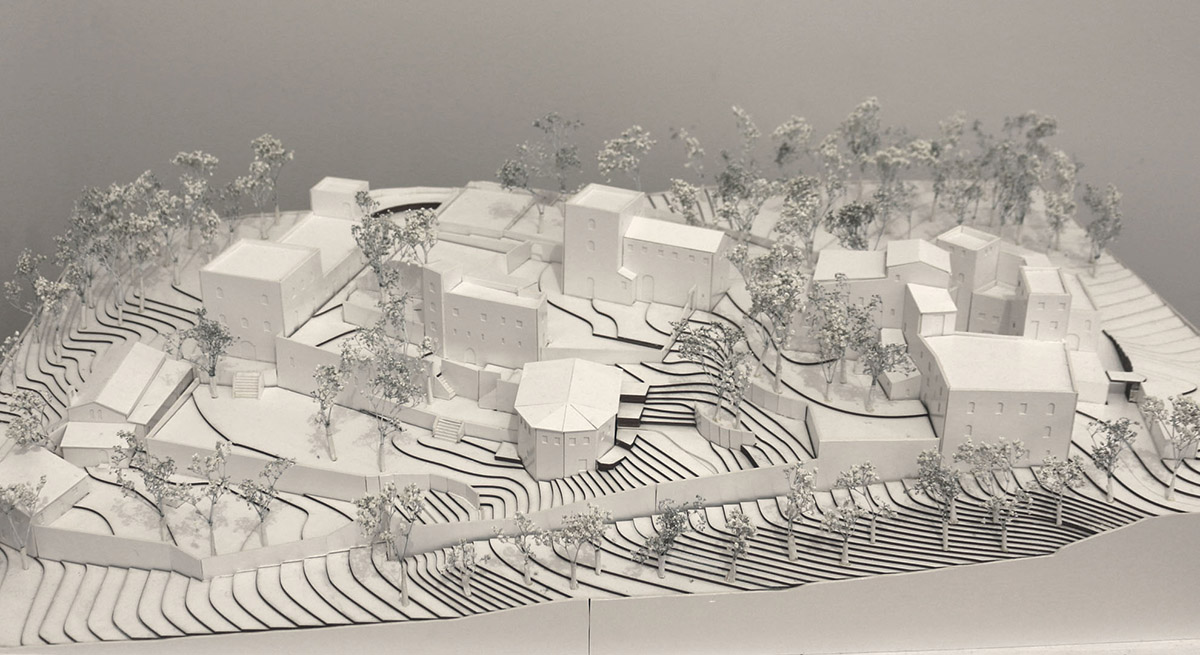 The castle is composed by walls, courtyards and romantic and cozy spaces overlooking the marvelous valley of Assisi and one of the most extraordinary countryside of Italy. This remarkable site didn't go unnoticed by the company Corradi- leader in the design of living outdoor.
According to it, the castle is the ideal location for new architectural solutions with a deep relation with nature: extensions, pavilions and new architectural elements able to enhance such a sublime location as the perfect context for the most exclusive and splendid weddings.
How to enhance, through a contemporary intervention, such beautiful and meaningful ancient building? Which are the best architectural elements to be used in one of the most demanding and universally celebrated moment?

On these fascinating questions the company Corradi lays the foundation for Wedding Oasis, inviting all the designers to let this charming and romantic site inspire them. By doing so, they will have the opportunity to be involved in the most memorable day of the lives of thousands of couples. Moreover, through architectural elements suited for a fairy-tale location, they will have the chance to confirm the leadership of one of the most desirable wedding locations in the world.

YAC thanks all the designers who will take part in this challenge.
Jury

Rik Nys, David Chipperfield Architects, London
Will Alsop, ALL Design, London
Robert Thiemann, Frame Publishers, Amsterdam
Paolo Belardi, Accademia di Belle Arti , Perugia
Raf Segers, CORRADI S.R.L., Bologna
Alessandro Marata, C.N.A.P.P.C., Rome
Karel Vandenhende, K.U.Leuven, Leuven
Giorgio Tartaro, Milan
Prizes

1st Prize: 8.000 €
2nd Prize: 4.000 €
3rd Prize: 2.000 €
6 Gold Mentions: 1.000 € each
10 Honorable Mentions and 30 Finalists
Schedule
Early bird registration start: February 20, 2017
Early bird registration end (h 11.59 p.m. GMT): March 28, 2017
Standard registration start: March 29, 2017
Standard registration end (h 11.59 p.m. GMT): April 26, 2017
Late registration start: April 27, 2017
Late registration end (h 11.59 p.m. GMT): May 24, 2017
Material submission deadline: May 31, 2017 (h 12.00 pm - midday - GMT)
Jury summoning: June 1, 2017
Results announcement: July 3, 2017
Competition brief, detailed documents, photos, drawings about the competition can be downloaded from the website.
All images courtesy of YAC