Pokémon Go, Kanye West clothing, the Olympic Refugee Flag among Beazley Designs of the Year nominees
London's Design Museum has announced the shortlist for the 10th anniversary of its annual exhibition and awards celebrating the world's best design. Nominees include a hijab designed by Nike and the National Museum of African American History and Culture in Washington D.C designed by the recently knighted Sir David Adjaye, the Warka Water by Arturo Vittori, the Port House by Zaha Hadid Architects and the Il Fondaco Tedeschi in Venice by OMA.
A year of political unrest is represented through Wolfgang Tillmans' Remain Campaign, support posters for Jeremy Corbyn and the Pussyhat worn by protesters in the USA following President Trump's sexist comments. Other nominations include IKEA furniture that does not require screws or allen keys, the world's first 3D printed self-driving bus and the TV experience design for the English football Premier League.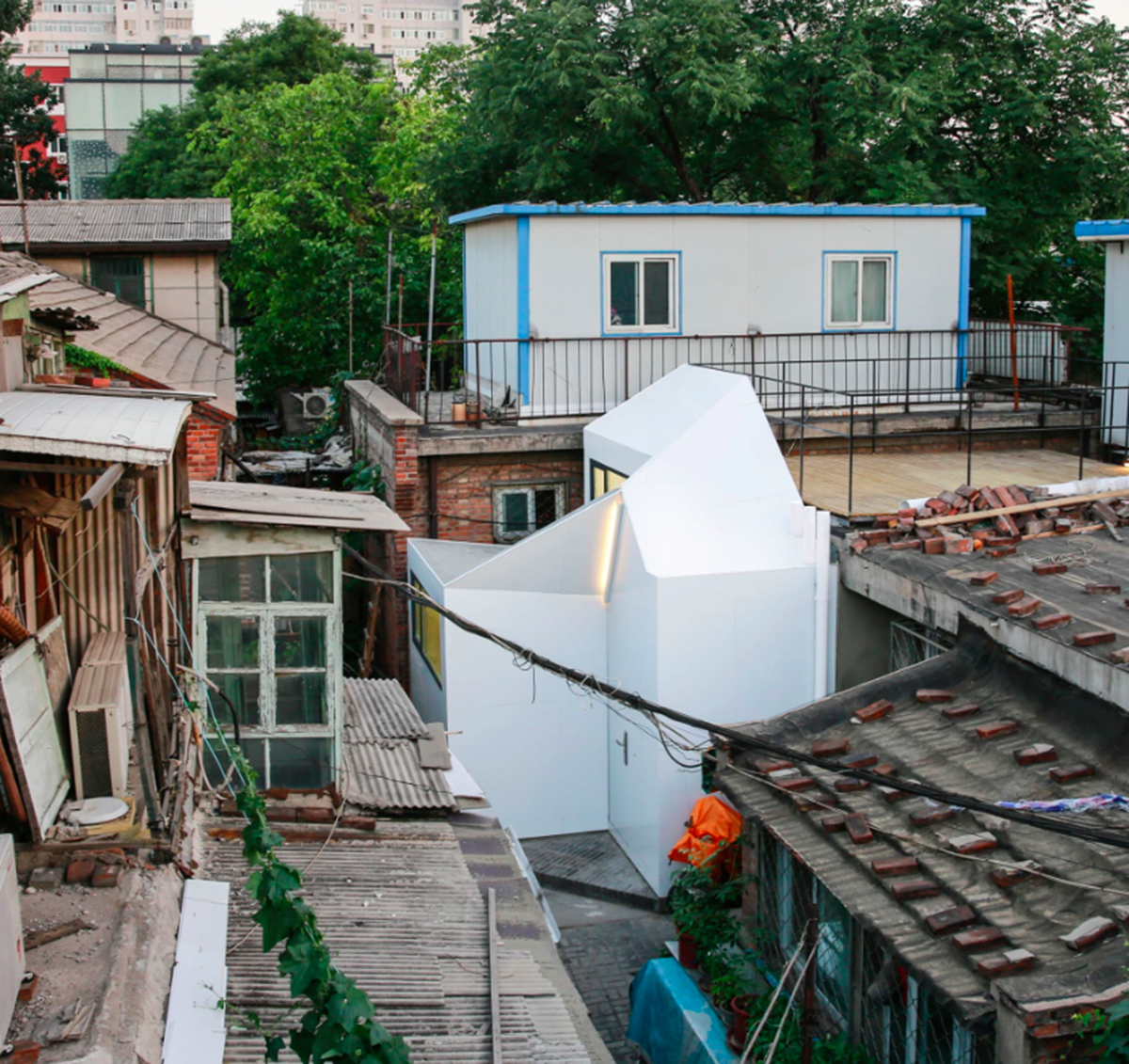 PAO's Plug-in house in Beijing. Image © People's Architecture Office
The annual exhibition and awards, supported by specialist insurer Beazley, comprises 62 nominations across six categories: Architecture, Digital, Fashion, Graphics, Product and Transport.
Selected by a panel of distinguished international designers, curators and creatives including David Rowan (chair of the jury), Editor-at-large of WIRED's UK edition Ozwald Boateng OBE, fashion designer, Marcus Engman, Design Manager of IKEA Range and Supply. Margaret Calvert OBE, typographer and graphic designer, Amanda Levete, Founder and Principal of AL_A, Professor Gerry McGovern, Chief Design Officer, JLR and Michael Tchao, VP Product Marketing at Apple Inc.
Sketches, models, physical pieces, videos and photography will be on display for all nominations and will provide a snapshot into the exciting world of design. Combining the world's most established talent alongside graduates and rising stars, Beazley Designs of the Year provides a rare moment to experience a diverse selection of industries, objects and technologies in one exhibition.
Croft Lodge Studio by Kate Darby Architects and David Connor Design in Leominster, Herefordshire. Image © James Morris
The awards showcase the most original and exciting products, concepts and designers in the world today. The Design Museum will open an online public vote from October 2017 and a jury of industry experts will decide on the award winners in each category and one overall winner will be announced on 25 January 2018.
Previous winners have included the 2012 Olympic Torch, the Heydar Aliyev Centre by Zaha Hadid and Human Organs-on-Chips, a micro-device lined with living human cells to mimic the complex tissue structures of the human body. Beazley Designs of the Year will be on display from 18 October 2017 to 28 January 2018.
Scroll down to see all the nominees' list below:
Architecture category
The Port House in Belgium be Zaha Hadid Architects. Image © Helene Binet
- Mrs Fan's Plug-In House / Designed by People'e Architecture Office.
- Warka Water / Designed by Artuto Vittori.
- Hegnhuset, memorial and learning centre on Utøya, Norway / Designed by Blakstad Haffner Architects.
- Smithsonian National Museum of African American History and Culture in Washington D.C. / Adjaye Associates, the Freelon Group, Davis Brody Bond, SmithGroupJJR.
- Wind and Rain Bridge / Donn Holohan with students from the University of Hong Kong and Peitian Community Craftsmen.
- Sala Beckett Theatre and International Drama Center / Designed by Flores & Prats.
- The Calais Builds Project / Gráinne Hassett with migrants living in the Calais Jungle and students of Architecture from the University of Limerick.
- Croft Lodge Studio / Kate Darby Architects and David Connor Design.
- Lycée Schorge Secondary School / Kéré Architecture.
- Weltsadt-Refugees' Memories and Futures as Models / Schlesische27 International Youth, Arts and Culture Center in collaboration with Raumlaborberlin and the SRH Hochschule der Populären Künste—hdpk.
- The Environment Enhancement of the Five Dragons Temple / Designed by Urbanus.
- Port House / Designed by Zaha Hadid Architects.
- Il Fondaco Tedeschi, Venice / Designed by OMA.
Digital category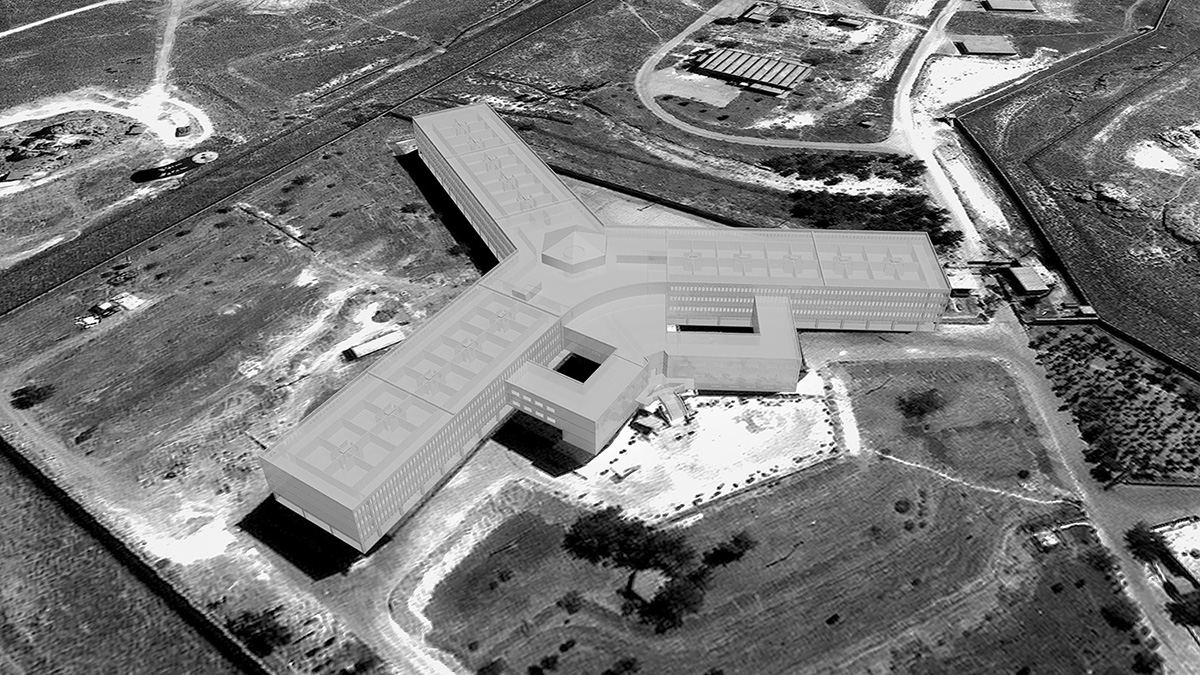 Saydnaya: Inside a Syrian Torutre Prison by Forensic Architecture and Amnesty International. Image courtesy of Design Museum
- Premier League on-air branding / DixonBaxi.
- Pierre Chareau: Modern Architecture and Design / Diller Scofidio + Renfro.
- Saydnaya: Inside a Syrian Torture Prison / Forensic Architecture and Amnesty International.
- Meet Graham: The only person designed to survive on our roads / Patricia Piccinini for Transport Accident Authority (TAC).
- Pokémon Go / Niantic.
- Rapid Liquid Printing / Self-Assembly Lab, MIT in collaboration with Steelcase.
- OTHR / Joe Doucet, Dean DiSimone and Evan Clabots.
- Professional Women Emoji / Agustin Fonts, Rachel Been, Mark Davis, Nicole Bleuel and Chang Yang.
- Refugee Text / Kåre M. S. Solvåg, Caroline Arvidsson, Ciarán Duffy.
- Google Noto / Google and Monotype.
Fashion category
Life of Pablo merchandise and pop-up stores by Kanye West and Mat Vlasic for Bravado. Image courtesy of DONDA
- Pussyhat Project / Krista Suh, Jayna Zweiman, Kat Coyle and Aurora Lady.
- New Object Research 'The Rite of Spring/Summer/Autumn/Winter' / Aitor Throup.
- Ecoalf / by Ecoalf.
- Life of Pablo merchandise and pop-up stores / Kanye West and Mat Vlasic for Bravado.
- Levi's® Commuter™ Trucker Jacket with Jacquard™ by Google / Levi Strauss & Co. and Google Inc.
- Nike Pro Hijab / Rachel Henry, Baron Brandt and Megan Saalfeld for Nike.
Graphics category
Anti-Brexit poster campaign designed by artist Wolfgang Tillmans. Image © Wolfgang Tillmans
- Protest Banner Lending Library / Aram Han Sifuentes in collaboration with Verónica Casado Hernandez, Ishita Dharap, and Tabitha Anne Kunkes.
- Finding Her / IC4DESIGN with DDB Dubai for UN Women Egypt.
- Ibiza Mykonos Jeremy Corbyn (Politcal Protests) / Michael Oswell.
- New logo and Identity for Reykjavik Art Museum / karlssonwilker inc.
- N.A.A.F.I design identity / Alberto Bustamente a.k.a Mexican Jihad.
- Me & EU / Nathan Smith and Sam T Smith.
- Real Review / Jack Self, Editor-in-Chief, and OK-RM (Oliver Knight and Rory McGrath), Creative Directors.
- Wales Nation Brand / Smörgåsbord.
- 'Fractured Lands', The New York Times Magazine, 14 August 2016. Jack Silverstein, Editor-in-Chief, Gail Bichler, Design Director, and Matt Willey, Art Director, for - The New York Times Magazine.
- Unit Editions / Tony Brook, Adrian Shaughnessy and Patricia Finegan.
- Pro-EU anti-Brexit Campaign / Wolfgang Tillmans, Between Bridges.
- The Refugee Nation flag / Yara Said with The Refugee Nation for Amnesty International.
Product category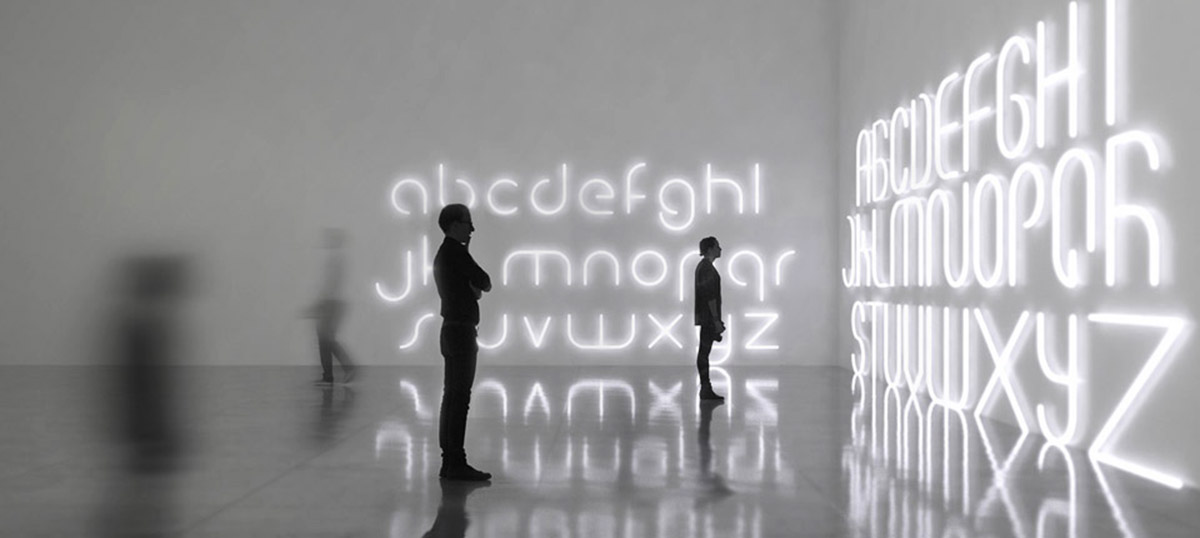 Alphabet of Light by BIG – Bjarke Ingels Group for Artemide. Image courtesy of Artemide
- Avy Search and Rescue Drone / Paul Vastert, David Wielemaker, Christian McCabe and Patrique Zaman.
- Dansbana! Vårby gård / Dansbana! (Anna Fridolin, Anna Pang and Teres Selberg) for Huddinge kommuni
- BuffaloGrid / Daniel Becerra.
- Alphabet of Light / BIG—Bjarke Ingels Group of Artemide.
- Flax Chair / Christien Meindertsma for LABEL/BREED.
- AIR-INK /Graviky Labs.
- Remolten / gt2P (great things 2 People) with Friedman Benda.
- Wedge Dowel / IKEA.
- Solid Textile Board Benches / Max Lamb for Really.
- Nimuno Loops / Anine Kirsten, Max Basler and Jaco Kruger.
- The Pilot translating earpiece / Waverly Labs.
- SNOO Smart Sleeper / Yves Béhar and fuseproject for Dr Harvey Karp's Happiest Baby.
- Sufferhead Original Stout / Emeka Ogboh.
Transport category
Light Traffic by Carlo Ratti at Senseable City, Massachussetts Institute of Technology (MIT). Image © Light Traffic
- Autonomous Rail Rapid Transit (ART) / CRRC.
- Mahjouba Initiative / Eric van Hove.
- Olli / Local Motors.
- Light Traffic / Carlo Ratti at Senseable City Lab, Massachussetts Institute of Technology (MIT)
- SeaBubbles / Alain Thebault and Anders Bringal.
- Honda Moto Riding Assist / Honda.
- Scewo / Thomas Gemperle, Adrien Weber, Naomi Stieger, Stella
- Mühlhaus, Bernhard Winter, Pascal Buholzer at the Swiss Federal Institute of Technology
- Gita / Piaggio Fast Forward.
The Design Museum is the world's leading museum devoted to architecture and contemporary design, its work encompasses all elements of design, including fashion, product and graphic design.
Previous Design of the Year Winners include Better Shelter by Johan Karlsson, Dennis Kanter, Christian Gustafsson, John van Leer, Tim de Haas, Nicolò Barlera, the IKEA Foundation and UNHCR won Design of the Year Award in 2016. In 2015, Human Organs-on-Chips by Donald Ingber and Dan Dongeun Huh at Harvard University's Wyss Institute won Design of the Year Award.
Top image: Warka Water designed by Arturo Vittori, nominated in the Architecture category. Image courtesy of Design Museum
> via Design Museum