Kanye West's first exhibition at LA Gallery includes naked bodies of pop icons inspired by his video
Kanye West has finally realized his dream by converting his video content into the reality in an exhibition, composed of many naked bodies of world's pop icons. Kanye West, world renowned rapper, fashion-lover and designer, has opened his own famous and exclusive art-work in an exhibition at Los Angeles gallery Blum & Poe this weekend.
Apparently, Kanye West was not at the gallery but his famous wife Kim Kardashian West stood in front of the exhibition and took many pictures of the installation to present them on her Twitter account. Kanye West and Kim Kardashian West always know well how to attract people's attention and always a speculative couples among other pop icons or married couples.
Kim Kardashian West at the gallery. Image courtesy of missbish
West's realistic art-work features 12-naked bodies of the most famous of pop icons including George W. Bush, Anna Wintour, Donald Trump, Rihanna, Chris Brown, Taylor Swift, West, his wife Kim Kardashian West, Ray J (an ex-boyfriend of Kardashian West), Amber Rose (an ex-girlfriend of West), Caitlin Jenner, and Bill Cosby.
The installation is derived from West's most controversial video named 'Famous'-but, these naked bodies appear in the video as an 'image', which actually we want to be realised.
The 12-naked bodies are laying on a white bed and covered by white sheets haphazardly and models appear in the bed half-naked, which is borrowed from the artist Vincent Desiderio's painting 'sleep'.
For this installation, Kanye West asked his DONDA, a design company launched by West in 2012, team to create an installation which need to be seen 'anatomically correct' representation for each body -by carving out them to the minutest details. After a comprehensible research on the artists and their body lines, details the team also consulted some of celebrity artists to create correct depictions.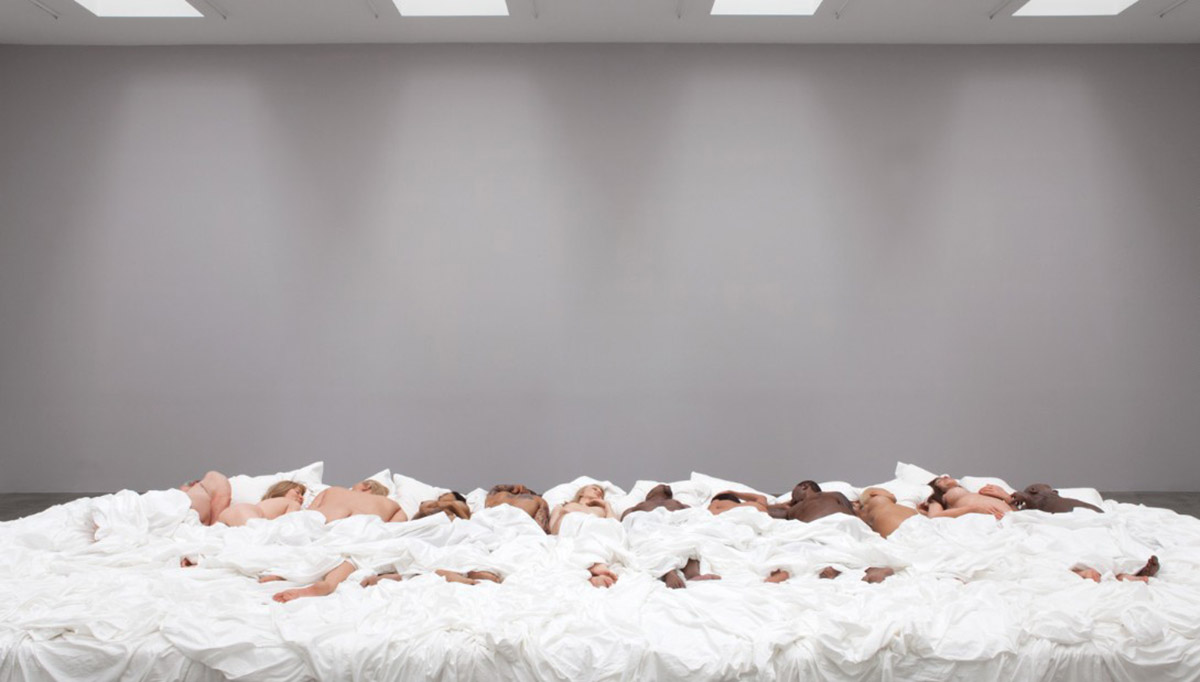 Image © Kanye West / Bluem & Poe / Los Angeles, New York, Tokyo, photo by Sam Kahn
After various models, animations and imageries, LA studios created the silicon animatronic bodies by using 3D softwares and scanning techniques, then the bodies were hand-sculpted. But, the model's freckles and hairs were applied one-by-one.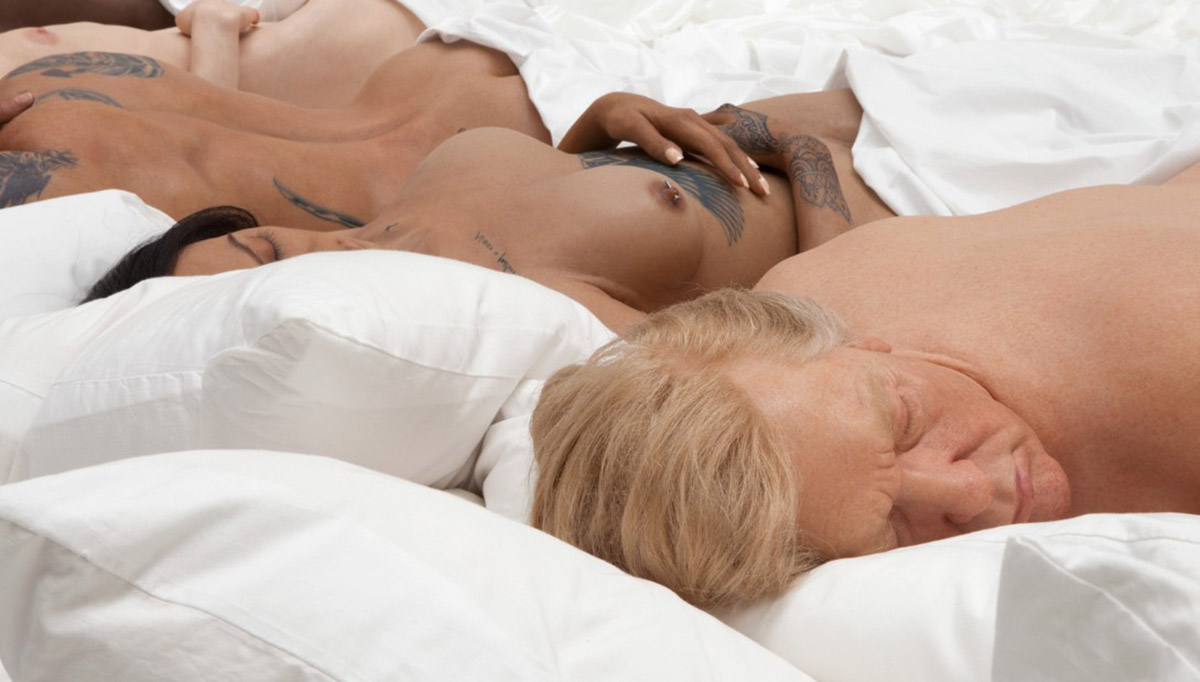 Image © Kanye West / Bluem & Poe / Los Angeles, New York, Tokyo, photo by Sam Kahn
While creating this exclusive sculpture, particularly, Kim Kardashian West carved some part of her body herself to fit the right size. "The work alone is extraordinary and completely succeeds as a sculpture and multi-media installation," says Blum & Poe co-founder Tim Blum, mentioned in CNN.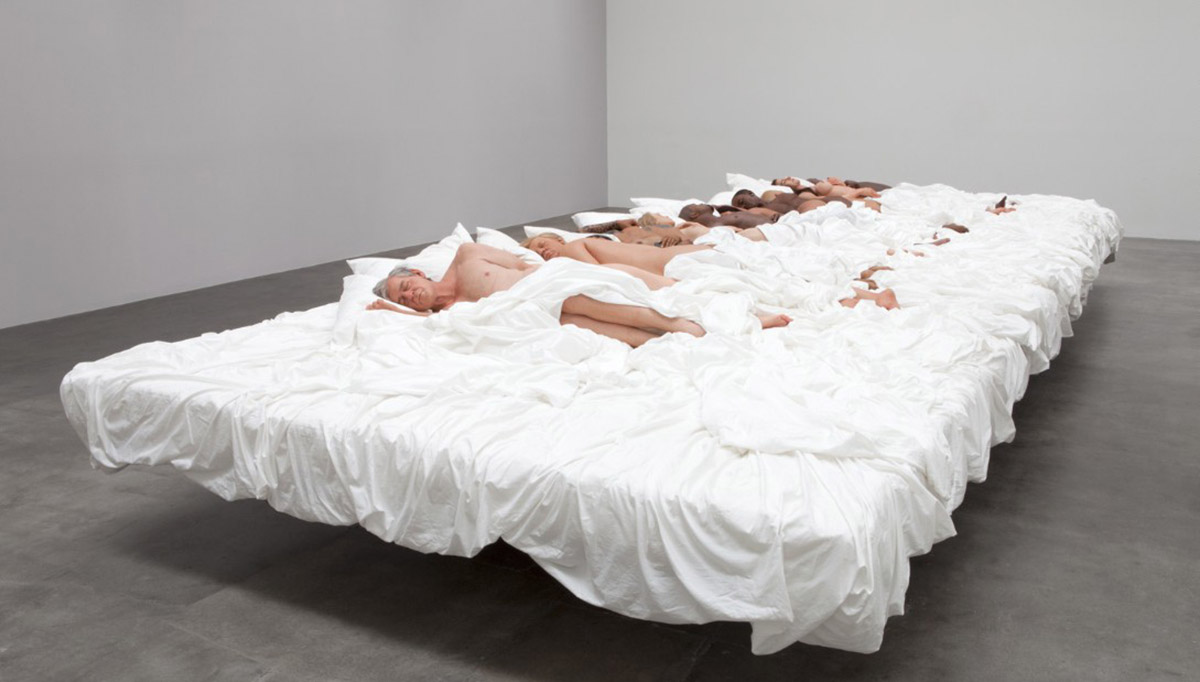 Image © Kanye West / Bluem & Poe / Los Angeles, New York, Tokyo, photo by Sam Kahn
"If you didn't know that this was a work by Kanye West, and instead was the work of a known artist in the art world, the perception of the piece would be completely different - it would be celebrated and universally supported at the highest level."
Image © Kanye West / Bluem & Poe / Los Angeles, New York, Tokyo, photo by Sam Kahn
"Those are people who don't have a lot of historical background on art," according to Blum. "I can name you the top 20 artists in the world who don't actually touch the sculptures being produced, or even the paintings."
Image © Kanye West / Bluem & Poe / Los Angeles, New York, Tokyo, photo by Sam Kahn
Kim Kardashian West at the gallery. Image courtesy of missbish
Top image © Kanye West / Bluem & Poe / Los Angeles, New York, Tokyo, photo by Sam Kahn
> via Kanye West