Special Interview With Carlo Ratti On Senseable City Lab MIT
photography © Lars Krüger
Carlo Ratti really makes cool things in MIT Senseable Laboratory to experience the ''real-time'' city with a new approach by using new datas,electronics,codes and softwares. Carlo Ratti is an architect and engineer by training, Carlo Ratti practices in Italy and teaches at the Massachusetts Institute of Technology, where he directs the Senseable City Lab. He graduated from the Politecnico di Torino and the École Nationale des Ponts et Chaussées in Paris, and later earned his MPhil and PhD at the University of Cambridge, UK.Carlo holds several patents and has co-authored over 250 publications. As well as being a regular contributor to the architecture magazine Domus and the Italian newspaper Il Sole 24 Ore, he has written for the BBC, La Stampa, Scientific American and The New York Times. His work has been exhibited worldwide at venues such as the Venice Biennale, the Design Museum Barcelona, the Science Museum in London, GAFTA in San Francisco, MoMA in New York and MAXXI in Rome.
Carlo creates new interactive,digital environments in order to understand the city reactions within its own limits or beyond by analysing the city's inputs and the context and all these datas are transformed carefully into the new dynamic ''real-time'' tools,graphics or datas working on both textually and visually.Carlo spoke to WA and explained his design approach on ''real-time'' city in detail and he said: ''We want to investigate and intervene at the interface between people, technologies and the city - developing research and applications that empower citizens to make better choices.''
Here's we are publishing the full transcript of his interview below;
Berrin Chatzi Chousein: Could you please tell us about yourself what you do exactly?

Carlo Ratti: We love to work at the intersection of design and innovation. I personally wear three hats: I am professor at MIT, where I direct a research lab called Senseable City; I am a partner of Carlo Ratti Associati, the architectural firm I co-founded in Torino, now with branches in London and Boston; and I am involved in several start-ups. The 'vision' of all operations is very similar, even if applied to different fields: research, project, product.
Community detection
is key to understanding the structure of complex networks, and ultimately extracting useful information from them. Applications are diverse: from healthcare to regional geography, from
human interactions
and
mobility
to economics; image © Senseable City Lab
Community Detection;image © Senseable City Lab
Berrin Chatzi Chousein: How did you get involved in MIT Senseable City Lab? When was it founded?

Carlo Ratti: The Senseable City Lab started in 2004. At the time, new technologies promised exciting transformations in the field of communication, transportation and fabrication. We tried to imagine how these developments could impact urban studies and how the unprecedented interaction of the digital and physical could affect the way we understand design and ultimately live the city.
The convergence of bits and atoms we were imagining at the time is now a reality – and has opened up the fertile field of ubiquitous computing. Since its inception, the Lab has grown quickly from a 2-person endeavor to over 40 researchers between Boston and Singapore - with 250+ alumni from all over the world who have worked in SCL to date.
The Urban Village Scaling: Or, the scaling of human interactions with city size.Analysis Of Social Interactions Suggests We All Live In 'Villages' image © Senseable City Lab
Berrin Chatzi Chousein: What exactly does the Senseable City Lab do?
Carlo Ratti: We aim to explore how ubiquitous computing is opening up a new approach to the study of the built environment. We want to investigate and intervene at the interface between people, technologies and the city - developing research and applications that empower citizens to make better choices.
Berrin Chatzi Chousein:
Can you tell us your design approach in digital interactive environment? I mean we are exposed to so many digital transformations, datas, networks, codes or new systems in digital materiality and does it really affect the environment that we are in?Carlo Ratti:
Let me start with an analogy. What is happening at an urban scale today is similar to what happened two decades ago in Formula One auto racing. Up to that point, success on the circuit was primarily credited to a car's mechanics and the driver's capabilities. But then telemetry technology blossomed. The car was transformed into a computer that was monitored in real time by thousands of sensors, becoming "intelligent" and better able to respond to the conditions of the race. In a similar way, over the past decade digital technologies have begun to blanket our cities, forming the backbone of a large, intelligent infrastructure. Broadband fiber-optic and wireless telecommunications grids are supporting mobile phones, smartphones and tablets that are increasingly affordable. At the same time, open databases—especially those supported by the government—where people can read and add to, are revealing all kinds of information, while public kiosks and displays are helping literate and illiterate people to access it. In addition to this, the relentlessly growing network of sensors and digital- control technologies, tied together by cheap but powerful computers, results in our cities quickly becoming "computers in open air."
Drive Wave Instalaltion 1: DriveWAVE explores the ways in which this "digital traffic controller" can become a reality in cities.image © Senseable City Lab
Drive Wave Installation 2: A specially designed user interface lets visitors take control of the intersection and gives each person an opportunity to interact via their dynamic projection.image © Senseable City Lab
Berrin Chatzi Chousein: Tell us about some of the projects that you have been working on recently?
Carlo Ratti:
At the Lab there are many projects going on simultaneously. Let me focus on one topic – sharing mobility – and expand on that.
Cars are idle 95% of the time, so they are an ideal candidate for the sharing economy. It has been estimated that every shared car can remove ~10-30 privately owned cars form the street. Also, the impact of car sharing will grow exponentially with the advent of self driving. Self-driving vehicles promise to have a dramatic impact on urban life, because they will blur the distinction between private and public modes of transportation. "Your" car could give you a lift to work in the morning and then, rather than sitting idle in a parking lot, give a lift to someone else in your family – or, for that matter, to anyone else in your neighborhood, social-media community, or city.
A recent paper by the Massachusetts Institute of Technology's SMART Future Mobility team shows that the mobility demand of a city like Singapore – potentially host to the world's first publicly-accessible fleet of self-driving cars – could be met with 30% of its existing vehicles. Furthermore, other researchers in the same group suggest that this number could be cut by another 40% if passengers traveling similar routes at the same time were willing to share a vehicle – an estimate supported by an analysis of New York City Taxis shareability networks. This implies a city in which everyone can travel on demand with just one-fifth of the number of cars in use today.
Such reductions in car numbers would dramatically lower the cost of our mobility infrastructure and the embodied energy associated with building and maintaining it. Fewer cars may also mean shorter travel times, less congestion, and a smaller environmental impact.
You can access some of our results at:
http://hubcab.org
Berrin Chatzi Chousein: Who are you generally working with? I mean clients or academia?Carlo Ratti:
We work with companies and cities from all over the world. We have developed a structure to support our research, which gives us a lot of academic freedom, called the Senseable City Consortium.

A tale of many cities:The
SENSEable City Lab
and
Ericsson
have embarked on an unprecedented journey inside the telecommunications network – a dataset that traces across the planet. Our leading project aims at exploring the calls, SMS, data requests (initiated either by the users or background applications), and data traffic within major cities. image © Senseable City Lab

Berrin Chatzi Chousein: Are there any other classes that apply to these news digital systems in order to understand the impacts or reactions of the city on built environment during their design processes? I ask this question because we are exposed to so many debates and problematic issues to create healthy cities on a global scale and I wonder that how many people use these datas you have created to turn into reality?

Carlo Ratti: Let me expand on how we see our role. The role of the lab always ends with what we call an "urban demo", i.e. an idea made tangible into the city. From there the path to implementation can be manifold - through one of our partner cities and companies or through the start-up innovation chain or simply through initiatives that can be taken by people inspired by the demo...
Berrin Chatzi Chousein:Do all of your analyses or projects give the exact or reliable results as you expected?Carlo Ratti:
Absolutely not! But that is part of the game... We see the designer as someone who introduces mutations in the artificial environment, with the goal of speeding up its transformation. It's a process we call 'Futurecrafting'.
Berrin Chatzi Chousein: Do you believe that these digital materials like 3Dprinters,real-time projects, robotized-informations, or self-driven programs will capture the world until quite recently? Or should they invade the world?Carlo Ratti:
The French anthropologist Leroi-Gourhan in his essay 'Le geste e la parole' underlines how it is possible to draw a curve of human civilization simply looking at the way tools are used across history. From the Neolithic to the twentieth century, from the first utensils made of rocks to the development of digital technologies, from stone-axes that extended the capabilities of the hand to "outsourcing" to computers our mental processes, progress has always been profoundly marked by the gradual subcontracting of our functions. The development of new technologies always had the same goal—that is, to increase our chances and possibilities to act and create.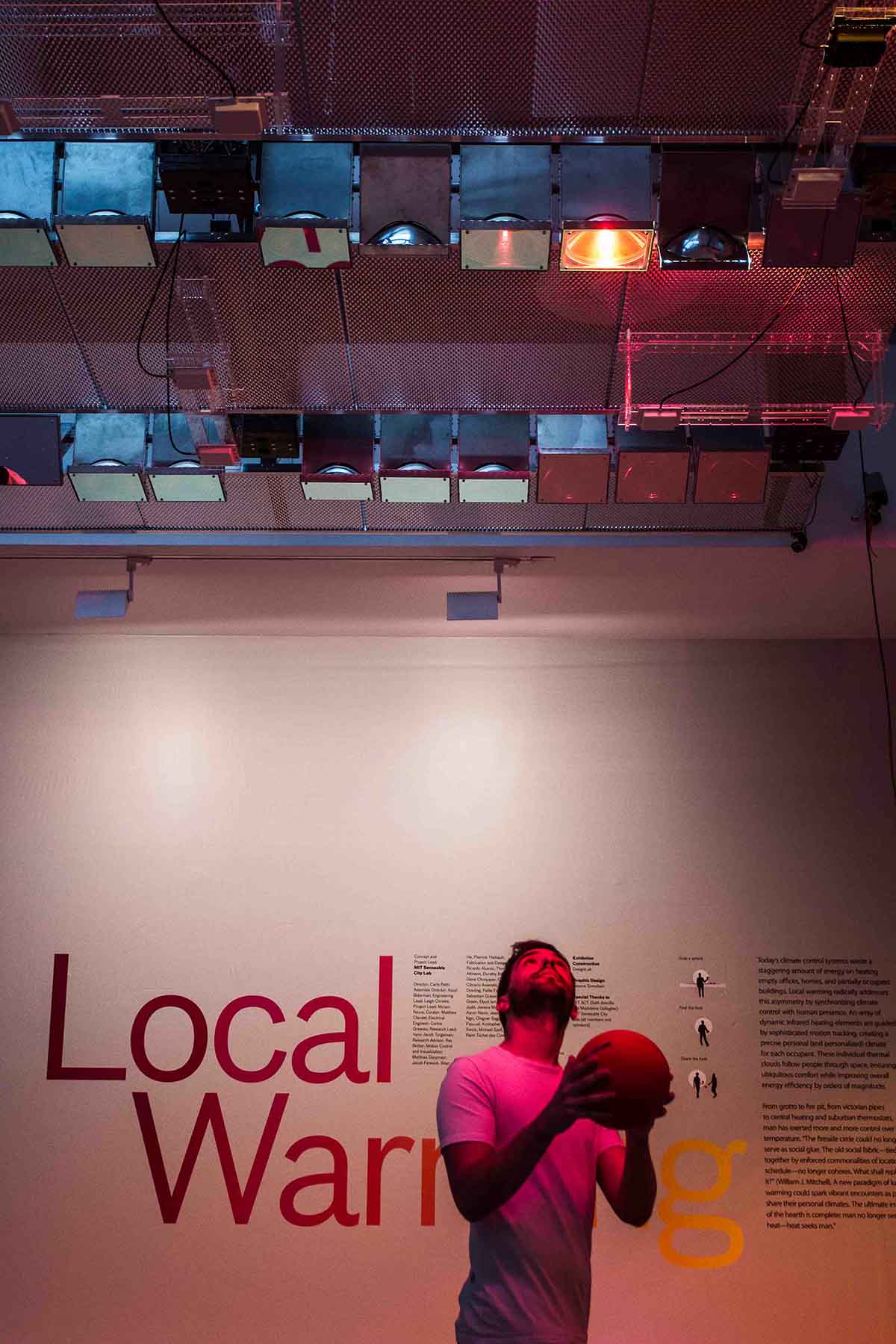 Local Warming: Local Warming presented a vision of architectural climate control at Venice Architecture Biennale, opening June 7th 2014.image © Senseable City Lab
Local Warming detail: A staggering amount of energy is wasted on heating empty offices, homes and partially occupied buildings. Local warming addresses this asymmetry in a radical way, by synchronizing human presence with climate control.image © Senseable City Lab.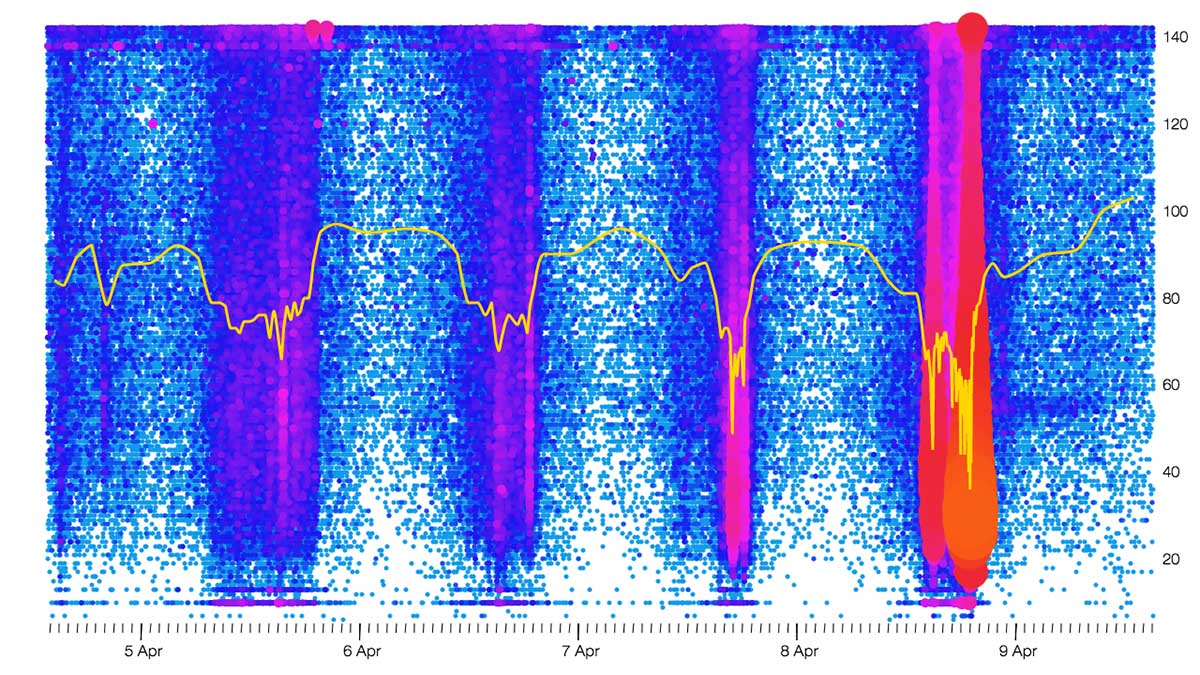 Tweet Bursts: quantifying mass excitement in social media.Explores digital collective responses to major events. image © Senseable City Lab
High excitement, short messages: MIT researchers showed relationship between the length of online posts and mass excitement during collective social events. image © Senseable City Lab