MAD Architects presents the revised version of Lucas Museum of Narrative Art
all images © MAD Architects
MAD Architects has presented the revised version of George Lucas Museum of Narrtive Art. The architectural concept for the Lucas Museum of Narrative Art explores the relationship between nature and the urban environment. Inspired by the work of Frank Lloyd Wright and Mies van der Rohe, the design integrates the natural beauty of the park and Lake Michigan with the powerful man-made architecture of Chicago. The design furthers the Museum's mission to be a place of education, culture, and inspiration. George Lucas Museum of Narrtive Art had gained many criticism and met a lawsuit challenging the plans of Lucas Museum- and "We still have to get through some lawsuits and things in Chicago," Lucas had said during a recent phone call while promoting his upcoming animated feature, "Strange Magic." "Once we make it through, we'll be on our way. But it's still a possibility that Chicago will be unable to do it," Lucas had said.
areal view of Lucas Museum looks like a percolating sculture, melting into nature
The Lucas Museum design is both futuristic and timeless. Its continuous, undulating organic surface blurs the line between structure and landscape. As the harbor rises up to the land, it merges with stone surfaces that reach up to the sky and ultimately crescendo into a "floating" disc.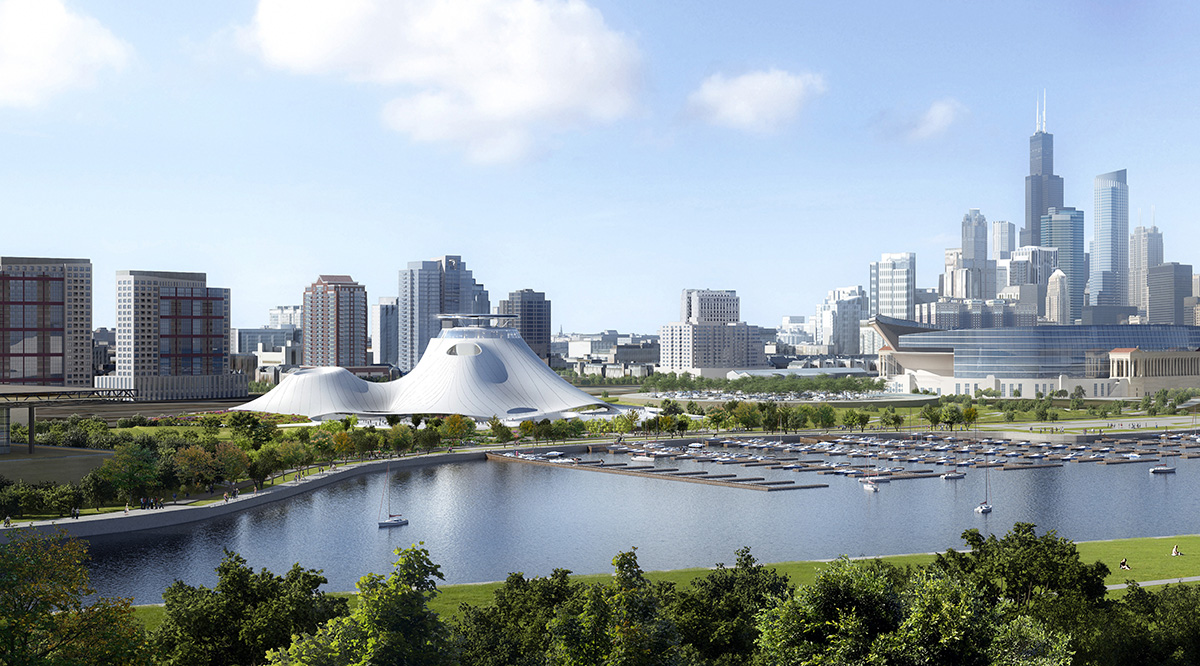 areal view-2
The Museum is not an isolated object, but a spatial experience that is defined by the people who occupy it and interact with it. Its organic surface is made of a single material, a stone as primitive as it is futuristic, evoking the great achievements of architectural history. It is a place to discover and explore, to communicate and contemplate. More than a building, it is an urban vista for social interaction, bringing people closer to each other and to nature.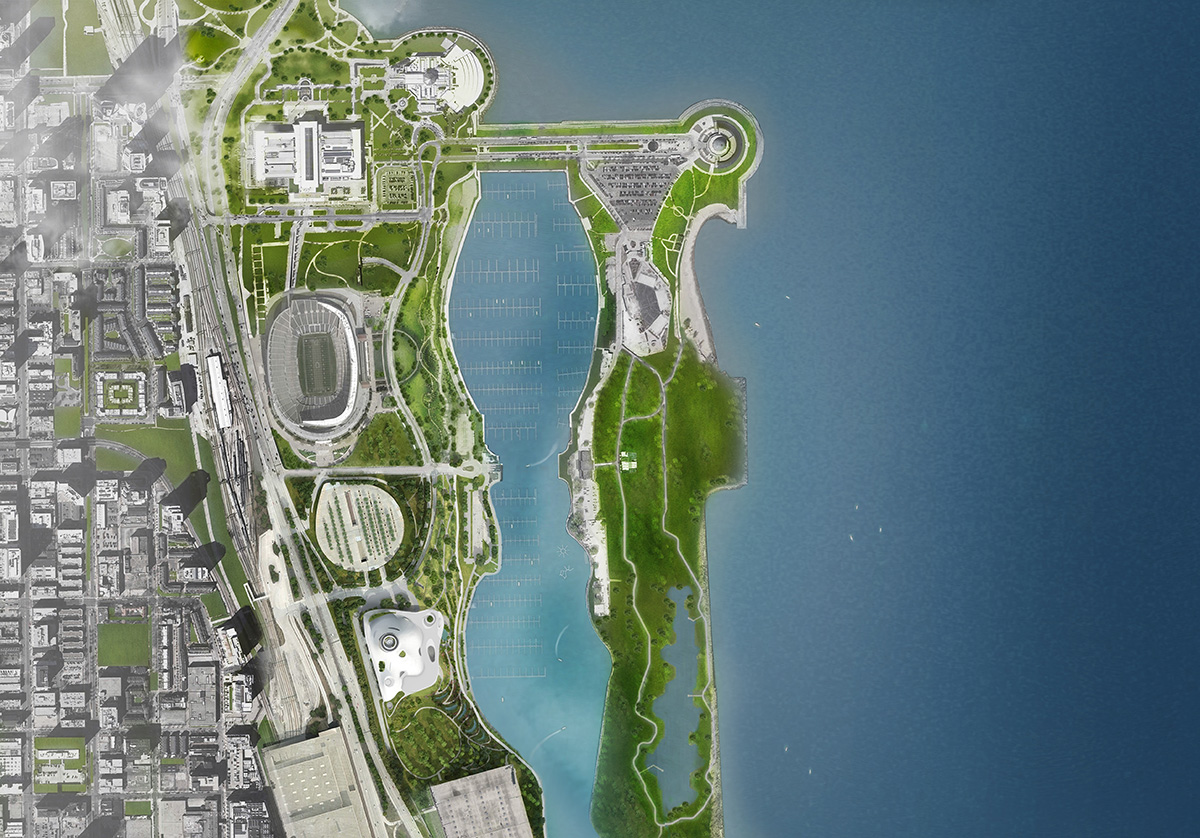 site plan of Lucas Museum
The tallest points of the Lucas Museum will feature an observation deck with 360o views, providing visitors with stunning panoramas of both Chicago and Lake Michigan. Inside, three levels of exhibition space in infinite loops will inspire the imagination to ponder endless possibilities, both in content and design. The design for the Lucas Museum mirrors the objective of the artwork inside: It tells a story. The narrative ushers in the future of architectural design, exploring the relationship between man and nature. Its iconic design aspires to join the ranks of Chicago's many cherished landmarks.
an axonometric section-cut shows the interior flow
Project Facts
Location: Chicago, USA
Type: Museum
Time: 2014-2019
Directors: Ma Yansong, Dang Qun, Yosuke Hayano
Advisor: Bao Pao
Competition Team: Zhao Wei, Andrea D'Antrassi, Tiffany Dahlen, Kin Li, Wu Kaicong, Kek Seow, Younjin Park, Daniel Weber, Cesar d Pena Del Rey, Valeria Pestereva, Wang Yiqi, Sarita Tejasmit, Michael He.
> via MAD Architects