Winners announced for European Prize For Architecture Philippe Rotthier 2017
The 11th European Prize For Architecture Philippe Rotthier has announced winners for 2017 as related to its specific theme: water, architecture and the town. For "Water and the town", "Water and memory" and "Water and the sacred", three of them are awarded with a Philippe Rotthier prize worth an amount of 6,000€.
The jury has also decided to grant 2 special prizes of an amount of 6,000€ for "Water and urgency", a prize of an amount of 5,000€ for the best imaginative project and to honor four other projects.
"Water, today a precious and strategic resource, has long been present in towns and cities in the form of rivers and canals, lakes and fountains. A presence giving rise to works of architecture and public spaces... to watermills and bridges, to reservoirs and aqueducts, to pools and fountains, to supply systems and distribution networks," stated the prize.
"Today, growing ecological awareness and the fight against waste has placed water back on the agenda. All architecture works, urban projects, and developments closely linked to water, its uses and its promotion could be submitted to the international jury that met on 23th and 24th of June 2017 in Brussels under the presidency of Maurice Culot and in the presence of Phillipe Rotthier, prize founder."
The international jury has reviewed the 84 propositions, from 17 European countries and 2 non-European countries, the jury has decided to select 21 projects. 21 selected projects will be featured in the catalogue of the exhibition, that will take place at the CIVA Foundation – Rue de l'Ermitage 55 in 1050 Brussels, from October 14 till November 12 2017.
Scroll down to see the winners below: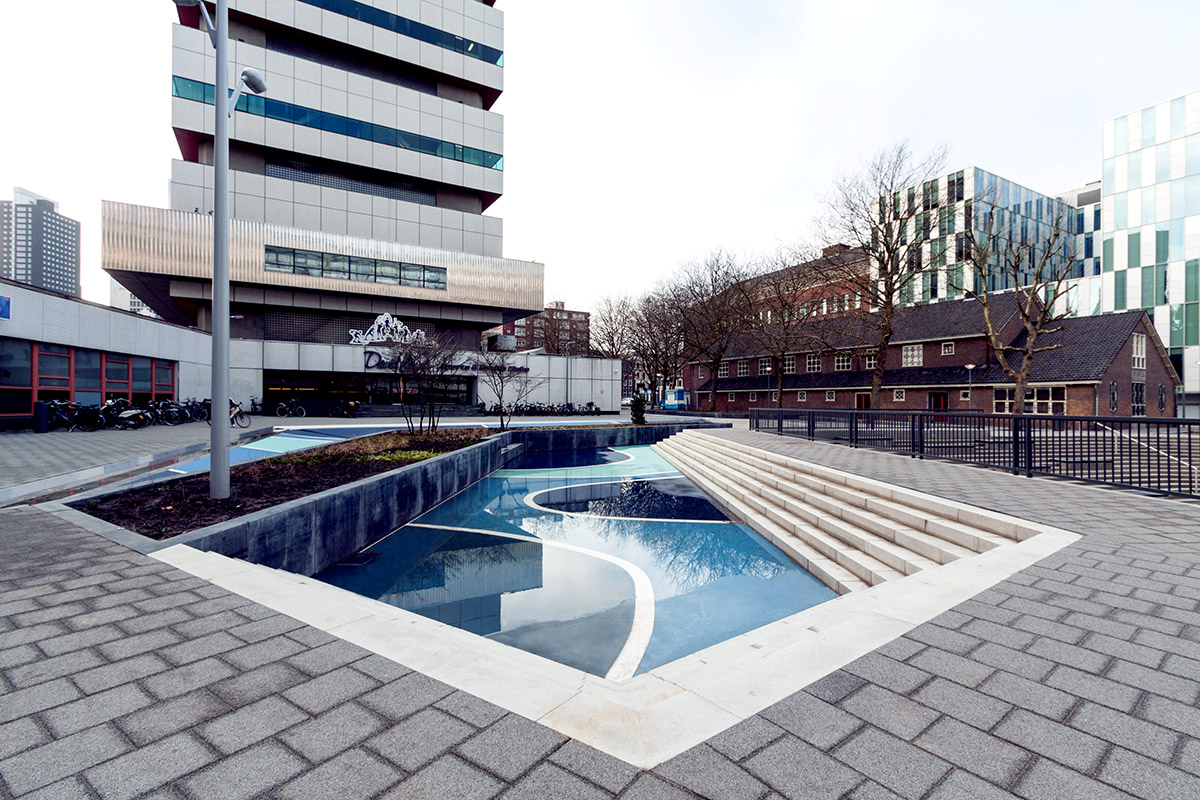 Image © Palesh - Azarfane
Philippe Rotthier Prize for Water and the Town / Watersquare, Rotterdam, The Netherlands by De Urbanisten
Image © RAAAF [Rietveld Architecture-Art-Affordances]
Philippe Rotthier Prize for Water and Memory / Bunker 599, Culemborg, The Netherlands by RAAAF ǀ Atelier de Lyon
Image © Rafael Manzano Martos y asociados
Philippe Rotthier Prize for Water and the Sacred / Reconstruction of the ruins of the Monastery of San Pelayo de Cerrato for the "Fundación grupo Siro", Antigüedad, Spain by Rafael Manzano Martos y avocados.
Image © Mamadou Dramé
Special prizes from the jury for Water and Urgency / "Le Ndomo": area for the recycling and re-use of liquid and solid waste, Commune of Pelengana, Segou, Mali Centre Ndomo
Image © Christophe Cormy-Donat
Ikiko Village, construction of a village of 50 houses and a multidisciplinary centre for a Badjau community, Isabel, Leyte Island, Philippines by Christophe Cormy-Donat
Image © Vincent Callebaut Architecture, Paris
Prize for the Imagination / Aequorea, a skyscraper printed in 3D using waste from the seventh continent, 5 Gyres Océaniques, Rio de Janeiro, Brazil by Vincent Callebaut Architecture
Mentions
The new Darsena, Milan, Italy by Edoardo Guazzoni, Paolo Rizzatto, Sandro Rossi
Stream and waterway in Saint-Donan, France by Christian Harlé - architect / Arlette Harlé – designer
Flussbad Berlin - project to clean up the Spree canal, Berlin, Germany by Realities: united (Jan & Tim Edler) in collaboration with Flussbad Berlin e.V.
Restoration of a medieval bridge over the River Truchas, Pobleta de San Miguel, Spain by Fernando Vegas López-Manzanares & Camilla Mileto
Nominated
Löyly (public sauna and restaurant), Helsinki, Finland by Avanto Architects Ltd.
"Case à l'eau", Saint-Martin, France by Chauvette Patrick, Cnudde Dominique
Showcasing of the ruins of the Civic Tower in Pavia, Italy by Angelo Del Vecchio architect
"The Docks", redevelopment of the former docks in Marseille, France by 5+1AA Alfonso Femia, Gianluca Peluffo, Architecture et Urbanisme
Restoration of the Nekkersgat watermill, Brussels, Belgium by Francis Metzger - Ma2 Architecture
Urban renewal in Schwäbisch Gmünd, Germany A24 by Landschaft Landschaftarchitektur GmbH, Steffan Robel
Cilla hydroelectric plant, municipality of Comano Terme, region of Trentino alto, Italy by Ing. David Marchiori
Renovation of the irrigation system of the spas at Caldes de Montbui, Barcelona, Spain by Marta Serra Permanyer (Ciclica), Elena Albareda Fernández (Ciclica) i Jordi Calbetó Aldomà (CAVAA)
Architectures of Nonchalance in Five Parts, Louisiana by United States Évita Yumul
Zaligebrug, footbridge, Numegen, The Netherlands by NEXT Architects
Quartier du Lac – urban block grouping a number of operations, Serris, Val d'Euope, France by Christophe Chaplain, Dominique Hertenberger, Breitman & Breitman, Collet et Muller, Arcas Paris, Pier Carlo Bontempi, Gabriele Tagliavent
Established in 1982 by the architect Philippe Rotthier, this triennial prize rewards works of collective and cultural value with regional roots and using natural and sustainable materials that draw on the genius of the European town and a dialogue with the past and with history.
The prize-winning works are selected by juries composed of leading European figures and have included the writers Adrien Goetz and Françoise Lalande, the journalists Sergio Frau and Katia Pecnik, the designer Matali Crasset, the historians Bruno Foucart, Charles Jencks and David Watkin, the artist Bernard Métais, and the architects Anna Heringer, Christian Biecher, Ben Bolgar, André Jacqmain, Léon Krier, Michael Lycoudis, Dimitri Porphyrios, Oscar Tusquets and Paolo Portoghesi.
Juries have often chosen to select sometimes little known works and to recognise original approaches, such as those by François Spoerri and his lacustrine architecture, by Abdel-Wahed El-Wakil and Eusebio Leal Spengler for the restoration of the city of Havana or by the film-maker Emir Kusturica for his Küstdendorf village in Serbia.
Towns and institutions have also been awarded the Philippe Rotthier Prize, including Bayonne, Val d'Europe and Le Plessis-Robinson in France, Palermo in Italy, Poundbury in the United Kingdom, Dresden in Allemagne, and the Äkroken campus in Sweden.
All images courtesy of European Prize For Architecture Philippe Rotthier 2017
> via Philippe Rotthier Prize