OMA develops new community-based residential village for Facebook in Menlo Park
Facebook has commissioned OMA-New York office to develop a new residential complex in Menlo Park, situated next to Frank Gehry-designed new campus in Menlo Park, California. OMA's new scheme will considerably be conceived as a "community-based" development that nurtures its surrounding as a new neighborhood center - which provides long-needed community services.
Situated at the former Menlo Science & Technology Park - a 56-acre industrial park that Facebook purchased this land two years ago for $400M - the former site will now be resurrected with an integrated, mixed-use village that will provide much needed services, housing and transit solutions as well as office space.
The new mixed-use residential complex will be directed by OMA-NY Partner Shohei Shigematsu, who commented that "It's exciting to collaborate with Facebook, whose innovation in networking and social media extends to urban ambitions for connectivity in the Bay Area."
"The Willow Campus masterplan creates a sense of place with diverse programming that responds to the needs of the Menlo Park community. The site has the potential to impact the future of regional transportation, housing, and environment," added the architect.
Announced with a full statement by John Tenanes, VP of Global Faculties and Real Estate, the plans will consist of a 125,000-square-feet (11,612 square metres) of new retail space, including a grocery store, pharmacy and additional community-facing retail.
Housing will be the most important part of this development as described "critically important" to the overall scheme. Facebook, the world's most popular social media and networking company, will add 1,500 units of housing on the campus, and "15% of which will be offered at below market rates," highlighted the company. "This added on-site housing should also mitigate traffic impacts from growth," they added.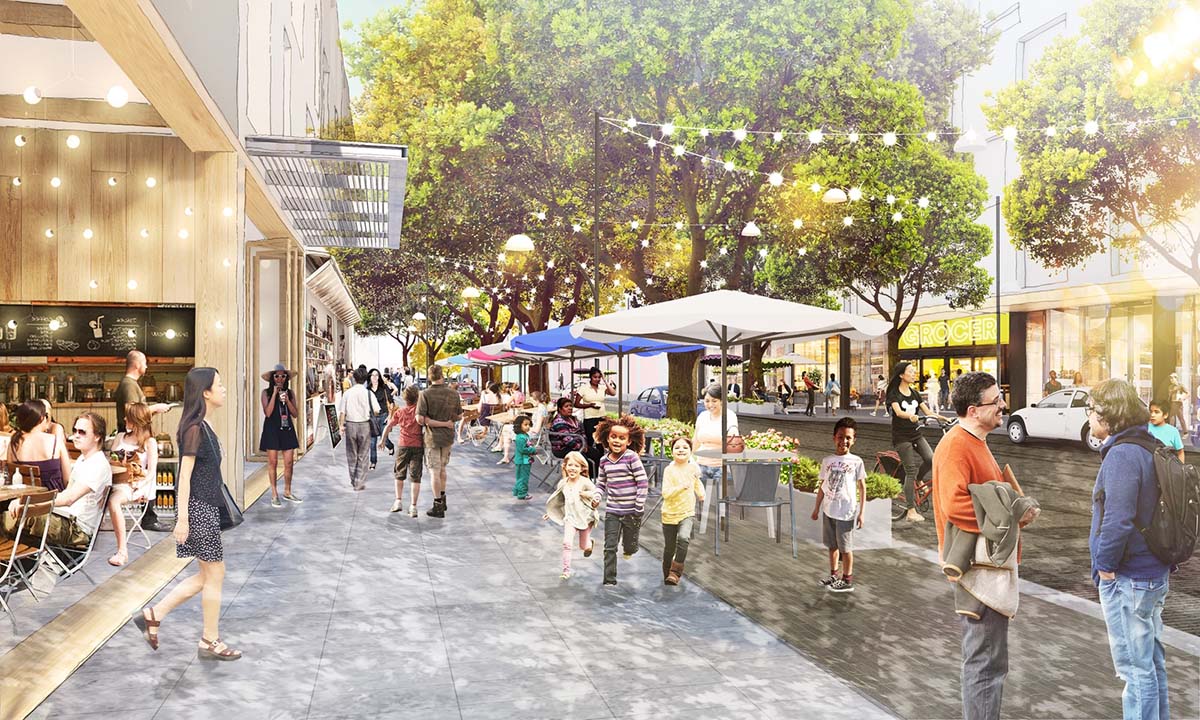 "These efforts complement our ongoing work to address the issue, including the Catalyst Housing Fund for affordable housing we established in partnership with community groups to fund affordable housing for our local area. The fund was initiated last year with an initial investment of $18.5 million that we hope will grow."
"The first official step will be the filing of our plan with Menlo Park in July 2017. We will begin more formal conversations with local government officials and community organizations over the course of the review process, which we expect to last approximately two years. We envision construction will follow in phases, with the first to include the grocery, retail, housing and office completed in early 2021, and subsequent phases will take two years each to complete," explained John Tenanes.
According to Facebook, "the region's failure to continue to invest in our transportation infrastructure alongside growth has led to congestion and delay." Willow Campus will catalyze regional transit investment by providing planned density sufficient to support new east-west connections and a future transit center.
"We're investing tens of millions of dollars to improve US101," said John Tenanes.
Construction of the new residential campus will provide an array of jobs and help for local workers to access those opportunities. The overall scheme will be developed in two phases designed to bring office, housing and retail online in tandem.
"Our hope is to create a physical space that supports our community and builds on our existing programs. We've hosted tens of thousands of community members at farmers' markets and events, and partnered with nonprofits like Rebuilding Together Peninsula to rehabilitate local homes. We've also enrolled local high school students from East Palo Alto, Belle Haven and Redwood City in our six-week summer internship program," highlighted John Tenanes.
"This is only the beginning. Going forward, we plan to continue to work closely with local leaders and community members to ensure Facebook's presence is a benefit to the community. It's one we're lucky to call home."
OMA will work closely with Associate Jake Forster, and Project Architect Ted Lin in collaboration with Atelier 10 for sustainability, CMG-Landscape, Fehr & Peers for mobility and transportation, Mobility in Chain for mobility and transportation and PAE-MEP Engineering on the masterplan.
All images © OMA
> via OMA