Construction begins on HENN-designed Zoomlion Headquarters in Changsha, China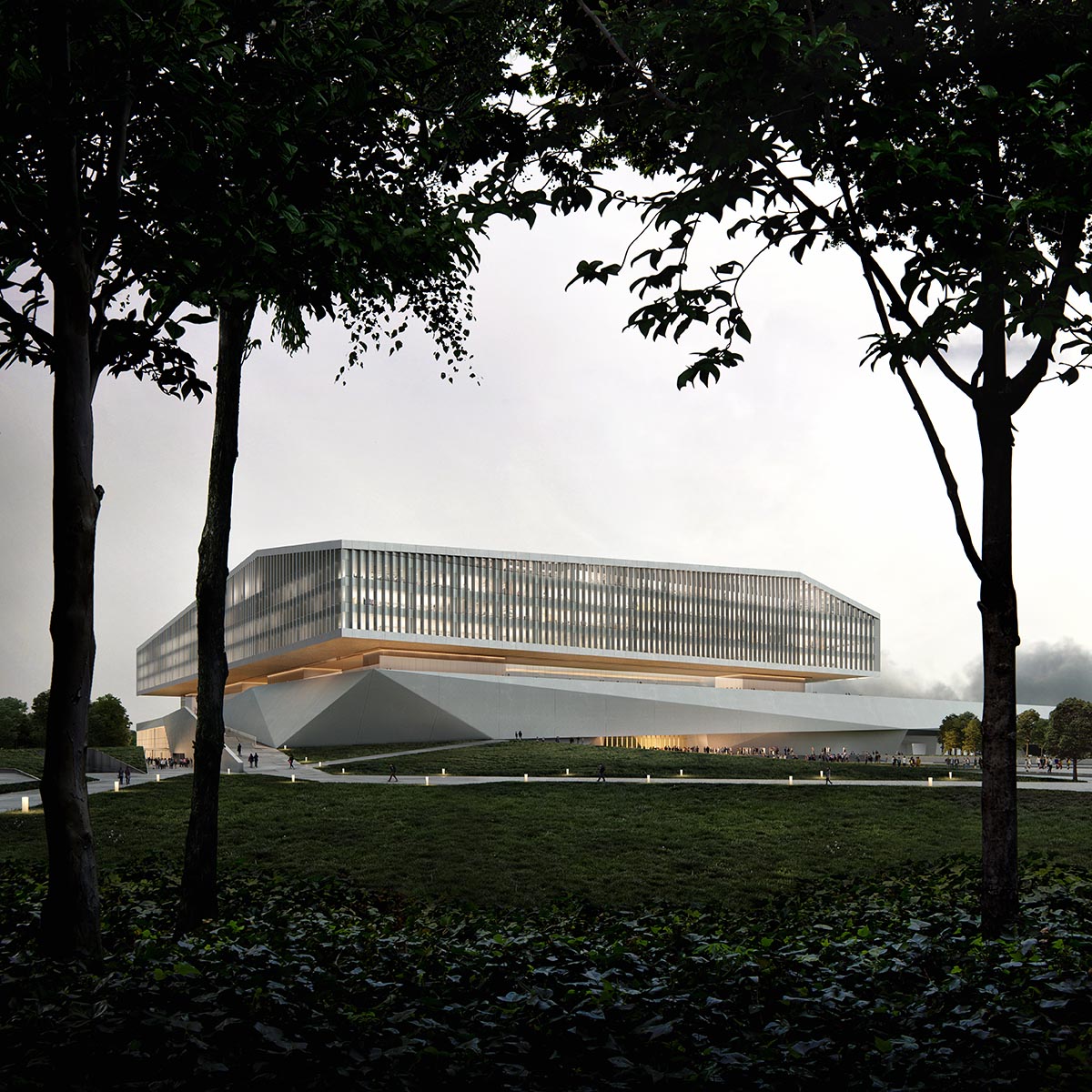 Munich, Berlin and Beijing-based architecture practice HENN has begun construction on a new headquarters in Changsha, China.
Called Zoomlion Headquarters, the 311,000-square-metre HQ will house offices, the Zoomlion Museum, a data center, a canteen, training and research areas, and sports facilities.
Developed by Zoomlion Heavy Industry Science & Technology Company, the new Zoomlion Headquarters will be the heart of Smart Industry City, and is scheduled for completion in 2023.
The new industrial park will foster innovation in the field of construction engineering and usher in a new era of intelligent, digital and green construction.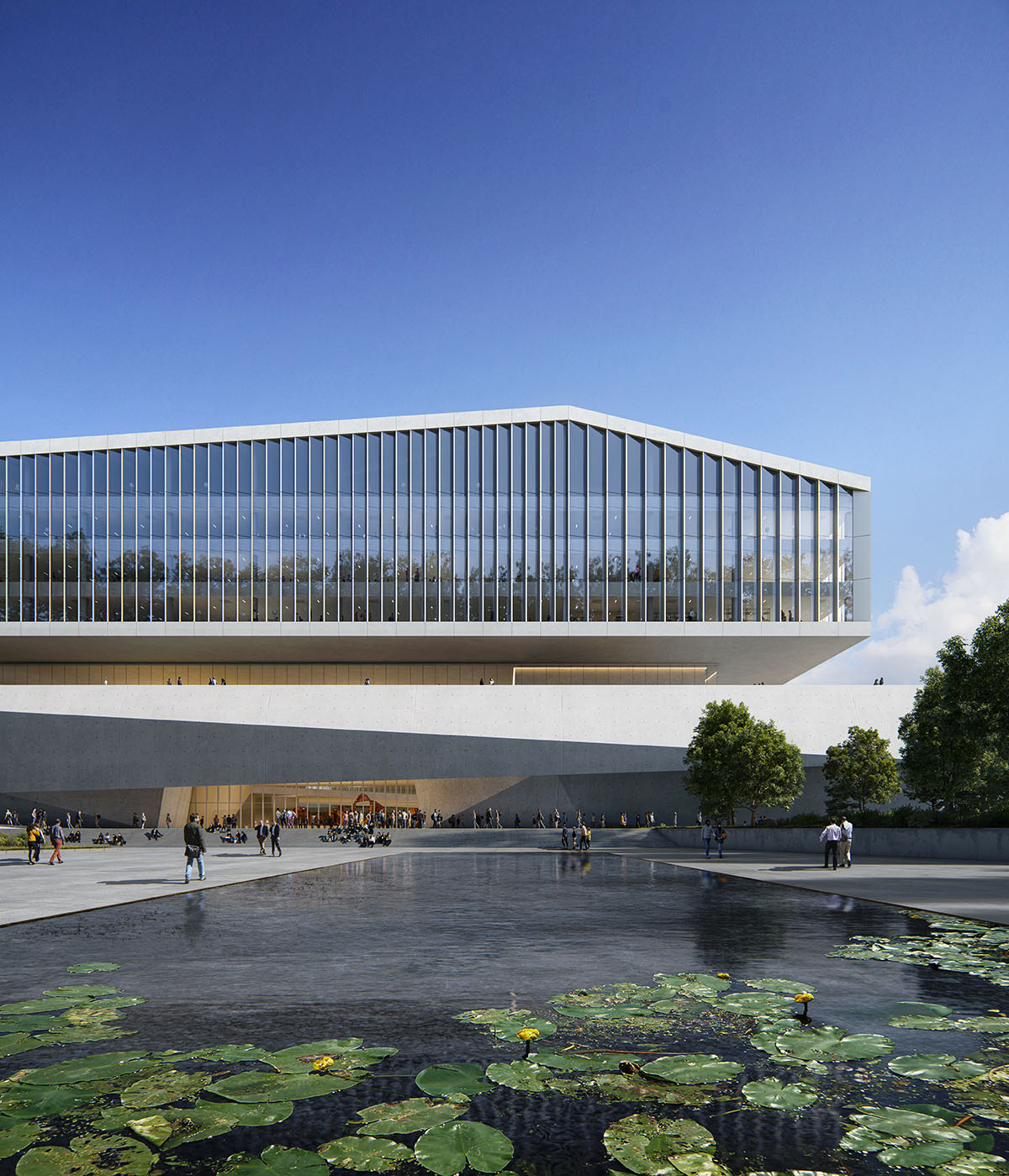 The Zoomlion HQ's plinth is a faceted landscape of waterways and walkable green slopes
HENN's geometric design is based on the client's production needs offering a sensitivity to its rural context; the Headquarters blends into the hilly and densely wooded Changsha green-corridor.
The new building will be made of white concrete, while a classic architectural plinth will act as "a faceted landscape of walkable green slopes and staircases."
This new ground plane traverses an irregularly sloped site and spans a busy motorway to create seamless connections between the north and south sides of the site.
On the upper part, the studio creates an angular volume wrapped in transparent floor-to-ceiling glass and cantilevers 12 meters over the site, appearing to float above the folded stone landscape.
"We designed the Zoomlion Headquarters as an immense, cut stone floating above its natural surroundings. Inside the building, the light-flooded, Z-shaped atrium offers a generous and multifunctional community space for the company and its teams," said Hua Qiao, Zoomlion Project Leader.
Inside, the studio designs spacious and brightly-lit core and features a Z-shaped atrium that serves as both an exhibition space and a gathering space for employees.
The depth and patterning of the coffered ceiling is informed by intensive solar analysis and echoes the design's angular geometry.
The Zoomlion Headquarters will contain offices, the Zoomlion Museum, a data center, a canteen, training and research areas, and sports facilities
Site plan
Plan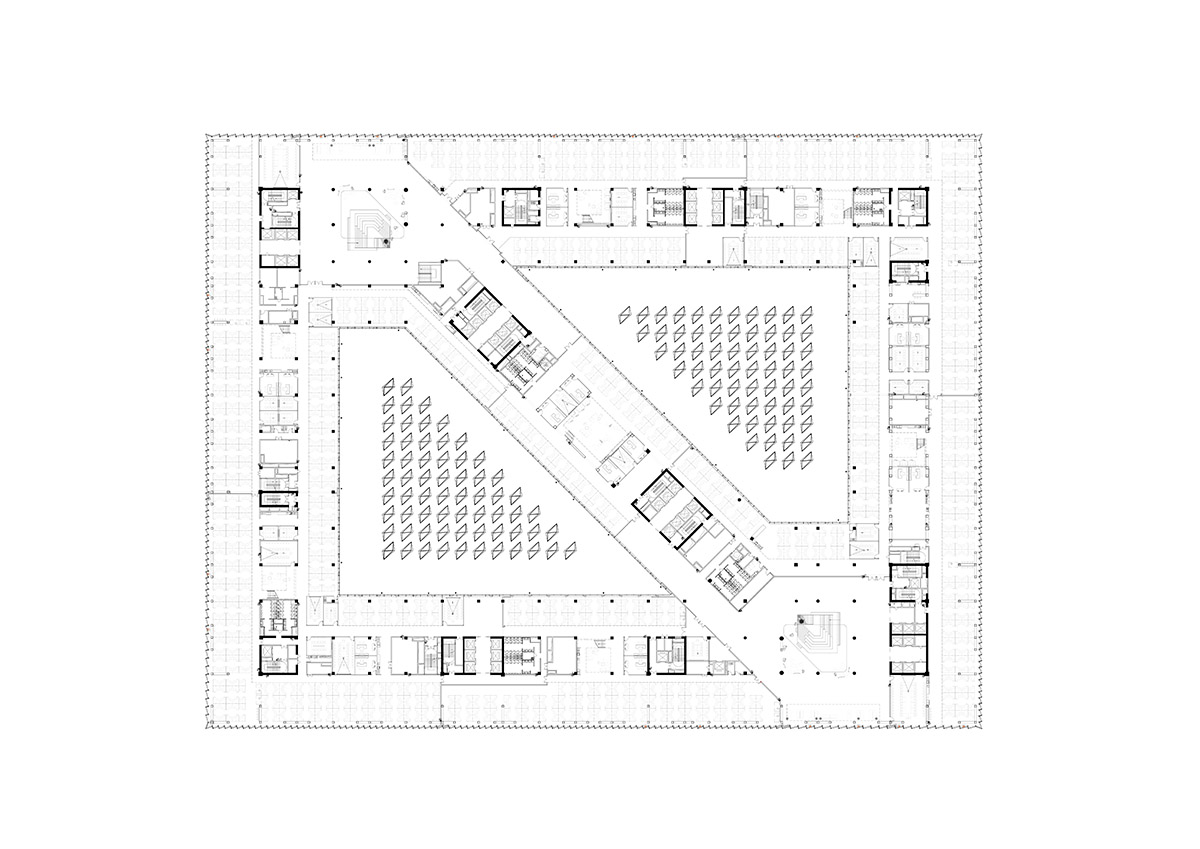 Plan
Section
Section diagram
HENN expands its project portfolio on headquarters, the new Zoomlion Headquarters will be added to the studio's other iconic projects such as Osram HQ, Google Office and Zalando Campus, which will be completed later this year.
Westlake University in Hangzhou and the IHM Innovation Center in Guangzhou are among HENN's upcoming projects set to be completed.
HENN is a third-generation architecture firm with over 70 years of experience in the fields of workplace design, education, science and research, health, automotive and culture.
The practice has offices in Berlin, Munich and Beijing. HENN's portfolio includes architectural, urbanism and master planning projects across all stages and sizes.
All images © HENN
> via HENN