FIND - Design Fair Asia, the leading design fair in Asia, to launch at Marina Bay Sands in September
FIND - Design Fair Asia (Furniture, Interiors and Design), the leading design fair in Asia, will be launched at Safdie Architects-designed Marina Bay Sands integrated resort in September in Singapore.
World Architecture Community is media partner for the inaugural edition of FIND - Design Fair Asia and will be bringing you the latest news and highlights from the design fair.
Aiming to explore Singapore's definitive and iconic design, the design fair will bring together physical and virtual visitors as well as 500 leading brands in the industry for one action-packed, inspirational weekend.
The design fair will be held at the Marina Bay Sands Expo and Convention Centre during Singapore Design Week from 22nd to 24th September 2022.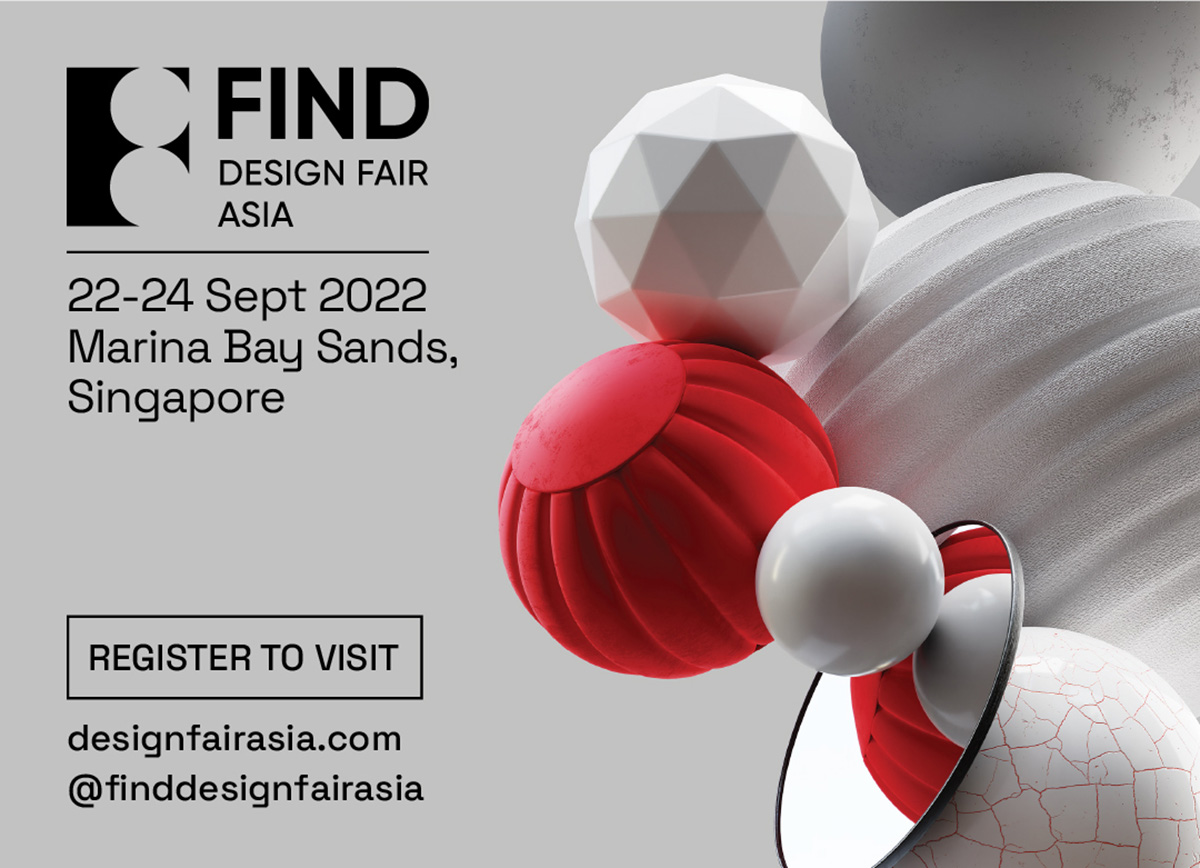 Image courtesy of FIND
Bringing the experts and leaders of the design industry to exchange and inspire ideas, a new forum, titled The FIND –Global Summit, will be a highlight of the fair and share new ideas and visions through the online and offline platforms of the event.
The international speakers include New York-based interior designer Alexandra Champalimaud, Hong kong-born interior designer André Fu, Lyndon Neri and Rossana Hu, Design Haus Liberty founder and architect Dara Huang and Spanish architect and designer Patricia Urquiola.
New York-based interior designer Alexandra Champalimaud will be one of speakers at FIND. Image courtesy of Alexandra Champalimaud
The speakers will be exploring the role of design and creative businesses in the area of sustainable development, the future of wellness, post-pandemic hospitality, the biophilic design movement, designing the metaverse and the 3Cs -in the creative industry – creativity, commerce and communication.
FIND is organised by dmg events in collaboration with Fiera Milano, host of Milano Design Week.
Hong kong-born interior designer André Fu will be one of the speakers at FIND. Image courtesy of André Fu
"We are all very excited by this global opportunity. FIND fills a real gap in the market for a curated design global centerpiece that will service the fast growing and evolving needs of customers in Asia," said Mel Shah, Vice President, dmg events.
"Singapore offers us the perfect regional hub from which we can connect the West to the East and help catalyse growth and creative collaboration. FIND has already secured strong global partnerships which pave the way for a really exciting launch in September 2022," Shah added.
According to the organizers, Singapore was chosen as it is a veritable design hub in Asia with over 10,000 furniture, interiors and design brands based here.
Design Haus Liberty founder and architect Dara Huang is one of speakers at FIND. Image courtesy of Dara Huang
Moreover, due to its access to the Asian market, and especially the ASEAN free trade zone, the fair will present an opportunity to reach 4.4 billion customers with an insatiable appetite for luxury and design.
Singapore is Asia's top business destination known for its extensive international connectivity and ease of doing business. Singapore, as a regional financial hub, is also home to consumers with a taste for upscale home furnishings and décor, offering strong opportunities for the domestic interiors market.
Image © Ralph Ravi Kayden/Unsplash
FIND – Design Fair Asia will host the largest carefully selected collection of interior brands, agencies, country pavilions, designers, galleries and content from across the globe.
Businesses and visitors will have direct access to leading architects, interior designers, project developers and specifiers driving Asia's design future, as well as the event's line up of esteemed speakers and industry key opinion leaders.
Image © Jason Wang/Unsplash
"FIND – Design Fair Asia will be much more than a trade fair"
Tastemaker and key opinion leader Tony Chambers and Yoko Choy, Chinese editor of Wallpaper* magazine and founding partner of Collective Contemporist, are responsible for enhancing the creative vision and content of the fair.
The team aims to create an opportunity for exchange and inspiration in the convergence of West and East and a platform for global designers to showcase their work.
"FIND is the perfect word for our fair as it hints at all the things that make designers what they are: a ceaseless curiosity, and a desire to observe, search, learn and discover. We are all striving to find new ways to solve society's ever-changing challenges," said tastemaker and key opinion leader Tony Chambers.
"FIND – Design Fair Asia will be much more than a trade fair. It will be a platform for connecting and networking, enhanced by provocative conversations, engagements and workshops."
"It will be a great place to discover the powerful synergy between creativity and commerce – with the growing importance of Southeast Asia being of huge importance to the international community," Chambers added.
Image © Choong Deng Xiang/Unsplash
EMERGE @ FIND will highlight new design talents of Southeast Asia
Another key component at the fair will be the first edition of EMERGE @ FIND, which will a definitive platform and Asia's answer for up-and-coming creators and designers – during the Singapore Design Week.
Together with FIND – Design Fair Asia and DesignSingapore Council, the organizers are putting the spotlight on Southeast Asia design talents at the first edition of EMERGE @ FIND.
Image © Jean Philippe Delberghe/Unsplash
Founding editor-in-chief of the acclaimed Design Anthology magazine which documents and celebrates designers from Asia Pacific, Suzy Annetta, is the curator of the showcase.
Designers for EMERGE @ FIND include top names such Alvin Tjitrowirjo from Indonesia and Wei Ming Tan from Malaysia alongside rising designers Karyn Lim, Robert Sukrachand, Hoang Anh Vu and Jim Zarate-Torres from Singapore, Thailand, Vietnam and the Philippines respectively.
Image © Jared Rice/Unsplash
Created in close partnership with DesignSingapore Council and Singapore Tourism Board, the parties will collaborate on industry knowledge and innovation exchange, as well as boost its status as a UNESCO Creative City of Design, growing FIND into Asia's leading tradeshow for the furniture, interior, and design sectors.
The annual event will bring significant value to Singapore's positioning as a global hub for design, design talent and business events.
Image © Eddi Aguirre/Unsplash
Occupying 10,000-square-metre area, the design fair is expected to draw more than 500 international exhibiting brands as well as physical and virtual attendees.
Visitors, including architects, interior designers, retailers, agents and design savvy consumers from across Asia, are invited to draw inspiration, network and trade at this new 3-day event located in Singapore.
You can register to visit the design fair on this page. If you will be an exhibitor, you can visit this page.
Top image © Ricardo Gomez Angel / Unsplash via FIND - Design Fair Asia.
All images courtesy of FIND - Design Fair Asia.
> via FIND - Design Fair Asia