Exclusive Interview with Lyndon Neri and Rossana Hu from Neri&Hu: Quality over speed in china
Within the last few decades, China has seen tremendous growth and change in the architecture industry. Through this series of interviews with architects in China, WAC's China Country Reporter Flora Jing Lin Ng desires to bring exemplary contemporary Chinese architecture under global spotlight, with a focus on investigating the incorporation of Chinese culture and buildings that are sensitive to their context.
To start the series, WAC has invited Shanghai based Neri&Hu Design and Research Office.
Founded in 2004 by partners Lyndon Neri and Rossana Hu, Neri&hu Design and Research Office is an inter-disciplinary architectural design practice based in Shanghai. The practice's burgeoning global portfolio includes commissions ranging from master planning and architecture, to interior design, installation, furniture, product, branding and graphic works. Currently working on projects in many countries, Neri&Hu is composed of multi-cultural staff who speak over 30 different languages. The diversity of the team reinforces a core vision for the practice: to respond to a global worldview incorporating overlapping design disciplines for a new paradigm in architecture.
The interview discusses the practice's ethos and the current diversity present in the architectural scene in China. A few notable projects of the practice include the Fuzhou Teahouse in Fuzhou, the Aranya Art Center in Qinghuangdao, and Project No.31 in Shanghai, where an ex-industrial building was transformed into the practice's office.
Aranya Art Center. Image © Pedro Pegenaute
Read the full transcript of WAC's interview with Lyndon Neri and Rossana Hu below:
---
Flora Jing Lin Ng: Is there a common theme/ideology that is embedded throughout Neri&Hu's architectural designs?
Lyndon Neri and Rossana Hu (LN+RH): A quote by Saint- Exupéry expresses both our design and life philosophy well: We don't ask to be eternal beings, but we ask that things do not lose all their meaning. We believe in architecture and design as a powerful cultural force. The functional aspects are less interesting for us, although as professional that's the prerequisite-your design must WORK on a very realistic level. We believe in the subtext over the obvious and the poetic over the utilitarian.
Flora Jing Lin Ng: How do you stay true to your design philosophy and intent, in terms of balancing client expectation and an architect's own thinking?
Lyndon Neri and Rossana Hu (LN+RH): Of course there are other strength that come into play when we work on a project. We are still too young to have a distinct language, so we flow in many directions depending on the specificity of the project problem.
As part of our design process, interdisciplinary research is intrinsically intertwined with every project from the start, we attempt on research from all directions, looking for traces and signs that give inspiration to form. And we see design as a holistic discipline, taking it from the renaissance notion of seeing design as a multidisciplinary approach.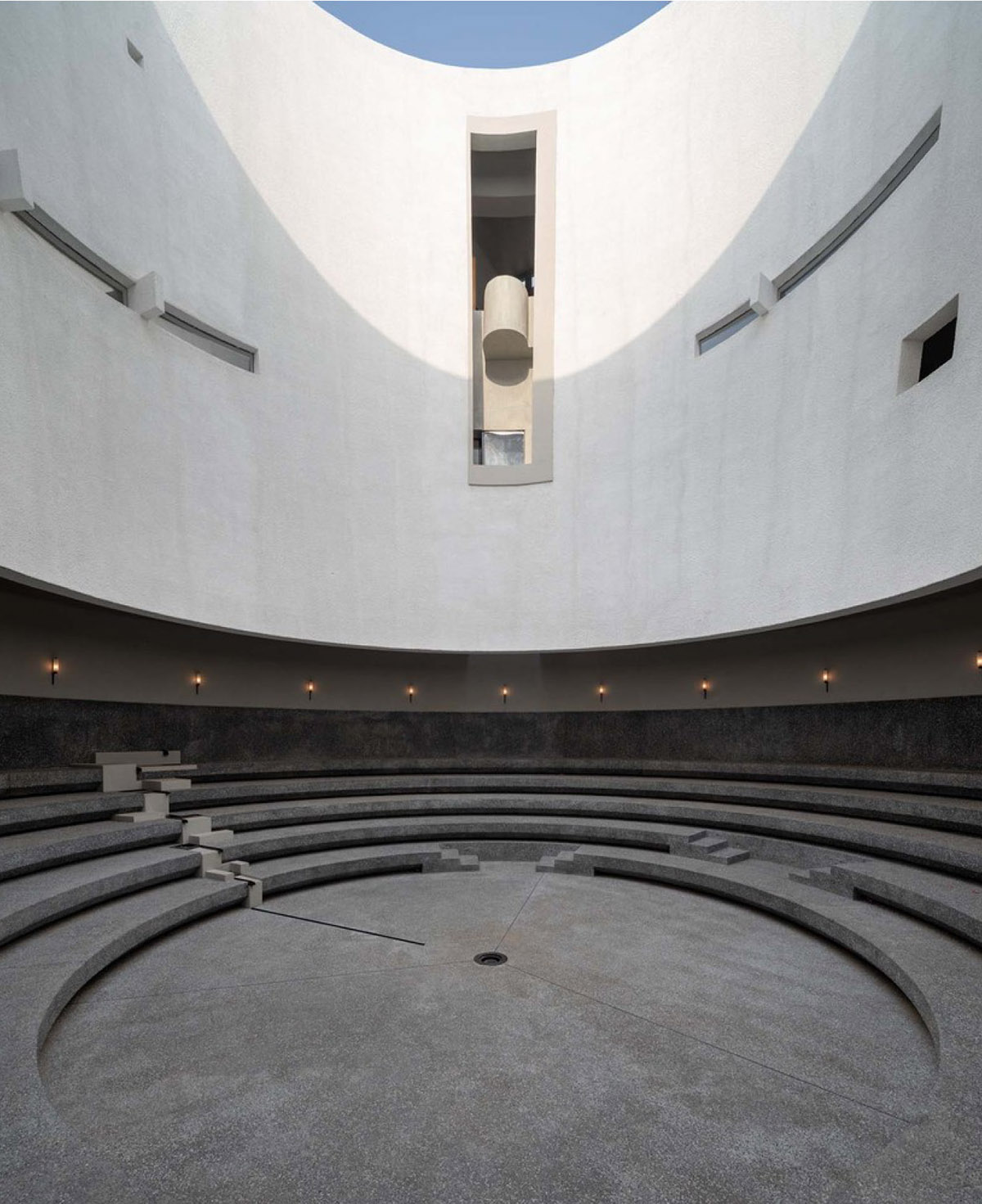 Aranya Art Center. Image © Pedro Pegenaute
Flora Jing Lin Ng: How does Neri&Hu choose which projects to take on? Do you ever feel like turning down some projects can shut doors on otherwise known opportunities?
Lyndon Neri and Rossana Hu (LN+RH): We are fortunate to be given so many opportunities but we are extremely selective given that time is limited, and we both want to be part of the process. We see design as not just a tool for creating useful or beautiful things, but we see design as a tool of social change and cultural expression. We also want to challenge the norm, ask questions that have not been asked, and perhaps offer answers that are not the typical. We like to use design as a tool for people to question their daily habit, or just simply be aware of what they do and who they are.
Architecture will continue to be a powerful tool for cultural and social invention, and become more and more de-materialized and de-formalized. We are focused on more cultural projects that will bring meaning and purpose to the society we live in today.
Neri&Hu Exhibition | The Reinterpretation of Works in Permanent Evolution, 2021. Image © Flora Jing Lin Ng
Flora Jing Lin Ng: How important is intuition to a designer?
Lyndon Neri and Rossana Hu (LN+RH): It is important but we think that designers and architects often get so caught up with designing, so fast and so intuitively that it's almost borderline acceptable for us to not spend a lot of time thinking. We need to have some time to think about what we're drawing because… we could be extremely facile and be very good at what we do and what we draw, to a point where it could be quite beautiful, and seductive, and very convincing, but is it enough?
We have a responsibility in everything we design. We have to ask ourselves what is the meaning behind the things we do. That's why research becomes very important part of our practice because it tells us certain things that help us rethink the whole process of design.
Neri&Hu Exhibition | The Reinterpretation of Works in Permanent Evolution, 2021. Image © Flora Jing Lin Ng
Flora Jing Lin Ng: Quite a few of your projects are renovations and re-adaptive uses, do you find it challenging building in a country where the culture is constantly pursuing after 'newness' and 'trends'? What goes and what stays? Please share some insight and perhaps reference some projects.
Lyndon Neri and Rossana Hu (LN+RH): As a practice, we have always sought after adaptive reuse projects, as this gives the opportunity to reutilize an artifact of urban excess, to celebrate and even elevate the mundane. We embraced the potential to transform the old structure and give it a chance to not only survive, but thrive as a beacon for design.
We tend to look at the past rather than the future for inspiration, since we believe that everything derives from something. We love history, metaphors, stories, and references. Nothing exists in a vacuum, nor does anything come from nowhere. Understanding our past helps us to look deeper inside ourselves, and the creative expression that results becomes a more meaningful representation of our identity. We also feel that contemporary society is too focused on seeking our past answers for the future and the new, that we forgot to look back in time for answers. Certainly technological advancements will lead us to a future that is brand new, and possibly quite exciting, but if human beings are to treasure the same virtues that have defined humanity for centuries, then we need to be grounded on those essential elements which define us. How to build our cities, our nations, and our homes? Obviously there may be outdated modes, perhaps where have moved away from, or where technology is no longer relevant, then naturally we have to avoid them. But there are many cases that could inform our contemporary society in how to better preserve and conserve.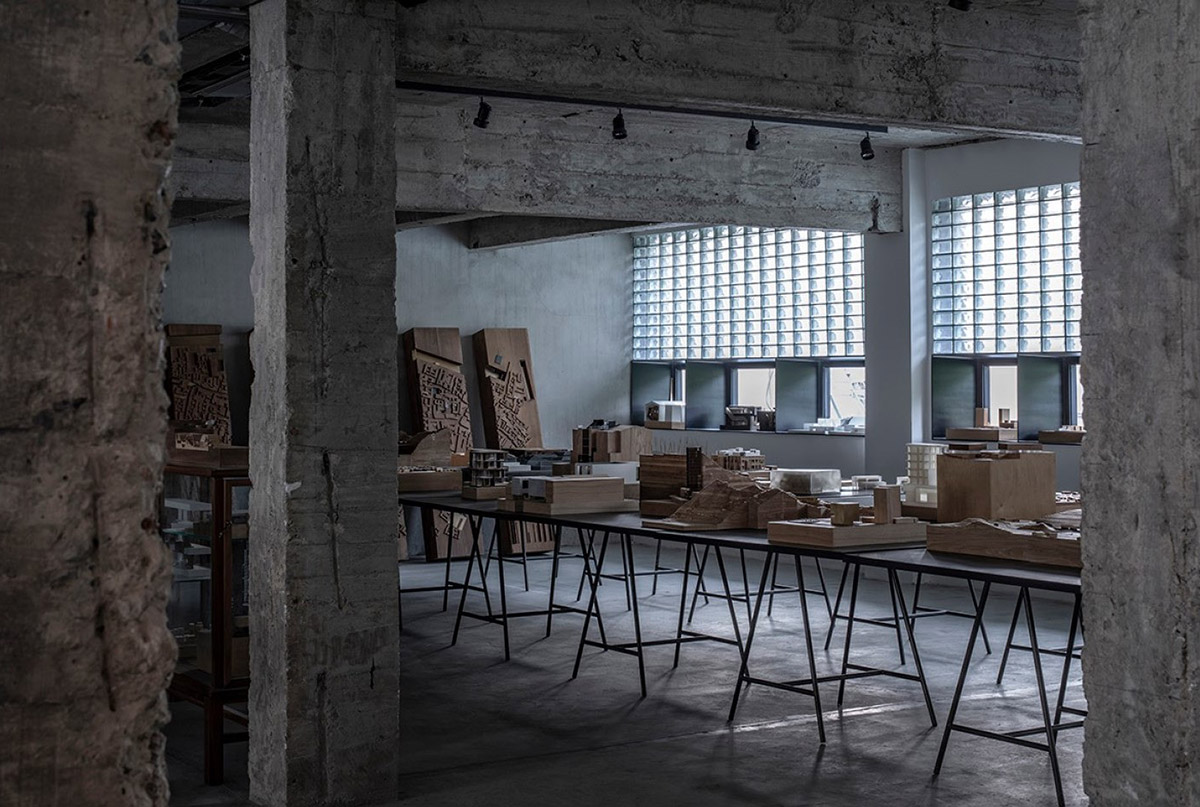 Project No.31. Image © FangFang Tian
Flora Jing Lin Ng: Back in 2012, in an interview Lyndon Neri commented that 'Architects in China feel lost' and that China 'needs to slow down'. Do you feel the same today in 2021? And how would you describe the current architectural scene in China?
Lyndon Neri and Rossana Hu (LN+RH): We are extremely encouraged by the new wave of Chinese architects, interior designers, and product designers. But we are equally impressed by clients in China, who are also more enlightened and have emphasis on quality over speed.
Flora Jing Lin Ng: What is your biggest take away from interviewing several architects, famous and non-famous practicing in China back in the days? Did you look up to anyone in particular then, or maybe now?
Lyndon Neri and Rossana Hu (LN+RH): When we started new practice, the pace was extremely hectic, and there was no dialogues between our own profession, let alone the community. So we decided to interview 50 architects practicing in Shanghai (famous and not famous), and compile them into a book called Persistence of Vision. We learn that when people have a platform for dialogue and discourse, people become better.
Flora Jing Lin Ng: How would you advise the younger generation of architects and students who identify with multiple cultures to go about their life and integrating their cultural heritage into their work and ideas?
Lyndon Neri and Rossana Hu (LN+RH): We are both born in different parts of the world than that of our grandparents, grew up learning multiple dialects, then went to school in the west, learned English, and then moved back to Asia to practice our profession. Studying abroad pretty much formed the foundation of our architectural thinking and design process. Design elements are not like chemicals you can mix into a formula and create results. It is a much more artistic and undefinable process, but everything we come into contact with becomes who we are and that builds the inspiration pool for our work. So our recommendation would be for the younger generation to be themselves, not try to be something they are not.
Project No.31. Image © FangFang Tian
Cover Image © Jiaxi Yang & Zhu Zhe
Practice Description via Neri&hu Design and Research Office.