Public Observatory On The Crystal Sky Bridge Opens at Raffles City Chongqing by Safdie Architects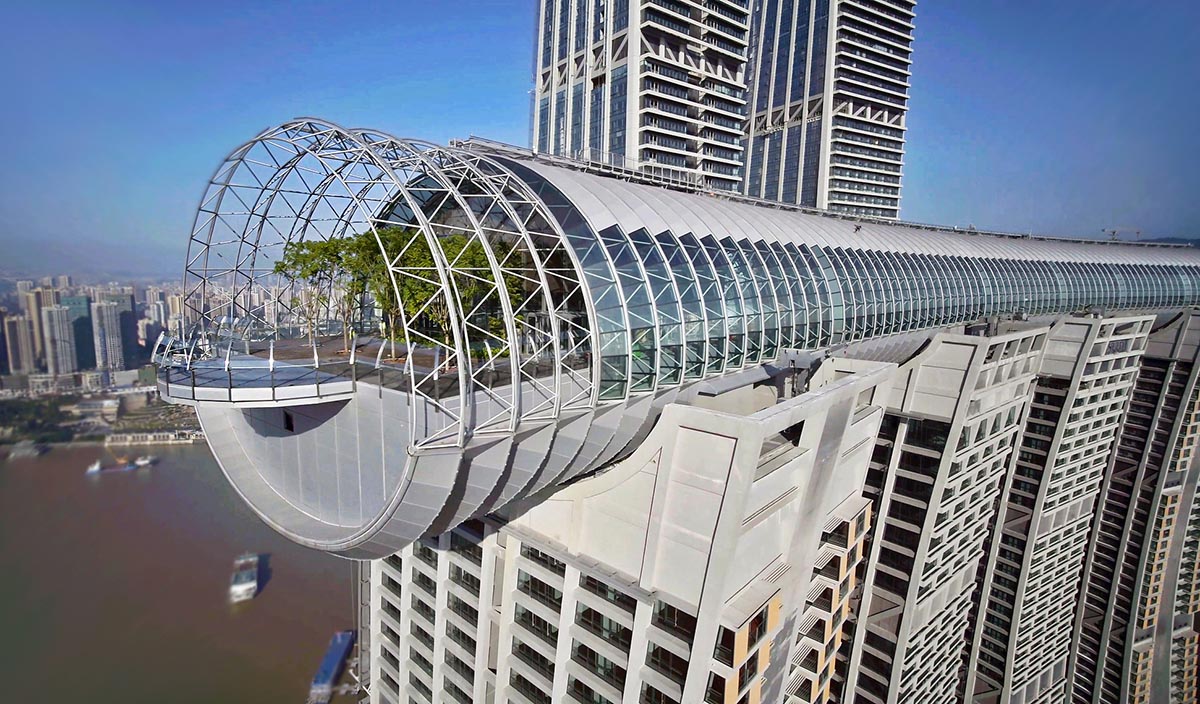 Moshe Safdie's firm Safdie Architects has opened its 300-meter-long sky bridge on Raffles City Chongqing towers to the public in Chongqing, China.
Safdie Architects has shared exclusive photographs of Raffles City Chongqing project and The Crystal with World Architecture Community to show how the sky bridge is experienced by its first visitors.
Image © Arch-Exist Photography, courtesy Safdie Architect
Officially opened in May 2020, a "horizontal skyscraper", called The Crystal, was built at a height of 250m of four accessible towers and this giant sky bridge sits on top of the four towers where two of them are linked to other two of the development's taller towers through The Crystal.
Raffles City Chongqing, developed as a multi-phased project, The Crystal is the second section of the development opened to the public after a five-story retail galleria's opening, other sections of Raffles City Chongqing will continue to open through October 2020.
Image © EJay Photography, courtesy Safdie Architects
Encompassing a total of eight years in design, development, and construction, Safdie Architects' 1,127,000-square-metre development is nearing completion on its latest project in China: Raffles City Chongqing was designed as a vibrant complex which combines office, residential, hotel, retail, and recreational facilities across a 22.7 acre site, embedded within the densely developed Yuzhong district.
Image © HEZHENHUAN, courtesy Safdie Architects
Raffles City Chongqing is situated at the confluence of the Yangtze and Jialing rivers, the historically significant site was once home to the city's most important gateway and the official imperial entrance to the city: Chaotian Gate.
Image © Arch-Exist Photography, courtesy Safdie Architects
"The area was also Chongqing's foremost riverfront trading post which has traditionally driven development in this inland city, catalyzing its evolution to become one of the world's fastest-growing and densest cities with a greater metropolitan population of over 30 million people," stated a press release.
The project, developed by CapitaLand - one of Asia's largest real estate developers, is developed in response to "increased density and mega-scale projects" of Chongqing.
Image courtesy of CapitaLand
"While centuries old, Chongqing is now experiencing rapid growth and regeneration that demands thoughtful solutions to increased density and mega-scale projects," said Moshe Safdie, founder of Safdie Architects.
"Guided by the sheer scale and complexity of the site, our design brings people in and through the site at different levels, whether by foot, car, train, or ferry, to reconnect the city to its most historic site—The Emperor's Landing," Safdie added.
Image courtesy Safdie Architects
The project tries to be inherently a site-specific, Safdie Architects' design for Raffles City Chongqing takes cues from the city's character as well as its mountainous landscape and extreme climate.
The project embodies a considered approach to issues of population density, community connectivity, and urban renewal within a highly developed city center.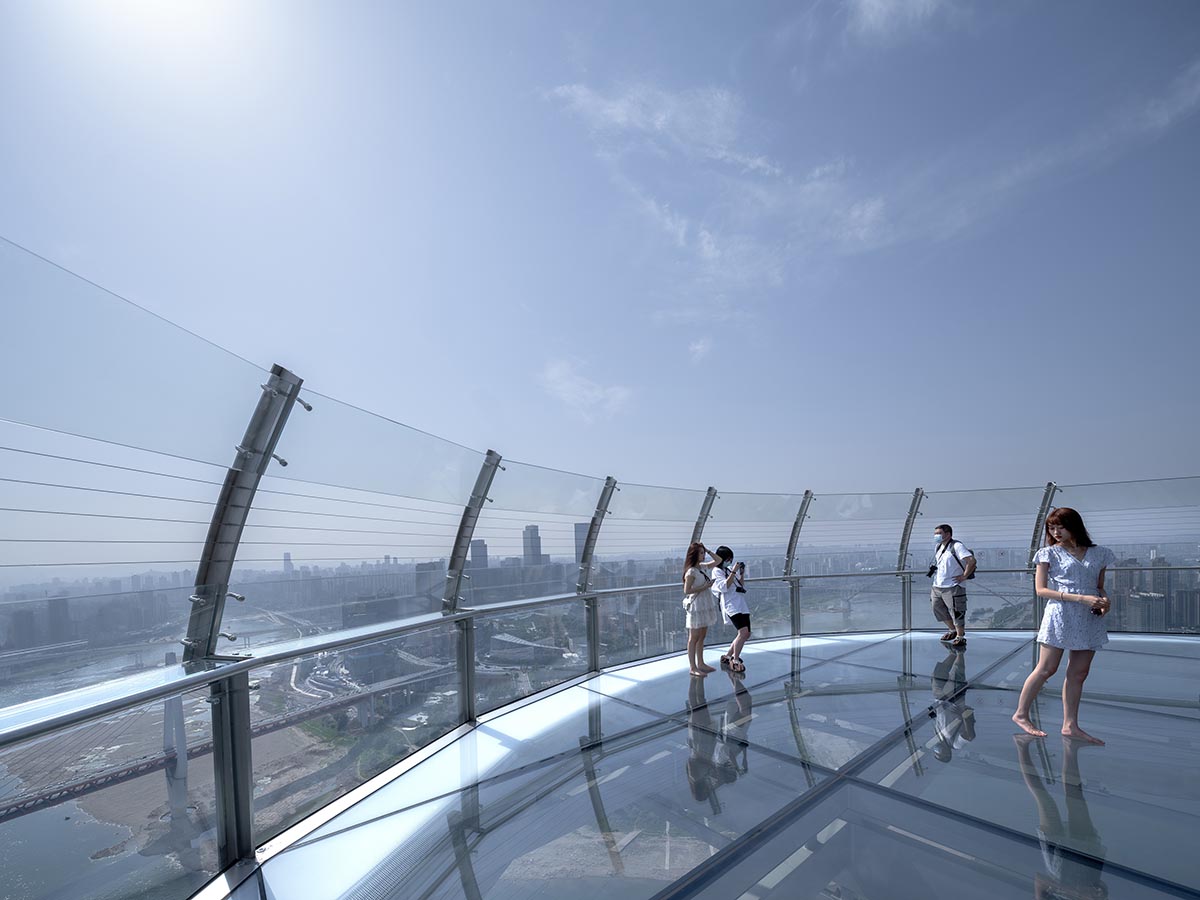 Image © Arch-Exist Photography, courtesy Safdie Architects
"In order to achieve this in Chongqing, the development's diverse program elements are distributed across eight slender towers which soar above a retail podium which features an expansive rooftop public park and civic plaza that connects directly to the city's higher elevation streets," added a press statement.
"To account for the hilly terrain, the retail podium provides multiple entry points into the development at different elevations. Additionally, the development provides the city with a new multi-modal transit hub, including metro, bus, and ferry terminals."
Image © Arch-Exist Photography, courtesy Safdie Architects
The development's design evokes the city's rich maritime history with the north elevation of the towers curved to recall the silhouette of an armada's sails and the crossbeam of the horizontal conservatory echoing the arch of the historic gate, creating a new symbolic gateway to the city.
"Chongqing is such an extraordinary city—in scale, population, and personality. The topography of the city creates opportunities for intimate pockets of public space at different elevations, stacked and stepped to overlook one another and the city beyond. It's the defining characteristic of Chongqing and one that we sought to build upon with Raffles City," said Christopher Mulvey, Safdie Architects' Managing Principal, who relocated to China in 2011 to establish a branch office for the firm.
Image © Hongguang Li, courtesy CapitaLand
The Crystal
The Crystal, 300-meter-long sky bridge, is one of the key elements of the project to present mesmerizing views to its visitors overlooking to the city.
The "horizontal skybridge", covering a total of 15,000-square-metre area, offers facilities including gardens, numerous dining options, bar and event space, a residential clubhouse, infinity pool, and hotel lobby.
A public observatory offers visitors unobstructed views of the confluence of the Yangtze and Jialing Rivers through a glass-bottom, open-air viewing deck.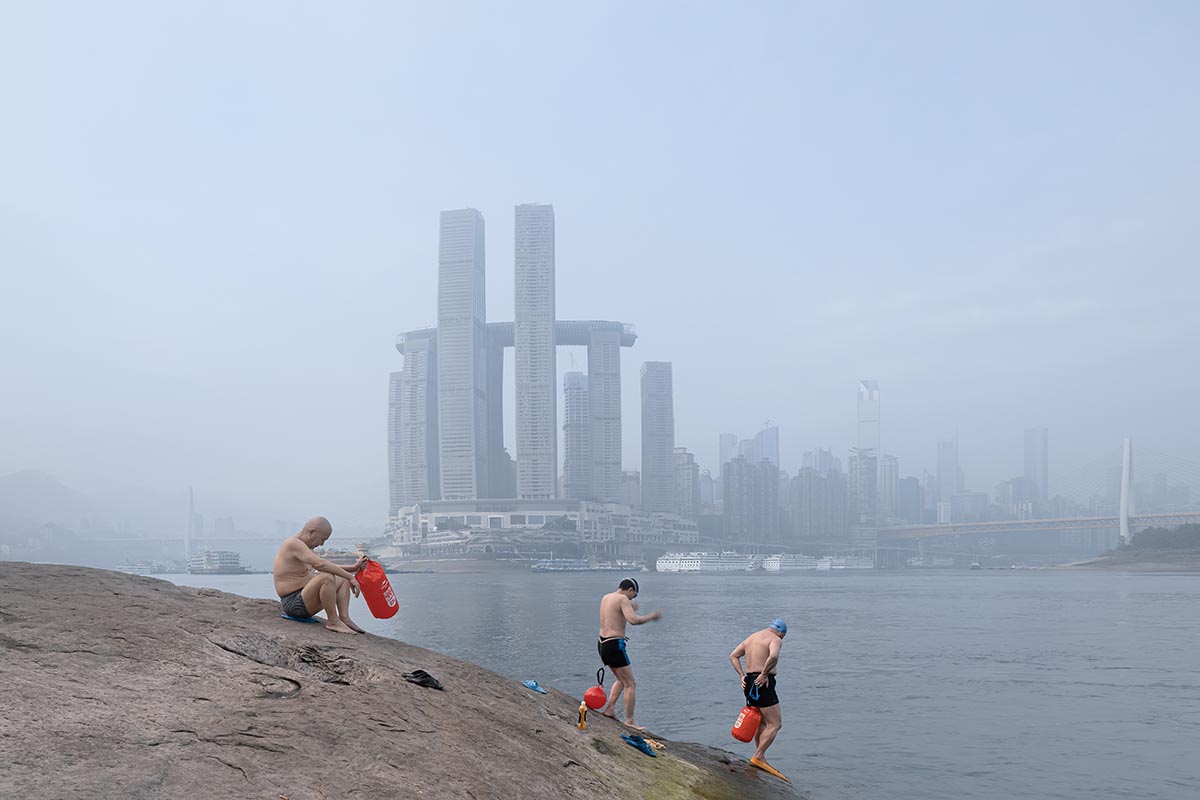 Image © Arch-Exist Photography, courtesy Safdie Architect
An evolution on Safdie Architects' 'SkyPark' developed for Marina Bay Sands in Singapore, The Crystal continues the firm's exploration into the potential of connecting buildings as a means of expanding the available public space offered in dense, urban developments—often at sky level.
The Crystal is enclosed by a glass and steel structure termed "a concertina—a serrated profile with an elliptical cross section—The Crystal offers visitors access to natural light, extensive views, and garden settings throughout the year."
Image courtesy of courtesy CapitaLand
"Metal panels on the west-facing concertina surfaces and glass on the east-facing surfaces afford the guests and visitors with natural light in the morning and shade from the sun in the afternoon."
"Situated in an earthquake zone, The Crystal 'floats' on large scale bearings on the towers to accommodate for any necessary movement," added in a press statement.
The Raffles City Chongqing development is composed of eight towers in total, with six southern towers rising to 250m, and two northern towers extending upwards to 350m.
Image © Yi Jin, courtesy of CapitaLand
The Raffles City Chongqing development also includes a retail galleria which is organized in five stories, topped by an expansive public park that overlooks historic Chaotianmen Square.
The three main retail gallerias align with, and are a conceptual continuation of, the principal north-south streets of the city.
Image courtesy of Ascott Raffles City Chongqing
Diagram. Image courtesy Safdie Architects
Raffles City Chongqing is the city's largest development to receive the LEED-CS (Leadership in Energy and Environmental Design - Core & Shell) pre-certification at the Gold Level by the United States Green Building Council.
Safdie Architects worked with global engineering firm Arup and P&T Group as an Executive Architect on this project.
Safdie Architects was established by Israeli-Canadian architect, urban designer, educator, theorist Moshe Safdie in 1964 to realize his Habitat 67 project, his visionary proposal for the World Expo in Montreal. The project was designed as a multi-family housing to give "privacy, fresh air, sunlight and suburban amenities in an urban location."
The project was originally a Master's thesis of Safdie while studying at McGill University in 1961 and Habitat 67 paved the way for his international career.
Safdie Architects produces a wide range of projects in all types, scales, and sectors, including museums, cultural centers, libraries, housing, mixed-use developments, transportation centers, and master plans in geographically and culturally diverse places.
The practice has its design headquarters in Boston with offices in Jerusalem, Toronto, Shanghai, and Singapore.
Project facts
Client: CapitaLand
Design Architect: Safdie Architects
Executive Architect: P&T Group International Ltd
Design Institute: CQADI (Chongqing Architectural Design Institute)
Structural Engineer: Arup
MEP Engineer: Parsons Brinckerhoff
Landscape Architect: Williams, Asselin, Ackaoui & Associates
Façade Engineer: ALT
Signage+Wayfinding: Pentagram + Entro
Lighting Consultant: BPI (Brandston Partnership Inc.)
Interior Design: CL3 Architects Ltd. (Hotel & Convention)
Interior Design: The Buchan Group (Retail)
LEED Consultant: Arup
Quantity Surveyor: Rider Levett Bucknall
Top image courtesy CapitaLand.
> via Safdie Architects