SO-IL designs multi-levelled Beeline installation in the MAAT's reopening in Lisbon
New York-based studio SO-IL has designed "a poly-functional civic arena" at the Amanda Levete-designed MAAT Museum in Lisbon, celebrating the reopening of the museum after a two-month closure due to the coronavirus pandemic.
MAAT, the museum of art, architecture, and technology in Lisbon, has been reopened to the public on June 10, 2020 and is ready for its visitors to showcase SO-IL's experimental installations.
The temporary installation, named Beeline, was installed alongside the Currents – Temporary Architectures by SO-IL, which was planned to be opened on March 27 to the public but it wasn't able to open due to its closure.
Now both exhibitions are displayed concurrently. SO-IL's exhibitions will be on view until January 11, 2021 at MAAT.
Beeline is an architectural intervention that might trigger insight into visitors' perception of space as well as time. An additional pathway dissects the MAAT building both in plan and section.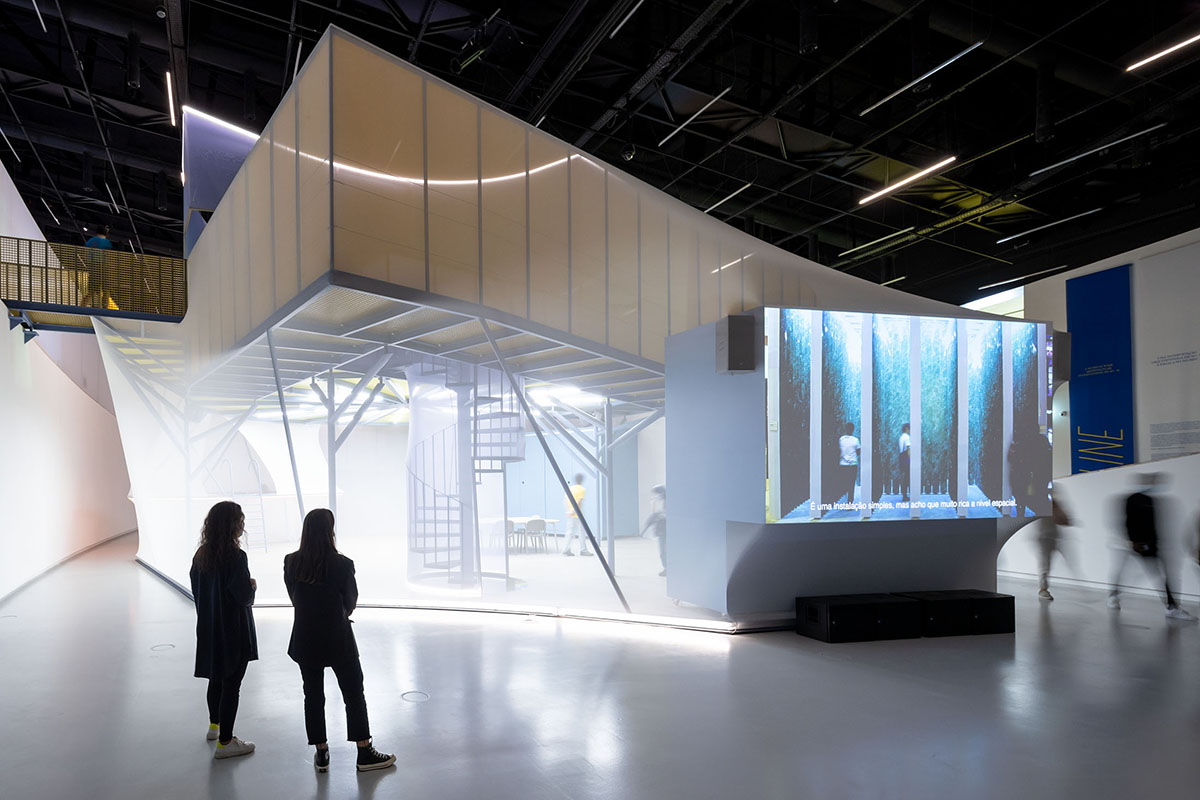 "This shortcut connects the entrance from the quayside directly with a new access point facing the city," said SO-IL.
"This gesture not only transforms the way visitors enter and experience the museum, but it also links the formal entry to a new, 'clandestine' entrance through the loading dock."
"As such, this transformation not only opens up the building to new perspectives but it also challenges the implied hierarchies of spaces in a traditional museum."
"Apart from new relationships, Beeline introduces a series of spaces and experiences in its midst, that transforms the museum space into a poly-functional civic arena," added SO-IL.
At the heart of the building, the pathway splits apart into brackets that frame spaces for gathering, over two levels, connected by a stair.
There is also an auditorium that allows public arrangements, talks in the heart of the building, which was closed due to the museum's closure but it is now open for public events.
It is called MAAT Mode and allows visitors to experience talks in a poly-functional civic arena, where public life is debated, probed, challenged and possibly inspired towards a more inclusive and equitable construction of the future.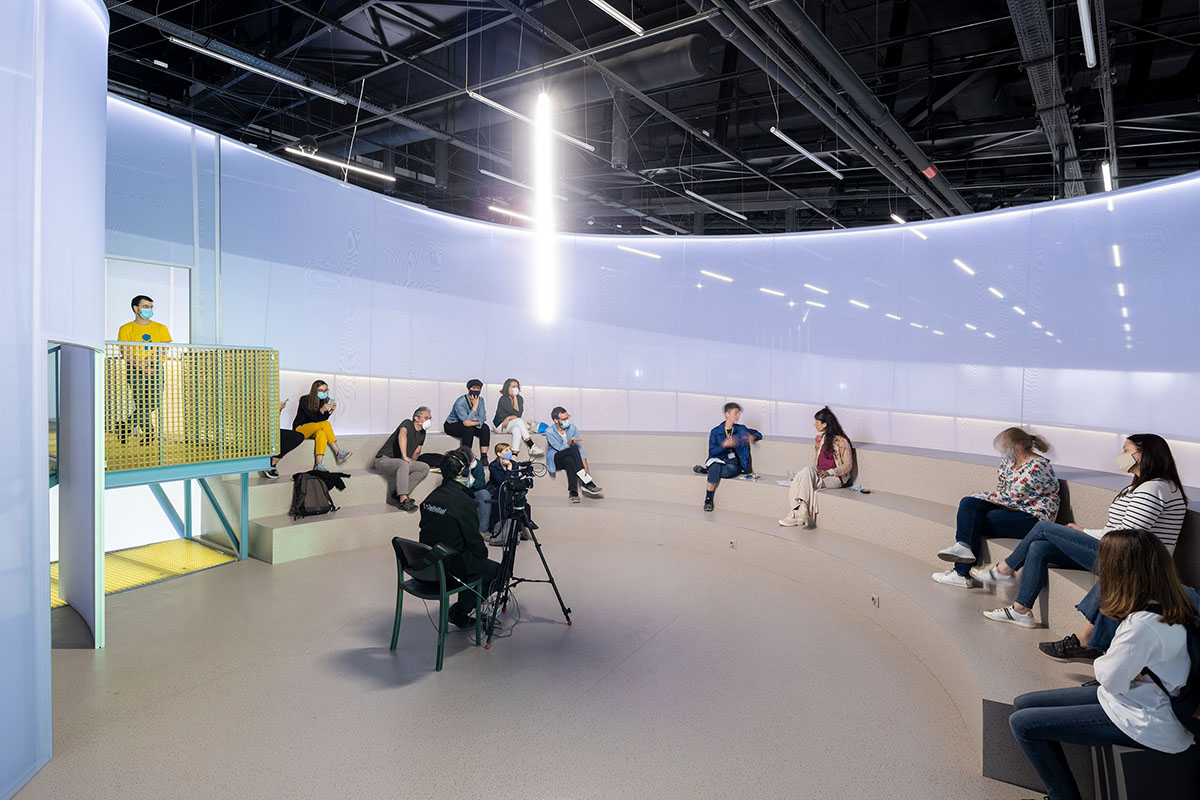 "Institutions of culture should be catalyst platforms to render discourse actionable and empower audiences to own their choices through the articulation of debate, the sharing of positions, and the formulation of knowledge. This is the museum as An Open Forum A Stage – A School," said Beatrice Leanza, Executive Director, MAAT.
By wrapping the structure in a filigree of membranes, the installation takes on a luminous aura. The various layers offer a soft enclosure between new spaces for exchange while allowing its skin to be projected upon.
The installation is complemented by a series of screens, objects, art-carts, and seatings, that can be rearranged on an as need basis, producing an ever-evolving organization.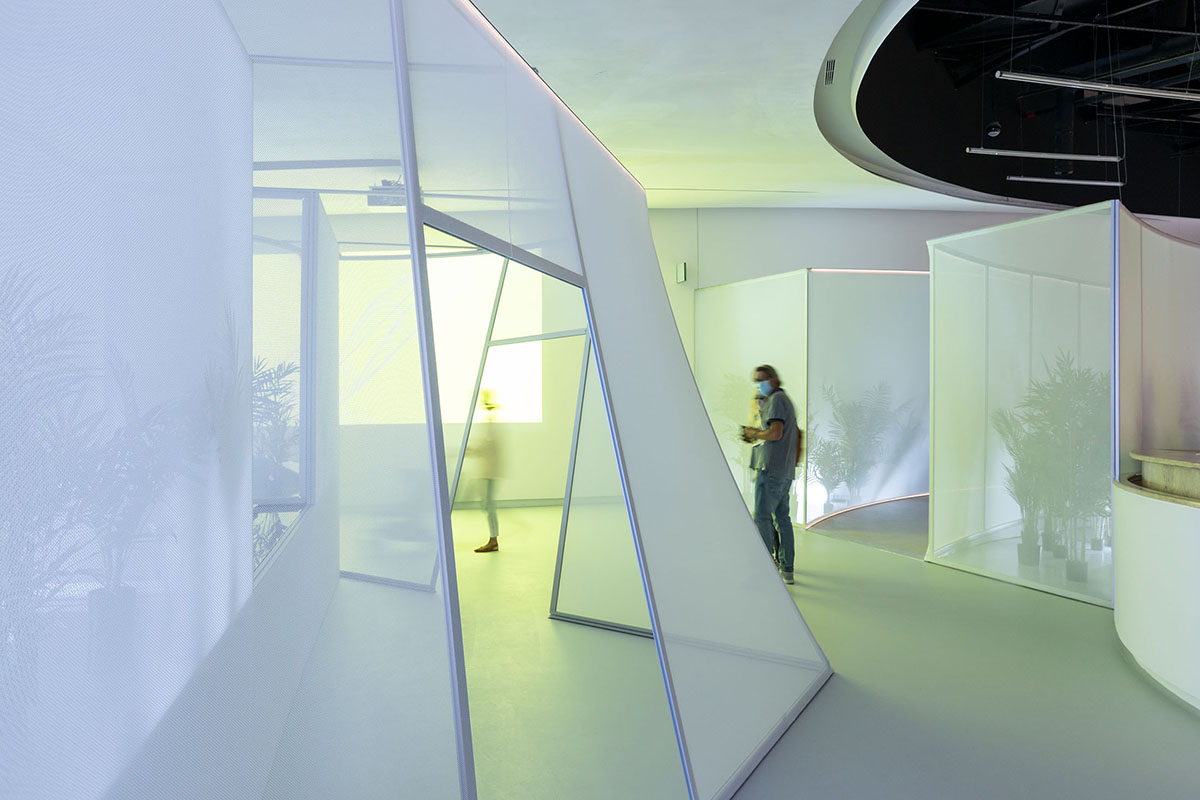 SO-IL, founded in New York in 2008, is led by Florian Idenburg and Jing Liu and the practice deosn't not only produce permanent buildings but also thinks about architecture in relation to time and duration.
"How long does something need to exist in the world for it to become architecture?," asks SO-IL.
The second exhibition, "Currents – Temporary Architectures by SO-IL", contains 12 projects of the firm from the past decades and is dived into six parts, exploring the firm's projects from temporary installations to built works.
The critical texts of the Currents – Temporary Architectures by SO-IL was written by New York-based curator Beatrice Galilee.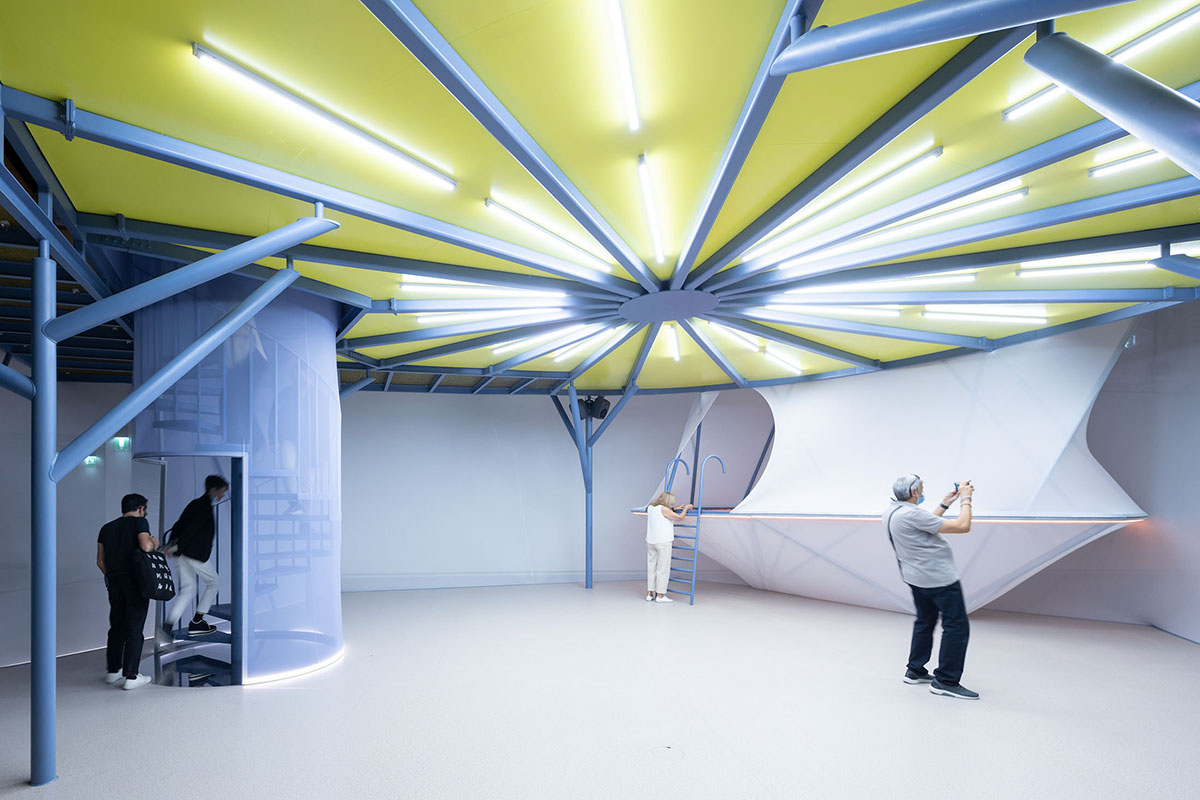 The exhibition presents 1:1 mock-ups, ephemera, models, books, the architects' own voices and writings, critical texts by Beatrice Galilee and includes video contributions of past commissioners allow visitors "to meet the dynamic forces and soft transitions that ebb and flow in the life of one of the most exciting international architecture studios today".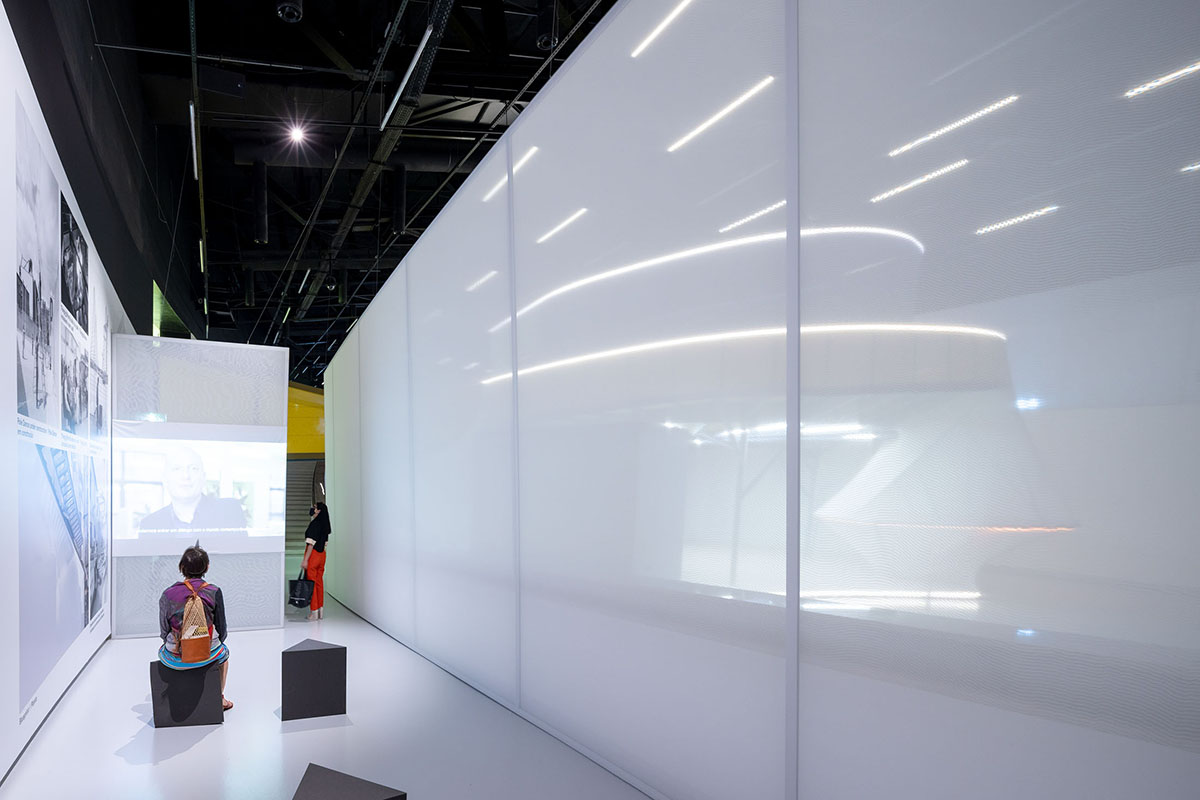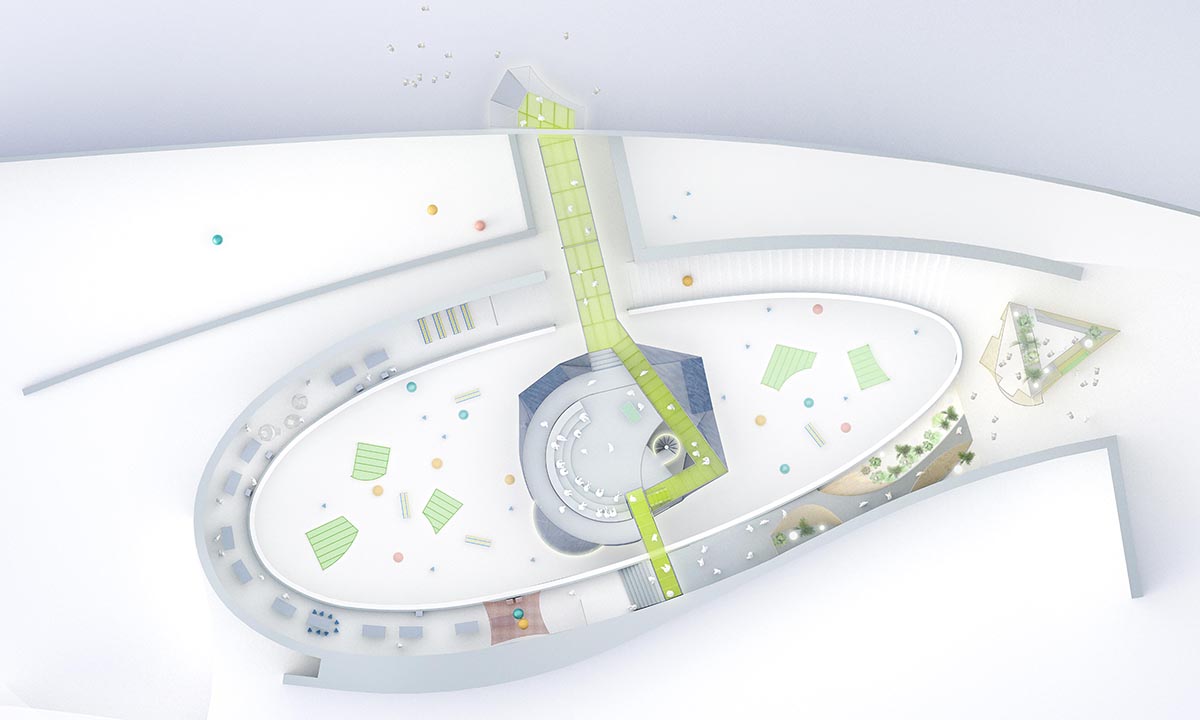 Plan by SO-IL
SO-IL's Beeline and Currents – Temporary Architectures by SO-IL can be visited until January 11, 2021 at MAAT.
Project facts
Exhibition design: SO – IL (Florian Idenburg, Martina Baratta, Summer Liu)
Graphic design: Geoff Han
Text: Beatrice Galilee
Video: Corinne van der Borch, Tom Piper
Photography: Iwan Baan, Laurian Ghinitoiu, Spirit of Place
Production of 1:1 mock-ups: J. C. Sampaio, Oficina do Convento, Casa das Espumas Production of wallpaper: Go Factory
Art handling: Feirexpo
Insurance: Hiscox
Proofreading and translation: Kennis Translations
Videos translation and subtitling: Rita Matos
Lithography: Sebastiaan Hanekroot
All images © Iwan Baan
All drawings © SO-IL
> via SO-IL