8 art installations not to be missed at Coachella 2019
Coachella Valley Music and Arts Festival 2019 has kicked off this weekend and will continue to be hosting its second music activities on April 19-21, 2019 in Indio, just east of Palm Springs, in California.
Known as the United State's best annual music festival, alongside its tremendous musical performances, the festival also hits the music and art-lovers with its fantastic art installations, developed by world-renowned artists every year.
From Coachella 2019 - Day 2. Image courtesy of Coachella
While Janelle Monáe, DJ Snake, Childish Gambino, BLACKPINK, Tame Impala, and Ariana Grande headlining the two-weekend experience, Francis Kéré, Office Kovacs, Dedo Vabo, Poetic Kinetics, Do LaB, Robert Bose and painter Sophia Enriquez took over the stage with their giant installations.
For those who haven't been able to go to the Coachella 2019 festival this year, the WAC Editors chose Coachella 2019's most striking 8 art installations.
---
Sarbalé ke by Francis Kéré
Image © Lance Gerber, courtesy of Coachella
Image © Lance Gerber, courtesy of Coachella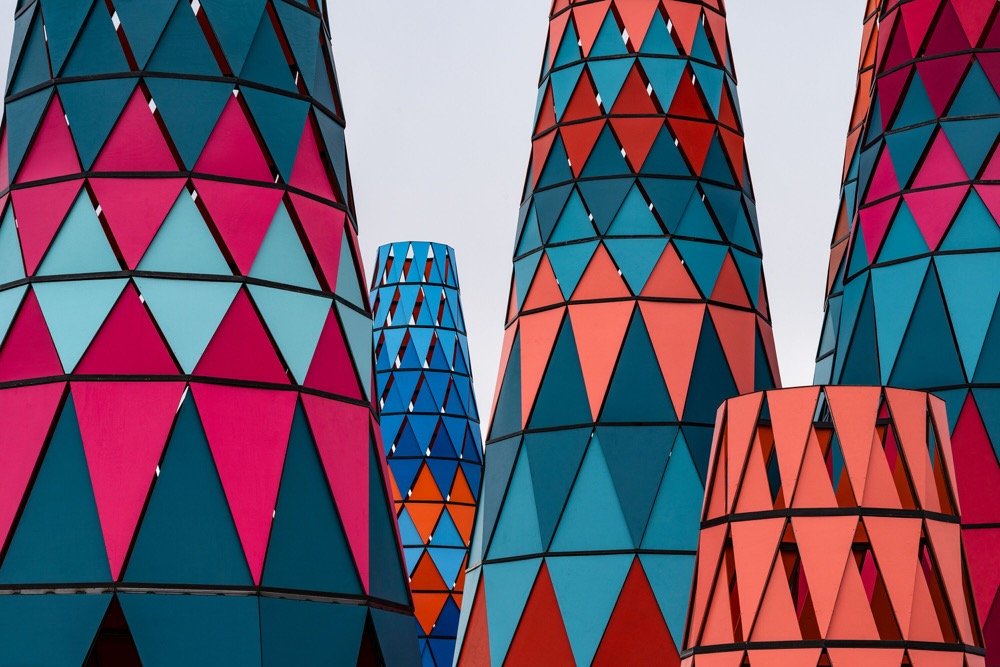 Image © Lance Gerber, courtesy of Coachella
Berlin-based architect Francis Kéré created the twelve colorful towers referencing the baobab trees that claim a remarkable and dominant presence in his native West African village of Gando, Burkina Faso.
"In my culture, the baobab is the most important tree," said Kéré. "It's giant, and it has multiple uses as food and medicine. It's the place where you get together, celebrate, and discuss. It also attracts animals. It is spiritual. Naturally you will walk toward it."
The structures in Sarbalé ke, "the house of celebration" in Kéré's native tongue, command the same power. Some soar higher than sixty feet tall and, with their joyful colors and deep shadows that provide valuable shaded spaces, exude the same welcoming appeal. The light is another important component. "In my culture where there is no light, no electricity, if we see a light we watch it for a while," he added. "If it stays [illuminated] we walk toward it, and there will be a celebration."
H.i.P.O. (Hazardus Interstellar Perfessional Operations) by Dedo Vabo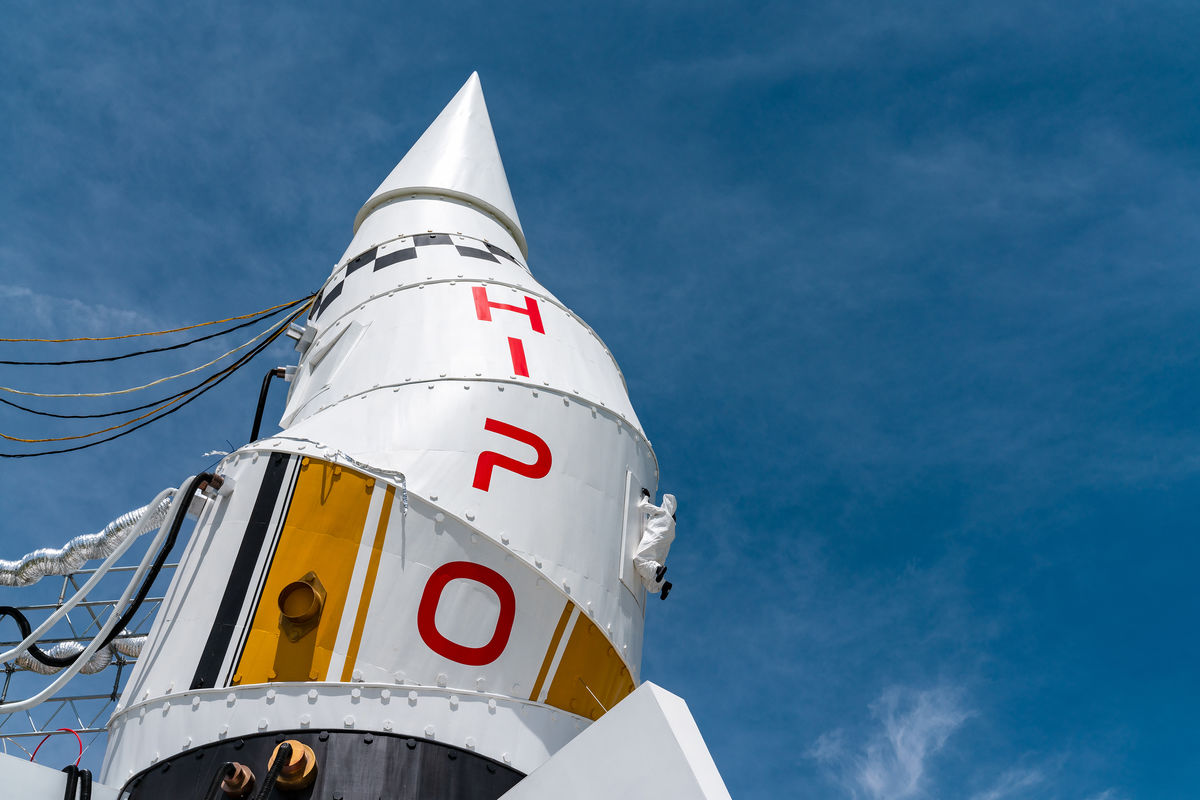 Image © Lance Gerber, courtesy of Coachella
The hippos return to the Coachella festival, determined to launch a rocket, H.I.P.O. – Hazardous Interstellar Planetary Object, to conquer the galaxy. Despite having no experience in rocketry, the hippos have constructed a space-faring vehicle unlike any other. Standing seventy-five feet tall, the rocket sits atop an advanced laboratory and mission control center filled with animatronics and interactive special effects.
The circular base structure, seventy-two feet in diameter, consists of six performance spaces, where a team of dedicated hippos can be seen utilizing the facility's extensive capabilities for deep-space communications, scientific experimentation, trajectory monitoring, and calculation of launch coordinates. The hippos' lack of intergalactic experience never dampens their determination to construct and launch a rocket and claim the dominant position in the interspecies space race.
Spectra by NEWSUBSTANCE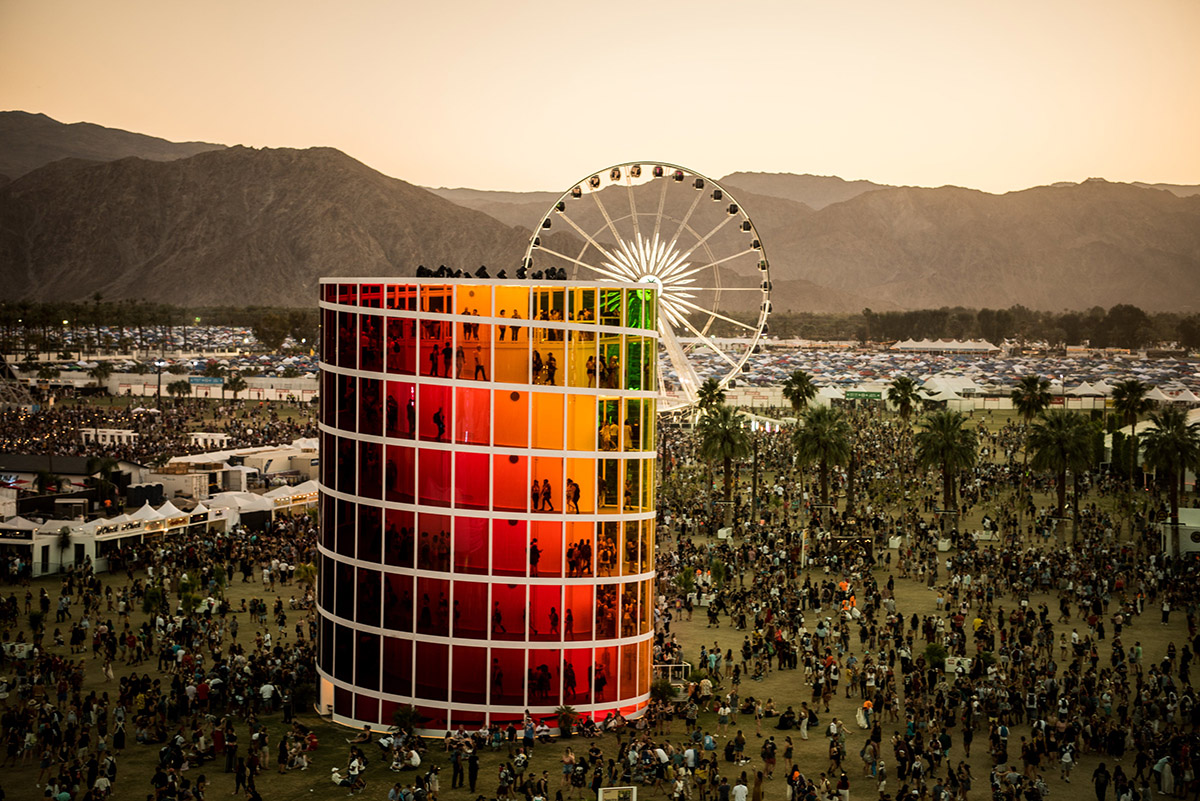 Image © Chris Miller/IMAGINEIMAGERY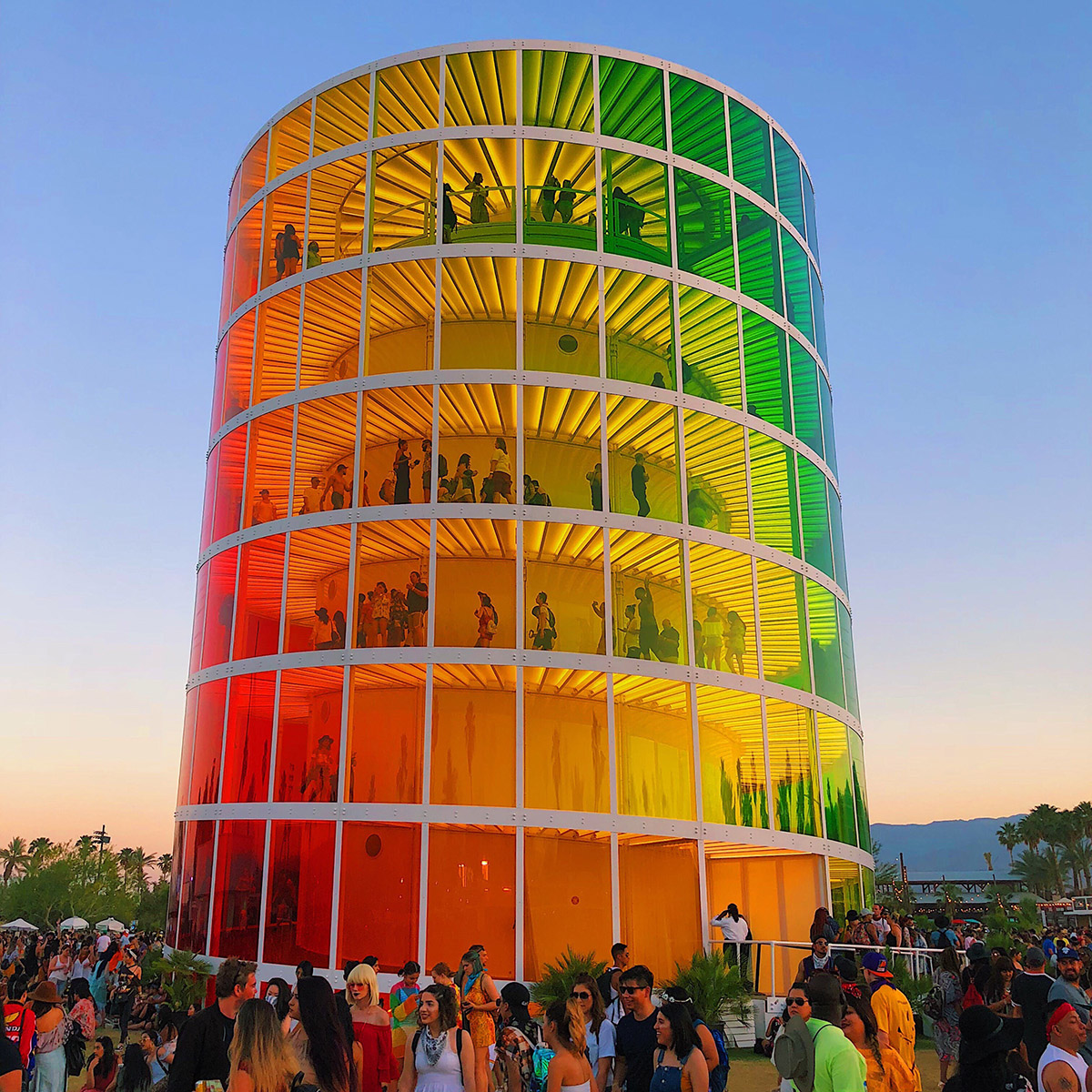 Image courtesy of NEWSUBSTANCE
Spectra is a wondrous seven-story spectrum of color that went viral at Coachella 2018 returns, embodying the iconic sunrise and sunset of the festival. The immersive installation allows concertgoers to ascend its inner spiral to a 360-degree observation deck offering breathtaking views of the awe-inspiring desert. Inside, light, color, and perspective change with every step you take.
"It takes down the sound of the festival a few notches and provides a space for reflection," said creative director Patrick O'Mahony. From its burning reds of the morning sunrise to the gentle sunset bathed in purples and blues, Spectra propels visitors into a technicolor haven. When darkness falls, the artwork becomes a beacon of light, visible from miles around.
Colossal Cacti by Office Kovacs
Image © Lance Gerber, courtesy of Coachella
Los Angeles-based creative studio Office Kovacs' Colossal Cacti consists of seven brightly colored cactuses, the four largest of which range in height between thirty-six and fifty-two feet, while the smaller three stand less than twenty-four feet tall. The grouping sprawls like a skyline, casting long shadows and creating a fun, attractive, and shaded gathering space. The platform on which the cactuses stand each have large steps lined with paint that reference Frank Stella's "Multicolored Squares."
Instead of spines, or spikes, the "plants" in Colossal Cacti have road reflectors that illuminate the sculptures at nighttime and signal Kovacs' preference for using found and ready-made materials to build architectural forms. By using the recognizable form of the cactus, he offers a bridge from the architecture community to the broader public.
Overview Effect by Patrick Shearn, Poetic Kinetics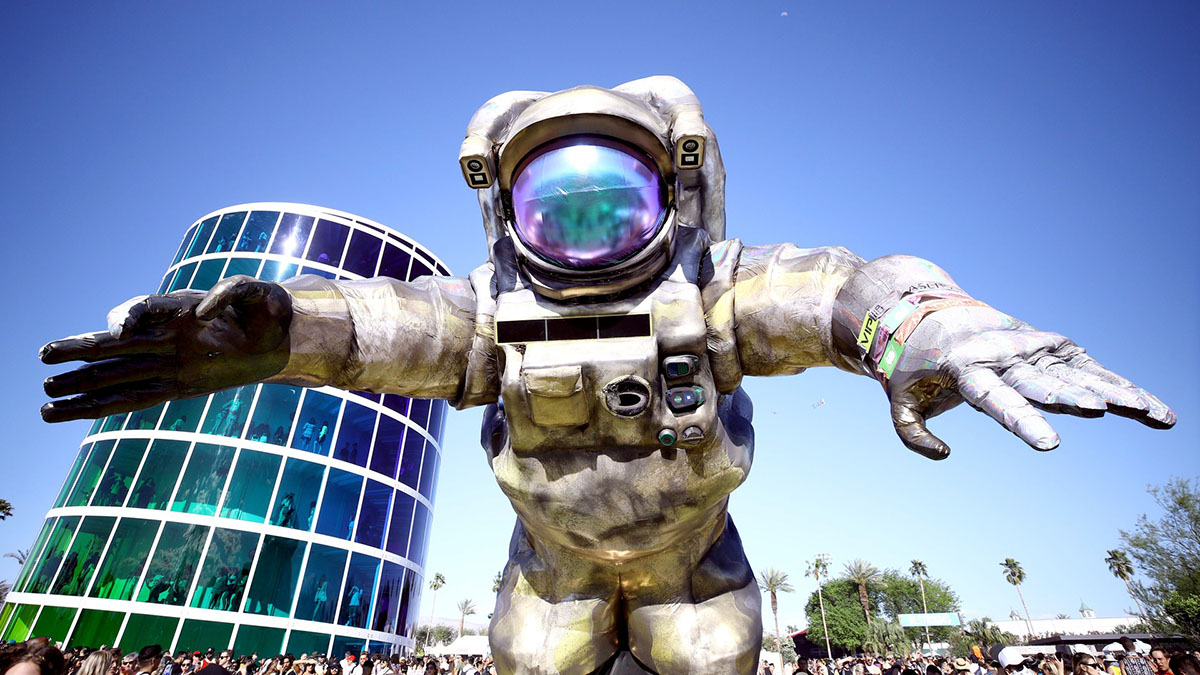 Image © Rich Fury
The larger-than-life astronaut that became a Coachella festival icon in 2014 returns from a long adventure, looking beaten up and scarred and ready to share the evidence of its travels.
"All over its body there is evidence, or clues, of the fantastical story of where it went," said Patrick Shearn, founder of Poetic Kinetics. While the astronaut — about seventy feet tall standing straight up and forty-five feet tall in its usual crouched position — exudes different colors and aesthetic patterns than it did five years ago, but it functions in a similar fashion, navigating and hovering over concertgoers and projecting their faces and names on its helmet visor and space suit nametag, respectively. Animatronics allow the astronaut to articulate lifelike gestures.
Mismo by Sofia Enriquez
Image © Lance Gerber, courtesy of Coachella
The locally-based painter goes three-dimensional with a garden of six massive paisleys — one of the motifs in the graphic vocabulary she uses on her canvases and murals, as well as her line of upcycled clothing that she sells under the label Mucho.
"Everybody wears paisleys: guys, girls, young people and old people, and people of different cultures," said Enriquez. "It can be found on a cotton bandana worn by someone doing manual labor to someone wearing a business suit with a silk tie. It's a symbol that makes the equality in people stand out," which is a theme that runs through all of the artist's work.
The paisleys, constructed with wood and ranging in height from fourteen to eighteen feet, read like double-sided paintings. She painted them in bright, bold colors to contrast the desert's muted and pastel tones. The sculpture in the center of the garden has a platform with large steps where festivalgoers can meet and relax — and possibly see models wearing Mucho clothing.
Flipped by Do LaB
Image © Daniel Zetterstrom
Do LaB, a scene-setting, Los Angeles-based creative team known for transforming venues into visually spectacular and interactive experiences, returns to the Coachella Valley Music and Art Festival with fresh and imaginative stage designs. Their work encourages authentic human connection, art as transformative experience, and environmental sustainability and inspires individuals and society to create a more peaceful culture.
This year the team created a stage design that is composed of a series of colorful and flipped surfaces. The stage looks like a colourful shelter and a marine animal shell.
Foiled Plan by Peggy Noland
Image courtesy of Coachella
Peggy Noland is an artist based in Kansas City and Los Angeles. Using clothing as her medium and large scale replicas of familiar objects, Peggy creates content-driven clothing, retail concept shops and site-specific pop art installations.
For the 2019 Coachella, she created a 17,000-square-foot Sonora stage as her canvas, to work at such a scale, she worked with her Los Angeles–based friends and peers to realize this piece entirely by hand. Foiled Plan is a mixed-media combination of a large painting with custom blobs of furniture and holographic Sonora cactus sculptures.
"The concept came to be as I was wrapping a car in a holographic material," said Noland. "I experimented with the material by 'crinkling' it, instead of applying it smooth as intended." The stage was completely made by hand, including the floor, she said.
Coachella Valley Music and Arts Festival 2019 will continue to be hosting its second music activities on April 19-21, 2019 in Indio, California.
> via Coachella