SOM designs mass timber net-zero climate solution center on New York's Governors Island
Skidmore, Owings & Merrill (SOM) has revealed design for a new, net-zero climate solution center on Governors Island in New York harbor, United States.
Called New York Climate Exchange, the new campus is being developed in partnership with Stony Brook University, the leading public research institute in New York, to facilitate and deliver key solutions addressing the climate crisis.
Set to be built on Governors Island, the New York Climate Exchange (shortly dubbed as The Exchange) is envisioned to become "a first-of-its kind international center" to deliver and facilitate dynamic solutions to the global climate crisis.
The new solution center also aims to act as a regional hub for the rapidly evolving green economy.
Image © SOM | Brick Visual
Envisioned as a weavy and sinuous volume, the hub is comprised of mass timber pavilions overlooking the mesmerizing landscape in New York harbor.
The New York Climate Exchange campus will consist of an engaging and interactive living laboratory with 400,000 square feet (37,161 square meters) of green-designed building space, as well as research labs, classroom space, exhibits, greenhouses, mitigation technologies, and housing facilities.
The center, which consists of a gridded-timber structure, decreases to two floors at certain points, while it rises to eight floors at its highest top.
Image © SOM | Brick Visual
SOM will work on the design and operations of The Exchange in collaboration with Mathews Nielsen Landscape Architects, Buro Happold and Langan Engineering.
The center will serve as a model for sustainability, deploying energy-positive design strategies including mass timber construction, on-site solar power generation, and integration of existing buildings to achieve a net zero energy campus.
As seen from the renderings, the roof of the building will be covered by solar panels in order to generate all the operations of electricity.
Complementing the natural landscape of Governors Island and the urban landscape of New York City, SOM's design blends new architecture with the island's beloved park to create "a living laboratory for research, education, and public enjoyment."
Image © SOM | Miysis
Tackling with resiliency and sustainability, according to SOM, the center will showcase the first buildings in New York City to meet Living Building Challenge standards and be one of the first sites in the country to achieve True Zero Waste certification.
The project is also aimed to meet 100 per cent of its non-potable water demand with rainwater and treated wastewater, and run entirely on electricity generated on-site—even creating enough energy to serve the city's power grid.
Image © SOM | Miysis
"Our design for this new campus embodies the stewardship necessary to solve the climate crisis by weaving sinuous mass timber pavilions through the rolling landscape of the park and reusing the historic building fabric of Governors Island," SOM Design Partner Colin Koop.
"Together, these spaces will cultivate advances in climate research and pilot new technologies that can be deployed across the city, and eventually the world," said SOM Design Partner Colin Koop.
"We look forward to working with the Governors Island Trust, Stony Brook University, and our team of design and engineering collaborators to bring this important project to life," Koop added.
Image © SOM | Brick Visual
In addition to convening the world's leaders and climate experts, the building will host green job training - including 6,000 trainees - and skills-building programs for local residents to help them launch successful careers, as well as partner with local institutions like the Pratt Institute, Pace University, New York University, the City University of New York, SUNY Maritime College, Brookhaven National Labs and IBM.
The programs will be addressing the social and practical challenges created by climate change— including research that becomes commercially viable and ideas that lead to immediate action on the local and global levels, according to SOM.
Image © SOM | Miysis
"We are honored, excited, and proud to partner with the City of New York to build this historic center that will cement New York City as the world leader on climate change, the most pressing issue of our time," said Stony Brook University President Maurie McInnis.
"Up until now, the development of climate solutions has been siloed, with world leaders separate from expert scientists separate from the on-the-ground green workforce."
"As an international leader on climate and as the leading public research institution in New York, Stony Brook University will bring stakeholders together from the academic, government and business communities to make the Climate Exchange the center of research, innovation, education and collaboration to address this global crisis," Brook added.
The campus will include all-electric buildings throughout the entire campus with on-site solar electrical generation and battery storage meeting 100 per cent of energy demand with net-positive capability to serve the local grid.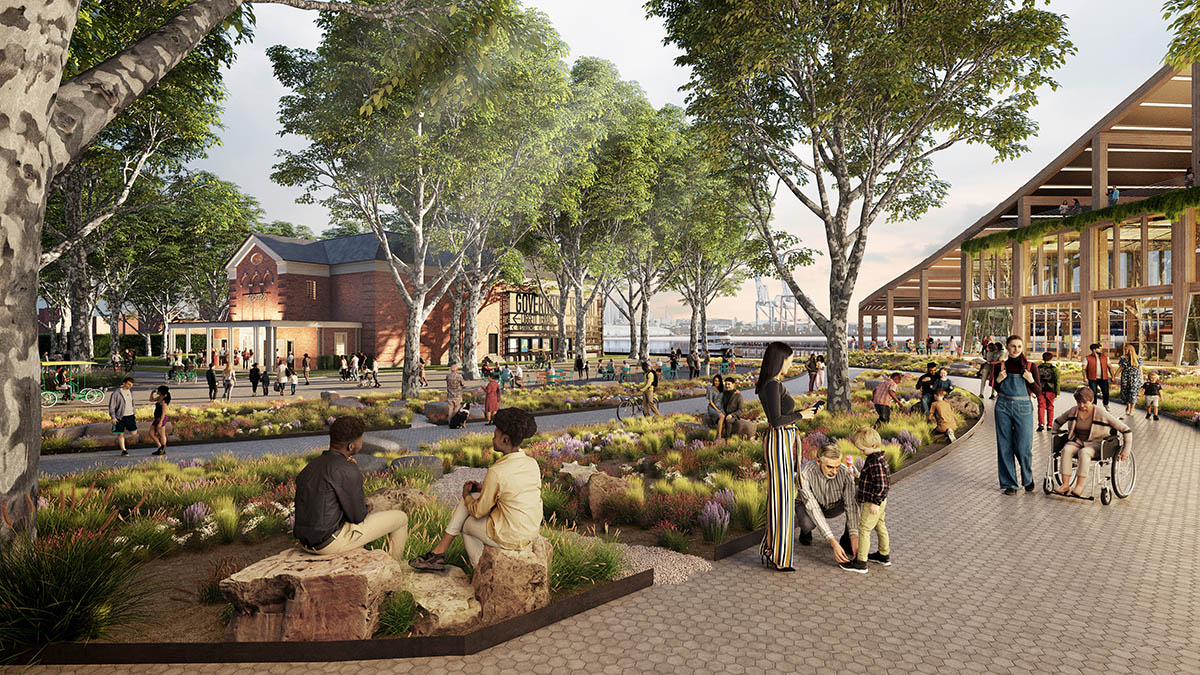 Image © SOM | Miysis
Through its waste management program, 95 per cent of waste, diverted from landfills, aims to make the project one of the first sites in the U.S. to achieve True Zero Waste certification.
Described as "a climate-resilient design", the new buildings will be raised to the Design Flood Elevation (DFE) of +18 feet (1,67 meter), without basements, living shorelines.
Image © SOM | Brick Visual
SOM recently completed a new terminal at Kansas City International Airport (KCI). SOM is also designing a 63-story tower in Singapore, which is set to be built as "one of Asia's most sustainable skyscrapers and Singapore's tallest skyscraper."
Top image © SOM | Miysis.
> via SOM