Qatar will present "Building a Creative Nation" focusing on its five new cultural venues in Venice
Qatar Creates, promoting cultural activities within Qatar, will present the documentary exhibition on its five new cultural venues designed by ELEMENTAL, Herzog & de Meuron, Office for Metropolitan Architecture (OMA), Philippe Starck, and UNStudio.
The exhibition, titled Building a Creative Nation, will be the first presentation outside the country of Qatar's next generation of cultural institutions.
Hosted at ACP – Palazzo Franchetti, the exhibition will be on view from 14 May – 26 November, 2023 during the 18th International Architecture Exhibition in Venice Architecture Biennale 2023.
ELEMENTAL, Art Mill Museum conceptual design: aerial view of the museum in the Cultural District (Doha, Qatar), 2022. Rendering © Qatar Museums
Building a Creative Nation, designed by 2 x 4, will explore five new cultural venues that are being developed by Qatar Museums in Qatar with internationally acclaimed architectural practices ELEMENTAL, Herzog & de Meuron, OMA, Philippe Starck, and UNStudio.
The new developments all will be operated by Qatar Museums which is responsible for preserving and enlarging Qatar's cultural endowment by overseeing the country's growing network of museums, heritage sites, festivals, public art program, and more.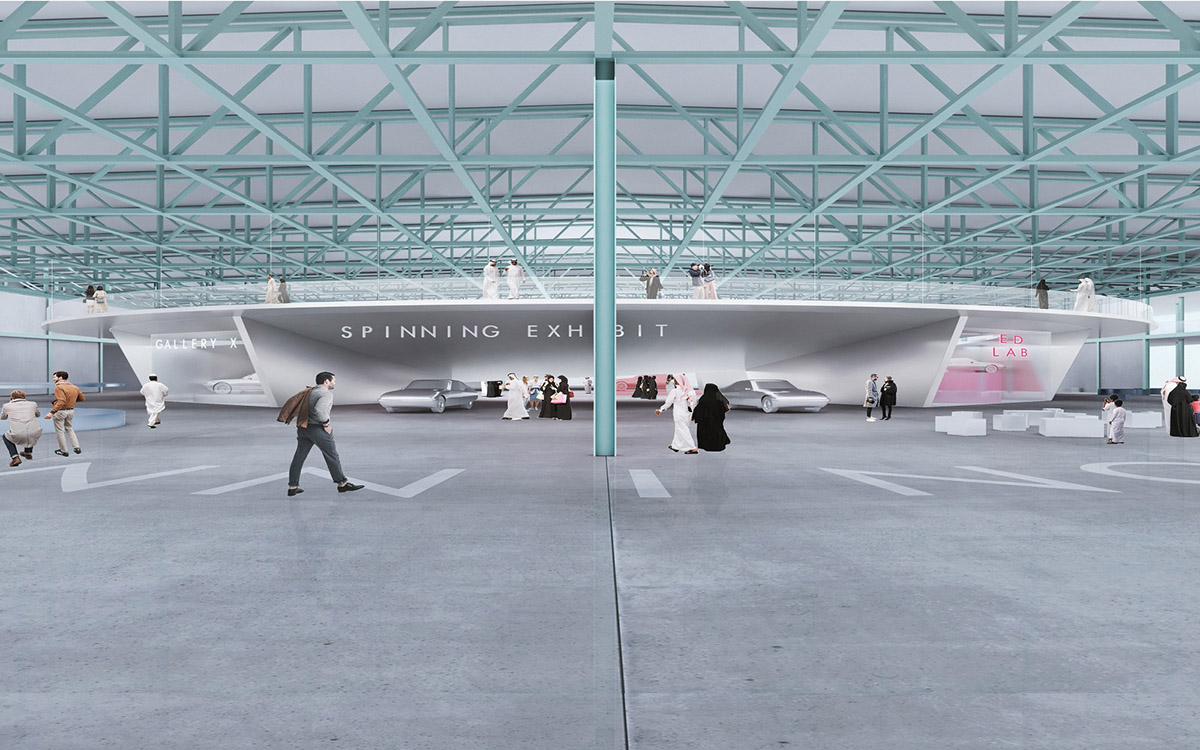 OMA, Concept design of Qatar Auto Museum project. Rendering © Qatar Museums
The exhibition will bring together renderings, photographs, sketches, studies, models, video, as well as immersive content, to present each project as a considered architectural response to an aspect of Qatar Museums' program of cultural nation-building.
Described as a "future institution", whether new construction or adaptive reuse, each venue demonstrates Qatar's commitment to architecture as a strategic tool for achieving the country's forward-looking cultural objectives, while they are outlined in line with Qatar National Vision 2030 vision.
Herzog & de Meuron, Lusail Museum conceptual design: exterior view. Rendering © Qatar Museums
"When the opportunity to support the exhibition of Kengo Kuma on the occasion of the Venice Architectural Biennale 2023 arose, we felt that it would be a great moment to share the cultural projects that Qatar is embarking on after its successful hosting for the FIFA World Cup Qatar 2022," said Her Excellency Sheikha Al Mayassa bint Hamad bin Khalifa Al Thani, Chairperson of Qatar Museums.
"The cultural, economic, and socio-political relationship between Qatar and Italy has always been strong, as has the relationship between Qatar and Japan."
"It is therefore a great moment in our modern history to reveal the extent of Qatar's cultural program, amongst one of the greatest displays of architecture and most important showcases anywhere for epoch-making designs."
Philippe Starck, Qatar Preparatory School architectural concept. Image © Qatar Museums Image credit: PHS / DEIS
The Art Mill Museum is designed by Pritzker Prize-winning architect Alejandro Aravena's firm ELEMENTAL, while Swiss architects Herzog & de Meuron is designing Lusail Museum.
Rem Koolhaas of OMA is designing Qatar Auto Museum, Philippe Starck is developing architectural concept for Qatar Preparatory School and UNStudio is designing Dadu, Children's Museum of Qatar.
Qatar Museums announced its ambitious plans at the 2022 Doha Forum in Qatar in March 2022, announcing three major new museums in Qatar.
The three new major developments, including The Art Mill, Lusail Museum and Qatar Auto Museum, are aimed at celebarting the wider Islamic world, contemporary art and exploring the evolution of the automobile industry from its invention through today.
These new developments build on the legacy of Qatar's continuing investment in the world-class museums and cultural spaces that have opened in the country over the last 15 years, including the Museum of Islamic Art by I. M. Pei built in 2008; Mathaf: Arab Museum of Modern Art by François Bodin built in 2010, Fire Station by Ibrahim Al Jaidah built in 2015, Qatar National Library by OMA built in 2017, National Museum of Qatar by Jean Nouvel built in 2019, M7 by John McAslan + Partners built in 2021, 3-2-1 Qatar Olympic and Sports Museum by Joan Sibina built in 2022.
Top image: UNStudio, Dadu, Children's Museum of Qatar conceptual design: exterior view Rendering. Image © Qatar Museums.
> via Qatar Museums