Eric Owen Moss Architects completes Wrapper with continuous steel bands in Los Angeles
American architect Eric Owen Moss' practice Eric Owen Moss Architects has completed an office tower in Los Angeles, wrapped by continuous steel bands that resemble concrete material.
Called (W)rapper, the 235-foot tall (72-metres) office building was completed as part of an on-going 35-year revitalization plan for a former industrial and manufacturing zone in Central Los Angeles and Culver City, California, United States.
Eric Owen Moss, who is the World Architecture Community Honorary Member, presented his first structural concept in 1998 in an exhibition at the Wexner Center in Columbus, Ohio.
Eric Owen Moss Architects' 17-storey deconstructivist tower received construction approval in 2017 and began construction in the Culver City neighborhood of Los Angeles.
Being a structurally expressive, the tower sets its own language over the steel bands that are supported on a base isolated foundation.
This base separates the tower structure above from the seismic isolator foundations below, to allow the building to respond and move safely and securely against any seismic event.
"(W)rapper is the only high-rise commercial office building in the USA that utilizes such a base isolated structure," the studio emphasized.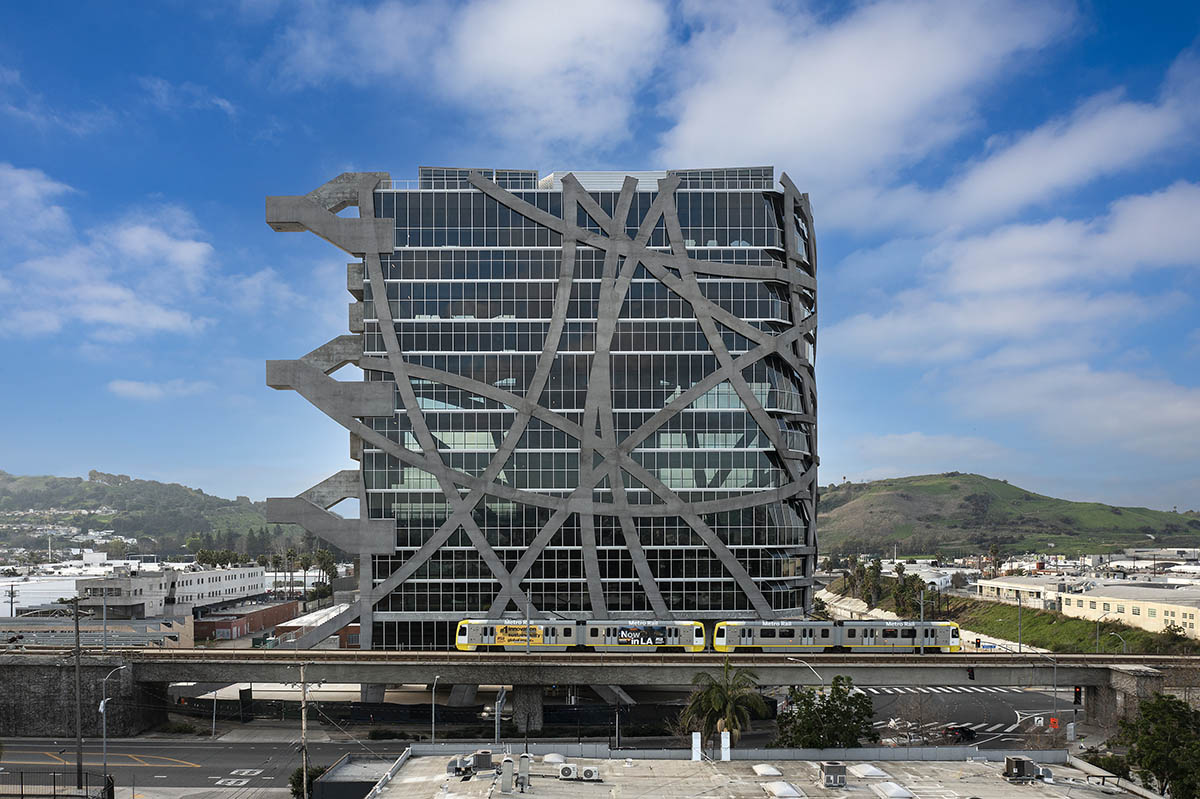 Moss's design is different than conventional high-rise structural systems in which they are based on columns organized along modular grid lines. (W)rapper is entirely supported by a network of curvilinear bands originating from a number of geometric center points.
"Each curving band is wrapped around the largely rectilinear building envelope, and folded around each vertical and horizontal corner of the building until it reaches the ground," said Eric Owen Moss Architects.
The tower has 17 office floors that are distributed as three different floor-to-floor height options such as 13'-6" (4,11-meters), 16'-6" (5,02-meters), and 24'-0" (7,31-meters) – with a mezzanine hung from the ceiling above on the 24'-0" (7,31-meters) floor.
The interiors of the tower offer flexible and the widest range of use and spatial experience to its tenants.
Described as "a base-isolated structure", according to the studio, "this adds to the sustainable building conception, providing a structure five times more seismically resilient than a typical American high-rise."
"This tower will survive a major earthquake and return its occupants to the office the following day. Other high-rise building facing similar seismic challenges will sustain significant damage and likely require demolition or substantial reconstruction before reoccupying," according to the office.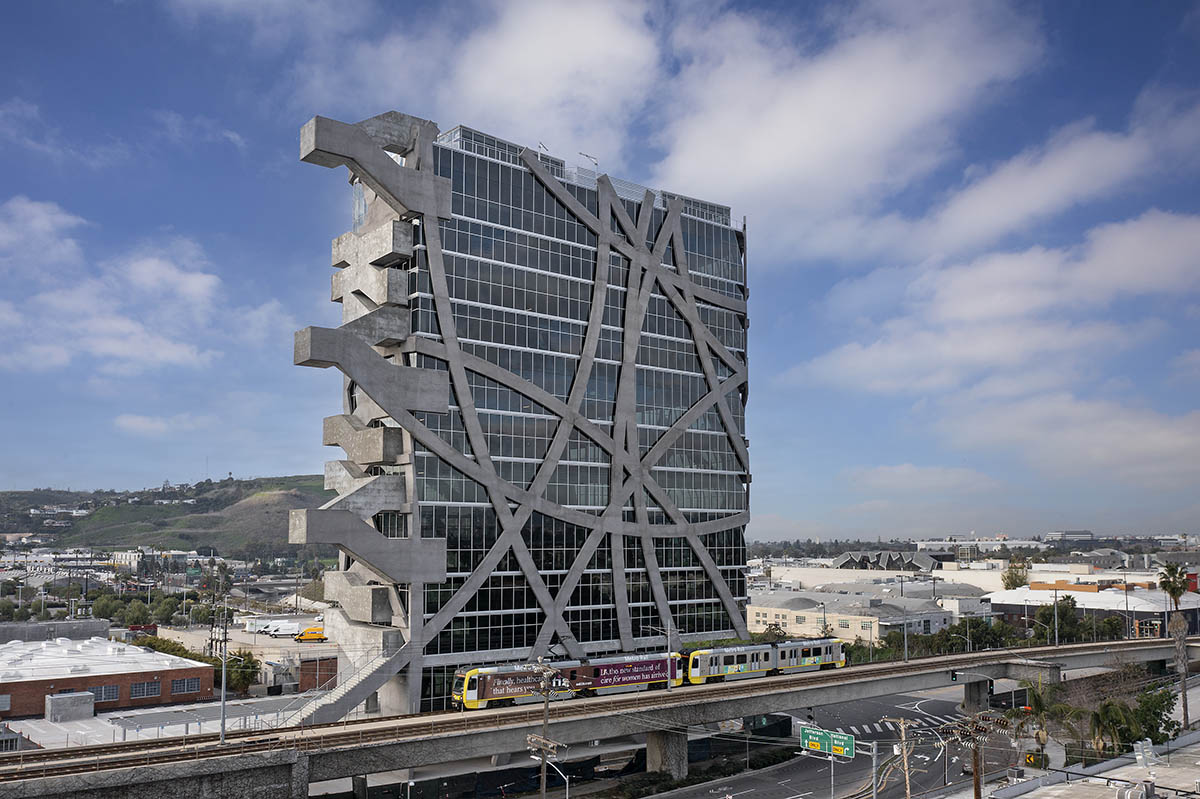 As the office highlighted, the key measure of its sustainability principle is based on the "reoccupy next day" structural lifecycle of (W)rapper.
"This will reduce the carbon footprint of the project substantially over its useable lifetime," the office continued.
"In comparison with more conventional structural concepts, (W)rapper offers both the city and its tenants the highest possible seismic safety rating in the United States."
To resemble concrete material on its exterior skin, the steel bands are coated with cementitious fireproofing, and the building core is clad in a two-coat cement plaster finish. The studio did not use concrete in the structural system or fireproofing concept in the tower.
Aiming to create an open, column-free floor plan, the studio positioned the bands on the building perimeter so that it could provide the maximum spatial configuration and flexibility for interior design.
The elevator and utility core of the building is offset to the south, freeing the office interiors, and providing the maximum floor plan flexibility.
Minimal perimeter band impediments offer wide, uninterrupted vistas of the entire Los Angeles basin from every floor.
(W)rapper advances a continuing history of sustainable development by Eric Owen Moss Architects in the Culver City and Los Angeles areas.
Earlier projects reused the former industrial buildings, interspersed with remodeling, and an occasional building addition. However, Moss' (W)rapper site combines both existing and remodeled buildings with new construction, adding density and offering new office plan options.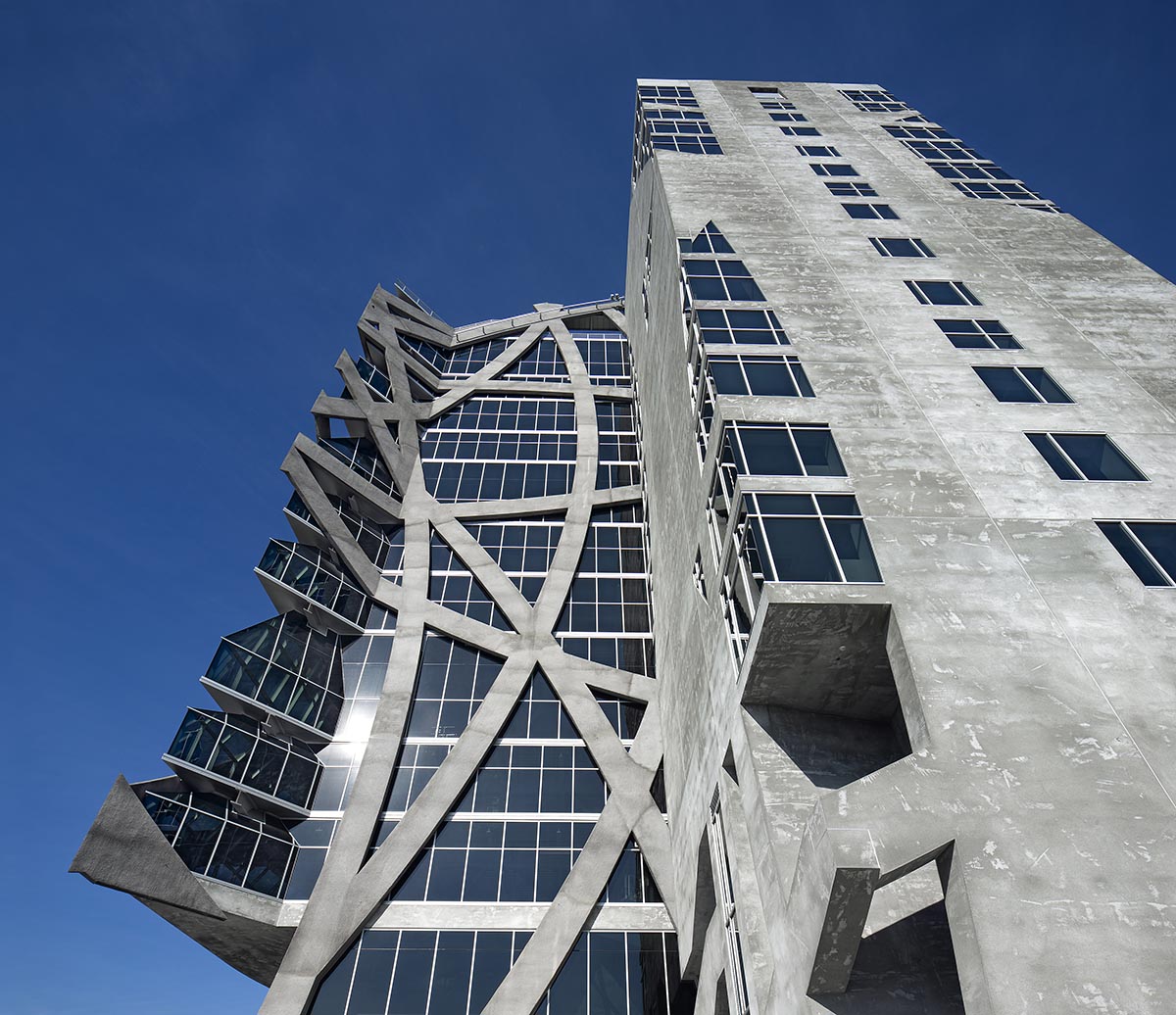 The project also helps to promote the use of public transportation and a concomitant reduction of fossil fuel usage—with reduced availability of private and public auto parking and a direct pedestrian link from train to building lobby.
The studio employed a number of active and passive environmental strategies to create a high-performance building envelope which is equivalent to an elevated LEED Silver sustainability rating.
(W)rapper marks the first of three new towers designed by Eric Owen Moss Architects for the area.
The other two towers have been approved by the City of Los Angeles, and a pedestrian bridge connecting Culver City to the west with Los Angeles that will unify two local and burgeoning digital communities is currently being discussed with local government agencies.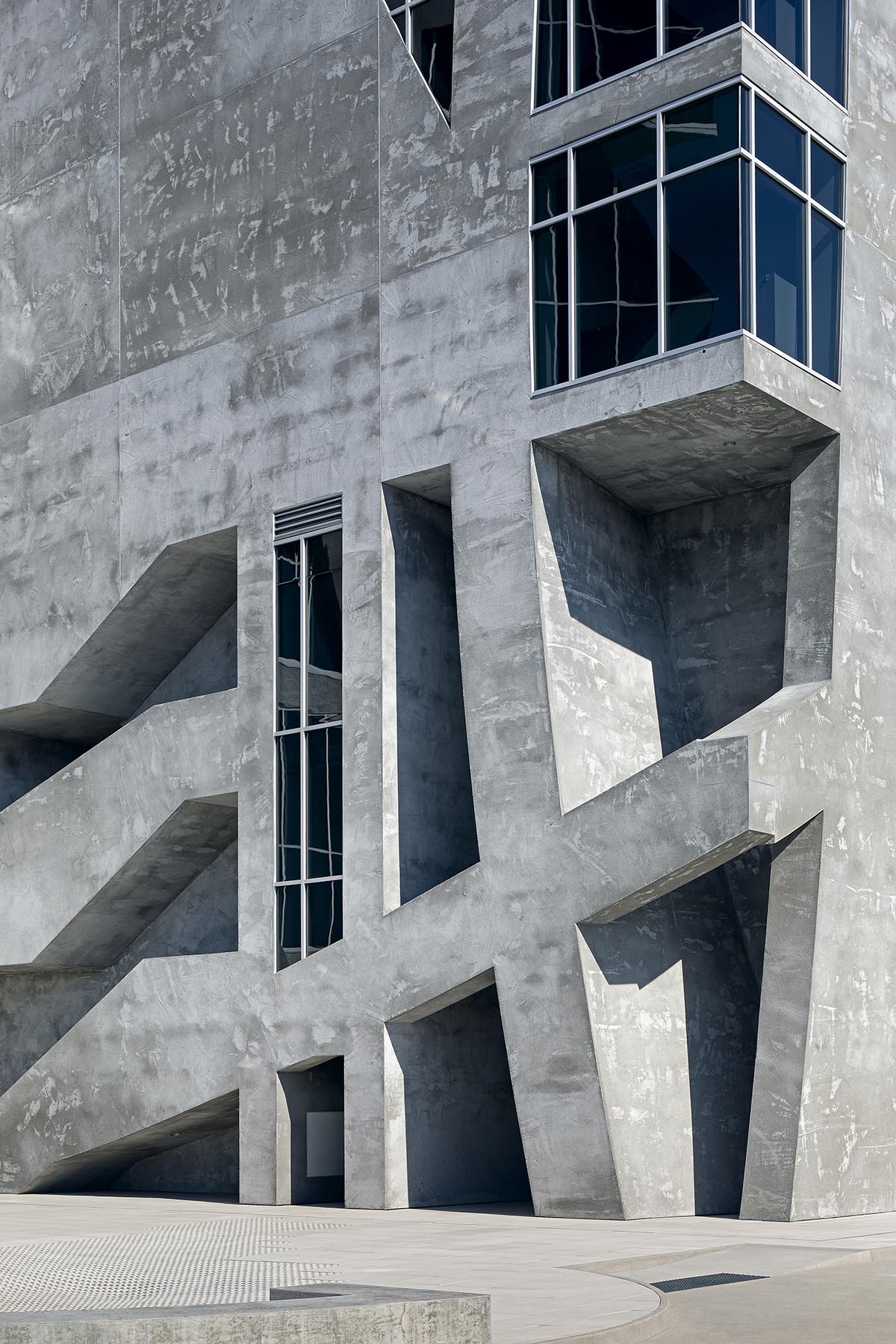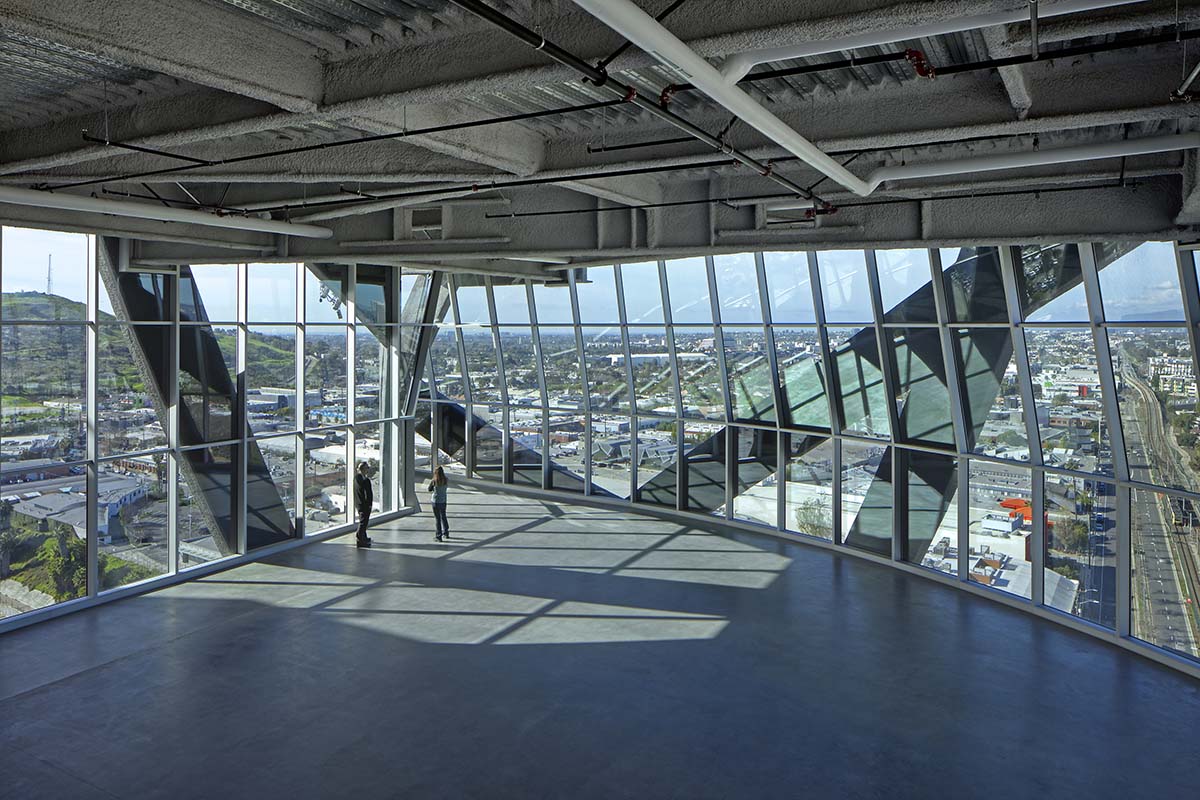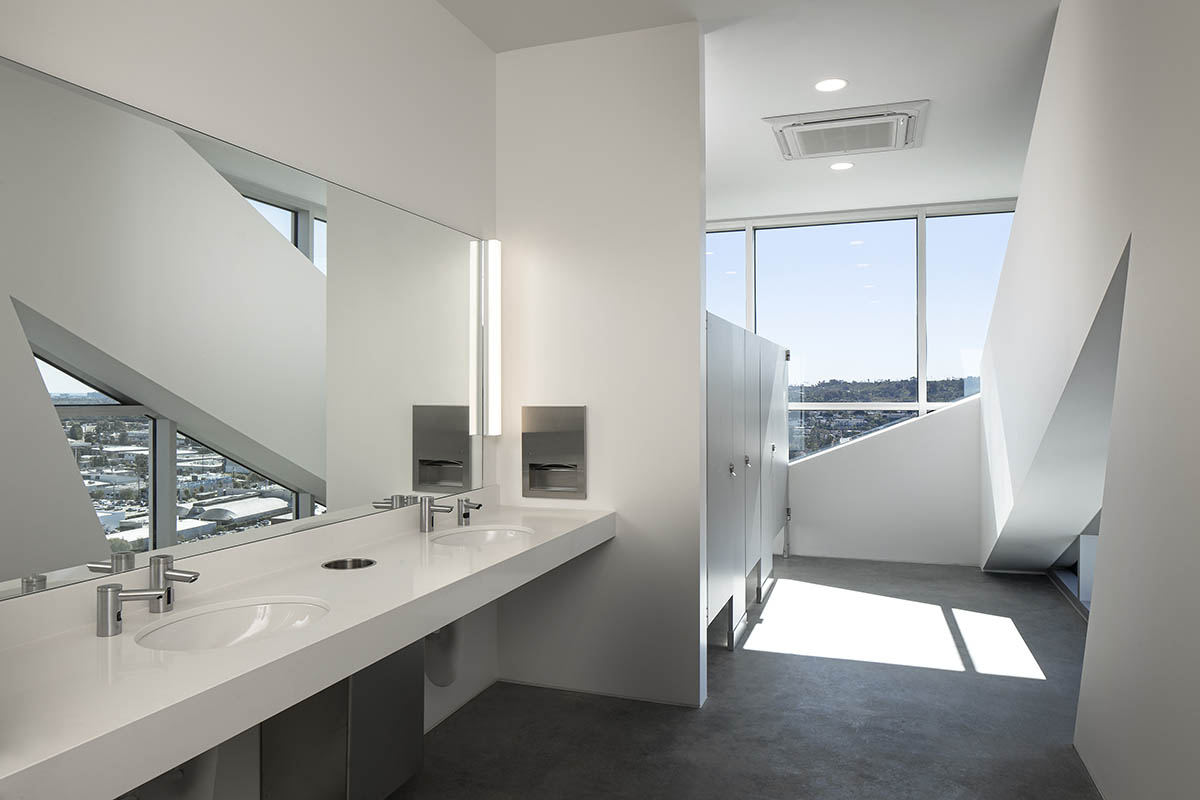 Masterplan
Ground floor plan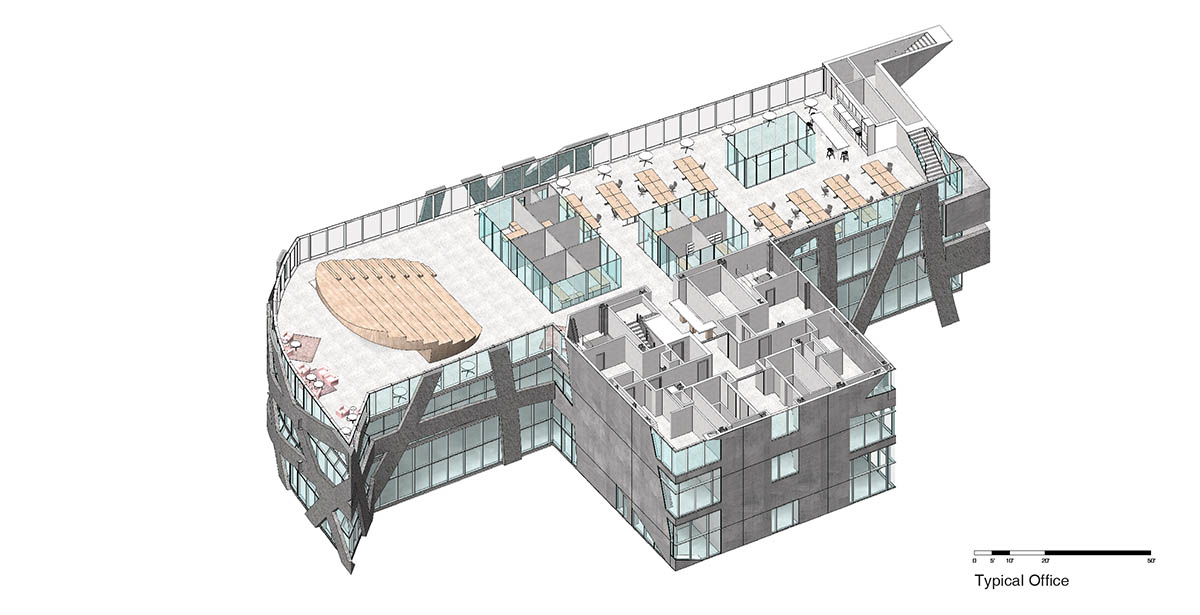 Typical office plan
Second floor lobby
Typical mezzanine plan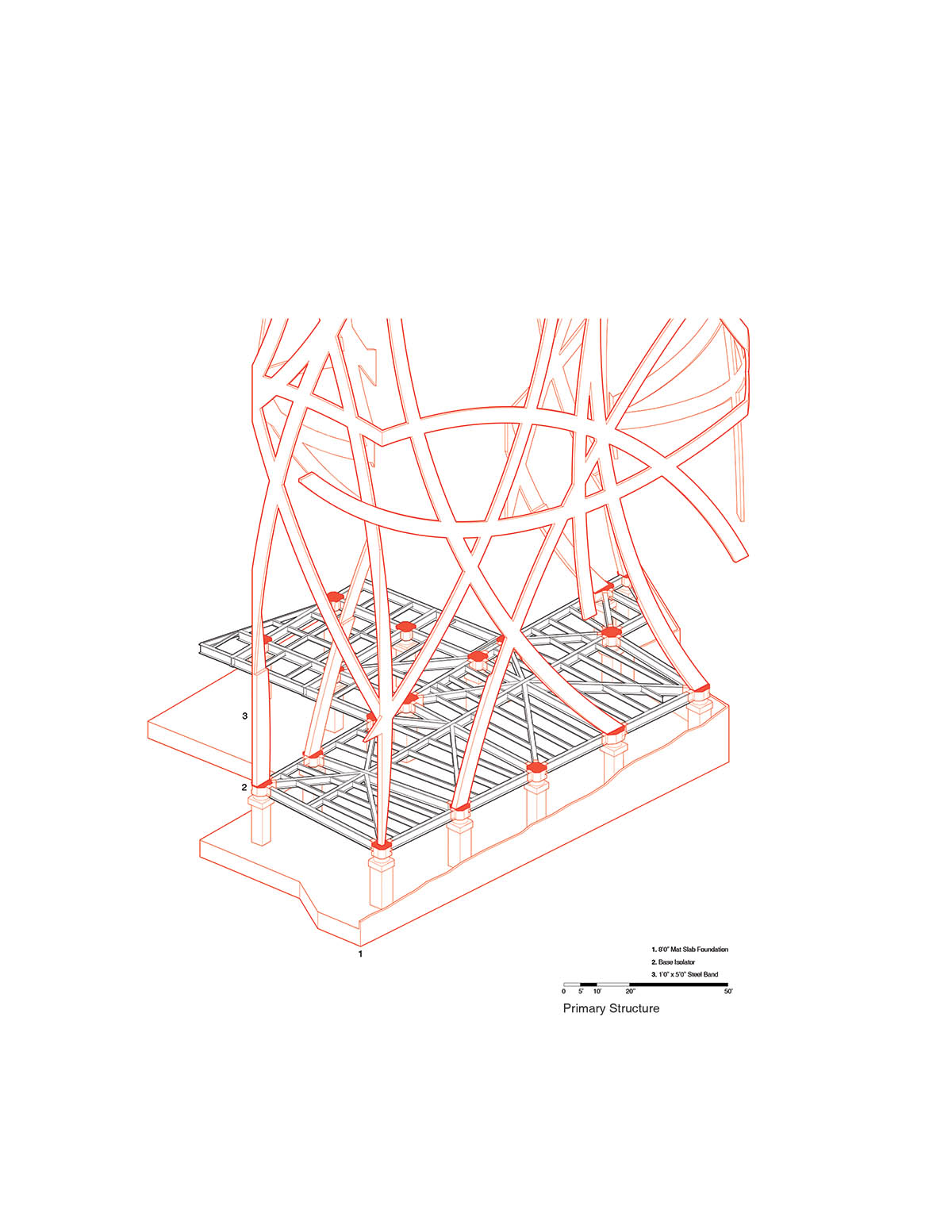 Primary structure diagram
Eric Owen Moss Architects also completed a new restaurant building in Culver City, California.
Project facts
Project name: (W)rapper
Architects: Eric Owen Moss Architects
Location: Los Angeles, United States
Owner: Laurie Samitaur Smith, Samitaur Constructs
Principal and Lead Designer: Eric Owen Moss
Project Director: Dolan Daggett
Project Architect: Vanessa Jauregui
Project Team: Maxime Lefebvre, Hugo Ventura, Raul Garcia, Eric McNevin, Juan Villarreal, Scott Nakao, Diana Rodriguez, Emmanuel Osorno, Renata Galan, Brennen Huller, Sean Briski, Nicholas Barger, Zarmine Nigohos, Tanveer Sami, Richard Yoo, Christine Lawson, Francisco Delgado.
General Contractor: Matt Construction
Structural Engineer: Arup, Los Angeles
Geotechnical Engineer: WSP
MEP Engineer (Design Development): Arup, Los Angeles
Civil Engineer: Arup, Los Angeles
Smoke Control: Arup, Los Angeles
Landscape Architect: Land Images
Commissioning: Green Dinosaur
Shoring Engineer: Earth Support Systems, Inc
Surveyor: J.O. Nelson & Associates
Technology: Vantage
Acoustics: Arup, Los Angeles and Antonio Acoustics
Traffic: KOA Corporation
Hardware: Jon Wiseman
All images © Tom Bonner Photography.
All drawings © Eric Owen Moss Architects.
> via Eric Owen Moss Architects
Eric Owen Moss Eric Owen Moss Architects Los Angeles office office tower