Safdie Architects reiterates "For Everyone a Garden" philosophy of Habitat 67 in three new projects
Although 50 years have passed since the completion of Moshe Safdie's Habitat '67 project, one of the modern, innovative and iconic projects of contemporary architecture, Habitat '67 still represents one of the best examples of prefabrication of a housing typology, community-oriented design with nature in the city.
Based on the same philosophy of Habitat 67, the acclaimed urban planner, architect, educator, theorist Moshe Safdie is still exploring the metaphor of "For Everyone a Garden," elevating living standards with abundant nature by providing a sense of privacy in his other high-rise structures.
Safdie's urban vision is deeply rooted in the concept of "house" — a dwelling with its own identity, openness in a variety of orientations, and adjacent personal outdoor space within a community.
Habitat '67. Image © Marc Cramer + Thomas Miau, courtesy of Safdie Architects
Safdie's three latest projects, such as Altair Residences in Colombo, Qorner Tower in Quito, and Phase II of Habitat Qinhuangdao, are representing the latest iterations on Habitat '67 - Moshe Safdie's pioneering model for a new kind of apartment building in Montreal, Canada.
As Safdie Architects emphasizes, these three projects are embodying the ideals and foundational principles of Habitat '67 - that architecture should be profoundly humane and connected to nature. All these projects are designed to maximize daylight, natural air, privacy, and communal space.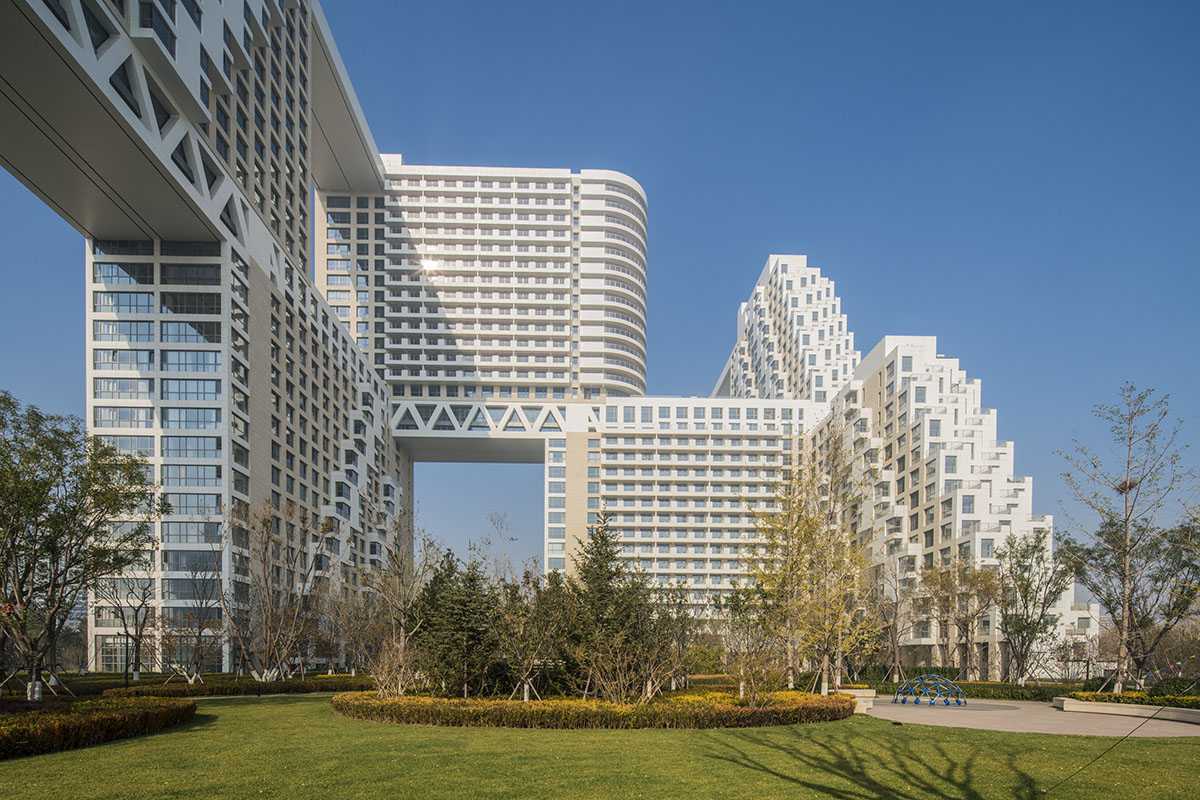 Habitat Qinhuangdao. Image courtesy of Safdie Architects
While dramatic stepped profiles, private landscaped terraces, and public garden amenities become the main characters of these new projects at multiple levels, each of the project creates a response to its geographical context with climate, and culture.
Habitat Qinhuangdao. Image courtesy of Safdie Architects
To celebrate the start of Phase II, Kerry Properties commissioned the film, titled "Habitat in Nature." The film explores an investigation into how the initial ideas of Habitat '67 have evolved and adapted to inform and inspire Habitat Qinhuangdao.
Through firsthand interviews with residents of both Habitat '67 in Montreal and Habitat Qinhuangdao in China, the film accents the lasting impact the Habitat model has on the built environment and on the lives of its inhabitants.
Watch Habitat in Nature video below:
Video courtesy of Safdie Architects
"Over the past year there has been a rediscovery of the interdependence between nature and society. We have seen an outcry for our basic human needs to be met -- access to daylight, outdoor space, connection to nature, and the ritual of public life at all scales," said Moshe Safdie.
"After a year in relative isolation from one another, and the urban habitat at-large, the ideals of Habitat '67 have become ever more relevant as we reimagine the urban landscape," Safdie added.
Altair Residences. Image courtesy of Safdie Architects
Altair Residences in Colombo, Sri Lanka
Altair Residences in Colombo, Sri Lanka, is one of the latest projects and set for completion in September this year. The project takes the full advantage of the needs of its tropical climate. Comprised of a pair of towers – one leaning upon the other – the tower provides each unit cross ventilation, balanced diffusion of sunlight and unparalleled views of Beira Lake, the Indian Ocean, and the surrounding city.
Altair Residences will be a 400-unit residential complex takes full advantage of the site with an innovative two-leg structural design comprising two tower blocks of 63 and 69 stories.
The staggered and stepped formation of the leaning towers creates a cascade of large garden terraces facing Beira Lake at each level. The diagrid structure, chosen for its efficiency in dealing with the forces of the inclined tower, allows for a permeable façade with large windows and openings, access to balconies, and units that feature individual roof gardens or terraces. Both towers are planned with through-unit, column-free interiors featuring open plans that maximize the efficiency of the spaces.
Qorner Tower. Image courtesy of Safdie Architects
Qorner Tower. Image courtesy of Safdie Architects
Qorner Tower in Quito, Ecuador
Safdie's second project is Qorner Tower in Quito, Ecuador, overlooking Quito's La Carolina Park, the 24-story Qorner Tower maximizes the potential of a small site. The building profile steps back to reveal a "hillside" of terraces and steps forward to create a "cliff face".
As the building steps in and out, generous double-height landscaped terraces are created on each level, with natural shading provided by the protruding terraces above. Operable glass walls open directly onto the landscaped terraces, providing multi-directional views of the park and surrounding mountainous landscape. Creating a dramatic profile within the city's skyline, Qorner merges indoor and outdoor living to take full advantage of Quito's year-round temperate weather.
Topping out in September, the project is targeted for completion in early 2022.
"Moshe has held steadfast with his thesis for over 50 years, that designing to improve our quality of life must be a priority for the profession. We are now seeing many of the ideas, once held as mere utopian dreams, becoming a reality. Habitat's legacy has so much more potential yet to explore," said Jaron Lubin, Design Partner.
Habitat Qinhuangdao. Image courtesy of Kerry Properties
Habitat Qinhuangdao. Image courtesy of Kerry Properties
Habitat Qinhuangdao. Image courtesy of Kerry Properties
Habitat Qinhuangdao. Image courtesy of Kerry Properties
Phase II of Habitat Qinhuangdao, China
The third latest project of Moshe Safdie is Phase II of Habitat Qinhuangdao in China, which started construction this July and expected to be completed in 2024. Situated between the urban density of the city and the coastline of the Bohai Sea, Habitat Qinhuangdao is comprised of a series of linked residential blocks along the shore.
Conceived to accommodate increased density, stepped and staggered buildings provide units with private terraces, balconies, and solariums. Porous residential blocks of 16 stories each are designed to create large "urban windows" that frame views to the sea, provide spaces for community, and offer a sense of openness.
Enhancing and extending the garden environment at the base of the Phase I towers, four ground level gardens – each an interpretation of Qinhuangdao's natural landscape – will offer distinct experiences for the residents. Interactive children's playgrounds, a landscaped amphitheater, planted promenades and a system of ponds, fountains and streams are deployed across the development. Additional communal gardens and pool areas are created at the upper levels of the buildings and atop the link bridges, which connect the terraced buildings.
Adding 1,000 units distributed across two, 30-story terraced buildings, Phase II doubles the initial development which opened in 2017, completing the original residential concept for the project. Future phases of the development, consisting of a pair of residential towers and a retail complex, are currently in design.
Habitat 67. Photograph © Timothy Hursley, courtesy of Safdie Architects
Habitat 67. Image courtesy of Safdie Architects
Top image: Altair Residences, courtesy of Safdie Architects.
> via Safdie Architects