SOM's robotically-fabricated pavilion explores future construction methods at Chicago Biennial 2021
Skidmore, Owings & Merrill (SOM) and University of Michigan Taubman College have installed the SPLAM [SPatial LAMinated timber] pavilion at the 2021 Chicago Architecture Biennial, United States.
The design was led by SOM and professors Tsz Yan Ng and Wes McGee from the University of Michigan Taubman College. SPLAM, installed as a permanent addition to EPIC Academy's South Shore campus, one of Chicago's most innovative high schools, is hosting a series of performances during the Biennial.
The pavilion will function as an outdoor classroom and performance venue afterwards, contributing to the future of post-pandemic teaching and learning.
Emerging as a multi-year creative collaboration between SOM and University of Michigan Taubman College, the pavilion explores the potential of future construction methods by using prefabricated timber framing panels employed by robotic technology. The aim of the timber pavilion is to advance more sustainable and efficient methods of design and construction.
Officially unveiled on September 17 at the opening of the Chicago Architecture Biennial, the pavilion will be on view until December 18, 2021.
The team used Spatial-laminated timber (SLT) to propose an evolution of conventional framing systems, using an optimized timber structure. Designed as a full-scale prototype of a single-story SLT structural framing system, the material is often used in mid-rise fire-resistant structures.
Due to its light structure rather than conventional building framing methods, SLT can reduce material use by 46% compared to a traditional cross-laminated timber panel.
"The pavilion demonstrates a solution that could dramatically reduce timber consumption and overall carbon footprint if used to construct an entire building," said SOM.
"Weaving together timber beams like threads in fabric, SPLAM explores the idea of using smaller pieces of wood than conventional mass timber construction systems," Scott Duncan, SOM Design Partner.
"Doing so means that the wood can be sourced from more rapidly renewable forests, or, in theory, even from the salvaged components of de-constructed buildings," Duncan added.
SOM said that "the team chose timber for its inherent sustainable qualities, as a renewable resource which has the capacity to sequester carbon compared to conventional concrete slabs."
The pavilion was designed by using interlocking timber joints, which allows for shorter and salvaged wood beams to be used.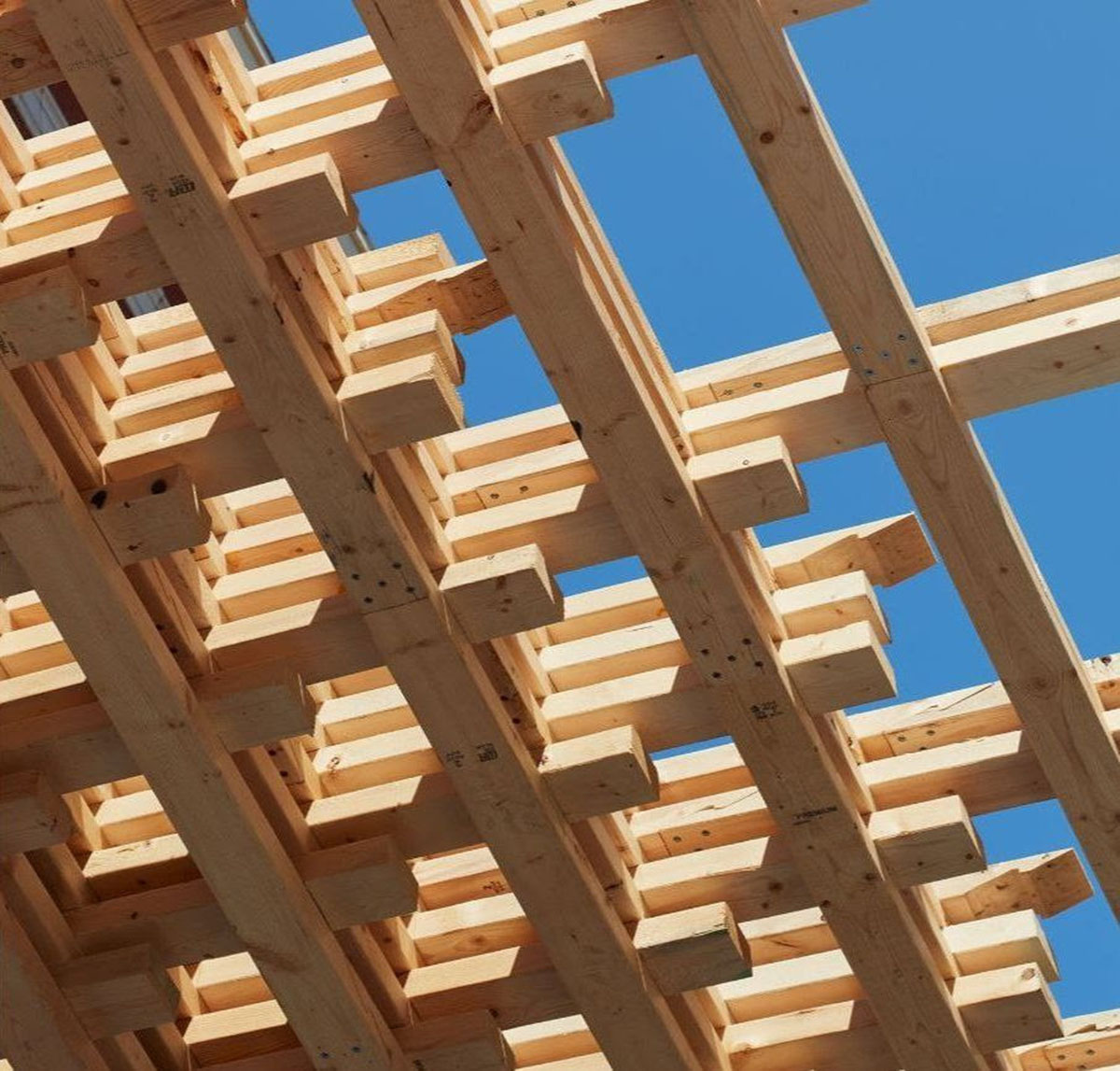 "Automated manufacturing technologies enable us to precisely and efficiently prefabricate a kit of parts which can be delivered to the construction site on demand, leveraging skilled labor where it is most effective in the process," said Professors Tsz Yan Ng and Wes McGee.
The pavilion was designed and constructed in partnership with Autodesk, McHugh Construction, Gremley & Biedermann, and REX Engineering Group. The fourth edition of Chicago Architecture Biennial has opened on September 17, 2021 and will be on view until December 18, 2021.
Themed as The Available City, the Biennial showcases 15-site specific interventions at various sites and in locations throughout the city, activated through in-person and online programming.
You can see the first installation images from the Biennial.
All images © Kendall McCaugherty © Hall+Merrick Photographers
> via SOM