First images revealed from Chicago Architecture Biennial 2021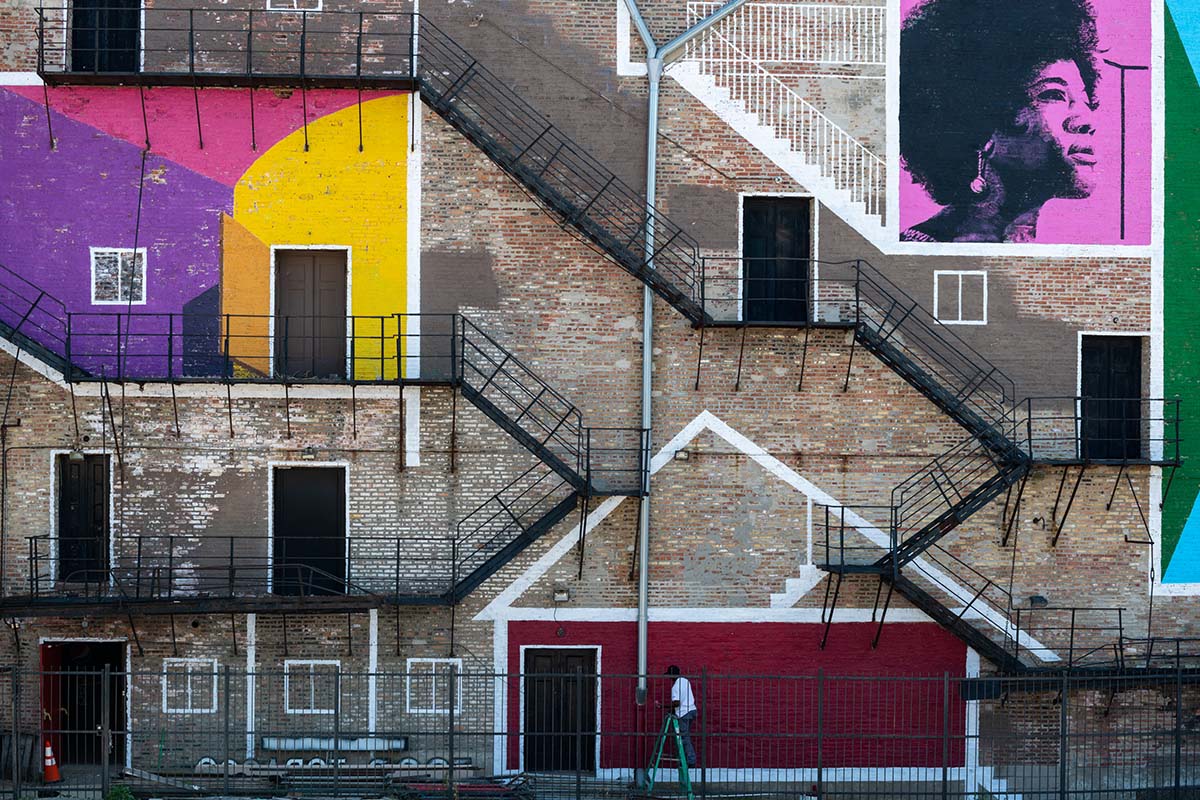 First installation images have been revealed from the 2021 Chicago Architecture Biennial curated by designer, researcher, and educator David Brown under the theme of The Available City.
Officially opened to the public on September 17, the fourth edition of the Chicago Architecture Biennial will be on view with 15-site specific interventions at various sites and in locations throughout the city, activated through in-person and online programming through December 18, 2021.
The Biennial creates an urban design framework that proposes connecting community residents, architects, and designers to develop and create spaces that reflect the needs of communities and neighborhoods.
Cover the Grid by Outpost Office. Image © Dennis Fisher
Over 80 contributors from more than 18 countries responded to this framework through site-specific architectural projects, exhibitions, and programs across eight neighborhoods in Chicago and in the digital sphere.
In a set of released site-specific interventions, there are works designed by Atelier Bow-Wow, Manuel Herz, Outpost Office, sekou cooke STUDIO, Soil Lab, Studio Barns with Shawhin Roudbari and MAS Context and Studio Ossidiana.
Central Park Theatre by Manuel Herz. Image © Nathan Keay
This year's theme is inspired by the potential of vacant lots in American Cities, within the scope of this research, David Brown undertook a research initiative, which began in Houston and took root in Chicago, to document and explore these spaces and to reimagine their possibilities.
Cover the Grid by Outpost Office. Image © Dennis Fisher
The Available City is, simply put, an ongoing and multifaceted exploration of what can become of unused space and vacant lots in the urban context.
The theme is inspired by the landscape and communities of American cities and the improvisational structures of jazz music, The Available City embodies an understanding of cities as living, breathing, ever changing, mutable, and full of possibilities.
It is an improvisational and community-driven urban design concept focused on exploration and potential and powered by collaboration and coordination. Inspired by Chicago but applicable to contexts worldwide, The Available City is an experiment in new possibilities of how to explore and activate space.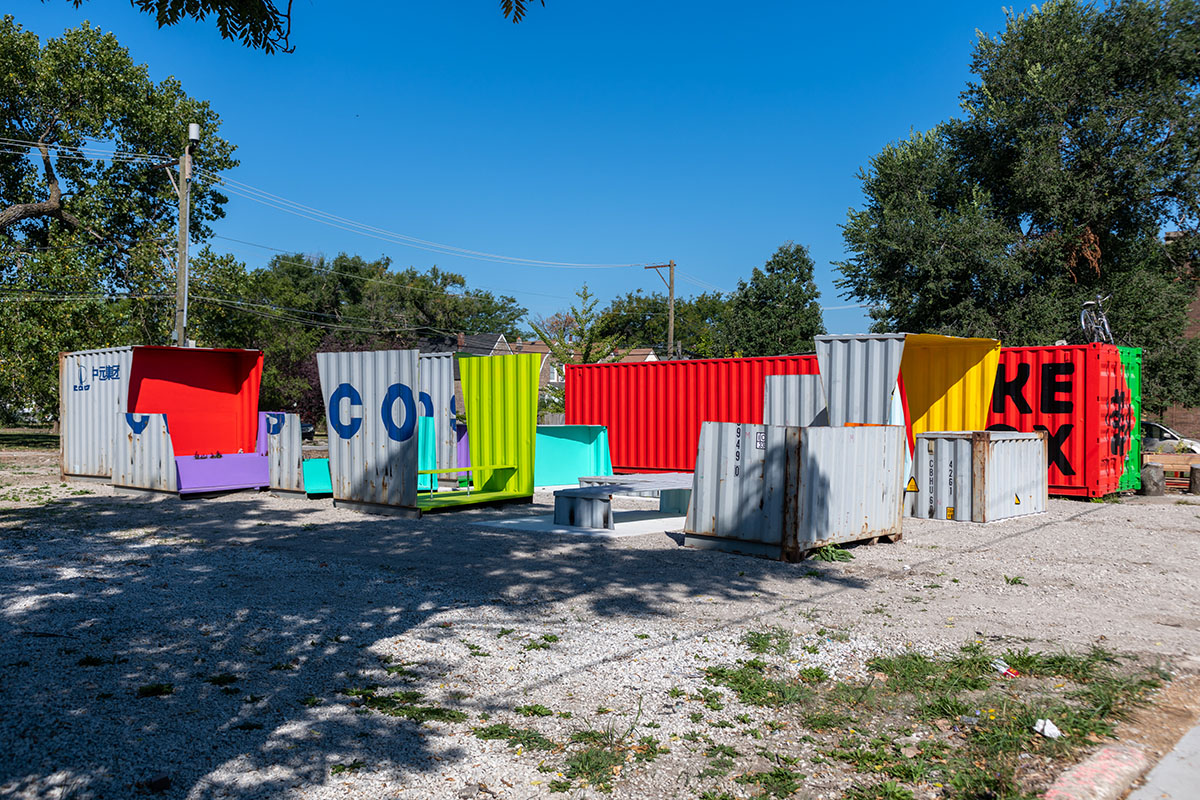 Grids + Griots by sekou cooke STUDIO. Image © Nathan Keay
This research and ideation has taken many forms over the years from surveys to drawings and models to workshops to essays to collaborations and research initiatives and been presented in various iterations at international exhibitions.
Artistic Director David Brown said that "exploring the potential of The Available City has been a central focus for me for over a decade, and it is a fantastic opportunity to explore its ideas with global and local architects, designers, thinkers, and community leaders within the Biennial's platform."
"When the Biennial opens, our work is really just beginning -- the Biennial is an open conversation on possibility, and I am excited to see what ideas, collaborations, and partnerships emerge from this forum," added Brown.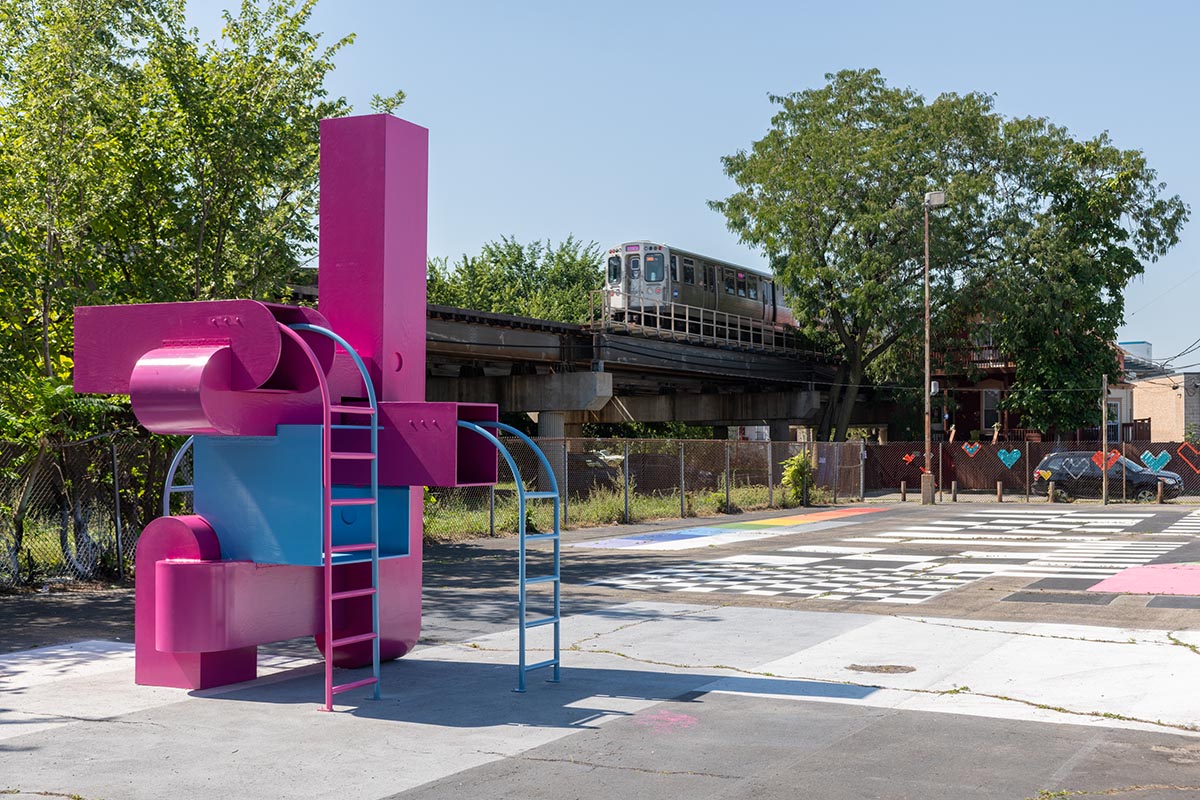 Block Party by Studio Barns with Shawhin Roudbari and MAS Context. Image © Nathan Keay
The projects in The Available City are bringing ideas for collective spaces to life through built projects, exhibitions, essays, workshops, and programs that activate neighborhood sites in ways that will engage and enhance the community experience.
Site-specific architectural projects include 15 of the Biennial's commissioned projects are installations on public and private lots located in Chicago's neighborhoods of North Lawndale, Bronzeville, Woodlawn, Englewood, Pilsen, and the South Loop.
For many of these projects, Artistic Director David Brown engaged mission-driven community organizations or groups across the city, pairing them with an architect whose practice he believed was aligned with the organization's intentions for a space, expanding upon the work these organizations were already doing to engage their community.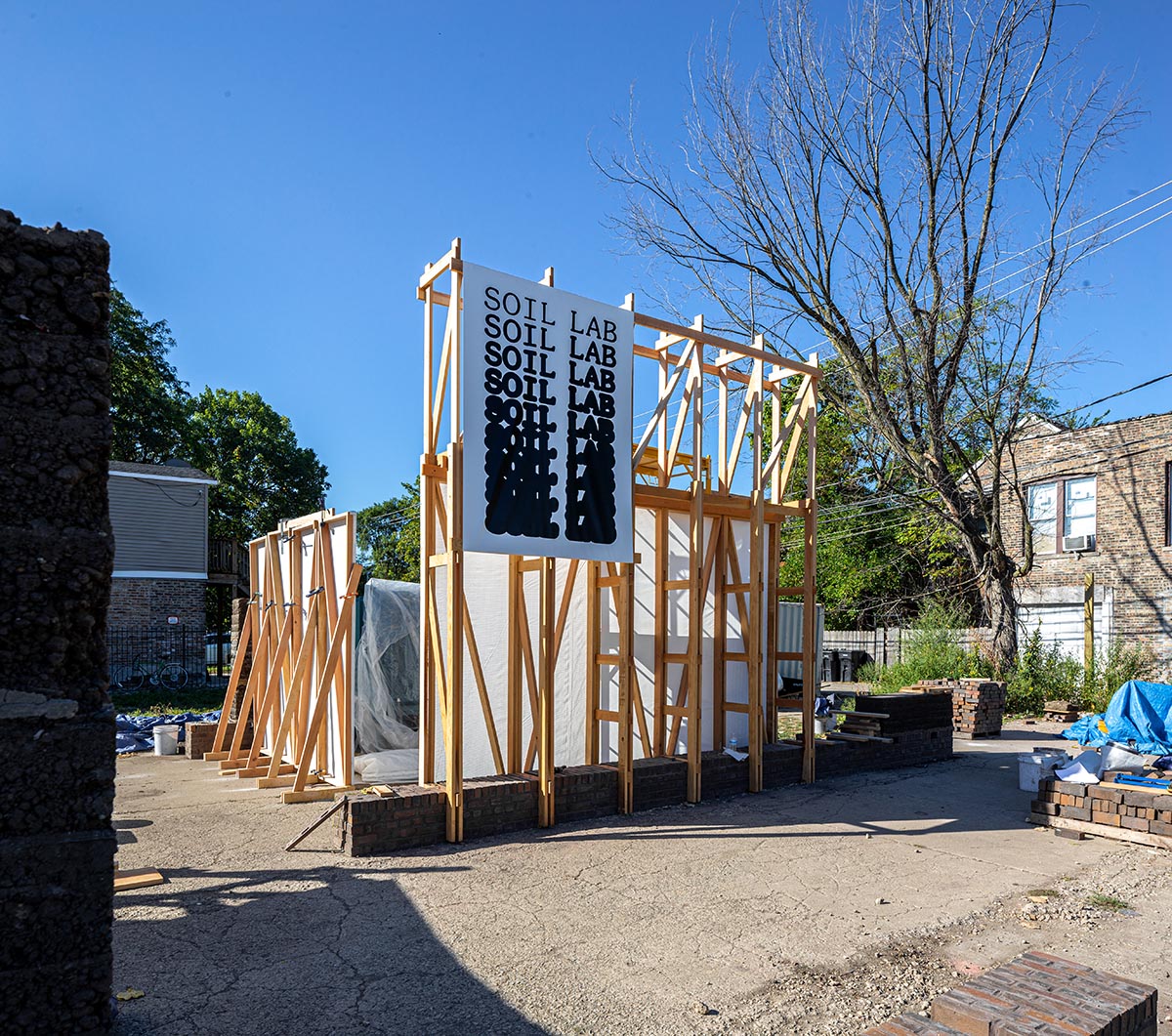 SOIL LAB Chicago Architecture Binnial. Image © Will Quam
Two projects on the Westside Association for Community Action (WACA) Playlot, Bell Park, were the outcome of a community workshop facilitated by Open Architecture Chicago and Freedom House with David Brown to envision the transformation of a vacant 15-block stretch under the Chicago Transit Authority Pink Line train.
One of the projects in Bell Park comprises a central architectural installation designed to mimic the look and feel of the blow-up bounce houses that are staples of block parties around the country by Studio Barnes, in collaboration with Shawhin Roudbari and MAS Context.
The other is an architectural-scale urban painting by Outpost Office on the ground of the lot, which is produced with GPS-guided robots ordinarily used to paint temporary sports fields.
Englewood's Commons by Atelier Bow-Wow (Tokyo, Japan) - Momoyo Kaijima and Yoshiharu Tsukamoto, organized in partnership with the Overton Incubator and Creative Grounds for the 2021 Chicago Architecture Biennial. Image courtesy of CAB.
On 63rd between University and Woodlawn in the Woodlawn neighborhood of Chicago, Matri-Archi(tecture) is presenting Reflecting Our (Global) South Side, which creates a circular outdoor meeting space with canopies and seating to provides shade and shelter for congregation, referencing the rich value of radial community planning, historically designed by communities in Sub-Saharan Africa.
Moreover, at the former Overton Elementary School in Bronzeville, which is the site of the Overton Incubator for entrepreneurship in business, technology and design, The Open Workshop from San Francisco, California and Toronto, Canada is presenting The Center Won't Hold, an outdoor meeting space for the community defined by a series of movable curtains that can easily transform the space.
The Garden Table by Studio Ossidiana - Alessandra Covini (Rotterdam, The Netherlands) and Giovanni Bellotti (Venice, Italy), organized in coordination El Paseo Community Garden and NeighborSpace for the 2021 Chicago Architecture Biennial. Image courtesy of CAB.
The project serves various different purposes and accommodate various styles of gatherings, signifying the evolving practices and values of commoning.
"The Biennial represents Chicago at its collaborative best, exploring ideas that resonate both locally and worldwide," said Jack Guthman, Chairman of the Chicago Architecture Biennial.
"The 2021 exhibition brings neighbourhood leaders, our arts and cultural organization partners, and architecture and design professionals together in a dialogue which promises to enrich lives everywhere."
This fourth edition brings a new approach to the biennial model, bridging from an exhibition format to a deeper engagement with the local community and expanding the Biennial's potential to spur on experimentation and engagement.
Based on a long term research project that has been in development by David Brown from 2003, The Available City aims to highlight the potential of collective spaces of Chicago in response to the more than 10,000 vacant lots that are concentrated on the South and West Sides of Chicago in predominantly Black and Brown neighborhoods—as possible sites for community-driven design and engagement.
The 2021 edition of The Available City is accompanied by two exhibitions, one located in an unused storefront space at the Bronzeville Artist Lofts, and the other at the Graham Foundation. The works at both venues amplify ideas and concepts of The Available City.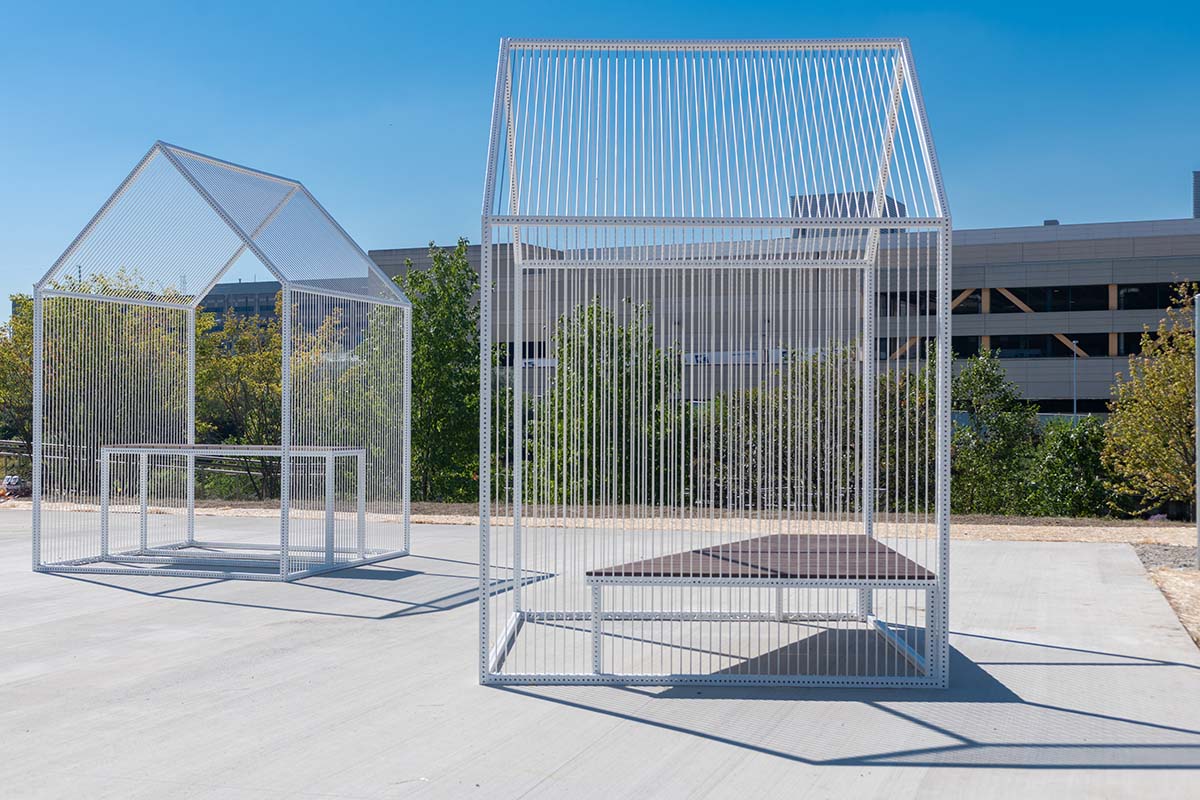 River Frames by PORT - Andrew Moddrell and Christopher Marcinkoski (Chicago, IL), organized in partnership with Lendlease for the 2021 Chicago Architecture Biennial. Image courtesy of CAB.
The Biennial also commissioned essays, programs, and workshops that enact The Available City's improvisational framework, building a pathway for an ongoing, community-driven urban design that directly engages neighborhoods and communities. Essay contributors include Jill Desimini (Cambridge, MA, Harvard University), Elleza Kelley (New Haven, CT, Yale University), Stefan Gruber (Pittsburgh, PA, Carnegie Mellon University), Rayna Razmilic (Santiago, Chile), Alexander Eisenschmidt (Chicago, IL, UIC), StudioAPT (Ann Arbor, MI, University of Michigan), and Ana Miljački (Boston, MA, MIT), among others.
See the full list of contributors on WAC.
Cover the Grid by Outpost Office. Image © Dennis Fisher
Programming is a central piece of each edition of the Biennial and continues to be an essential cornerstone of this year's program. This edition, site-specific installations will be programmed across dedicated Activation Weekends between September 17 and October 31.
Each Activation Weekend features a different group of neighborhoods to highlight the Biennial's installation sites to present programs including conversations, performances, and workshops.
Top image: Central Park Theatre by Manuel Herz. Image © Nathan Keay