Construction begins on OMA / Iyad Alsaka's Prestige Liberty Towers in Mumbai, India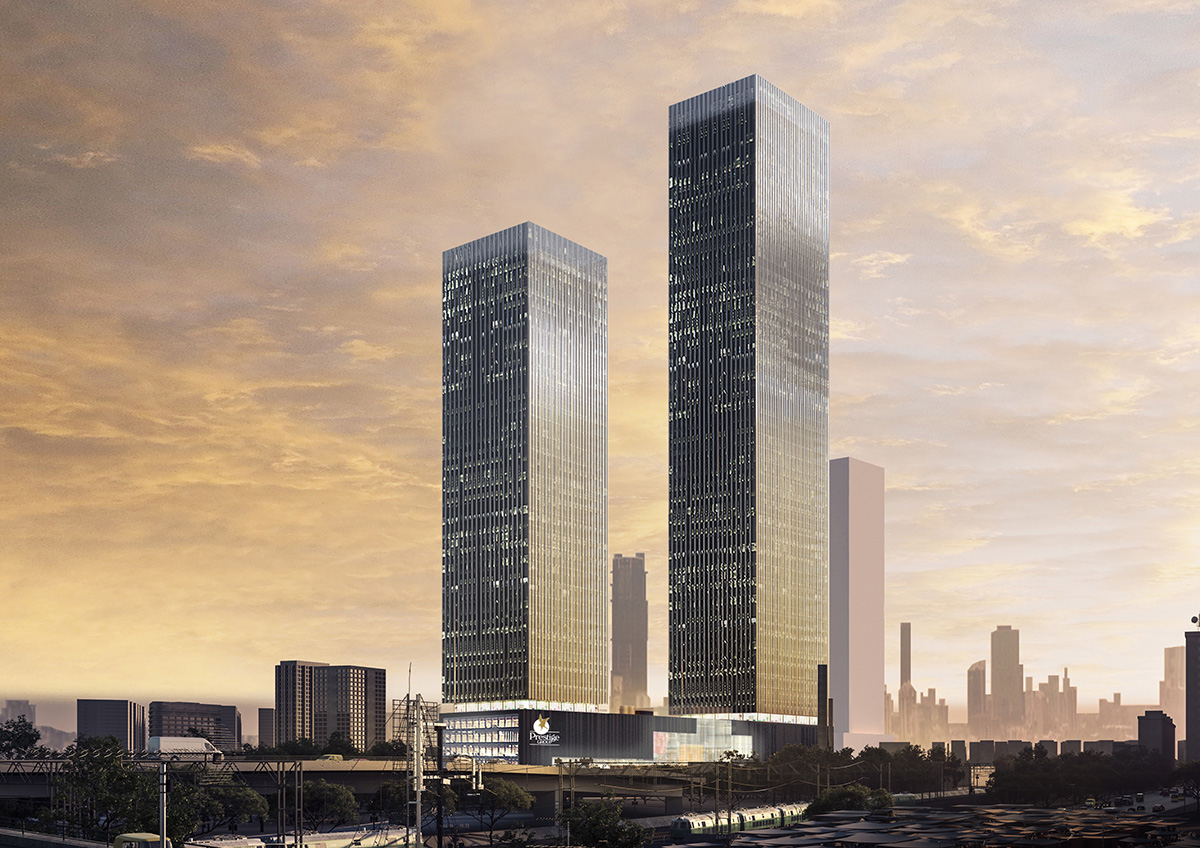 Construction has begun on OMA / Iyad Alsaka's Prestige Liberty Towers in Mumbai, India, the project OMA's first project to be completed in India.
Commissioned by the Bangalore-based Prestige Group, the 270-square-metre project will include a mixed-used program covering 210,000-square-metre offices and 36,000-square-metre retail spaces.
Comprised of two office towers - one reaching at 290 meter and other reaching at 200 meters high, they will be raised on a five-story luxury retail podium.
Situated in Mahalaxmi, the historic textile mills area at the heart of Mumbai, the towers are now rapidly transforming from an industrial city to a global financial center, buzzing with new transport networks, high-rise residential, retail and office spaces.
OMA's design will maximize the views overlooking the historic Mahalakshmi Racecourse to the Arabian Sea with two staggered towers, the project will be one of the largest office developments in the city.
The towers will be designed as rectangular column-free floors, while they will be combined with full height curved glass facades. The towers are designed according to the office plan efficiency with light filled, high quality workspaces.
The restrained material selection of Indian black basalt and glass provide a counterpoint to the urban surroundings.
The project features the arrival lobbies to the office towers, while a five-story podium houses the 36,000-square-metre retail mall. Central to the retail podium there will be a generous atrium. The large glazed wall allows for natural light to enter the retail areas, opening the mall to the city.
The shear glass facade will contrast with the restrained black of the Indian basalt podium cladding. Inside, the retail mall will continue with a simple palette of cool tones with metal panels, back-painted white glass and grey seamless terrazzo inset with brass inlays.
The structure is elevated to distribute shared infrastructures and allow vehicle circulation beneath the building and the entrance to a fully automated basement carpark.
Between the towers there will be a garden roof terrace directly accessed from the co-working, restaurant and shopping areas and will provide much needed amenity space for connection and relaxation for office users and locals.
Throughout all levels of the podium, OMA designed a broad range of programs such as an open podium, food court, restaurants, cinemas and a theater – to enrich with cultural and public events which extend the life of the building long after the work day is over.
"Prestige Liberty Towers addresses the demand for high quality office space in Mumbai, India's financial and commercial capital," said Iyad Alsaka, Partner-in-Charge at OMA.
"More than that, the building offers spaces for activities that keep it alive well beyond working hours. I am excited to engage in a context that has a long history and at the same time a strong appetite for the new."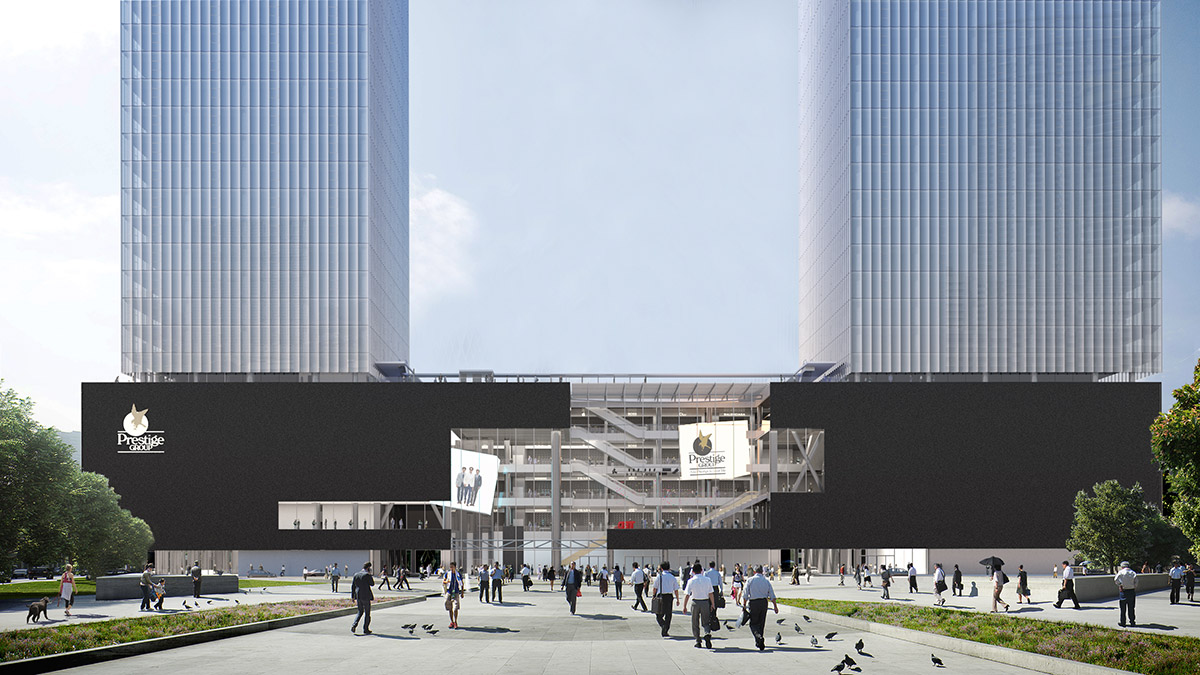 "It is a privilege to be engaged with a high energy city which is rapidly redefining itself," said Adrianne Fisher, Director-in-Charge.
The project is led by Iyad Alsaka, Adrianne Fisher and Wael Sleiman. Completion of the project is expected in 2025.
Project facts
Project: Prestige Liberty Towers
Status: Schematic Design, Construction Enabling Works
Client: Prestige Office Ventures / DB Realty
Location: Dr. E Moses Road, Mumbai, Maharashtra, India
Program: Offices GLA 210,000 m2, Retail GLA 36,000 m2. Total GFA 270,000 m2. Two office towers 290m and 200m high, five-story luxury retail podium.
Partner: Iyad Alsaka
Schematic Design Phase:
Project Director: Adrianne Fisher, Wael Sleiman
Team: Margarida Amial, Danny Arakji, Deniz Arikan, Dagna Dambiecka, Michael Den Otter, Lucien Glass, Helena Daher Gomez, Igor Jablan, Daan Ooievaar, Konstantinos Papasimakis, Lukasz Skalec, Anahita Tabrizi
Concept Design Phase:
Project Director: Juliet Moore, Wael Sleiman
Team: Agnieszka Dabek, Fabrizio Esposito, Mike Fritsch, Tianyi Huang, Ran Huo, Igor Jablan, Antonia Rubic, Iason Stathatos, Natasha Trice
Collaborators
Engineering: BuroHappold
Façade Engineering: Meinhardt Facades
Local Architect: Mandviwala Qutub Associates Approvals Consultant: Spaceage
Traffic Consultant: TTEC
VT Consultant: Lerch Bates
Real Estate Consultant: Jones Lang LaSalle / Arch Realty
All images courtesy of OMA.
> via OMA