With Climate Change on the Rise, The Kendeda Building Offers a Vernacular Approach To Sustainability
The Kendeda Building for Innovative Sustainable Design, located on the Georgia Institute of Technology campus, responds to the need for a space for research, environmental education, and a forum for public outreach. The response is a rather innovative and environmentally sustainable building that takes its cues from the vernacular architecture. It documents its performative success by being the first in the Southeast United States to achieve full Living Building Certification.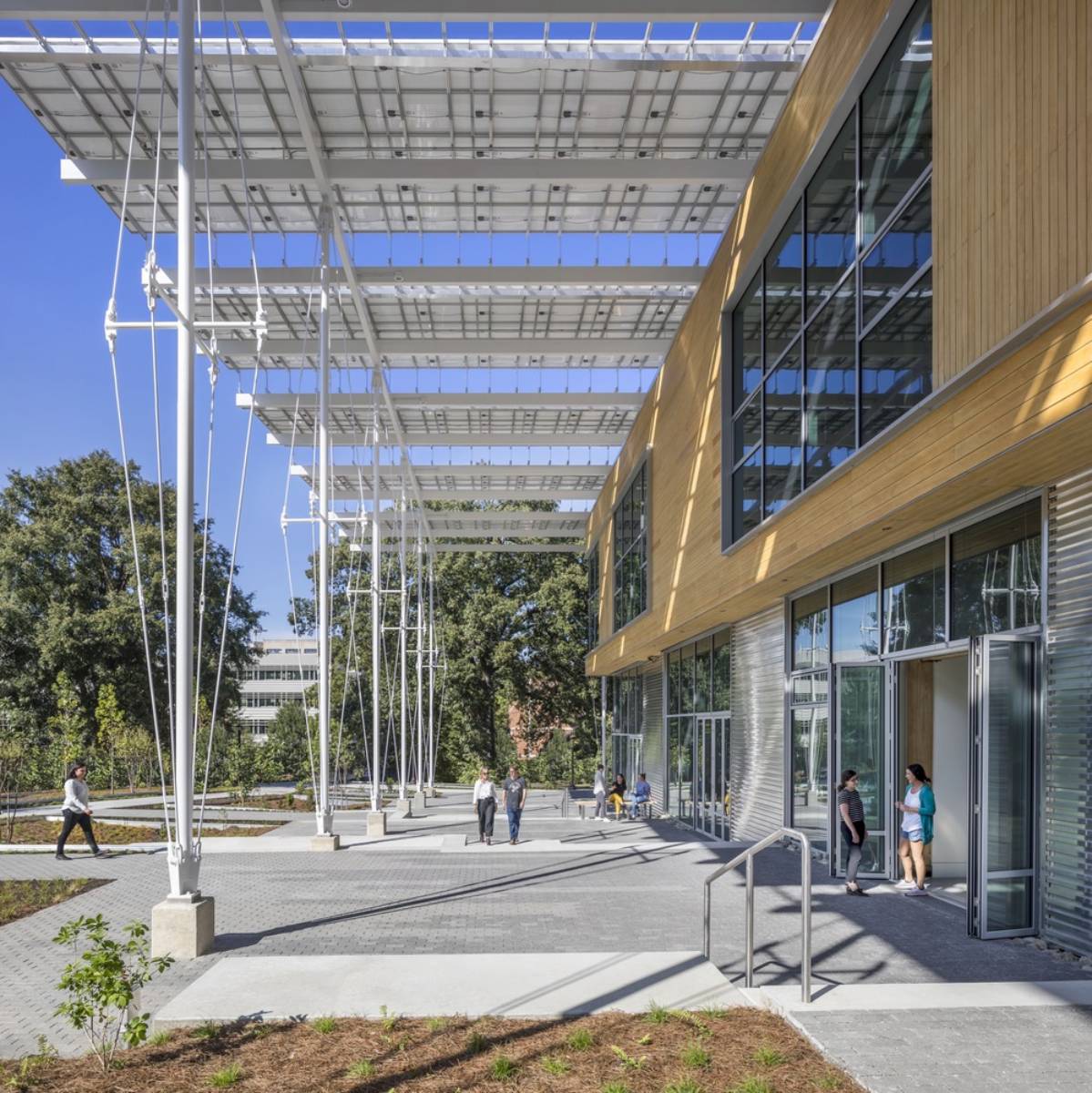 The design reimagines the vernacular porch and successfully scales it up to work within a civic campus context. Named the Regenerative Porch, this piece of the building acts as a passive cooling method, creating a cooler microclimate around the building and blurring the interior and exterior spaces. The canopy that covers the building and the porch area houses enough PV panels to generate 100% of the electricity used in the building and captures enough rainwater to supply the yearly need of The Kendeda Building.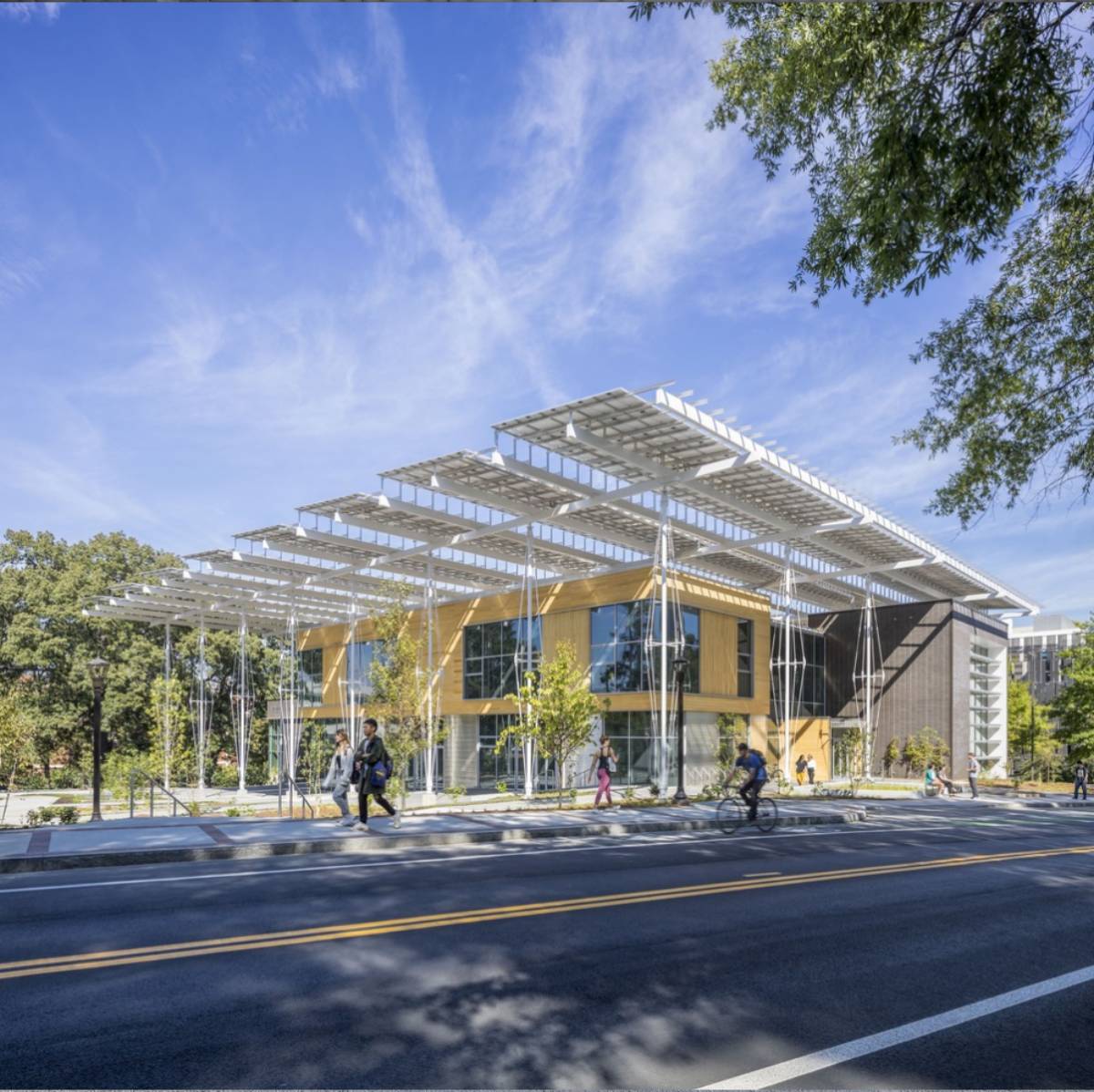 Since the university's first mass timber and masonry buildings were built in the 1880s, The Kendeda building becomes the building to restart the tradition of building with structural wood. The design uses Mass Timber, glulam and nails laminated wood decking. A hybrid approach is used to achieve the required spans for the large spaces in the building. This was achieved by using glue-laminated queen-post trusses with steel bottom chords, which reduces the quantity of wood required while making it easier to route the building systems. Vertical and lateral systems are exposed to make the building serve as a teaching tool and define the interior character.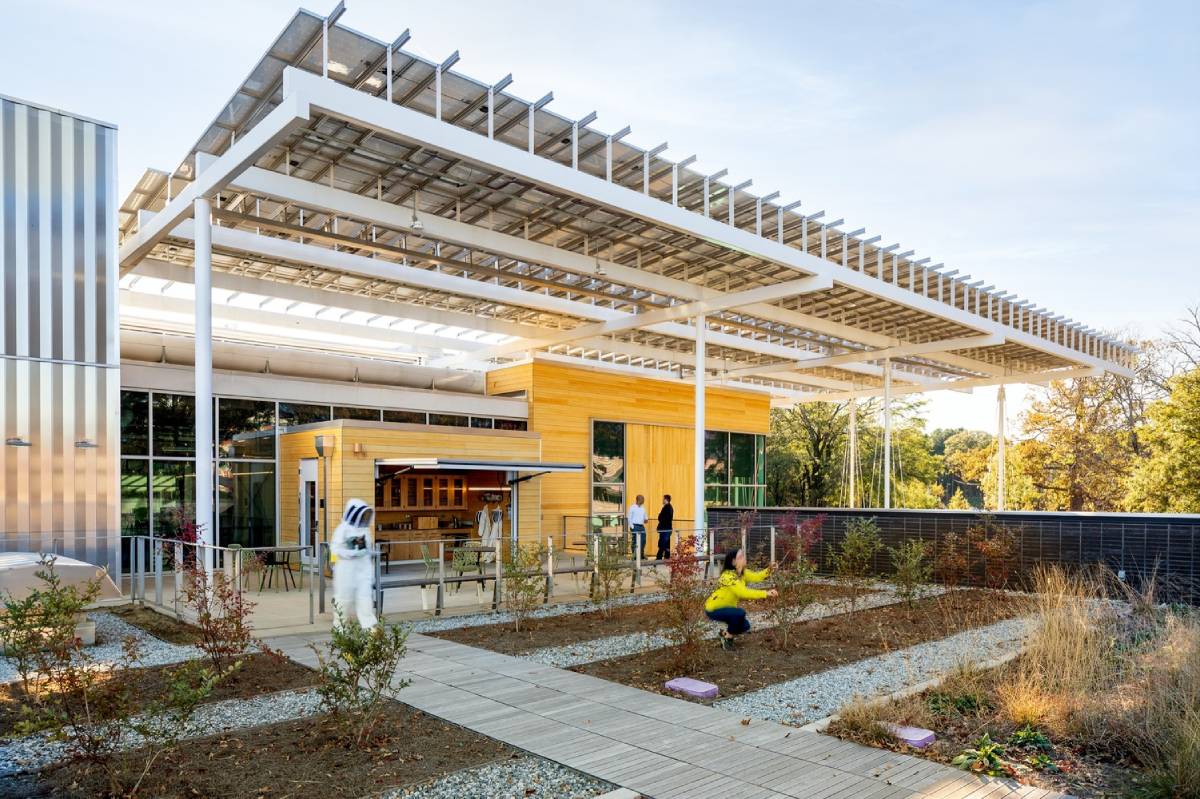 The building utilizes local organizations and materials that were either salvaged, recycled. The trees that needed to be cut during the construction of the building have been used to produce casework and other architectural elements in the building. The water used in the building comes from the rainwater harvesting roof, gets treated and is used for drinking fountains, sinks, and showers. The greywater is then sent to the nearby constructed wetland at the building's main entrance. The Kendeda building offers intelligent solutions to how storms, rain, and wastewater could be directed and managed on-site. Many campuses and local jurisdictions struggle to manage their excess stormwater, especially in flood-prone cities like Atlanta.
The true success of the building will be measured by the changes it brings to the city or the people it inspires. The building uses familiar and simple strategies to create a highly sustainable building, easily mimicked and utilized by the local residential market. The Kendeda building continues the decade-long work by The Kendeda Fund and hopes to carry it to a larger audience via this building.
Project facts
Architects: Miller Hull Partnership
Location: Atlanta, United States
Area: 47000 ft2
Year:2019
Clients: Georgia Institute of Technology
Manufacturers: Accoya, American Hydrotech, Assa Abloy, Columbia Forest Products, Fluxwerx, GAF, Kawneer, Knauf, Prosoco, Sunpower, USG, Viracon, Bristolite, Clivus Multrum, Green Leaf Brick Company, LG, Mecoshade, Milliken, Morin | Kingspan, Oregon
All photographs © Jonathan Hillyer, Gregg Willett
> via Miller Hull Partnership