DRIFT: A Pedestrianized Seam Setting a Paradigm For Plug and Play Urbanism
Located in the city of Fort Worth, Texas, and commissioned under the City's Public Art Program; 'Drift' is a timber and steel pedestrian bridge designed by Portland-based designer Volkan Alkanoglu, the founding principal of VA | DESIGN LLC.
Drift: An offsite fabrication project, requiring an installation time of a few hours is conceptualized on the lines of Plug and Play urbanism; a concept that is not only economical but also sustainable in its impact, proposing infrastructural elements to be set up off-site and plugged into place on-site. Apart from being a community and site-driven initiative that required stitching together two halves of an existing neighborhood, the project itself is setting a paradigm for an adaptive prototype that could have a wide range of applications within multiple communities. Thus, positioning itself on the intersection of various realms like public art, infrastructure, architecture, and civic design.
Image Courtesy of Volkan Alkanoglu, Photograph by Peter Molick.
The design for Drift emerged from the brief set forth by Fort Worth Public Art highlighting the need for a pedestrianized bridge across the creek that would supplement the many communities residing on the Trinity River trail system since prior to this there has been no means of connecting across the 80-foot culvert for seven blocks. The Budget allotted for the communal link was a tight sum of $375000.
Top & Bottom Image Courtesy of Volkan Alkanoglu, Photograph by Peter Molick.
Alkanoglu centered the design on three main principles; 1) Use sustainable material and minimize the impact on natural habitat on-site; 2) Reduce project cost through innovative design and project logistics; 3) Create a sense of place and connect the community. (Source: Website). The resulting outcome was a 62-foot-long bridge arching over the creek resembling a well-blended and curving branch of driftwood that smoothly connects those two parts into a whole. If left on one's interpretation, from varied angles the project is perceived uniquely owing to its strong undulations and convexes. This innovation also draws inspiration from Eames' splint, "where every function occurs within a single figure," added Alkanoglu in a statement.
Diagram for Creating a sense of place and integration into communities, Courtesy Volkan Alkanoglu.
Diagram for Promoting connectivity and sustainable environments, Courtesy Volkan Alkanoglu.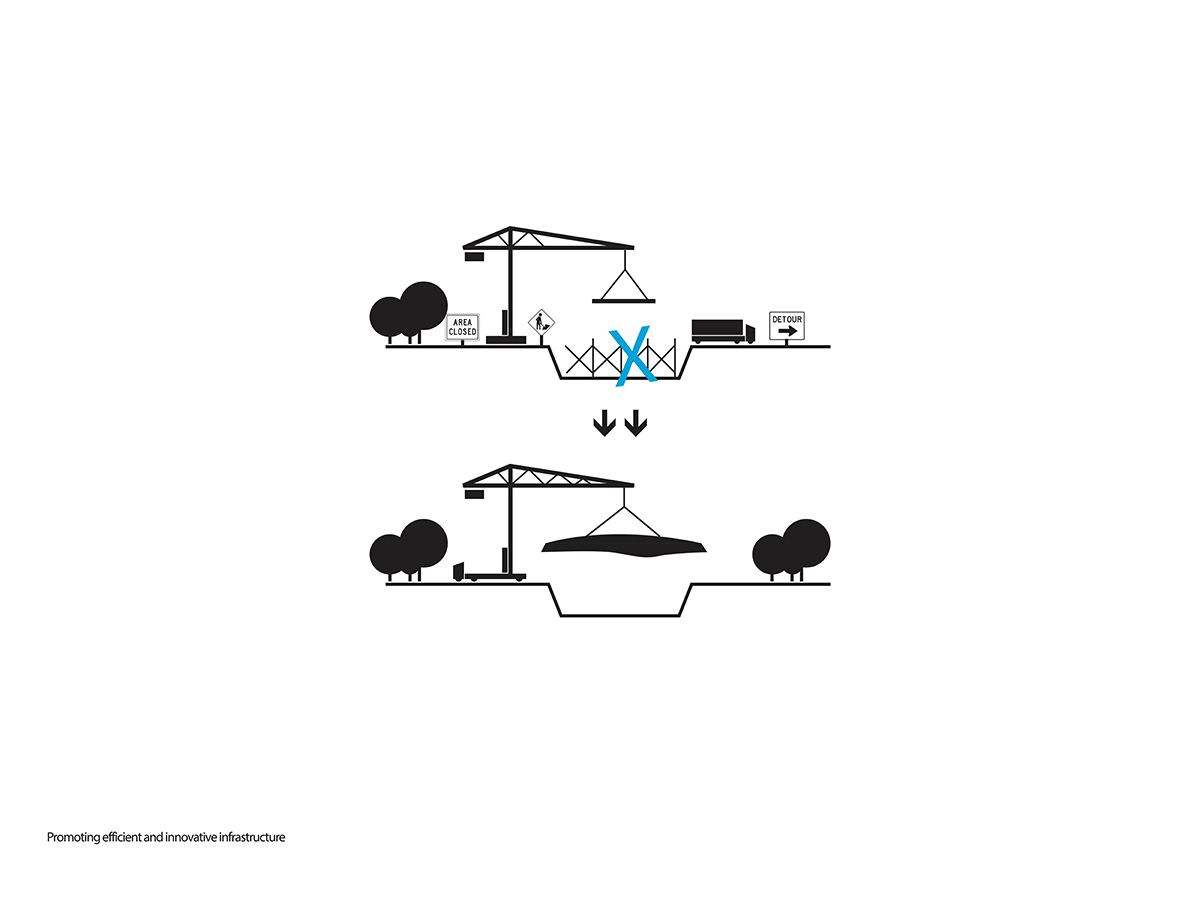 Diagram for Promoting efficient and innovative infrastructure, Courtesy Volkan Alkanoglu.
Diagram drawing, Courtesy Volkan Alkanoglu
Fabrication & Installation, Image Courtesy Ignition Arts.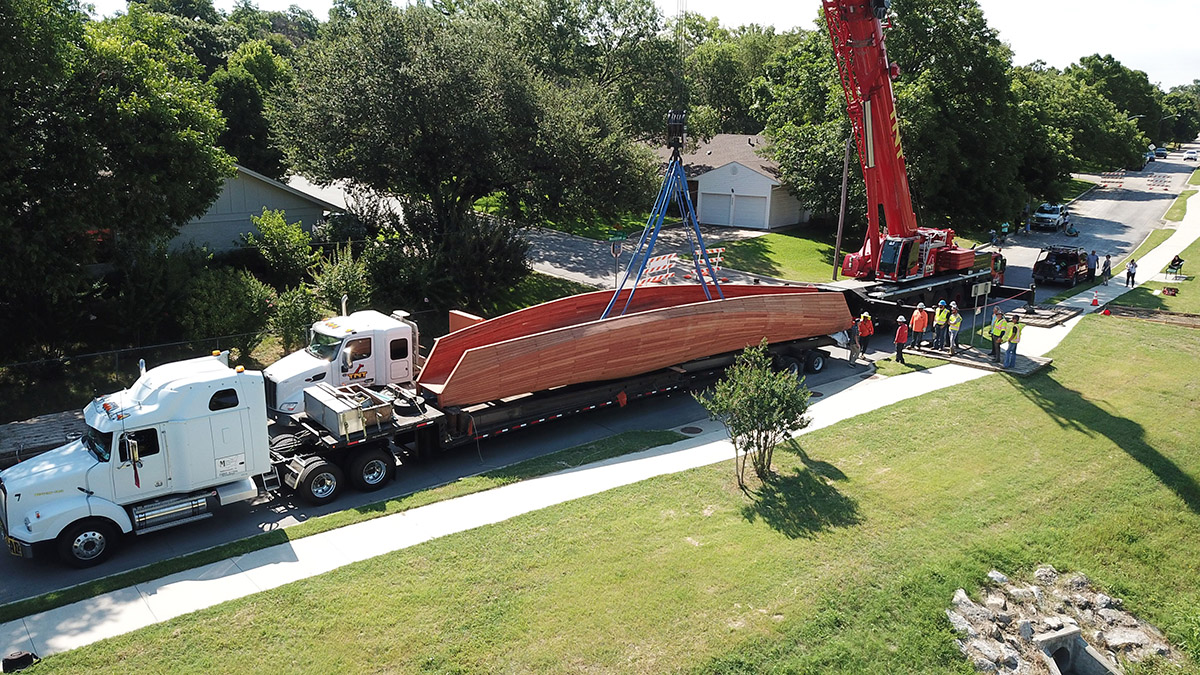 Fabrication & Installation, Image Courtesy Raymond Cervantes.
While originally envisioned entirely out of cross-laminated timber, the budget constraints for the project acted as a catalyst in envisioning more innovative design-built strategies.
"Drift" happens to be Alkanoglu's debut infrastructural project. His past successful works have been permanently installed in several institutions within the United States.
Project Credits:
Design: Volkan Alkanoglu, Portland, OR
Client: City of Fort Worth, Fort Worth Public Art Program
Public Art Manager: Anne Allen
Design Development and Fabrication: Ignition Arts LLC, Indianapolis, IN; Brownsmith Studios, Bloomington, IN
Structural Engineering: CMID Engineers, Indianapolis, IN
Geotechnical Engineering: Alpha Testing, Fort Worth, TX
Material Testing: Simpson, Gumpertz & Heger Inc., Cambridge, MA
Concept Engineering: AKT II, London, UK
Top Image: Photograph © Peter Molick.
> via Volkan Alkanoglu