BIG's Vision for Oakland's Coliseum Site — A 21st Century Ruin
After revealing the design for the new Oakland Athletics baseball stadium in November 2018, Bjarke Ingels' firm, Bjarke Ingels Group has proposed a new use for the existing 140-acre Oakland-Alameda County Coliseum.
On 23th of January 2019, Bjarke Ingels spoke in detail about their plan to convert the coliseum into a sunken amphitheater at the heart of a new municipal park at a press event.
Image courtesy of BIG
"We want to preserve the field of the A's, like when you visit Rome and come across urban ruins. Rather than leave behind a void, we would leave behind the Roman ruin of an ancient baseball field — creating a heritage that adds a lot to the future area," said Bjarke Ingels, Founding Partner, BIG.
A model of Bjarke Ingels Group's conceptual plan for a redevelopment of the Oakland Coliseum site. The model was shown at an outdoor press event held by the team on January 23, 2019.
Image © Oakland A's
"We have this opportunity — let's create a park instead of a parking lot. Bring the neighborhood in, and try to plug into all of the adjoining touch points," said Bjarke Ingels.
The model revel also showed the updated details. The hillocks have become more pronounced and the buildings have changed in shapes and sizes. The network of trails snaking above restored creek beds has also become more elaborate.
"We have a rather elastic strategy ... elements can be moved around. What counts, is the notion of "urban islands in a green landscape," the islands in turn being linked via trails or roads to the surrounding East Oakland communities," Ingels conceded after the event.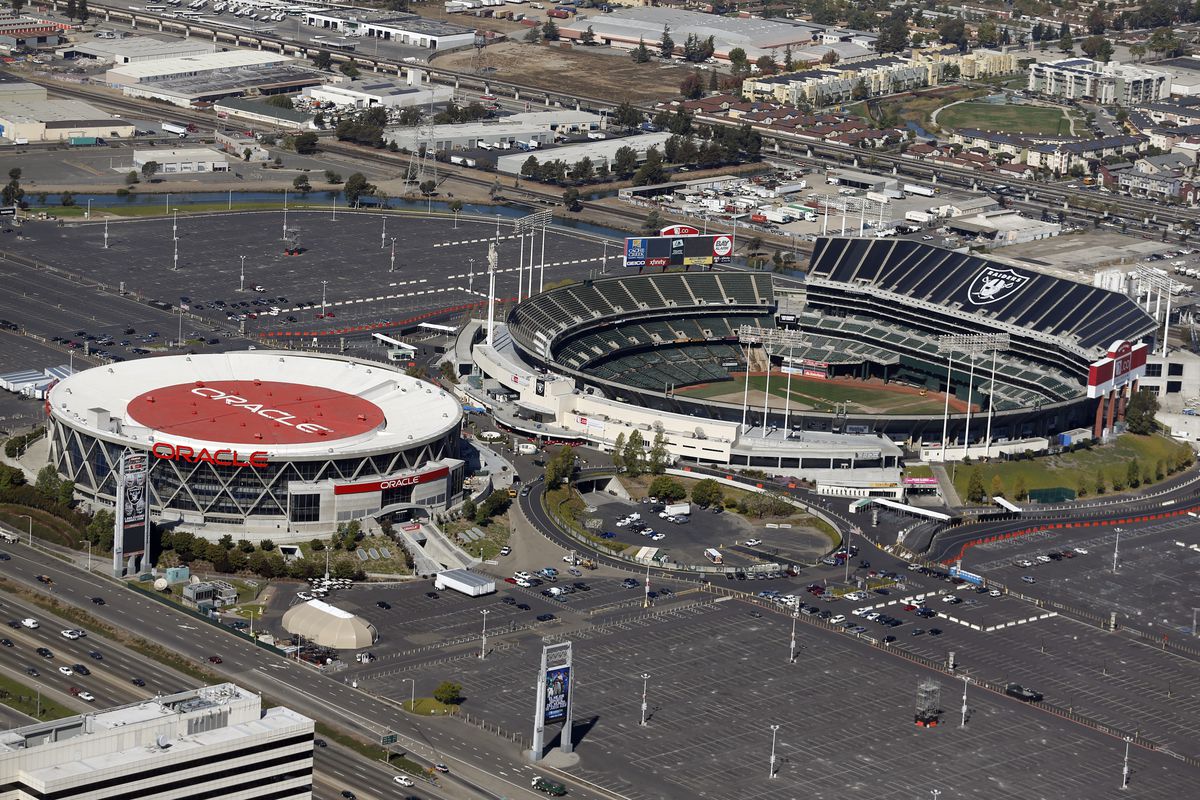 How it looks today: Oracle Arena, left, and the Coliseum seen in this aerial view.
Image © Digital First Media Group/Bay Area News via Getty Images
The existing Coliseum, an award-winning brutalist building by SOM, is harmoniously round and vaguely looks like Apple Park in plan view. Built from concrete, it has exposed piers on the exterior, resembling the Roman Colosseum's arches. The architects and engineers sheltered the stadium into the earth, thereby making its scaleless domineering and more in line with the neighboring indoor arena.
"The relationship between the architecture, the land, and the climate has a real California vibe to it. It was part of the American ethos at the time of making places that were flexible, transformable, and could serve multiple uses," said Craig Hartman, Design Partner at SOM in an interview.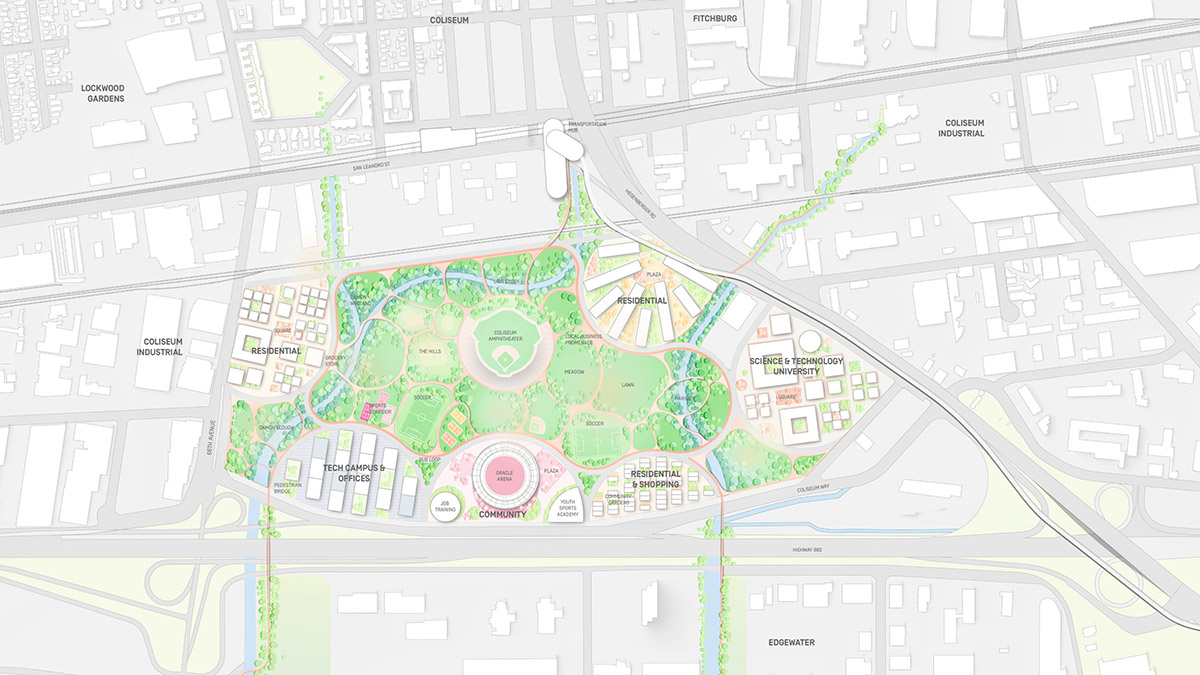 Images courtesy of BIG
After receiving tremendous backlash last year for replacing the existing Coliseum, this new update might just be what is needed to get everyone on board.
Top image © Oakland A's and San Francisco Chronicle
> via San Francisco Chronicle