10 Significant Projects of Arata Isozaki
Distinguished Japanese architect, city planner and theorist Arata Isozaki has been named as the 2019 Laureate of the Pritzker Architecture Prize, the award that is known internationally as architecture's highest honor.
Isozaki, 87, built over one hundred projects throughout Asia, Europe, North America, the Middle East and Australia. In the jury's citation, his oeuvre has been described as "heterogeneous and encompasses descriptions from vernacular to high tech." Isozaki is one of the prominent architects redefining mutual exchange between eastern and western societies, allowing Japanese vision to inform European and American design, particularly in the 1980s.
Isozaki's works, reaching a rich repertoire, expanded over the years and included projects of many scales and typologies and in numerous countries. Isozaki's avant-garde approach is specifically described as fluid, adjusting in response to the needs and influences of each environment through a concept of interrelated time and form called "ma."
The Priztker jury described him as "a versatile, influential, and truly international architect," in the jury citation. "What is patently clear is that he has not been following trends but forging his own path," added the jury.
But who is Arata Isozaki? Arata Isozaki, was born in Ōita, Island of Kyushu, Japan. He established his own practice in the 1960s and Isozaki became the first Japanese architect to forge a deep and long-lasting relationship between East and West.
Isozaki graduated from the Department of Architecture in the Faculty of Engineering at the University of Tokyo in 1954, and began his career with an apprenticeship under the guidance of 1987 Pritzker Prize Laureate Kenzo Tange.
He established Arata Isozaki & Associates in 1963, after the Allied occupation when Japan had regained its sovereignty and was seeking physical rebuilding amidst political, economic and cultural uncertainty from the decimation of WWII. "In order to find the most appropriate way to solve these problems, I could not dwell upon a single style. Change became constant. Paradoxically, this came to be my own style," said Isozaki.
Isozaki work began locally, with many buildings in his hometown and Fukuoka, and quickly expanded to Gunma, Osaka and Tokyo. Isozaki demonstrated a worldwide vision that was ahead of his time and facilitated a dialogue between East and West. He emerged as an international leader in architecture in the 1980s, with his first overseas commission, the Museum of Contemporary Art, Los Angeles (1981-1986 California, USA).
Through his critical writings, and as a jury member for important architecture competitions, he has played a significant role in bringing to realization the concepts of young architects around the world. Six decades of his work include philosophy, visual art, design, music, films, and plays, alongside his iconic buildings.
Isozaki has served as a visiting professor at several U.S. universities including: Columbia University, New York (New York, USA); Harvard University (Cambridge, MA, USA) and Yale University (New Haven, Connecticut, USA). He is based in Okinawa with offices operating in Japan, China, Italy and Spain.
Isozaki is also a Honorary Member of World Architecture Community and he is one of World Architecture Community's first Members (since 2007). To get to know the architect better, WAC editors picked up the 10 significant works of Arata Isozaki. His buildings are fluid, geometrically simple, but infused with theory and purpose and varied in size and form.
See the 10 significant works of Arata Isozaki in chronological order:
---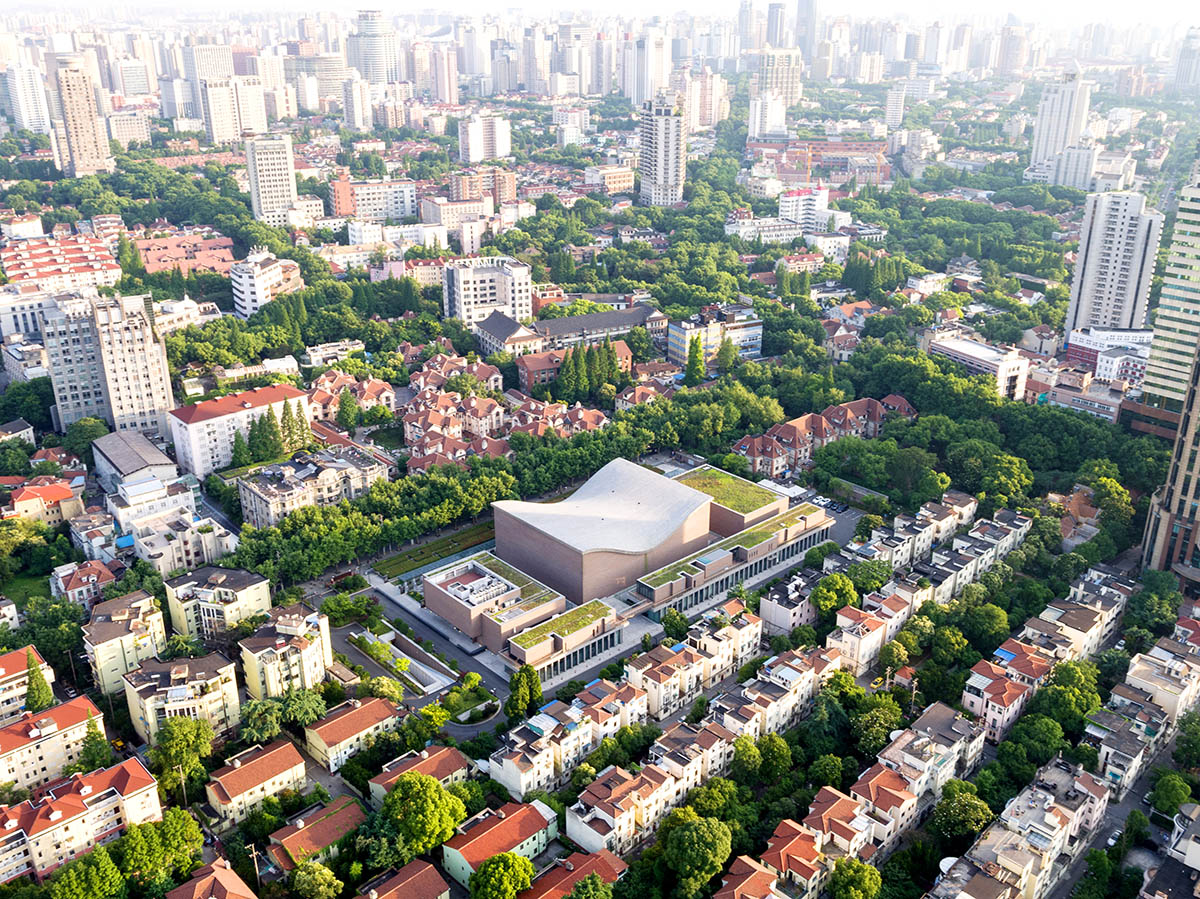 Image courtesy of Chen Hao
Shanghai Symphony Hall 2008-2014 Shanghai, China
The 2014 opening of Shanghai Symphony Hall celebrated the 135th anniversary of Asia's oldest orchestra, the Shanghai Symphony Orchestra. In collaboration with acoustician Yasuhisa Toyota, the two halls seat 1200 and 400 guests respectively, each achieving an intimate aural balance for users through the use of latest technology and sensitive materials.
Located in the heart of Shanghai's French Concession, the performance art building sits on springs to offset the vibrations from the subway tracks below. The interior features reflector boards covered in woven bamboo and stage floors fabricated from Hokkaido cypress, while terra cotta bricks and a Chinese garden highlight the exterior of the building.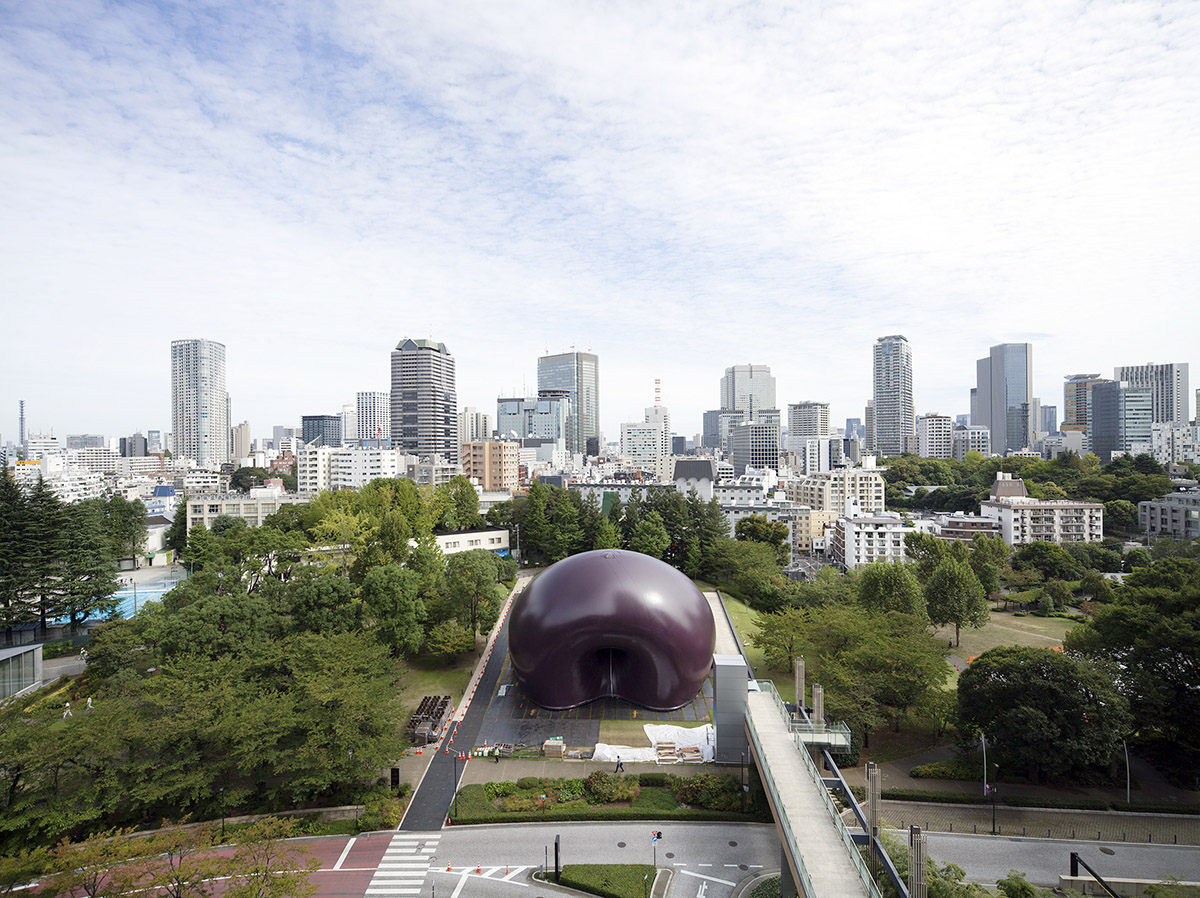 Image © Iwan Baan
Lucerne Festival Ark Nova (designed by Anish Kapoor and Arata Isozaki) / (2011-2013, 2014) Miyagi, Japan (2015) Fukushima, Japan (2017) Tokyo, Japan
Ark Nova, or "new ark," was commissioned by the Lucerne Festival and designed by Anish Kapoor and Isozaki as a response to natural disaster. The PVC-coated polyester membrane of the orb-like structure inflates and deflates quickly, allowing this concert hall to be transported from one location to another, originally touring areas that were affected by the 2011 Tohoku earthquake and tsunami. The inflatable mobile performance venue can showcase a range of performing arts for audiences of up to 500 guests, and has become a symbol of the spirit of rebuilding.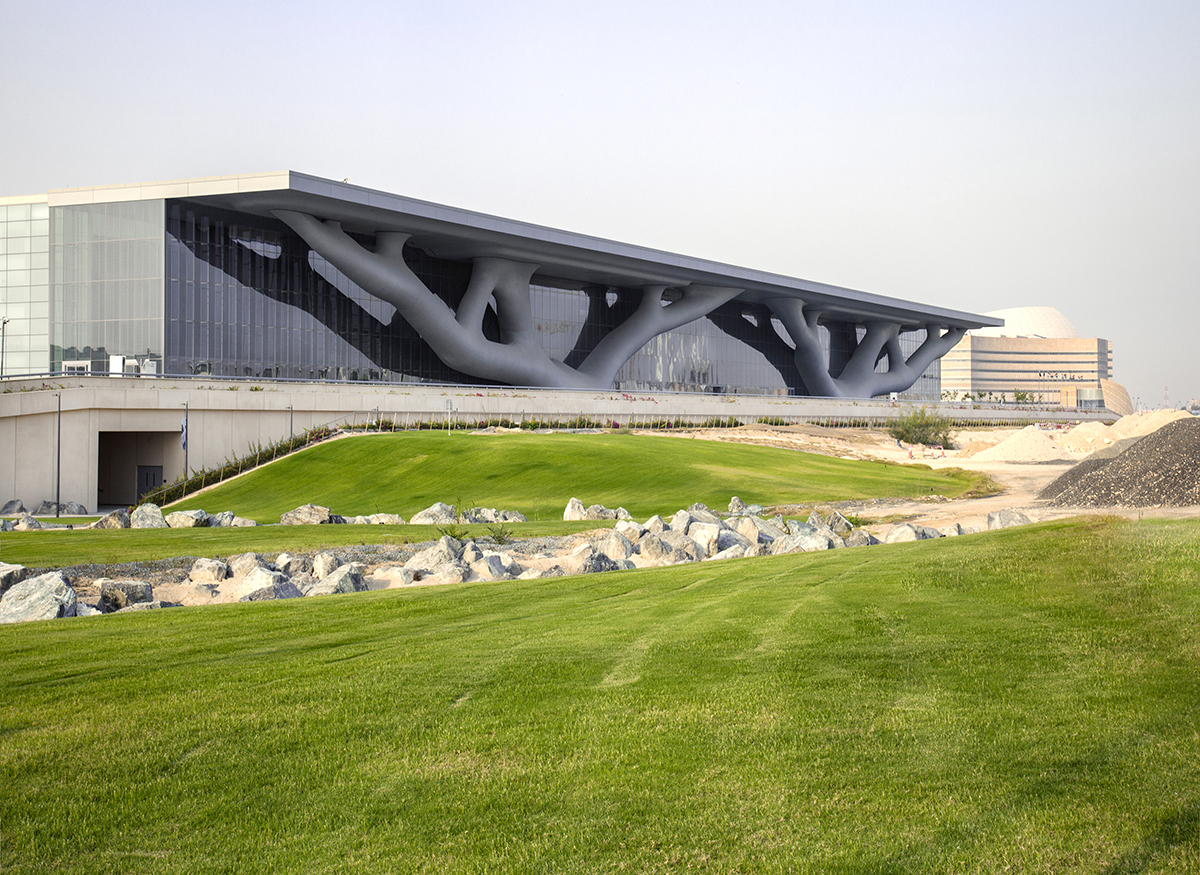 Image courtesy of Hisao Suzuki
Qatar National Convention Center 2004-2011 Doha, Qatar
As one of the largest exhibition centers in the Middle East, the Qatar National Convention Center can accommodate up to 10,000 people within its three main halls and flexible meeting spaces. The exterior evokes two trees—inspired by Sidrat al-Muntaha, a holy Islamic tree that symbolizes the end of the seventh heaven—which surround the glass façade and support the roof canopy. Using careful design and the latest techniques in water conservation and energy efficiency, the building has achieved exemplary results in terms of sustainability
Image courtesy of Hisao Suzuki
Ceramic Park Mino 1996-2002 Gifu, Japan
This ceramics museum, which includes gallery spaces, conference halls, tea houses and a public workshop, is situated in a cascading valley. It preserves its surrounding vegetation while serving as an extension of the topography through outdoor terraces, observation decks and a glass curtain wall. Two light boxes that rise up from the building hint at what lies inside. Materials such as regional stoneware bricks and ceramic are used throughout, and pendulum-like structures and suspension pillars secure the galleries against the dangers of earthquakes, thus protecting the museum's contents.
Image courtesy of Hisao Suzuki
Nara Centennial Hall 1992-1998 Nara, Japan
The Nara Centennial Hall, the object of an international competition won by Isozaki, was completed for the centennial of the municipality and eloquently combines past, present and future. Taking into account location, site and orientation, the building is designed as an independent monolith. The design also honors the nearby and prominent Todaiji Temple (734 AD) through its sloping form and gray ceramic tile. The building interiors were designed to be versatile, changing to accommodate a range of events, conventions and conferences.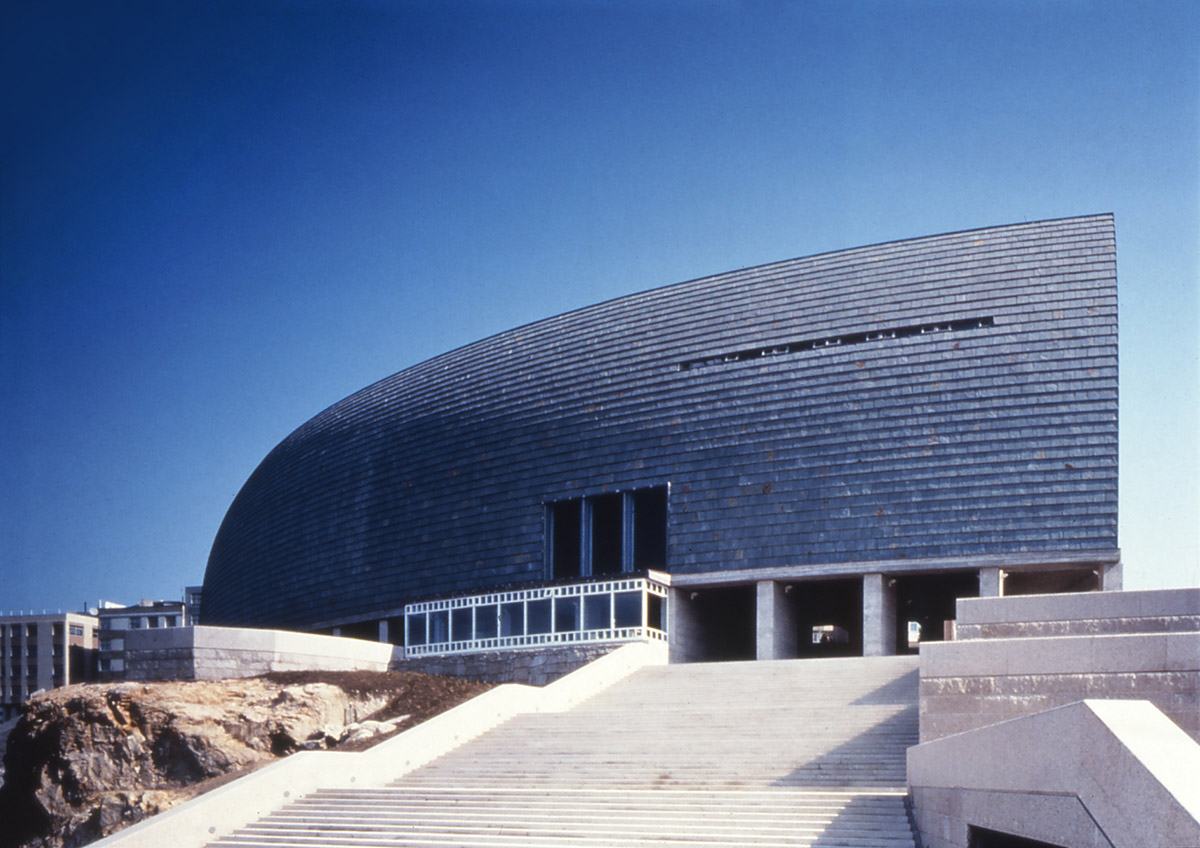 Image courtesy of Hisao Suzuki
Domus: La Casa del Hombre 1993-1995 A Coruña, Spain
This interactive science museum, dedicated to the exploration of humankind, sits overlooking Orzan Bay on a site that was once a quarry. The seaside-facing exterior forms a curved protective wall, resembling a windsail or a shell, that is clad in slate panels. The opposite exterior wall, composed of local granite, zig-zags similarly to a folding screen.
Image courtesy of Yasuhiro Ishimoto
Art Tower Mito 1986-90 Ibaraki, Japan
Commissioned to celebrate the centennial of Mito, Art Tower Mito was built as a cultural complex consisting of a theater, performance hall and contemporary art gallery. The iconic tetrahelix tower was inspired by Constantin Brancusi's Endless Column (1938), and is comprised of fifty-six triangular panels in varying orientations.
Image courtesy of Hisao Suzuki
The Museum of Contemporary Art 1981-86 Los Angeles California, USA
The Museum of Contemporary Art, Los Angeles was the architect's first international commission outside of his native Japan. Faced with a challenging site, the sunken red sandstone building is in purposeful contrast to the surrounding area's high-rise buildings. The barrel-vaulted library and copper-clad pyramids are part of the three stories that are above ground, while visitors must descend downstairs to the underground galleries that comprise four subterranean floors.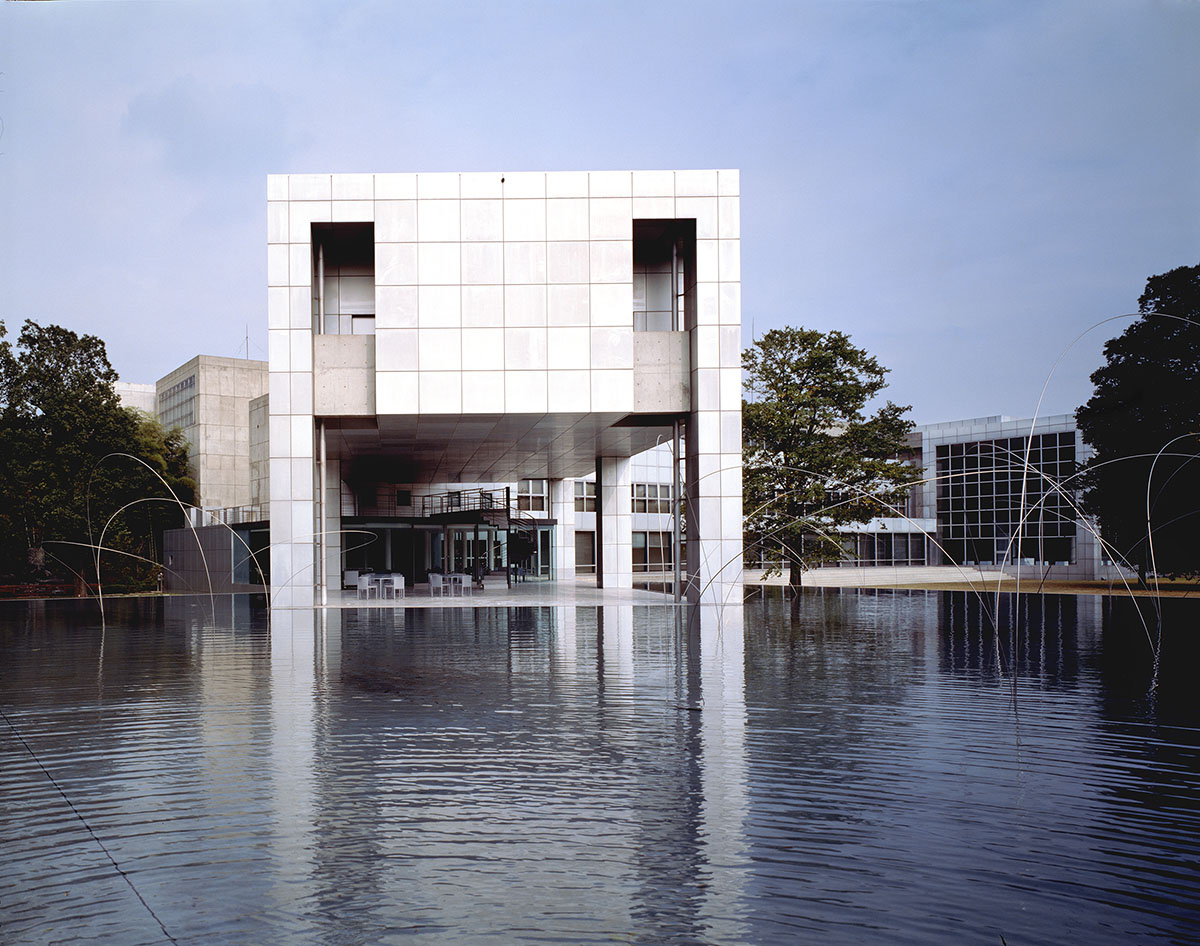 Image courtesy of Yasuhiro Ishimoto
The Museum of Modern Art 1971-74 Gunma, Japan
The Museum of Modern Art, Gunma, was the first of Isozaki's museum commissions, and is based on the architect's concept of the "art gallery as void." It is comprised of a system of cubes that form a primary rectangular backbone with two projecting wings. The concept of the cube extends to interior spaces such as the lobby and galleries, as well as exterior areas including the reflecting pool. The museum has since been extended to accommodate a restaurant (1994) and contemporary art gallery (1997), all of which continue the original geometric approach.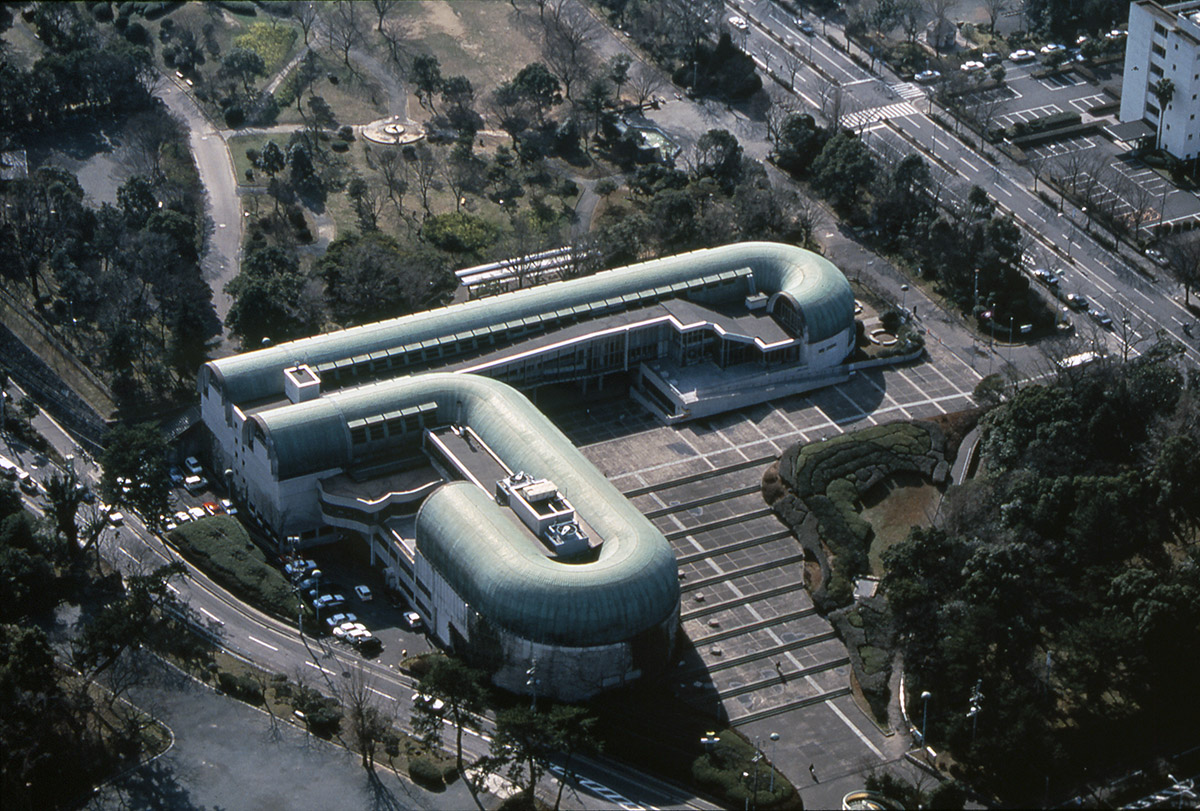 Image courtesy of FUJITSUKA Mitsumasa
Kitakyushu Central Library 1973-74 Fukuoka, Japan
The Kitakyushu Central Library was inspired by Étienne-Louis Boullée's proposed design for the French National Library (1785). Izosaki realized a modern interpretation of the neoclassical vaulted ceilings through precast concrete. The building's two large barrel vaults, which run parallel prior to curving separately, contrast with the rectangular windows that line the exterior.
---
Isozaki is the 46th Laureate of the Pritzker Prize, and the ninth to hail from Japan. The 2019 Pritzker Prize ceremony will take place in France this May, accompanied by a public lecture in Paris.
The Pritzker Architecture Prize was established by The Hyatt Foundation in 1979 to annually honor a living architect whose built work demonstrates a combination of those qualities of talent, vision, and commitment, which has produced consistent and significant contributions to humanity and the built environment through the art of architecture. It has often been described as "architecture's most prestigious award" or as "the Nobel of architecture."