Lina Ghotmeh — Architecture's cellular hotel to provide mesmerizing view to vineyards of Lebanon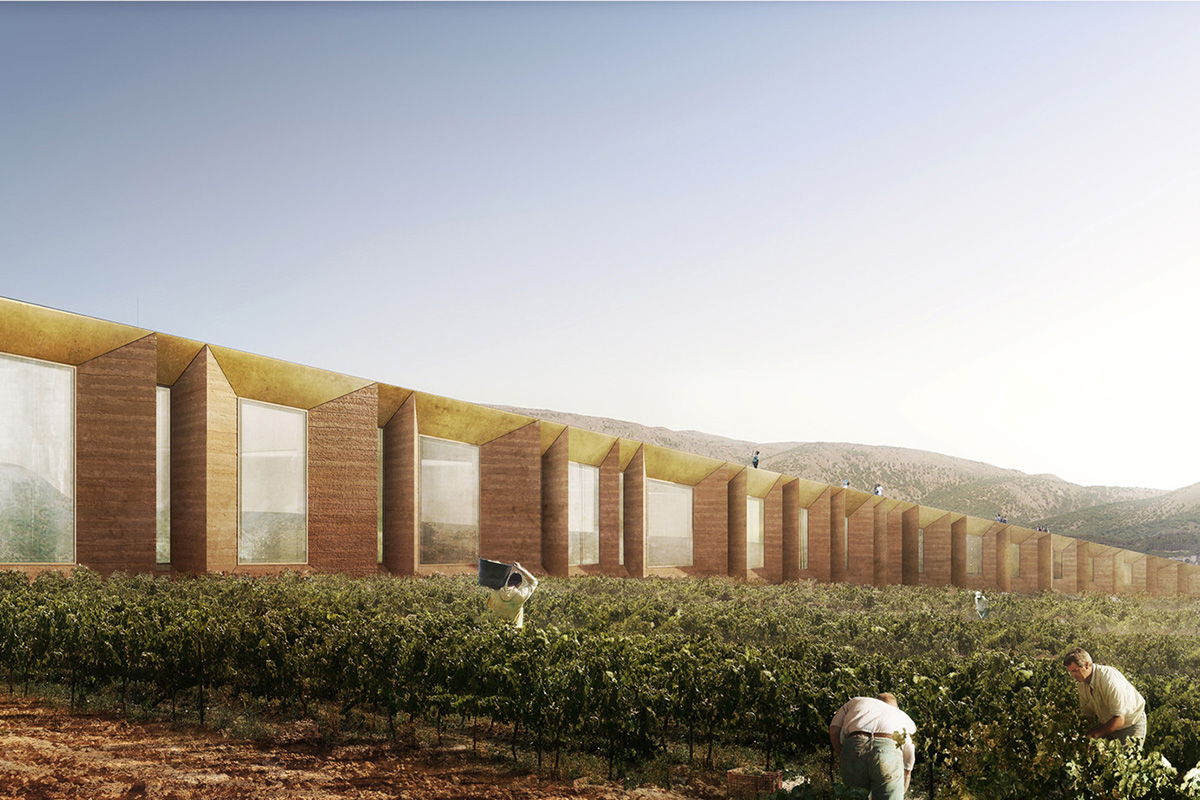 Paris-based architecture practice Lina Ghotmeh — Architecture has won a competition to design this cellular hotel overlooking at one of the largest vineyards of Kefraya, Lebanon.
Named Lining Kefraya Hotel, the fortress-like building will sit on a 3,400-square-metre area with its cellular design units, aiming to reflect the beautiful vineyards with protruding floor-to-ceiling windows.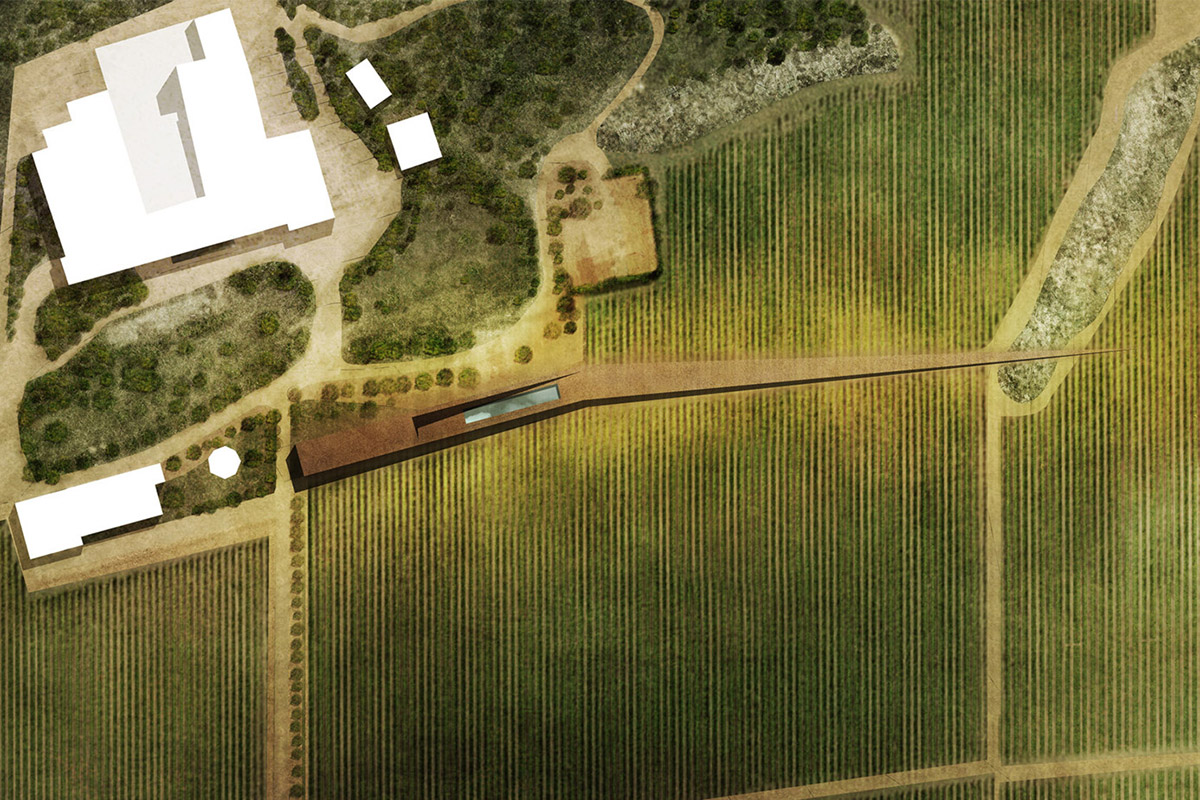 Alongside the hotel rooms throughout the plans, the design scheme will be composed of a restaurant, reception spaces and a wine cellar, which will built as excavations within this intervention.
Located on one of the largest vineyards spreading along the Bekaa Valley, the architectural language of this project is designed as the expression of the earth from which it emerges.
"It is the materialisation of the story of this land, built in time and by time, cultivated by the hands of a mythic man, Michel De Boustros, who at the peak of the Lebanese war, continued to grow an exceptional vineyard," said Lina Ghotmeh — Architecture.
"Developed as an act of resilience during the unsettling years of this country, Kefraya is considered today as one of the largest territories dedicated to wine production."
"It is set on the deepest geological fault of the region and enjoys, due to that, a very rich terroir. Canaanites Archeological remains are also found to witness of the long history of this estate," added the firm.
The architects designed this project as a vertical "land work." The building looks like as if it emerges slowly from earth and dialogues with the territory on which it is built. On top of the roof, the architects also designed a long swimming pool creating a different atmosphere within the nature.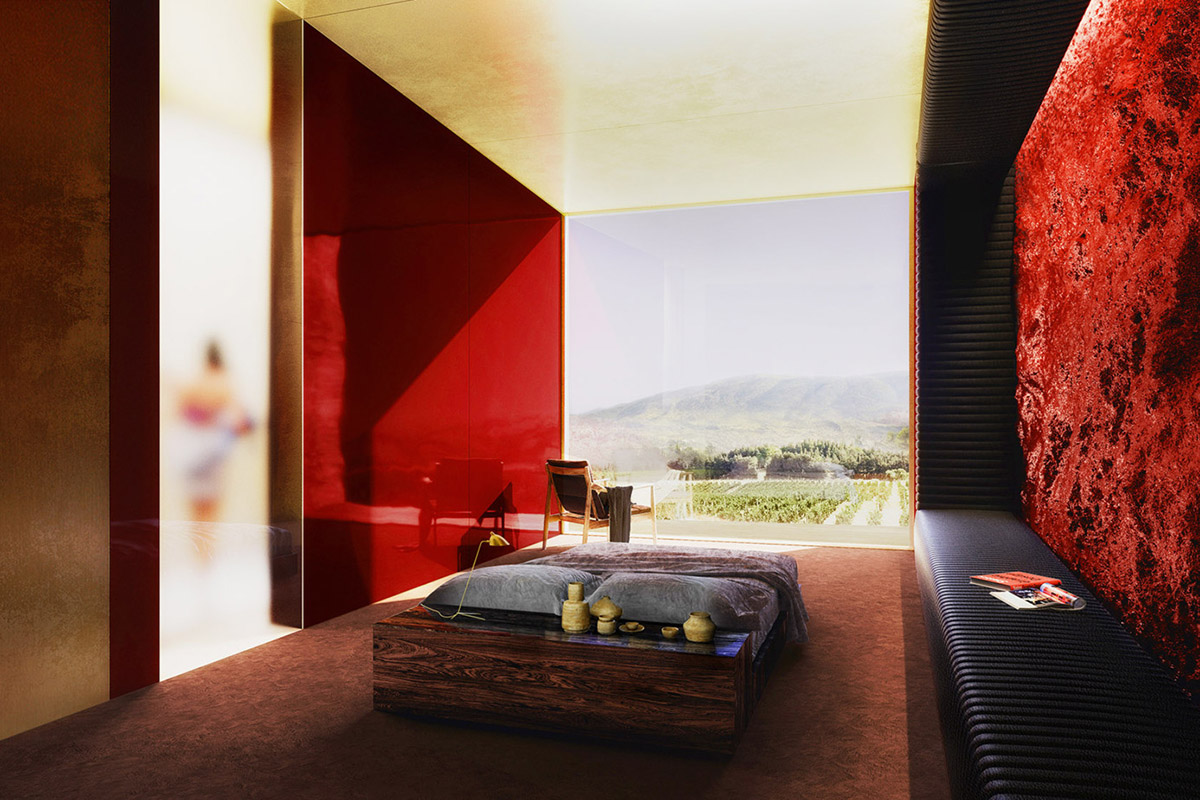 Earthly-like accumulations giveth structures' form: A series to porticoes intertwine with large panes of glass that bear the reflection of the beautiful landscape surrounding this temporary dwelling.
The building plays both on monumentality and on evanescence. Its dimensions, prolonged length, sets it out as a landmark with this territory while its reflecting skin extends the vineyards onto the edifice's body and in the heart of its spaces.
"The act of excavating bares the memory of this territory, as the interior draws a parallel to the troglodyte structures: archaeological remains existing on site," explained the architects.
Guests will have a mesmerizing view towards the vineyards through large frames. Moving along the building's length, visitors are invited to delve into the intensity of wine.
From golden like reflections into Red velvet like interiors, the journey of the dweller bares the pure immersion into the textures, the color, and the dazzle of the wine experience. The Lining Kefraya Hotel is expected to complete in 2021.
Project facts
Status: Competition
Location: Kefraya, Lebanon
Date: 2018 — 2021
Area: 3400 m²
Commission type: Private
Client: Kefraya Wines
Program: Vineyard of Kefraya Estate
All images courtesy of Lina Ghotmeh — Architecture