David Chipperfield wins The 2023 Pritzker Architecture Prize
British civic architect, urban planner and activist, David Alan Chipperfield, has been named as the recipient of the 2023 Pritzker Architecture Prize, the award that is regarded internationally as architecture's highest honor.
Chipperfield is the 52nd Laureate of the prestigious Pritzker Architecture Prize.
The architect is described as "subtle yet powerful, subdued yet elegant" for his works by the Pritzker Architecture Prize.
Chipperfield, 70, was born in London and raised on a countryside farm in Devon, southwest England. A collection of barns and outbuildings, filled with childhood wonderment and recollection, shape his first strong physical impression of architecture.
River and Rowing Museum. Photo courtesy of Richard Bryant / Arcaid
"A prolific architect who is radical in his restraint"
Described as "a prolific architect who is radical in his restraint", he was praised for "demonstrating his reverence for history and culture while honoring the preexisting built and natural environments" by the Pritzker Architecture Prize.
"He reimagines functionality and accessibility of new buildings, renovations and restorations through timeless modern design that confronts climate urgencies, transforms social relationships and reinvigorates cities," stated the Pritzker Architecture Prize.
"I am so overwhelmed to receive this extraordinary honour and to be associated with the previous recipients who have all given so much inspiration to the profession," said Chipperfield.
"I take this award as an encouragement to continue to direct my attention not only to the substance of architecture and its meaning but also to the contribution that we can make as architects to address the existential challenges of climate change and societal inequality."
"We know that, as architects, we can have a more prominent and engaged role in creating not only a more beautiful world but a fairer and more sustainable one too."
"We must rise to this challenge and help inspire the next generation to embrace this responsibility with vision and courage," he added.
Chipperfield graduated from the Kingston School of Art in 1976 and the Architectural Association, School ofArchitecture in London in 1980, where he learned to become a critic, re-envisioning the potential of each element to stretch every project beyond the task itself.
Before founding David Chipperfield Architects in London in 1985, he worked under Douglas Stephen, 1999 Pritzker Prize Laureate Norman Foster, and the late and 2007 Pritzker Prize Laureate Richard Rogers.
Spanning over four decades, his built works are comprehensive in typology and geography, including over 100 works ranging from civic, cultural and academic buildings to residences and urban masterplanning throughout Asia, Europe and North America.
James-Simon-Galerie. Photo courtesy of Simon Menges
"Understated but transformative civic presence"
The Pritzker Architecture Prize Jury described Chipperfield as an architect who "avoids unnecessary action and stays away from trends and fashions".
"This commitment to an architecture of understated but transformative civic presence and the definition—even through private commissions —of the public realm, is done always with austerity, avoiding unnecessary moves and steering clear of trends and fashions, all of which is a most relevant message to our contemporary society," stated the 2023 Jury in part.
"Such a capacity to distill and perform meditated design operations is a dimension of sustainability that has not been obvious in recent years: sustainability as pertinence, not only eliminates the superfluous but is also the first step to creating structures able to last, physically and culturally," the Jury added.
The River and Rowing Museum on the Henley-on-Thames mark the first major projects of the architect, which were completed in United Kingdom in 1997.
Other signifiant projects include Turner Contemporary in United Kingdom in 2011, Campus Saint Louis Art Museum in the United States in 2013, Campus Joachimstraße in Germany in 2013, Museo Jumex in Mexico in 2013, One Pancras Square in United Kingdom in 2013, Royal Academy of Arts masterplan in United Kingdom in 2018, Hoxton Press in United Kingdom in 2018 and Kunsthaus Zürich in Switzerland in 2020.
Museo Jumex. Photo courtesy of Simon Menges
His other key projects include The Neues Museum in Germany in 2009, which was originally constructed in the mid-19th century and left devastated and inhabitable during World War II. The project "demonstrates Chipperfield's discernment between preservation, reconstruction and addition."
Other significant project of the architect is James-Simon-Galerie, which was completed in Berlin in 2018. The project is situated on a narrow island along the Kupfergraben canal and accessible by the Schlossbrücke bridge, serves as the gateway to Museum Island.
Another project reveals his remarkable restoration and reinvention of the Procuratie Vecchie in Venice, Italy in 2022, which dates back to the 16th century. The architect "redefined the civic ability of this building within the heart of the city to allow general access for the first time."
David Chipperfield recent projects include the extension of the National Archaeological Museum with rammed-earth walls in Greece, the completion of theatre and hotel buildings as part of Ceramic Art Avenue Complex in Jingdezhen, the completion of The Bryant tower on the south-west corner of Bryant Park.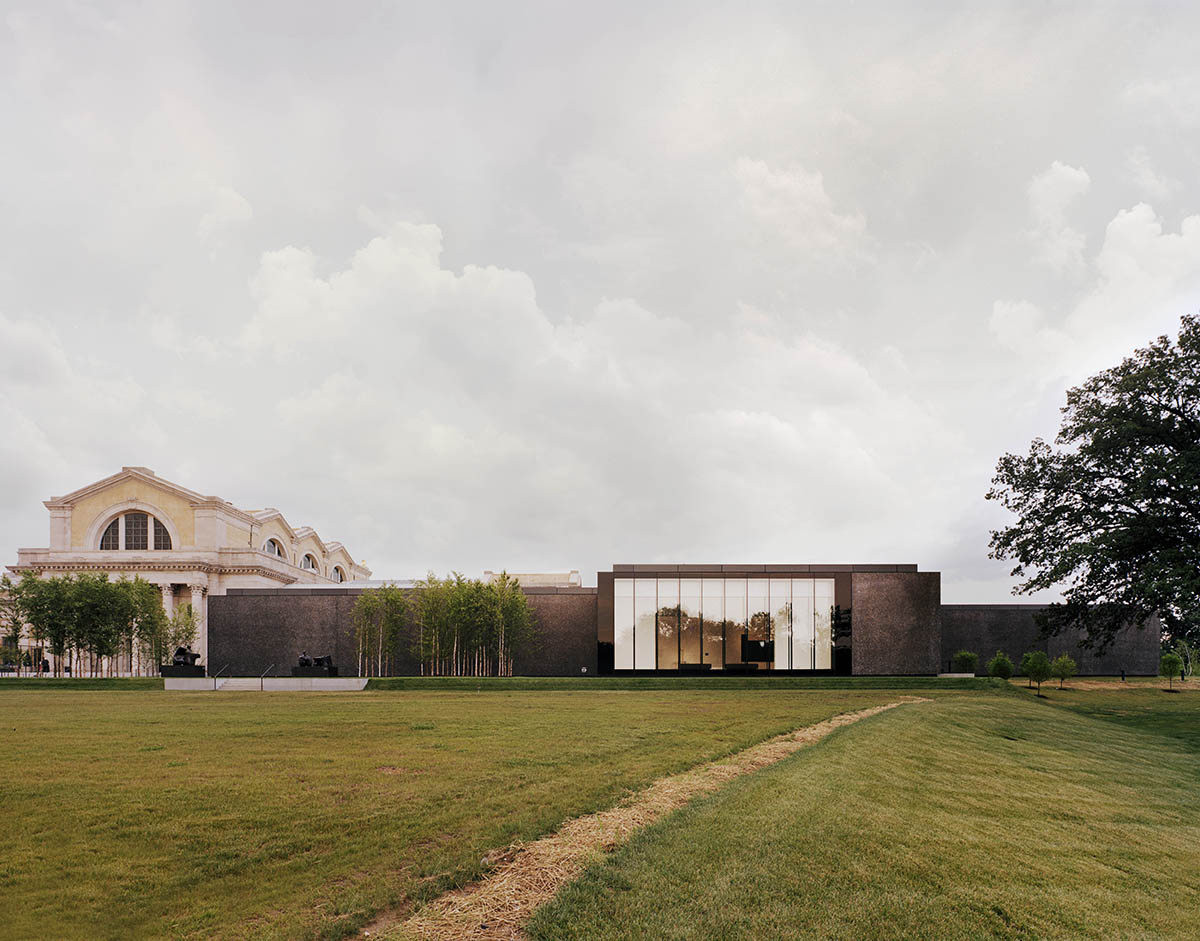 Saint Louis Art Museum. Photo courtesy of Simon Menges
"He is assured without hubris, consistently avoiding trendiness to confront and sustain the connections between tradition and innovation, serving history and humanity," commented Tom Pritzker, Chairman of the Hyatt Foundation.
"While his works are elegantly masterful, he measures the achievements of his designs by social and environmental welfare to enhance the quality of life for all of civilization," Pritzker added.
America's Cup Building 'Veles e Vents". Photo courtesy of Christian Richters
"His buildings will always stand the test of time"
"In a world where many architects view a commission as an opportunity to add to their own portfolio, he responds to each project with specific tools that he has selected with preciseness and great care. Sometimes it requires a gesture that is strong and monumental, while other times, it requires him to almost disappear," said Alejandro Aravena, Jury Chair and 2016 Pritzker Prize Laureate.
"But his buildings will always stand the test of time because the ultimate goal of his operation is to serve the greater good. The avoidance of what's fashionable has allowed him to remain permanent," Aravena added.
Alongside the prestigious Pritzker Architecture Prize, Chipperfield has received numerous awards including the RIBA Royal Gold Medal in 2011, the European Union Prize for Contemporary Architecture—the Mies van der Rohe Award in 2011 and the Heinrich Tessenow Medal in 1999.
The Hepworth Wakefield. Photo courtesy of Iwan Baan
He was also elected to the Royal Academy of Arts in 2008, awarded the Order of Merit of the Federal Republic of Germany in 2009, and the Japan Art Association's Praemium Imperiale for Architecture in 2013.
He is a member of the RoyalInstitute of British Architects and an honorary fellow of the American Institute of Architects and theBund Deutscher Architekten.
He was Professor of Architecture at the Staatliche Akademie der Bildenden Künste, Stuttgart from 1995 to 2001 and Norman R. Foster Visiting Professor of Architectural Design at Yale University in 2011.
In 2012, he curated the 13th Venice Architecture Biennale, presenting the theme, Common Ground.
In 2004, he was appointed as Commander of the Order of the British Empire, knighted in 2010 and appointed to the Order of the Companions of Honour in 2021.
Chipperfield resides in London and leads additional offices in Berlin, Milan, Shanghai and Santiago de Compostela.
He will be awarded the 2023 Pritzker Prize at a ceremony in Athens, Greece this May.
Read the full Jury Citation for the 2023 Pritzker Architecture Laureate David Chipperfield:
---
The Pritzker Prize is conferred in acknowledgment of those qualities of talent, vision and commitment, which have persistently produced significant contributions to humanity and the built environment through the art of architecture. The career of David Chipperfield is marked by a longterm, rigour and consistency in a body of work that has seamlessly integrated and balanced both terms of that equation.
The careful, well-crafted, precise and calm responses he has offered to the goals aspired to in his buildings can only originate in a deep and sustained knowledge of the discipline. Yet, those responses are never self-centred, nor do they serve in any way as art for art's sake: rather, they always remained focused on the higher purpose of the undertaking and on the pursuit of civic and public good.
David Chipperfield 'does his job', and he does it by balancing relevancy and stature. To operate anchored to the body of knowledge of the discipline or architecture requires both intelligence and modesty; to put such knowledge at the service of a given project requires talent and maturity.He has in every case skilfully chosen the tools that are instrumental to the project instead of those that might only celebrate the architect as artist. Such an approach explains how it is that a gifted architect can sometimes almost disappear when working on the restoration or renovation of existing buildings and architectural masterpieces like those on Berlin's Museum Island or even more in the case of Mies van der Rohe's iconic Neue Nationalgalerie in Berlin. It also explains why the wide spectrum of David Chipperfield's skills appears in full when he is called upon to create from scratch.
Always characterized by elegance, restraint, a sense of permanence, as well as clear compositions and refined detailing, his buildings each time exude clarity, surprise, sophisticated contextuality and confident presence. In an era of excessive commercialization, over-designing, and over-exaggeration, he can always achieve balance: between a modern minimalistic architectural language and freedom of expression, between abstract statements and rigorous elegance never devoid of complexity.
While preserving a meticulous yet consistent quality of design, David Chipperfield has continually worked across a wide array of building types from public civic buildings to commercial, residential and retail structures. But from early in his career, museums have been a particular focus. Ranging across small-scale works free standing in the landscape to large-scale monuments in prominent and often complex and delicate urban locations, his museum buildings have always defied the notion that a museum is a place for elite culture. Over and over, he has interpreted the demands of the museum program to create not only a showcase for art but also a place interwoven with its city, breaking down boundaries and inviting the public at large to engage. Over and over, his museum buildings have generated new civic spaces, new patterns of movement in the city and new ways of integrating existing fabric.
At once architectural and museological projects, in Chipperfield's hands museums as institutions and buildings offer a transformation of the urban life of the cities where they are located. Generous outdoor spaces make them not fortresses but connectors, places for gathering and observing, such that the building itself is a gift to the city, a common ground even for those who never enter the galleries. In short, his buildings embody a commanding balance of the seemingly contradictory notions of being complete in and of themselves as architectural designs where every detail is conceived as a carefully studied part of a whole, and at the same time create interconnections to the city and to the society in such a way as to fundamentally transform a whole district.
In his persistent search for a diverse, solid and coherent body of work, David Chipperfield manages not to deviate from a serious consideration of the genius loci—the spirit of the place—or of the growing diverse cultural contexts in which he works. We do not see an instantly recognizableDavid Chipperfield building in different cities, but different David Chipperfield buildings designed specifically for each circumstance. Each asserts its presence even as his buildings create new connections with the neighbourhood. His architectural language balances consistency with the fundamental design principles and flexibility towards the local cultures. He includes colonnades in his European projects and courtyards in the Chinese ones, he utilizes local materials in luxurious ways, ordinary techniques in complex structures. He enhances the quality of people's lives through a poetic sensation that always flows from his buildings. The work of David Chipperfield unifiesEuropean classicism, the complex nature of Britain and even the delicateness of Japan. It is the fruition of cultural diversity.
This commitment to an architecture of understated but transformative civic presence and the definition—even through private commissions—of the public realm, is done always with austerity, avoiding unnecessary moves and steering clear of trends and fashions, all of which is a most relevant message to our contemporary society. Such a capacity to distil and perform meditated design operations is a dimension of sustainability that has not been obvious in recent years: sustainability as pertinence, not only eliminates the superfluous but is also the first step to creating structures able to last, physically and culturally.
No wonder one of the attributes that come to mind when experiencing the work of David Chipperfield is that of a classic, something that will be able to stand the test of time. Classic not by style but by being faithful to a responsibility towards the act and to the art of building, faithful to the three essential Vitruvian qualities: firmitas, utilitas, venustas (strength, usefulness, beauty). Far from looking towards creating iconic, isolated statements, Chipperfield alternates restraint and courage in a very personal interpretation of the role of architecture.
David Chipperfield believes that is the role of the architect to foster new ways of improving life and livelihoods on a planet where mankind has made our very home a place of fragility. His vision of such role has continually expanded from ways to integrate an individual building into both its site and its local culture, to understanding the broadest definition of site and culture.
In more recent years, this has taken the form not of building but of bringing spatial and environmental expertise to curate and care for the landscapes of a region which he has come to call a second home, Galicia in North-western Spain. Here the Fundación RIA has sought to advise on preserving the intertwined landscape, agriculture, ecology and land traditions of a region to help preserve and extend an eco-system into the coming decades even in the face of the challenges of climate change.
For the rigour, integrity and pertinence of a body of work that—beyond the realm of the architecture discipline—speaks for his social and environmental commitment, David Chipperfield is named the 2023 Pritzker Prize Laureate.
---
Last year, Burkinese architect Diébédo Francis Kéré, principal and founder of Kéré Architecture, was named as the recipient of the 2022 Pritzker Architecture Prize.
Anne Lacaton and Jean-Philippe Vassal, founders of French architecture studio Lacaton & Vassal Architectes, were named as the recipients of the 2021 Pritzker Architecture Prize.
In 2020, the Irish duo Yvonne Farrell and Shelley McNamara were named as Laureate of the Pritzker Architecture Prize.
Top image: Sir David Alan Chipperfield. Photography courtesy of Tom Welsh.
> via Pritzker Architecture Prize