British Pavilion will present Dancing Before the Moon that promotes everyday rituals in Venice
The British Pavilion has announced curators and details of its exhibition that will take place at the 18th International Architecture Exhibition in Venice Architecture Biennale 2023.
Themed as Dancing Before The Moon, the exhibition, curated by architect and designer Jayden Ali, designer and urbanist Joseph Henry, London-based curator and artist Meneesha Kellay and London-based curator and educator Sumitra Upham, will present a series of installations featuring new work by six artists and designers and a new film and soundscape.
The Venice Architecture Biennale 2023 will take place from Saturday 20 May to Sunday 26 November, 2023 at the Arsenale and Giardini venues in Italy.
The theme of the 18th Venice Architecture Biennale is The Laboratory of the Future curated by Lesley Lokko.
Economy of the Dust, 2022, Sandra Poulson, V.O. Curations, London, installation view. Image courtesy of the Artist
Commissioned and managed by British Council Architecture, the exhibition will focus on everyday rituals, starting from growing food and cooking to playing games and dancing - which are tools for diasporic communities to establish spaces.
The exhibition will also present new ways of thinking about architecture and the built environment.
The exhibition will be enriched with a series of installations, presented by a group of UK-based artists and architects, which will transform the pavilion to represent a future for British architecture. The pavilion will be a dedicated place where social practices are celebrated for binding communities and transforming space.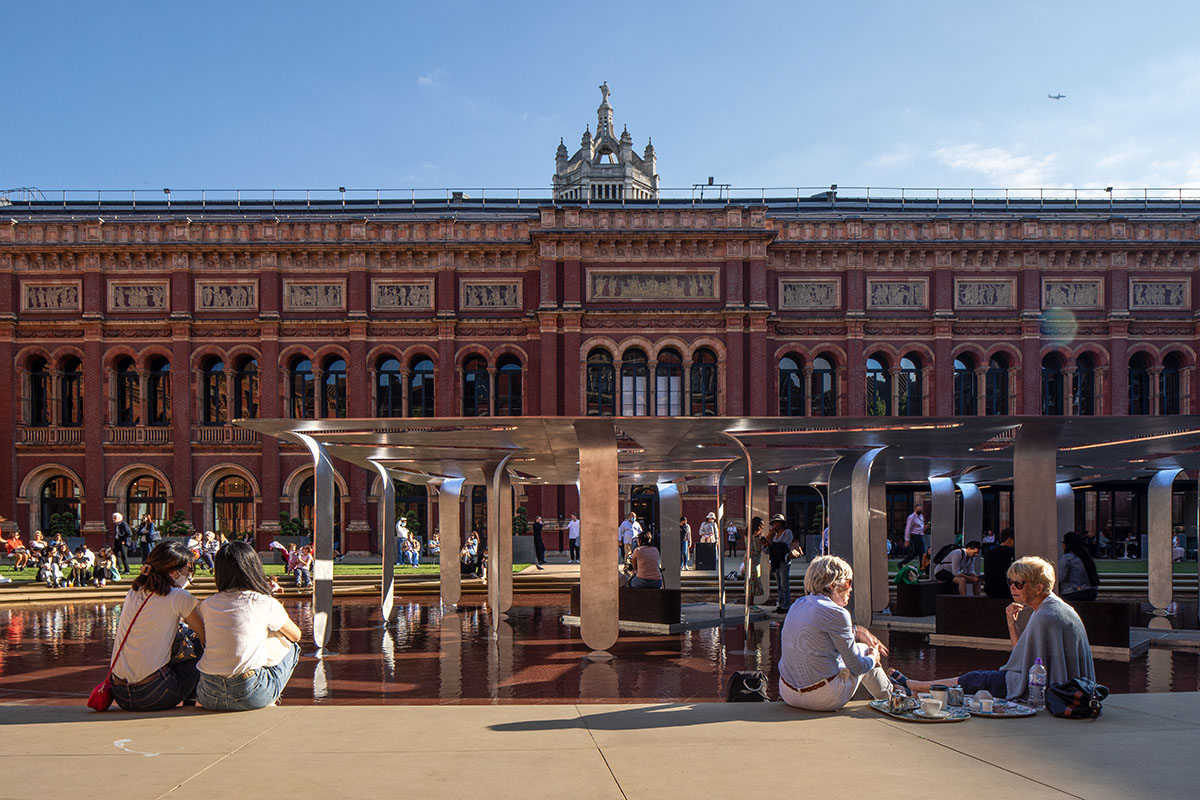 Pavilion in the V&A John Madejski Garden for London Design Festival, 2021, Nebbia Works (Madhav Kidao). Image courtesy Nebbia Works
A new exterior installation designed by Jayden Ali will welcome visitors upon their entrance to the British Pavilion.
In the main hall of the pavilion visitors will encounter with a large cinematic installation with a film developed by the curators and collaborators, highlighting the central role that rituals play in reflecting the traditions and community values of people living in the UK.
Inside the pavilion, there will be multiple galleries that focus on objects conceived and produced by five UK-based artists and architects, with an interest in materials and making, including Olaniyi Studio Director Yussef Agbo-Ola, artist and designer Mac Collins, ceramic artist Shawanda Corbett, London-based Nebbia Works founder Madhav Kidao and Angolan interdisciplinary artist Sandra Poulson.
The exhibition will feature objects that reflect global cultural practices that impact space.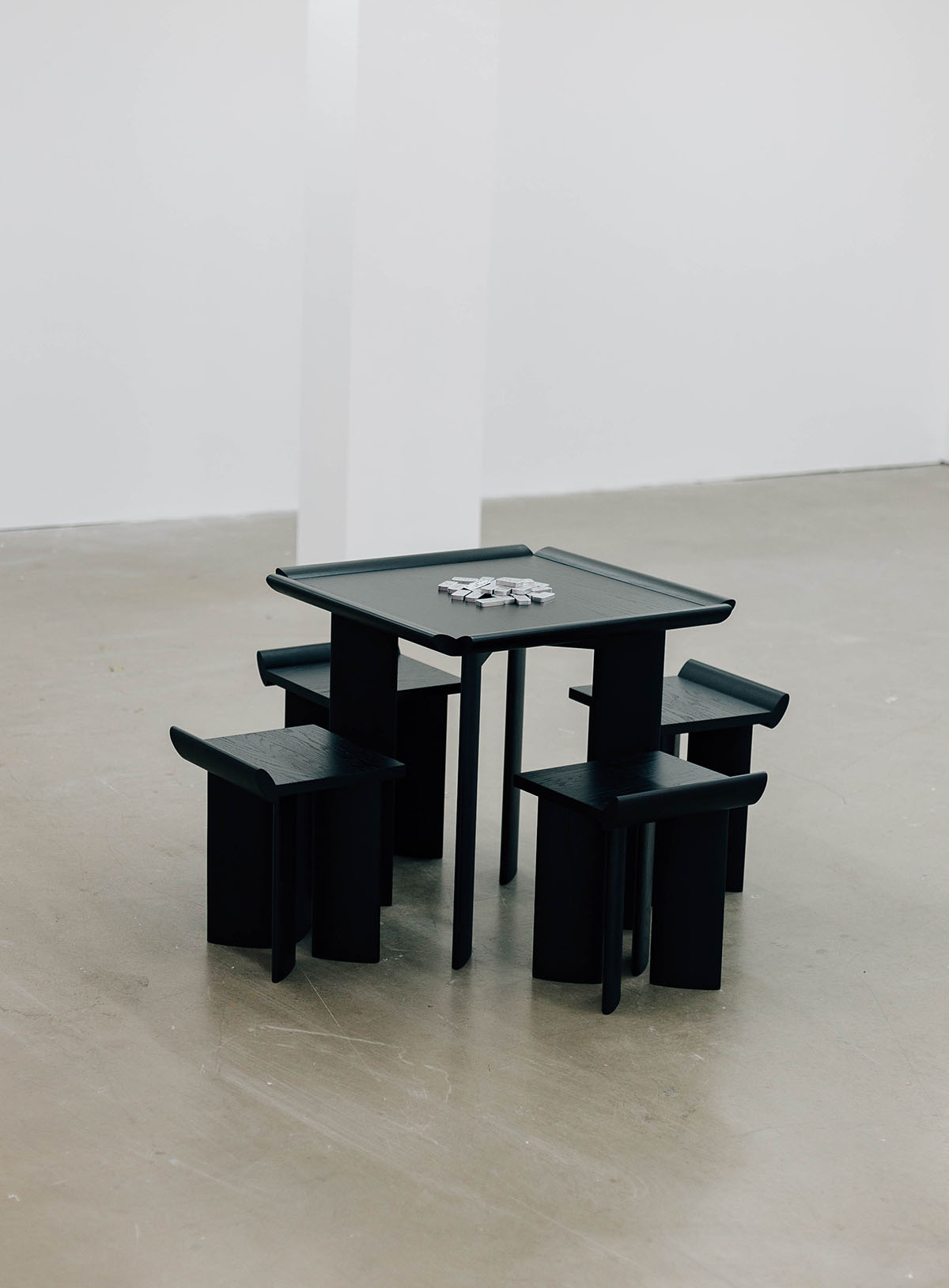 Open Code, 2022, Mac Collins. Image © Megan Jepson
"Collectively, this exhibition champions an expanded notion of architecture. One that is intangible, that cross-pollinates with performance, craft and other creative disciplines, and that is shaped by people," said the British Pavilion.
"The British Pavilion at the Biennale Architettura 2023 is a space for rethinking the role that people play in shaping the built environment," said Jayden Ali, Joseph Henry, Meneesha Kellay and Sumitra Upham.
"It demonstrates the need for architecture to look beyond buildings and economic structures and towards everyday social practices, customs and traditions in order to meaningfully reflect how people use and occupy space."
The British Council has been responsible for the British Pavilion at the International Art and Architecture Exhibitions organized by Venice Architecture Biennale since 1937, showcasing the best of the UK's artists, architects, designers and curators.
Sankofa Docks by JA Projects (Alongside BIG and Harrison Stringfellow + Team), 2021. Image © Gary W Smith
These exhibitions, and the British Council's Venice Fellowships initiative introduced in 2016, help make the British Pavilion a major platform for discussion about contemporary art and architecture. They also continue the British Council's work in supporting peace and prosperity by building connections, understanding and trust between people in the UK and countries worldwide.
"We are delighted that the British Council Commission for the 18th International Architecture Exhibition will look at architecture and the built environment in a new way, advocating for rituals as a way of changing spaces," said Sevra Davis, Director of Architecture Design Fashion at the British Council and Commissioner of the British Pavilion.
"This newly commissioned installation presents a radically different vision for the UK – encouraging us to reconsider our customs and traditions and create more innovative, forward-thinking places," Davis added.
"There is a reason, after all, that some people wish to colonize the moon, and others dance before it as an ancient friend," James Baldwin said for the show.
Neighbourhood Garden, Shawanda Corbett, 2020, Courtesy the Artist and Corvi-Mora London. Image © Marcus Leith
"In many countries, the moon is celebrated as a symbol of life. To us, the quote reflects a longing and appreciation for global rituals and everyday practices that demonstrate an appreciation of soil and the cosmos. It proposes an alternative way of considering collective relationships to land and geography, and how communities come together to hold space through making and social practices. Importantly it speaks to both the past and the future," added the curators.
From the first International Architecture Exhibition at the pavilion in 1991, the British Council has invited high profile names to curate and show. Zaha Hadid, Richard Rogers and Norman Foster have all contributed alongside other emerging and established architects, designers, artists and engineers.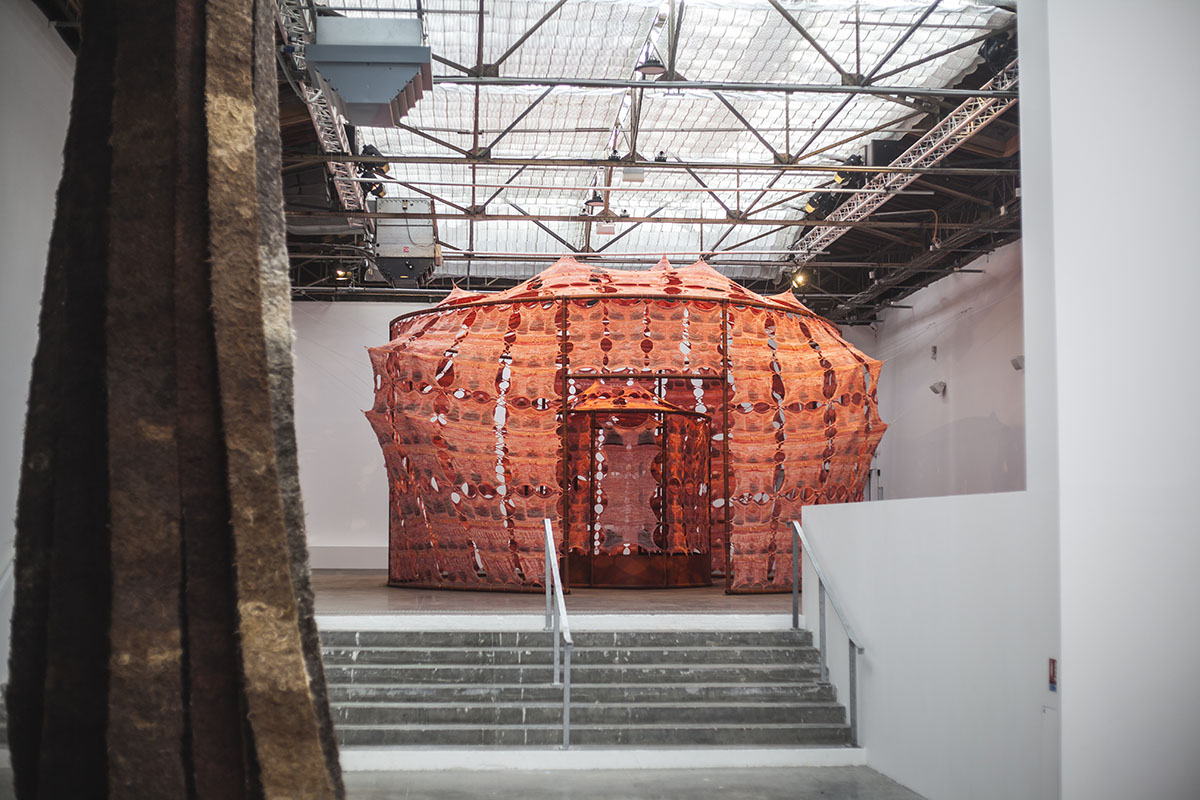 NONO: Soil Temple, 2022, Yussef Agbo-Ola, Image courtesy of Olaniyi Studio
In 2021, the British Pavilion presented The Garden of Privatised Delights, which was curated by Manijeh Verghese and Madeleine Kessler of Unscene Architecture.
Other pavilions also announced their themes and details for the 2023 Venice Architecture Biennale, such as Gabriela De Matos and Paulo Tavares were announced as the curators of the Brazilian Pavilion, the Danish Pavilion will explore Coastal Imaginaries curated by Josephine Michau, Turkey Pavilion, curated by SO? co-founders Sevince Bayrak and Oral Göktaş, will investigate Ghost Stories: Carrier Bag Theory of Architecture, the U.S. Pavilion will explore the world's complex relationship to plastic at this year's exhibition.
Top image: Curators (from left) Jayden Ali, Meneesha Kellay, Joseph Henry and Sumitra Upham, 2022. Image © British Council.
> via British Council