The U.S. Pavilion will explore the world's complex relationship to plastic in Venice Biennale 2023
The U.S. Pavilion has released details for its exhibition at the 2023 Venice Architecture Biennale, in collaboration with the U.S. Department of State's Bureau of Educational and Cultural Affairs.
Themed as Everlasting Plastics, the U.S. Pavilion will explore the world's complex relationship to plastic at the 18th Venice Architecture Biennale.
The Venice Architecture Biennale 2023 will take place from Saturday 20 May to Sunday 26 November, 2023 at the Arsenale and Giardini venues in Italy.
The theme of the 18th Venice Architecture Biennale is The Laboratory of the Future curated by Lesley Lokko.
Curators Tizziana Baldenebro and Lauren Leving. Image © McKinley Wiley
The exhibition space of the U.S. Pavilion is curated by co-curators Tizziana Baldenebro, Cleveland-based galley SPACES' Executive Director, and Lauren Leving, Curator at the Museum of Contemporary Art Cleveland.
The Everlasting Plastics exhibition will provide a platform for artists and designers to engage audiences in reframing the overabundance of plastic detritus in our waterways, landfills, and streets as a rich resource.
The exhibition will be on view May 20 through November 26, 2023 in the U.S. Pavilion in Giardini.
2023, compressed polystyrene foam, courtesy artist/Ang Li
"Inherent to art and architecture is the aesthetic and materiality of form. Everlasting Plastics bridges this divide by drawing on the power of looking to serve as an entry point for reconsidering our relationships to material worlds," said Baldenebro.
"As the climate crisis becomes a tangible reality, our daily objects must be agents of change."
"This exhibition extends SPACES' commitment to supporting artistic experimentation by bringing together a range of practices that are examining, salvaging, and upending a global calamity," Baldenebro said.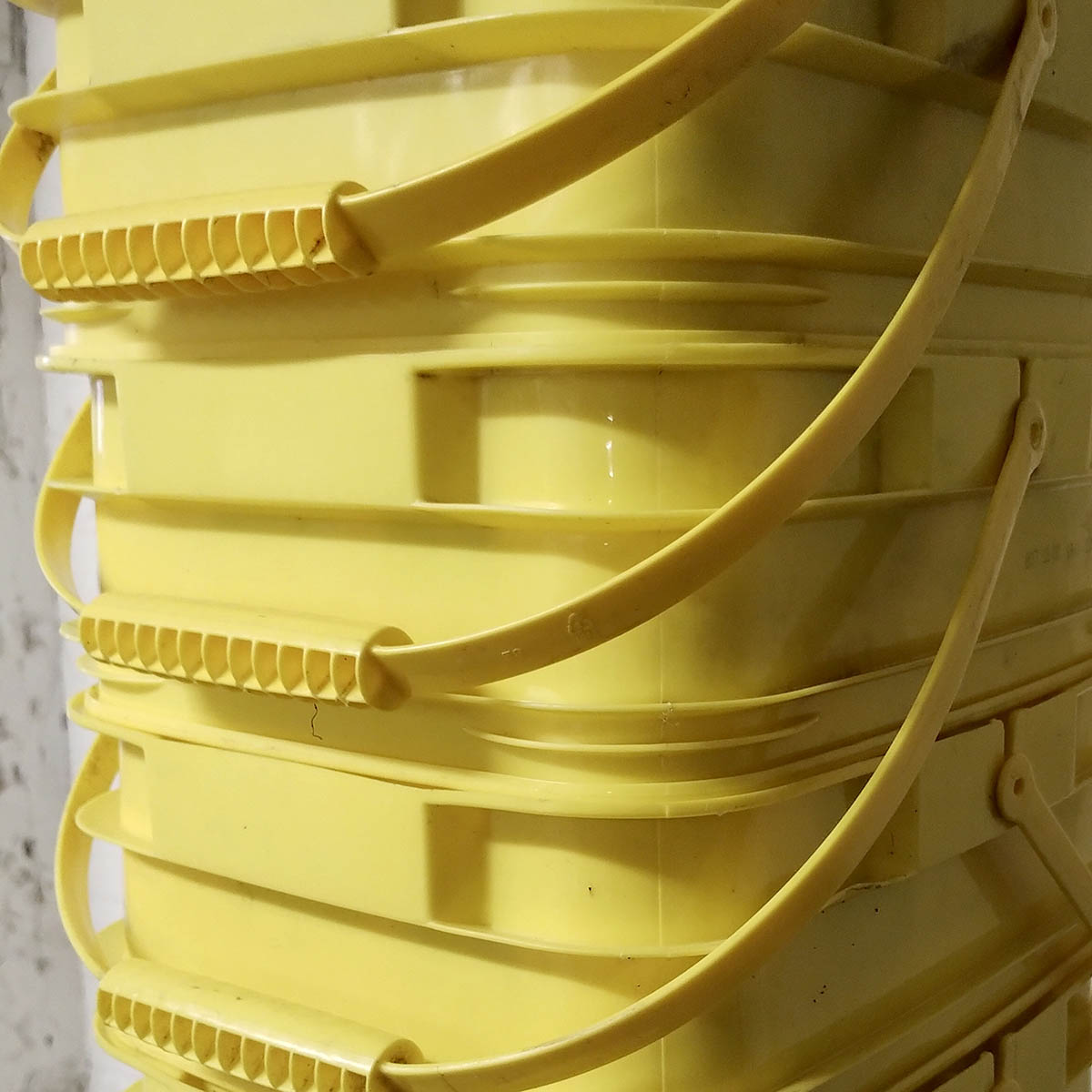 Yellow Tower, 2023, found object sculpture, 46x46x240 cm, courtesy artist/Lauren Yeager
The exhibition will feature five artists and designers: Xavi Aguirre, Massachusetts Institute of Technology Assistant Professor of Architecture, Detroit-based designer Simon Anton, Ang Li, Northeastern University School of Architecture Assistant Professor, Norman Teague, University of Illinois at Chicago Assistant Professor in the School of Design, and Cleveland-based sculptor Lauren Yeager.
The artists will create site-specific works for the pavilion exploring plastic as a single, enduring material with infinite forms.
Everlasting Plastics invites a comprehensive discussion about the role of plastics that can both shape and erode contemporary ecologies, economies, and the built environment.
The discussion also suggests possible alternatives and necessary re-imaginings for the ways in which plastics are deployed.
2023, extruded recycled plastic, courtesy artist/Norman Teague
"From toys to camping coolers, plastic is deeply embedded in the culture of the United States, where polymers were perfected and exported," said Leving.
"Our toxic chemical relationship with the material is now a global phenomenon, requiring new approaches for addressing a widespread dependency around the world," Leving added.
After the Federal Reserve, 2023, plastic and steel, courtesy artist/Simon Anton
The curators are expanding the ways of discussions about this materials, and they developed with other partnerships such as Case Western Reserve University in Cleveland, Ohio, Venice Lagoon Plastic Free and other organizations.
The partnerships will be the source of transnational programming, aiming to expand dialogue and action around the future of plastics.
The exhibition will also be accompanied with lecture series, student courses, and workshops that will draw parallels between Ohio's largest industries, and the plastic waste accumulating on the banks of the Venetian Lagoon, connecting communities most affected by plastic production, pollution, and environmental mismanagement.
2023, multi-channel film installation, courtesy artist/Xavi Aguirre
Other pavilions also announce their themes and details for the 2023 Venice Architecture Biennale, such as Gabriela De Matos and Paulo Tavares were announced as the curators of the Brazilian Pavilion, the Danish Pavilion will explore Coastal Imaginaries curated by Josephine Michau, Turkey Pavilion, curated by SO? co-founders Sevince Bayrak and Oral Göktaş, will investigate Ghost Stories: Carrier Bag Theory of Architecture at this year's exhibition.
Top image © Italo Rondinella, courtesy of La Biennale di Venezia.
> via The U.S. Pavilion