CRA and Italo Rota turn an 18th-century hospital complex into a cultural hub with kinetic roof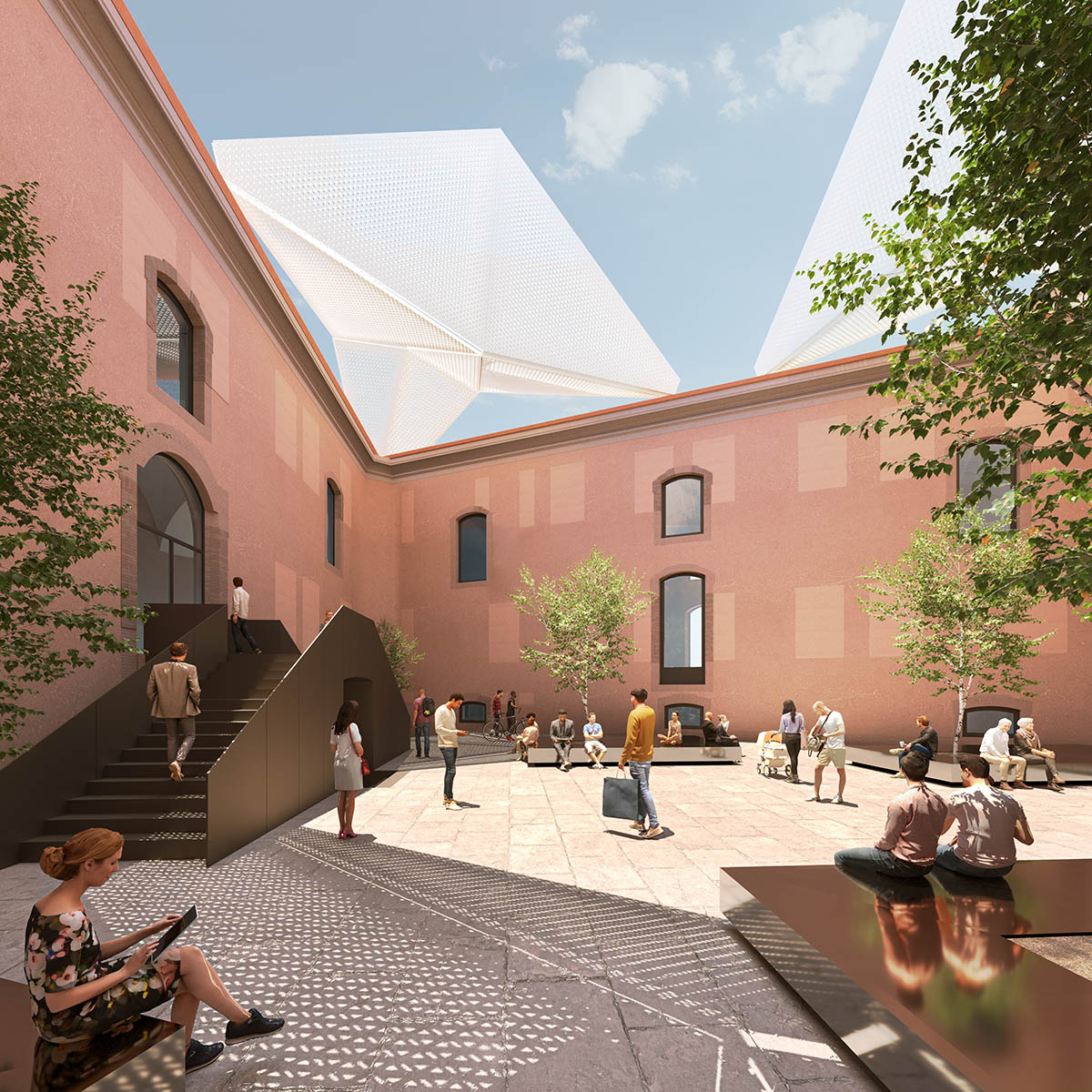 International design and innovation studio Carlo Ratti Associati and Italo Rota have revealed plans to transform an 18th-century hospital complex into a multidisciplinary cultural hub in Modena, Italy.
The project is set to be built as part of a masterplan, called AGO Modena Fabbriche Culturali.
The team adds a kinetic roof designed with artist-engineer Chuck Hoberman, to the plaza of the roof of the hospital as part of a broader, progressive vision for the restoration of historical buildings.
A venerable former hospital complex in Modena will gain a new identity and be turned into one of the country's major cultural and innovation hubs.
Image © CRA-Carlo Ratti Associati, chimney courtyard
In the heart of the complex, a triangular-shaped plaza is topped with an origami-like movable roof, conceived of by CRA and artist-engineer Chuck Hoberman.
The restoration project proposes extensive flexibility so that the building can adapt changing demands and configurations in future.
Image © CRA-Carlo Ratti Associati, garden terrace
Encompassing a total of 20,000 square-meter (210,000 square-foot), the design team pursues an experimental design approach, combining the practice of architectural conservation with the dynamic qualities of kinetic architecture, which are commonly employed in temporary installations.
"This is best characterized by one of AGO's main courtyards, where a kinetic roof creates a multitude of spatial experiences," said CRA.
The structure is a lightweight and foldable and it opens and closes easily like origami, transforming this long-neglected courtyard into a social space adaptable to various climatic conditions and functions.
Image © CRA-Carlo Ratti Associati, manica lunga
The new structure will be covered with photovoltaic panels to harvest solar energy to help power the complex.
The roof structure is created in collaboration with CRA and Hoberman, one of the world's leading experts in dynamic structure design and a former collaborator with NASA, the American space agency.
"Cultural places should be thought of as dynamic, capable of incorporating change over time," said Carlo Ratti, founding partner of CRA and director of the MIT Senseable City Lab.
"The changing nature of the built environment enables, in turn, a participatory approach to activate cultural production. AGO's architecture sets up flexible, reconfigurable spaces where past and future complement each other," Ratti added.
Image © CRA-Carlo Ratti Associati
Historical and contemporary elements are maintained in other parts of the complex. Through the impressive "Tenaglie" corridors – whose name derives from their distinctive pincer-like vaults – visitors arrive at the chimney courtyard.
Here, another kinetic installation leads people to a new rooftop terrace, now transformed into a garden where one can enjoy a bird's eye view of Modena's old house roofs and church domes.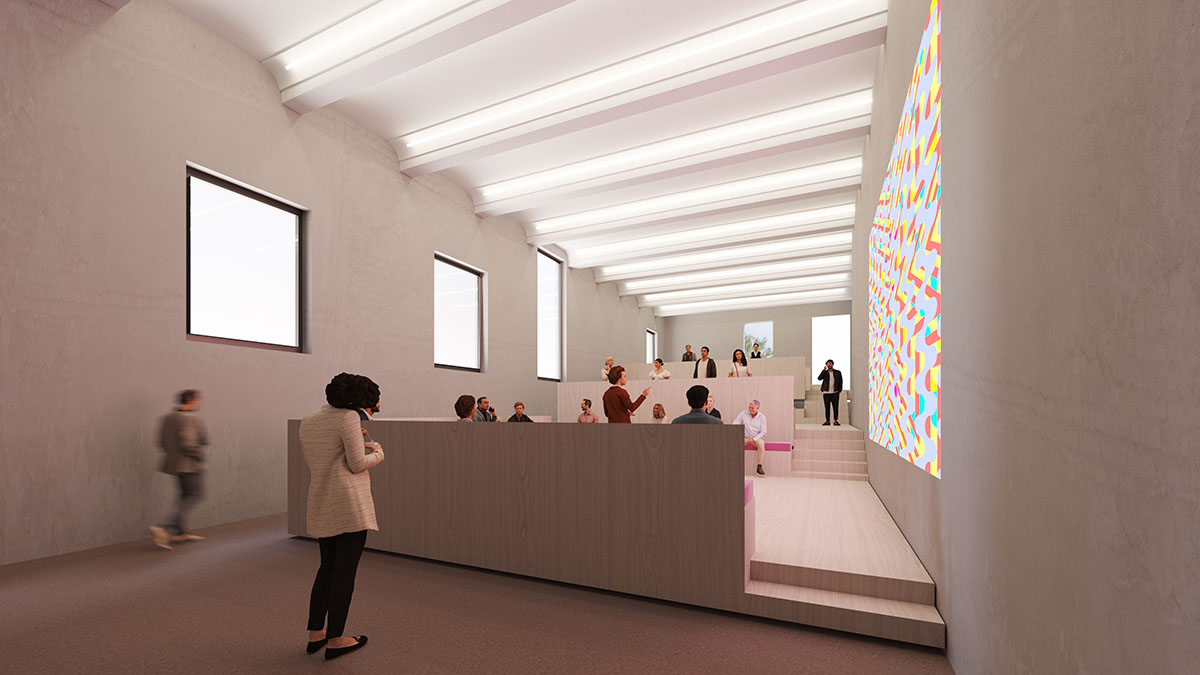 Image © CRA-Carlo Ratti Associati
"When we took a close look at AGO's past, we discovered a panoply of histories, characters, and functions," architect Italo Rota said.
"Because the complex had so many pasts, we thought our design should allow it to embody a multiplicity of futures. AGO Modena is the perfect embodiment of this approach as it brings together museums, training and co-working space under the same roof," Rota added.
The AGO site is located at the entrance to Modena's medieval city center, whose monuments are part of the UNESCO World Heritage list.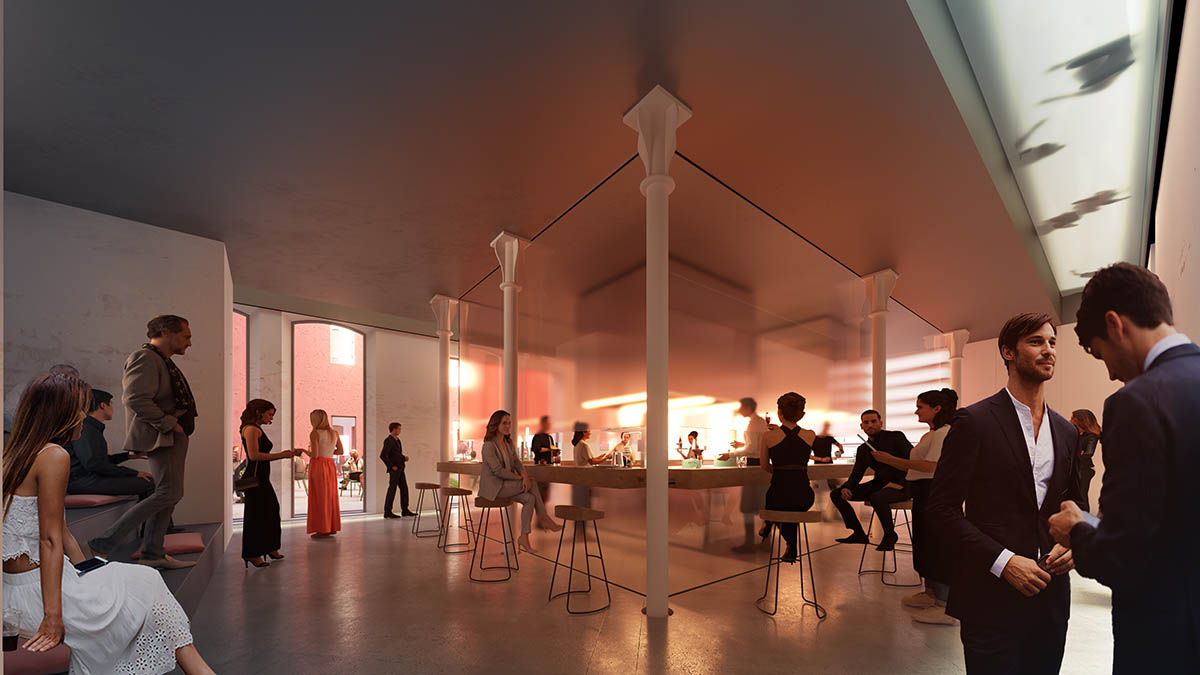 Image © CRA-Carlo Ratti Associati
The immense hospital complex was built in the mid-18th century, with a sense of simplicity that hints at its function as the local Sant'Agostino Hospital. A previous, unrealized restoration was developed by architect Gae Aulenti in 2012.
CRA stated that once completed, AGO Modena will become a location that unites various institutions in visual arts, digital culture and educational experimentation.
Image © CRA-Carlo Ratti Associati
Established by the City of Modena, Fondazione di Modena and the University of Modena and Reggio Emilia, AGO will host numerous entities across many disciplines, including the Modena Visual Arts Foundation, the Museo della Figurina dedicated to collectible cards, and the Interdepartmental Research Center on Digital Humanities.
AGO Modena exemplifies CRA's experimentation in delivering innovative design solutions to the challenges of restoring high-valued buildings.
Image © CRA-Carlo Ratti Associati
Image © CRA-Carlo Ratti Associati
Image © CRA-Carlo Ratti Associati
Image © CRA-Carlo Ratti Associati
Image © CRA-Carlo Ratti Associati
Image © CRA-Carlo Ratti Associati
Video by Brick Visual, courtesy of CRA
CRA is part of a pan-European design collective EUROPARC who was selected to renew the Paul-Henri Spaak Building in Brussels, Belgium.
Previously, the studio has designed the Agnelli Foundation Headquarters in Turin and MEET Digital Cultural Center in Milan, both converted from longstanding local landmarks.
Project facts
AGO Modena Fabbriche Culturali
A project by CRA-Carlo Ratti Associati and Italo Rota
CRA Team: Carlo Ratti, Andrea Cassi (partner in charge), Francesco Strocchio (project manager), Valentina Grasso (preliminary phases project manager), Alba Leon Alvarez, Lorenzo Anghinoni, Iratxe De Dios, Serena Giardina, Giulia Lodetti, Eugenia Macchia, Nicolette Marzovilla, Giovanni Trogu, Gizem Veral, Jelena Krco, Matteo Zerbi, Gary Di Silvio, Pasquale Millieri, Gianluca Zimbardi
Italo Rota Building Office Team: Italo Rota, Francesca Grassi
Kinetic roof: Hoberman Associates (Chuck Hoberman, Matthew Davis)
Kinetic roof structure: INGEMBP (Corrado Curti)
Restoration: Studio Associato Architetti Francesco Doglioni e Renata Daminato (Francesco Doglioni)
Structural, mechanical and electrical engineering and safety: Politecnica (Luciano Gasparini, Giorgio Poggi, Francesco Micheletti, Ferdinando Sarno, Francesco Frassineti, Claudio Pongolini, Ilaria Mazzi, Claudia Zironi, Giovanni Gamberini, Giuliana Bellei, Francesca Ficarra, Massimo Trento, Tania Costantini, Sergio Boccaletti, Emanuela Gosti)
Landscape: Studio Laura Gatti (Laura Gatti, Marco Peterle)
Acoustics: Vibes (Alessia Griginis, Sabrina Canale)
Fire prevention: GAE Engineering (Giuseppe Amaro, Valentina Crimì)
Lighting: Light Follows Behaviour (Elettra Bordonaro, Argun Paragamyan)
Cost consultant: Marco Figazzolo
Top image © CRA-Carlo Ratti Associati.
> via Carlo Ratti Associati
Carlo Ratti Associati concept hospital Italo Rota transformation