Ennead Architects wins competition to design new Wuxi Art Museum in eastern China
Internationally renowned architecture firm Ennead Architects has won a competition to design the Wuxi Art Museum in the historic port city of Wuxi, China.
Designed as a new center of art and culture in eastern China, the Wuxi Museum and Art Park builds takes cues from the Chinese garden tradition whose legacy has long been part of the region.
Located within Shangxianhe Wetland Park, the museum's site design and architectural form closely connect and integrate the museum experience with the natural environment.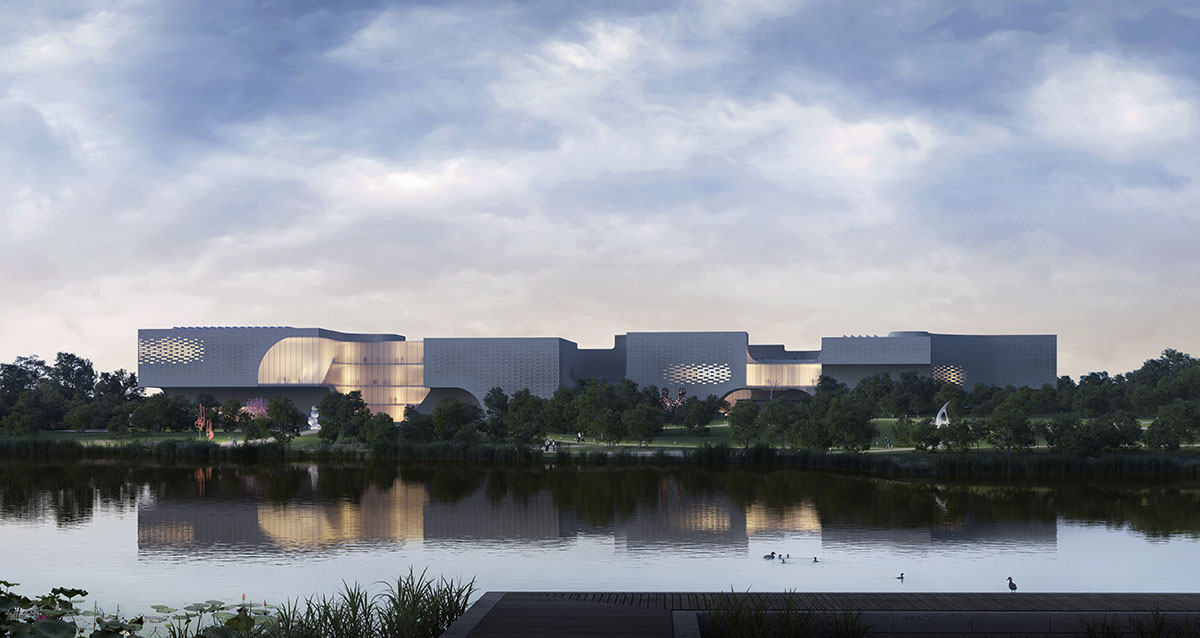 East Observation Deck (Day). Image © Brick Visual, courtesy of Ennead Architects
Ennead Architects envisions the architecture of the Wuxi Art Museum as "a metaphorical Taihu Scholar Stone" to be a contemplative and intricate spatial structure that "invites one's spirit in, but also sits quietly as a meditative object amidst the broader natural context."
"Our vision for the Wuxi Art Museum is to set it in a larger overall composition, highlighting views in and out of the museum through subtractive carves and recesses while emulating the natural erosion of spirit stones," said designer Thomas J. Wong, Partner at Ennead Architects.
"The garden metaphor inspires not only a formal proposition but an experiential one, providing an evolving journey of art and nature through a carefully composed choreography that reveals something new with each step," Wong added.
Main entry. Image © Brick Visual, courtesy of Ennead Architects
Acclaimed landscape architecture firm West 8 is responsible for the design of the landscape that aims to create an integrated relationship between the surrounding landscape and architecture, utilizing a rich composition of solid and void.
Ennead Architects creates carved voids from the museum massing to form distinct outdoor realms. Thanks to these carved openings, they create an intimate relationship, intertwining framed views of outdoor art exhibits set within composed natural scenes. A curated path created by West 8 meanders through a series of gardens, courtyards, and plazas with open lawns and playscapes.
Northwest Aerial View. Image © Brick Visual, courtesy of Ennead Architects
The team designs a flexible green space for an outdoor amphitheater that allows visitors to enjoy art projections, movie screenings and performances.
This sequence are created to showcase signature sculptures and art installations which will offer an immersive experience of discovery.
"Interlocked and intertwined with the porous museum experience of courtyards, galleries, thresholds and open-air ceilings and terraces, the architecture and the landscape share a language that extends the experience of the museum from the inside-out," said Daniel Vasini, Creative Director at West 8.
"Inspired by Wuxi's wetland ecology and regional tradition of water management and canals, we asked ourselves, how can we bring human experience to this rich heritage and embed the museum back within the context? As the landscape and architecture symbiotically expand and contract, the sequence of experiences invites the visitor to explore, and to be immersed within a layered system of sculpture gardens," Vasini added.
Public Passageway. Image © Brick Visual, courtesy of Ennead Architects
Upon entering main entry, visitors are welcomed with an embracing civic plaza which doubles as an exhibit opportunity for public art.
A central court, serving as a reference point for the museum, is filled with a lily-filled waterscape for reflection and tranquility. It is also visible from adjacent programs or footbridges crisscrossing at the upper galleries.
Like the outdoor Art Park, the interior design of the Wuxi Museum is also conceived to propose varied sequence of infinite possibilities.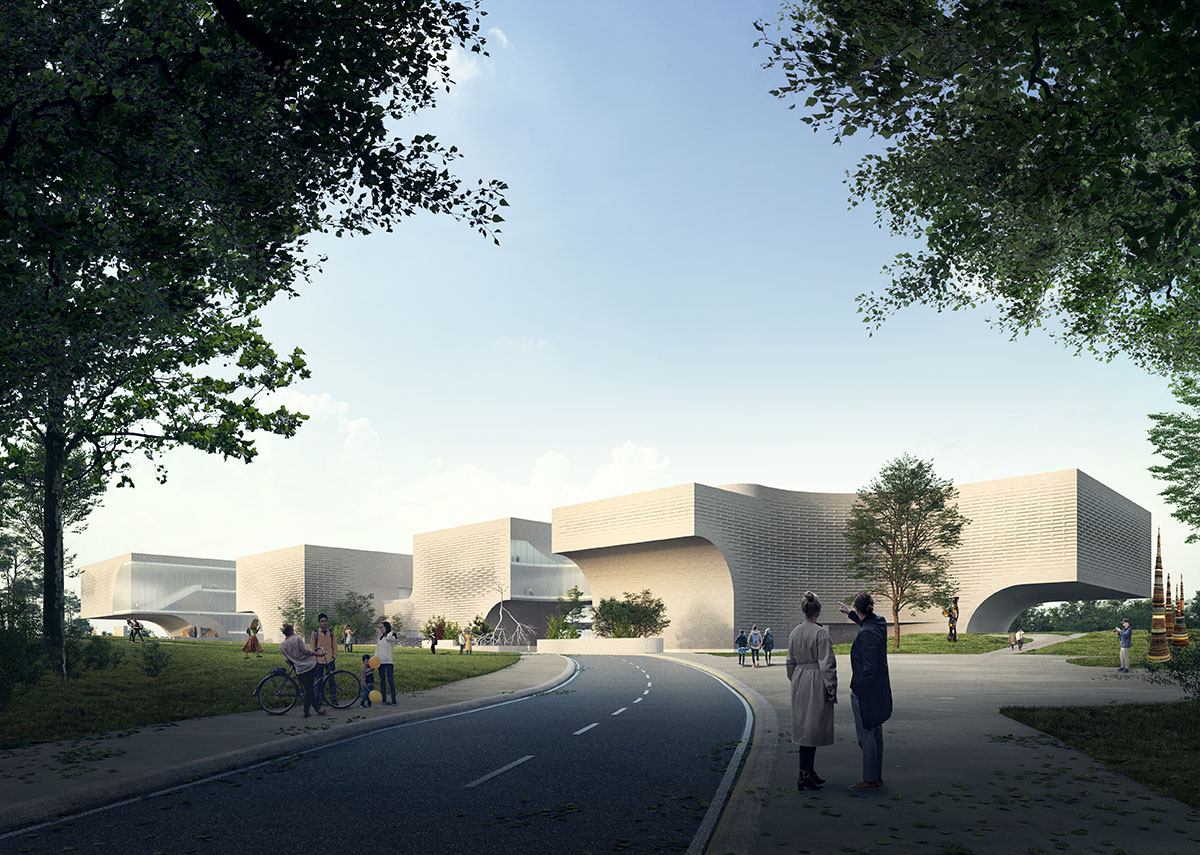 View from Shangxian East Road. Image © Brick Visual, courtesy of Ennead Architects
Visitors are invited to find their own unique path through the museum – from the strategic integration of art to the ever-changing views out to the landscape; from the carefully illuminated and flexible gallery spaces to the anchor of the central courtyard space; and from the amenity spaces, which extend activity from indoors to outdoors, to the upper-level terraces that offer an expansive view over the Art Park.
Various types of lighting are expected to contribute to the experience within the interior. A unique facade perforation and texture introduce light and highlight the shaping of the limestone facade.
While perforations in the stone facade provide filtered light into the museum, and when combined with the slightly translucent moments of the glass curtain wall, the two types of openings create a presence that transforms from day to night. Additionally, the soft glow of the museum interior provides a subtle glimpse of the activity happening within.
Arch and landscape overlay. Image © West 8
A textured expression is created by the articulated facade during the day, while also adding an intriguing interchange of smooth surfaces and of rough, porous areas.
"The perforated stone further links the architecture to the concept of the intricate spirit stones, where holes and crevices provide a level of interest and entrancement to the viewer," said Ennead Architects.
Front view Vignette. Image © Ennead Architects
Site plan. Image © West 8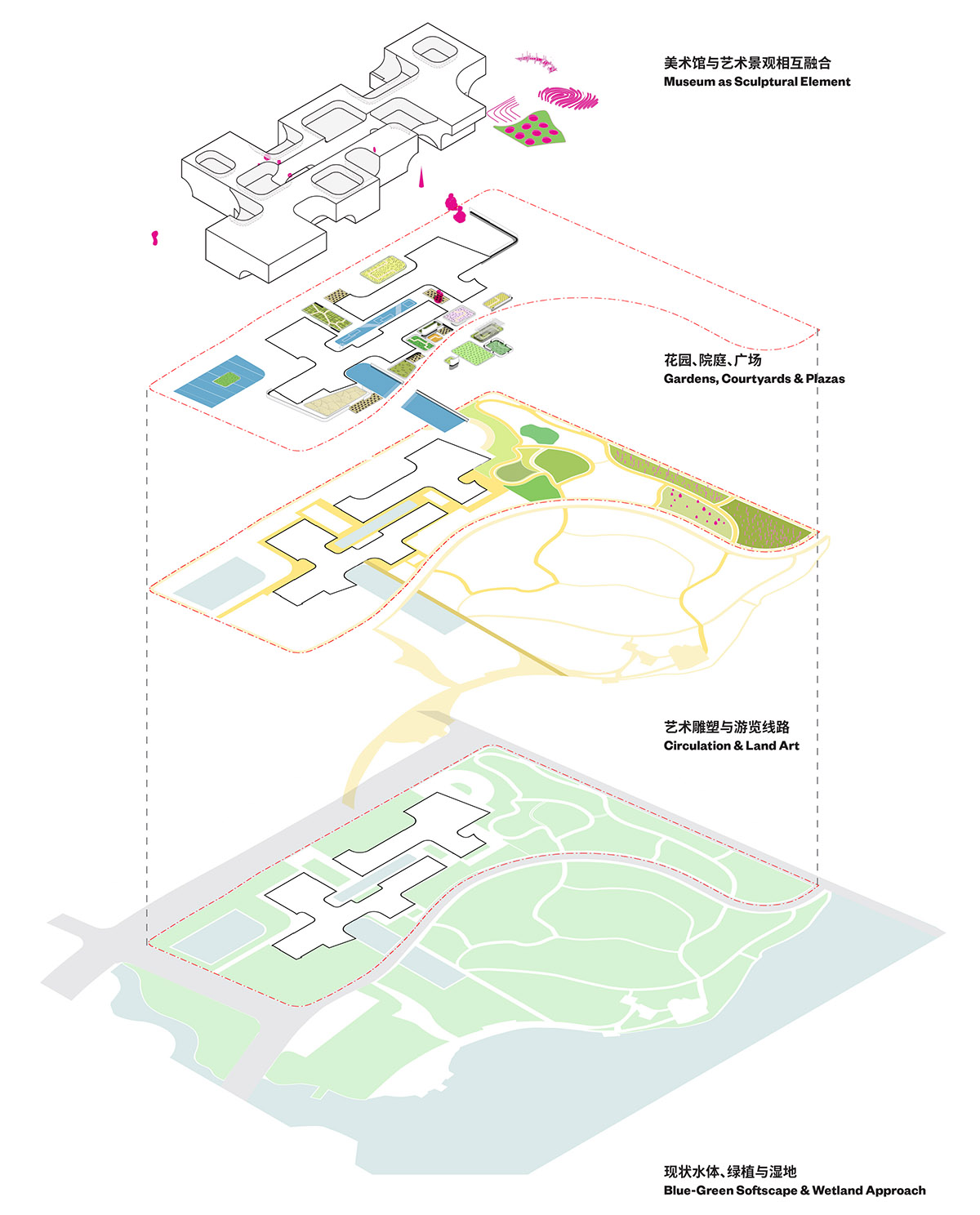 Site components. Image © West 8
Section. Image © Ennead Architects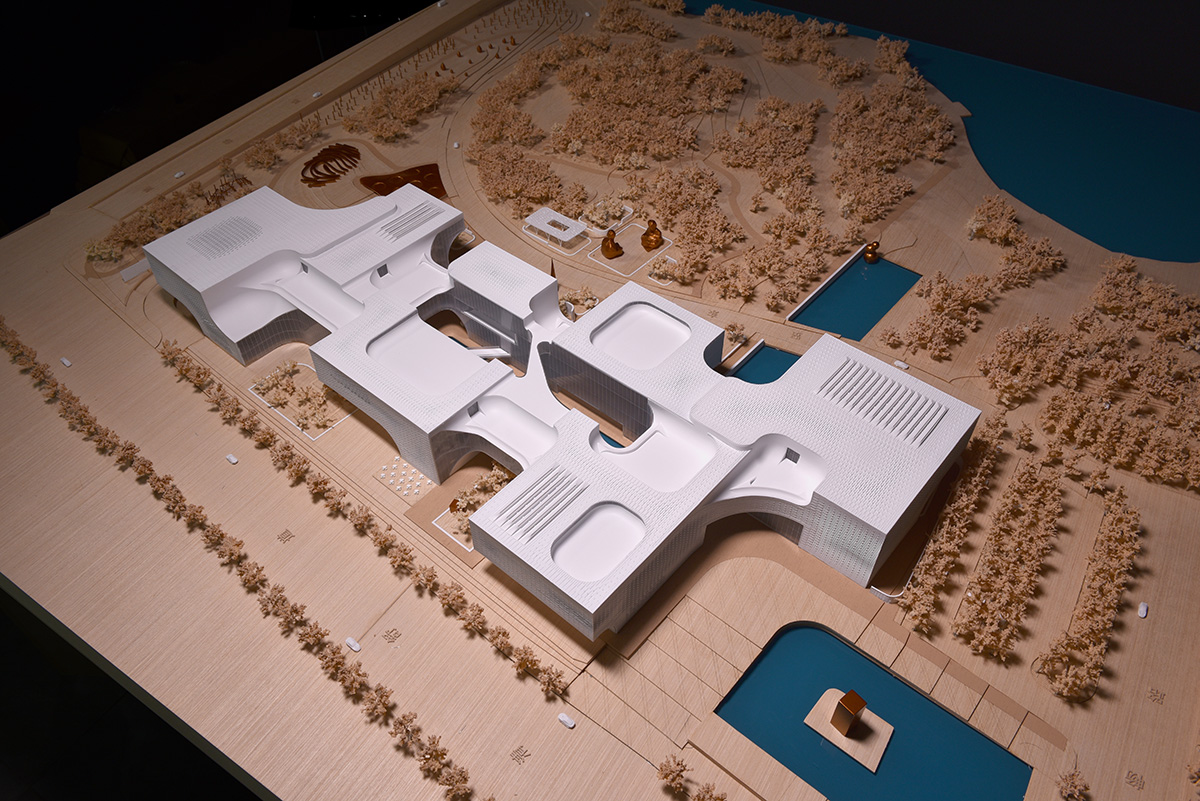 Aerial view of model. Image © Ennead Architects
Model. Image © Ennead Architects
Ennead Architects was established in Shanghai in 2014 and has been active in Asia for many years, where the firm's deep experience and commitment to public space have yielded transformative buildings with incredible public impact.
The firm is also designing a new Shanghai Lingang Special Area Masterplan, which will be a new hub for global commerce. The firm is currently working on the new International Performance Center in Shenzhen, China.
Top image: East Observation Deck (Dusk). Image © Brick Visual, courtesy of Ennead Architects.
> via Ennead Architects