Ennead Architects designs Shenzhen's new International Performance Center with two golden shells
New York-based architecture practice Ennead Architects has won a three-staged open competition to design the new International Performance Center in Shenzhen, China.
The new project is aimed to be part of a major cultural development to further cement the city as a world-class metropolitan destination.
Featuring two golden shells on the undulating roof of the building, the building opens up itself with a full height glass lobby on the ground level to provide an unobstructed visual connection to the city and parks around.
One of the golden shells is planed to house the Dream Theater, while the other will function as the Star Concert Hall accommodating up to 800 seating capacity.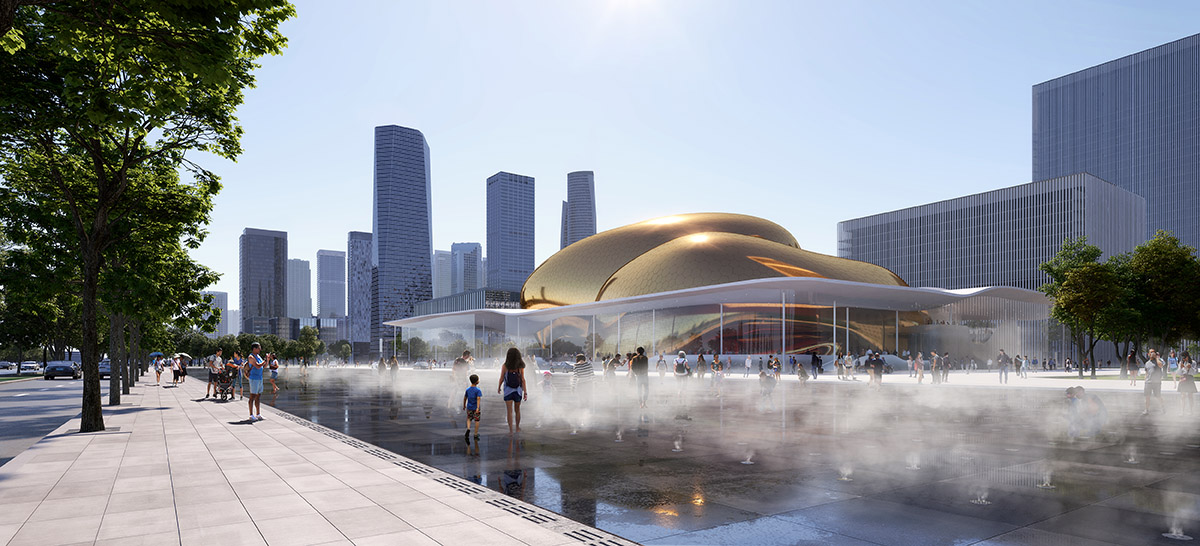 Image © Plomp
The project is located in the Futian District in downtown Shenzhen, Ennead Architects' new International Performance Center will be one of three new co-located public cultural buildings, along with the Shenzhen Reform and Opening-up Exhibition Hall and Shenzhen Finance Culture Center, part of a large masterplan that will mark a significant cultural addition to one of the world's leading technology capitals.
Referred to as "The People's Performing Arts Center," the project will serve the global arts community and the citizens of Shenzhen alike, reimagining the possibilities of immersive performing arts experiences.
Image © InPlace
"Shenzhen is a place of rapid transformation and incredible energy," said the project's designer Stephen P-D Chu AIA, Principal at Ennead Architects.
"When we conceived the design for this city, we wanted to create something emblematic of its vitality that is celebratory and welcoming – the two 'jewels' are both expressive of the creative power of performance, and reflective, engaging with the civic life outside," P-D Chu added.
Ennead's winning submission emphasizes the intersection of creativity and technology that is both gesturally artistic and technically precise.
Image © Plomp
Taking cues from the duality of Shenzhen's village past and urban future, the architects created two richly textured, golden egg-like shells that create a dynamic building, the skin of these two golden volumes changes with the time of day and season.
The Center is wrapped by a full height glass lobby providing an unobstructed visual connection to its surrounding. Seated within the multilevel atrium, the two golden shells will serve as the Dream Theater and the Star Concert Hall.
Image © Plomp
The Center will consist of various flexible practice rooms, rehearsal spaces, dressing rooms, and scene shops as well as a variety of public amenities including a restaurant and an exhibition space.
"Weaving seamlessly into the city fabric, the Center is meant to be a civic destination that will link to a new subway station hub and a network of underground commercial shopping and amenities," said Ennead Architects.
For instance, the Star Concert Hall creates a seamless integration of architecture, technology, and the highest standards of acoustics. Thanks to its oval shape, the vineyard style hall will have a stage that can fit a full-sized orchestra and seating for around 800 people.
Image © InPlace
The Dream Theater, accommodating up to 1,600 seating capacity, will be a state-of-the-art performance venue where the world's top performers. People will be able to enjoy an all-encompassing experience in sound, light, and projection.
Additionally, generous performer accommodations and technical spaces will give the Center the flexibility to become a producing theater company and a home for a future Shenzhen orchestra.
As Ennead Architects highlights, "this project marks another milestone for Ennead in China, where the firm's deep experience and commitment to public space have yielded transformative buildings with incredible public impact."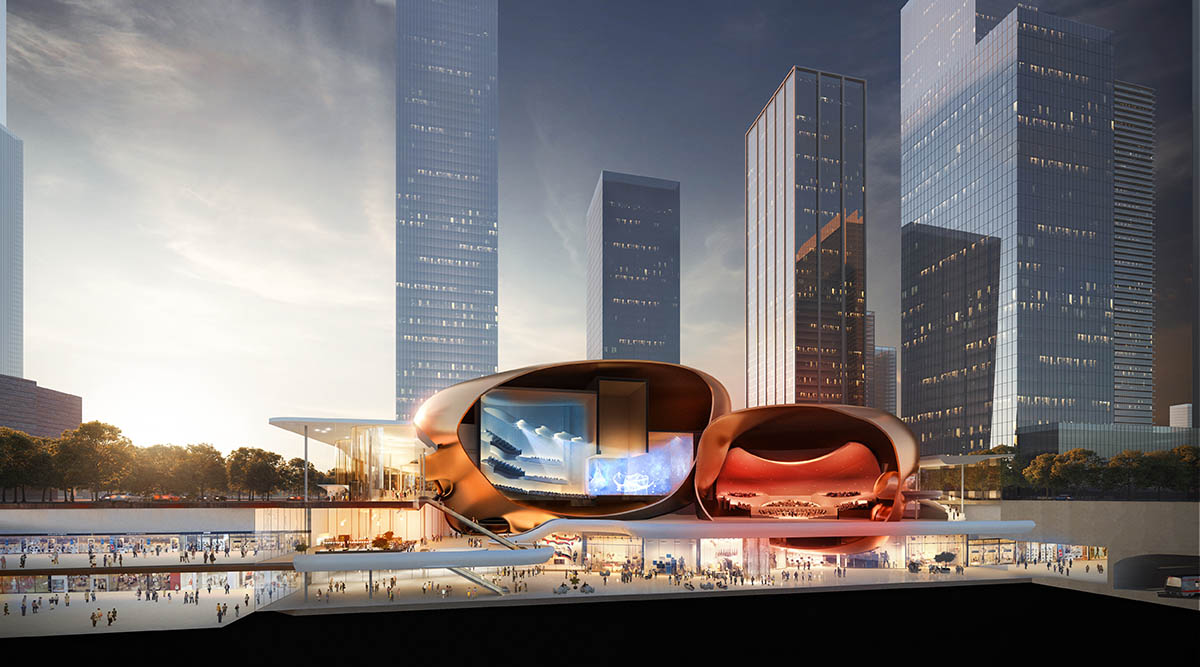 Image © InPlace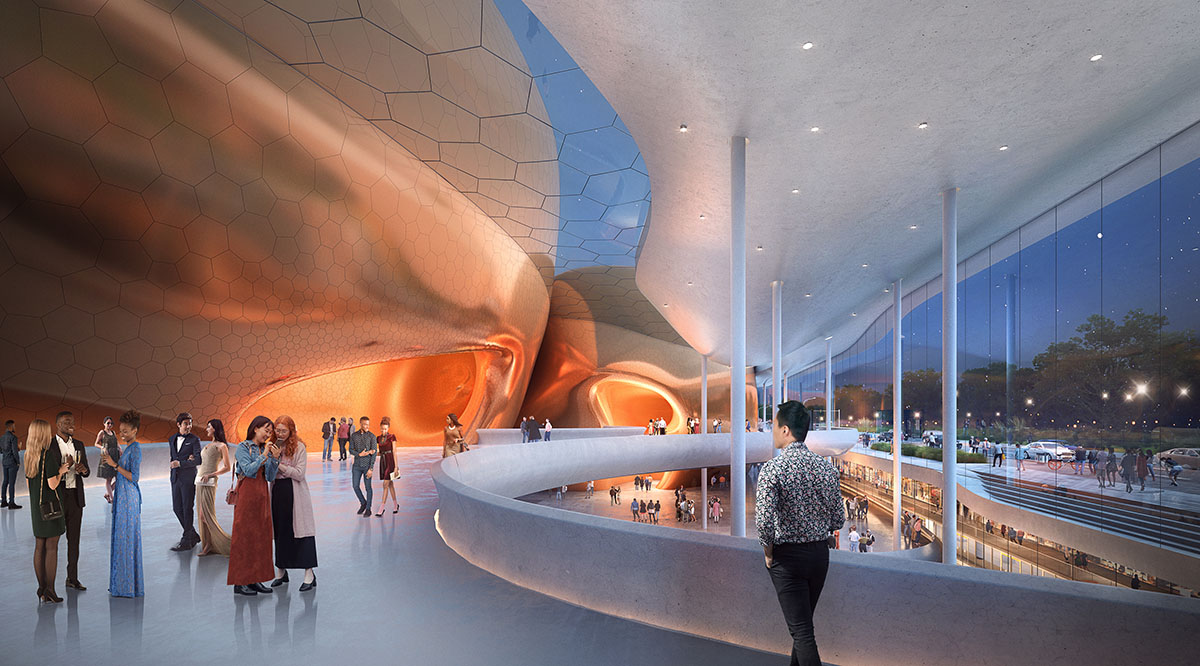 Image © InPlace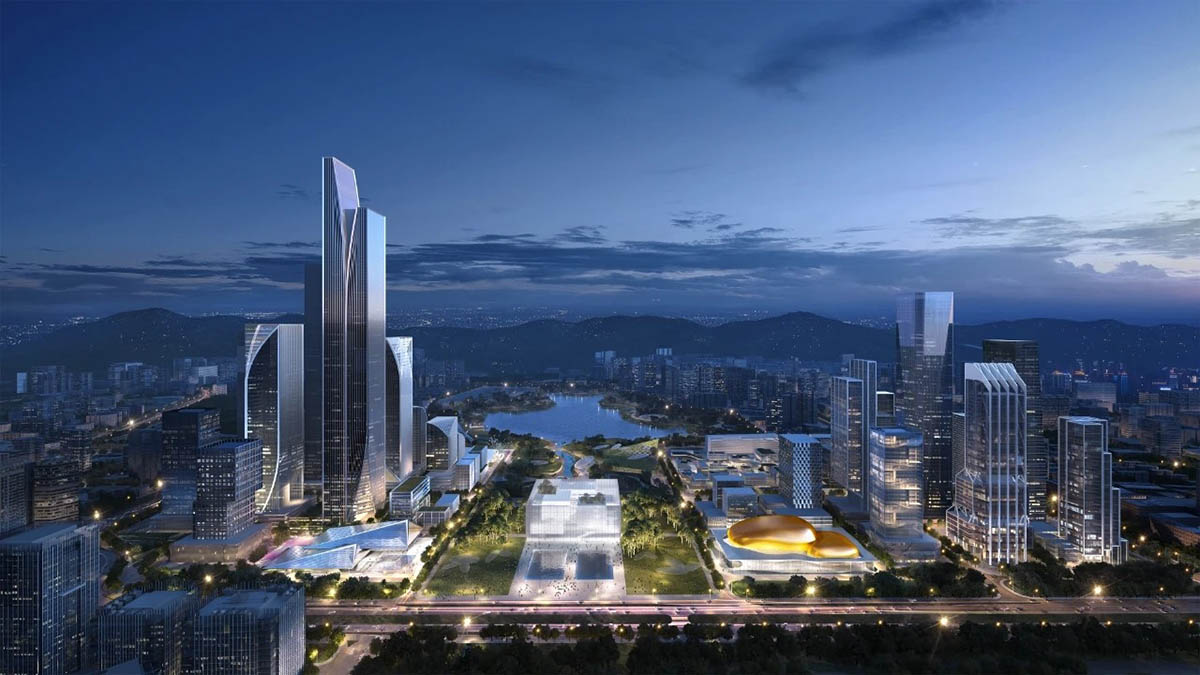 Image © Ennead Architects
Image © Ennead Architects
Since the opening of the Shanghai office in 2014, Ennead's work in China spans ground-up new construction of hi-tech and commercial office complexes, to adaptive re-use of existing historic and industrial buildings, to major cultural projects, with a total of more than 2.4 million square meters of building area.
Ennead Architects has designed many acclaimed projects in China, including the Huawei Wuhan Research and Development Campus and the highly anticipated Shanghai Astronomy Museum, opening this year.
Top image © Plomp
> via Ennead Architects