FORMA envisions a beachfront home with tubular volumes raised on slender stilts in Miami
New York-based practice FORMA has envisioned a beachfront house featuring tubular volumes raised on slender stilts in Miami, United States.
Called Miami House, the 144-square-metre house, conceived as a new waterfront home, has recently won the 2022 Best Future House of the Year award by The Chicago Athenaeum and Global Design News.
The award recognises a "vision to present pioneering architectural projects that define the present and shape the future of residential design globally."
Miami House represents FORMA's first major award for private residential design on environmentally sensitive and vulnerable sites.
Besides FORMA's Miami House, projects by Barcelona-based studio Peris+Toral Arquitectes, San Antonio-based firm Lake | Flato Architects and New York -based Karim Rashid were awarded for The Future House of the Year.
"We're deeply honored to be recognized for this award among a field of so many talented and accomplished architects around the world," said FORMA.
"As we emerge from the pandemic our conception of domestic living and working has inexorably shifted."
"The demand for flexibility and the desire to live 'where we want' rather than where our jobs are located has led to new forms of living and co-living."
"These new predilections when combined with the continued looming presence of rising sea levels make Miami House more relevant than ever," FORMA added.
The house was designed for a group of independent individuals who had pooled their resources to build a collective beach house in Florida.
Envisioned as a breathtaking and innovative typology, the design of the home is described as a catalyst for collective encounters and proactive response to the environment. Pushing the boundaries of co-living in architecture, according to the architects, "this cohabitation requires reconsidering social structures typical in a single-family house."
The studio used leaf-shaped modules with rounded corners in which each volumes are placed symmetrically in juxtaposition. Each module offers an uninterrupted view to its surroundings, while the quadruple modules are separated by a central, open outdoor staircase that climbs in the form of a ramp.
"An important function of the project is to provide spaces that would be suitable for entertainment and thus the expansive roof deck is a natural starting point," said FORMA in a press statement.
"By elevating it to the top of the house, completely unobstructed views surround the occupiable roof which is complete with a small garden, dining area and pool."
FORMA lifts the entire structure from the ground to avoid rising sea levels and coastal erosion, and allow nature to run uninterrupted below. This also provides a minimum footprint in the environment.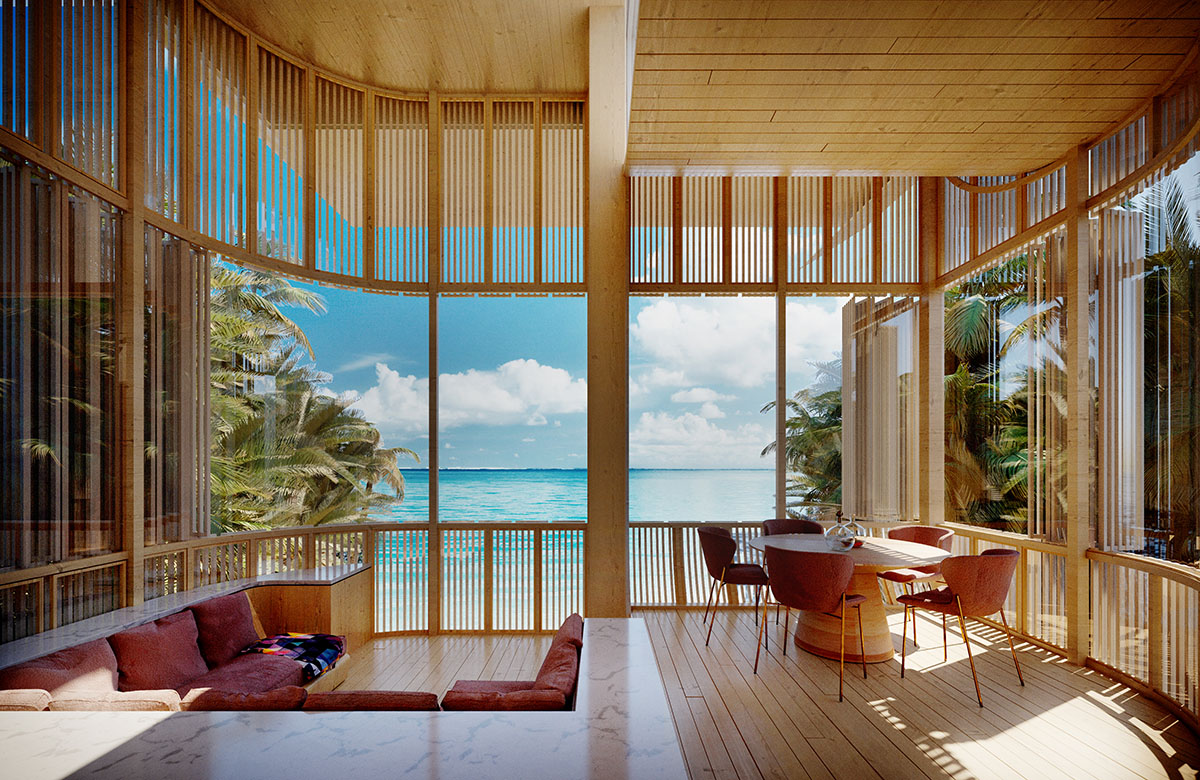 All housing volumes are suspended from the elevated roof plane and consists of compact bedrooms, generous bathrooms, and communal living and kitchen.
While a central unifying outdoor stair bifurcates the house into two clusters, the intimate bedroom spaces are arranged at the rear of the house and the social kitchen and living spaces are designed on the ocean side of the building.
Two sets of bedrooms on every level each share a generous bathroom and a terrace space, encouraging casual encounters between the inhabitants.
FORMA said "as more people live alone, reconceiving the notion of a 'family' in a single-family home type to include a group of non-related individuals with a shared value system expands the definition of a home to be more inclusive of our contemporary human associations."
Site plan
Floor plans
Section
Based in Brooklyn, FORMA was founded in 2018 by Miroslava Brooks and Daniel Markiewicz. The studio designs bold and challenging concepts that are out of stereotypes and norms.
Project facts
Role: FORMA Architects PLLC, Design Architect
Team: Daniel Markiewicz, Miroslava Brooks, Aaron Payne
Location: Miami, Florida, USA
Type: Private Residence; Coliving
Size: 1,550 square feet / 144 square meters
Timeline: Proposed 2019
All images © FORMA
> via FORMA