Construction details, opening date and programme announced for OMA's Factory International
Construction details, opening programme and date have been announced for a new cultural building designed by OMA in the heart of Manchester, United Kingdom.
Named Factory International, the new 13,350-square-metre ultra-flexible building is set to be opened to the public in June 2023 in Manchester.
The design, led by OMA Partner Ellen van Loon, is described as "an ultra-flexible building that will allow for multiple configurations and enable large-scale artistic work of invention and ambition that is not made anywhere else."
The building is located in Allied London's new St. John's neighbourhood, formerly home to Granada TV and next to the Science and Industry Museum.
Image © OMA
Designed to be "a world-class cultural space" in the heart of Manchester, the project was expected to be opened in December 2022 but it couldn't be completed until 2022. The project was previously listed in WAC's 10 hotly-anticipated buildings expected to be opened in 2022.
When complete, it will be OMA's first major public building completed in the United Kingdom.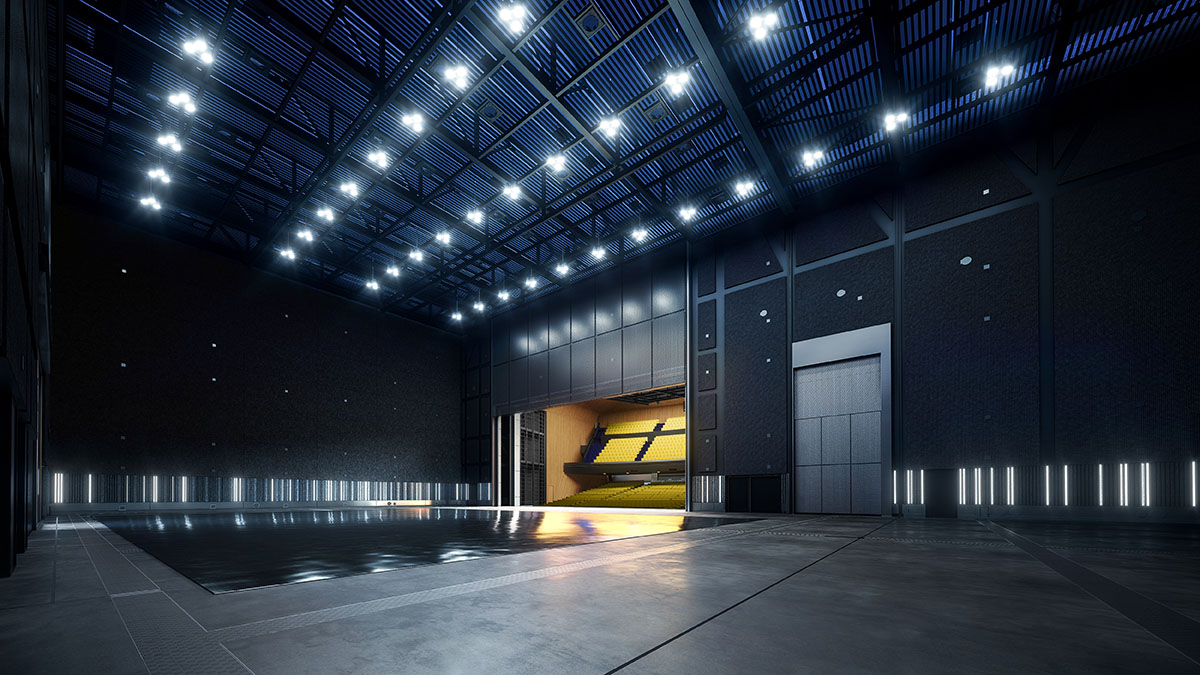 Rendering © Luxigon
The opening programme of Factory International will include high-profiled names such as choreographer Kenrick 'H2O' Sandy MBE, renowned composer Michael 'Mikey J' Asante MBE, world-leading designer Es Devlin, acclaimed writer Sabrina Mahfouz, as well as with a major exhibition in its main warehouse space by Yayoi Kusama who is known for her spectacular inflatable sculptures.
The opening programme will be operated by the team behind the world-famous Manchester International Festival (MIF) which will return across the city from 29 June to 16 July with a major exhibition, titled You, Me and the Balloons, in its main warehouse space by Yayoi Kusama.
Factory International is aimed to be a global destination for arts, music and culture, commissioning and presenting a year-round programme by leading artists from across the world.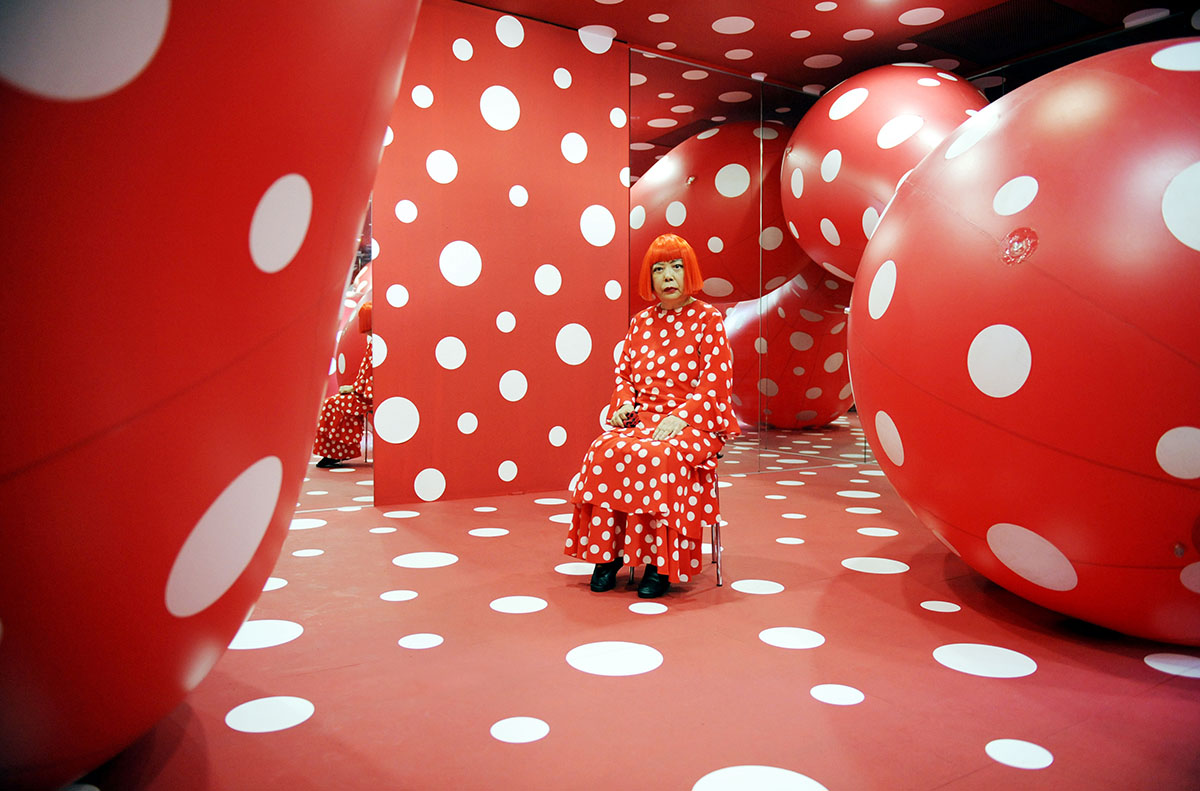 Yayoi Kusama and Dots Obsession, 1996-2011 Installation view, The Watari Museum of Contemporary Art, Tokyo. Image © YAYOI KUSAMA. Courtesy of Ota Fine Arts, Victoria Miro and David Zwirner
The project marks the largest investment in a national cultural project since the opening of Tate Modern in 2000, thanks to initial HM Government investment and backing from Manchester City Council and Arts Council England, as explained by Factory International.
The official opening production will be Free Your Mind, a large-scale immersive performance based on The Matrix films presented across the building's ultra-flexible spaces.
Yayoi Kusama's new exhibition, You, Me and the Balloons, featuring spectacular inflatable sculptures will be shown together for the first time.
Image © OMA
The exhibition will be created specially for Factory International by the renowned Japanese contemporary artist, and it will be the largest ever immersive environment, featuring works that are over 10 metres tall - including giant dolls, spectacular tendrilled landscapes and a vast constellation of polka-dot spheres.
You, Me and the Balloons will take place from 29 June – 28 August 2023 in the main warehouse of Factory International.
Audiences will be able to enjoy year-round, in a new world class facility, the broadest range of art forms from major exhibitions and concerts to intimate performances and immersive experiences - including over 80 gigs a year.
Outside, its public areas will house alive with pop-up performances, events and markets, creating a thriving riverside destination for audiences to enjoy.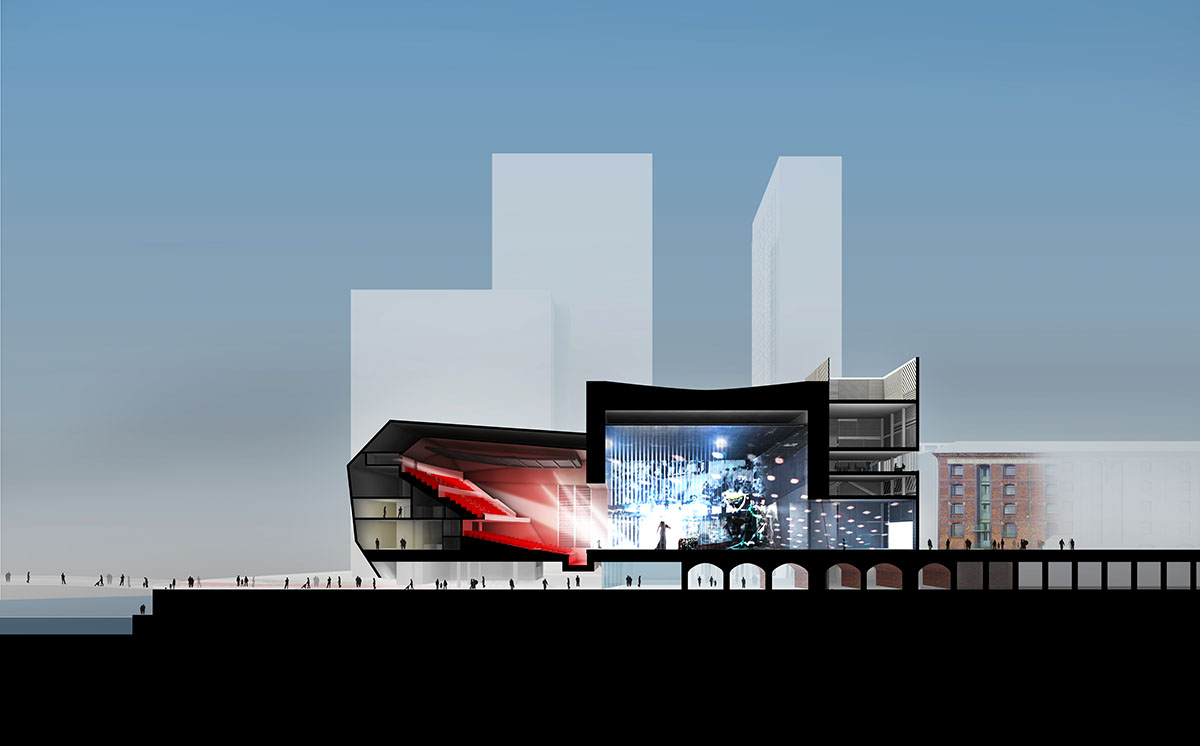 Image © OMA
"Factory International will be a new type of performance space"
"Factory International will be a new type of performance space – a unique crossover between a fixed theatre and flexible warehouse. Super-sized moveable walls enable endless configurations within a large space, allowing audiences unexpected vistas of performers," said Ellen van Loon, OMA Partner and Lead Architect of the project.
"I hope that whenever people come to Factory International they always experience something different, as if with each visit they encounter a different building," she added.
"I'm delighted to be part of Factory International as a starting point for a kind of identity that this extraordinary new building is going to have. It's a space that gives you an enormous amount of potential. It's wildly ambitious in terms of its scale. In my lifetime, to see a new space like this open is hugely empowering, and I hope the new generation of artists feel that power," said Danny Boyle, director.
Image © Pawel Paniczko. Factory International 2022, Manchester, UK. Commissioned by Factory International
Factory International will also stage the city-wide Manchester International Festival every other year at Factory International and at venues and spaces across Greater Manchester.
Driven by the same interests and ambitions that defines MIF, artists will be encouraged to create work in new ways, to collaborate across disciplines and blur the boundaries between art and popular culture.
Another key feature of the building is Factory Academy, which will be a major training centre for local people and will help people from all backgrounds to start new careers in the creative industries.
The building design is shaped around large, open, ultra-flexible spaces that can be constantly reconfigured depending on future demand that can occur.
The building includes a 21-meter-high warehouse with capacity for up to 5,000 people standing, which can also be divided by a movable, full-height acoustic wall, and a hall with a flexible stage which can house an audience of up to 1,600 seated or 2,000 standing, as well as other spaces inside and out.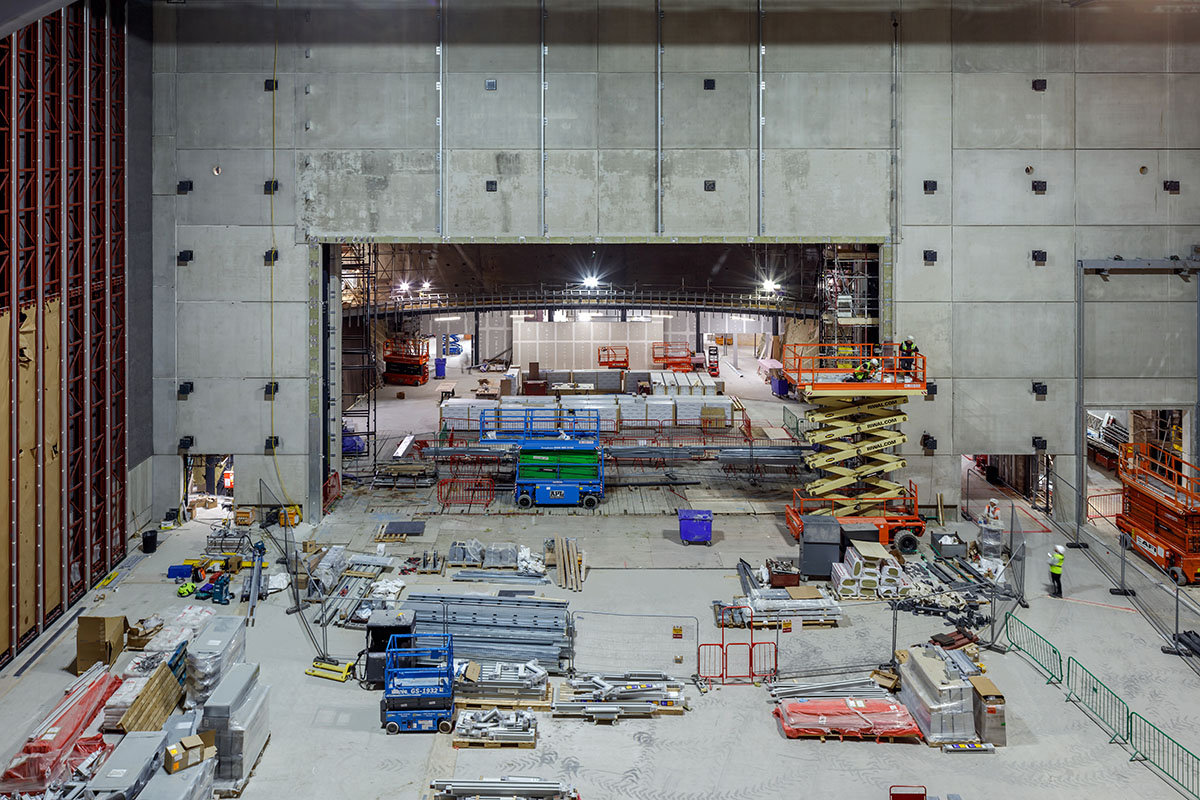 Image © Pawel Paniczko. Factory International 2022, Manchester, UK. Commissioned by Factory International
The warehouse and the hall can also work together, with the proscenium capable of opening fully into the warehouse and allowing the stage to run deeper into the building.
Its public spaces, from the foyers to its outdoor areas, will come alive with year-round activities such as family friendly workshops, pop-up food stalls, music, workshops and markets, many of them free, creating a thriving riverside destination for everyone to enjoy.
Factory International is also planning to collaborate with venues, festivals and companies across the world to commission artists together. Working with local, national and international partners and co-producers, it will produce and premiere major new work, before it travels globally, and share ideas, projects and training with peers worldwide.
"The possibilities of digital technology lies at the heart of the vision for Factory International, driving experimentation and innovation in its physical productions and enabling the creation of entirely new experiences for audiences through digital first works created within the virtual world," said Factory International in a press release.
"It will also engage audiences beyond its physical structures through broadcast and streaming of live and hybrid projects," reads a statement.
Defined as "a laboratory for experimentation and R&D", Factory International aims to set itself as a training ground for the next generation of creators.
In addition, Factory International will commission artists from Manchester and all over the world to make new work in physical and online realms, while talent development programmes such as the Factory Fellowships will see emerging artists placed alongside international creatives.
With its new building, Factory International intends to strengthen the city's status as a national and international centre for culture, creativity and innovation, as well as a major visitor destination.
Image © Pawel Paniczko. Factory International 2022, Manchester, UK. Commissioned by Factory International
"This remarkable new space, rooted in Manchester, will be a significant addition to the national and international arts landscape and a major visitor destination," said Councillor Bev Craig, Leader of Manchester City Council.
"Factory International will further strengthen the city's role as a centre for culture, creativity and innovation. It is already creating jobs and apprenticeships for people who live here and will be an important training centre for an array of creative careers."
"As well as changing lives directly, Factory International will provide a huge economic boost to Manchester, creating or supporting up to 1,500 jobs and adding £1.1 billion to the city's economy over a decade. This is, in more ways than one, a landmark moment," Craig added.
The development of Factory International is being led by Manchester City Council, with backing from HM Government and Arts Council England.
The project has secured a major capital gift of £2m from the Law Family Charitable Foundation and will be recognised through the naming of the hall. In addition, the Foundation has pledged £888k to support the Factory Academy.
The full list and details of opening programs can be found on Factory International's website.
Top image: Factory International rendering by OMA.
> via Factory International