DS+R and FXCollaborative create "syncopated silhouette" for Columbia Business School buildings
US architecture practice Diller Scofidio + Renfro in collaboration with FXCollaborative have completed a pair of buildings for Columbia University's School of Business on Columbia's Manhattanville campus in West Harlem.
The two buildings, called Henry R. Kravis Hall and David Geffen Hall, covering a total of 492,000-square-foot (45,708-square-metre) area, double the school's space and incorporate together offices, classrooms, and other facilities that previously were spread out across two buildings on the Morningside campus and rented offices elsewhere on the Upper West Side.
The new Henry R. Kravis Hall and David Geffen Hall are located on the University's 17-acre Manhattanville campus, which is also home to the Lenfest Center for the Arts, the Jerome L. Greene Science Center, and The Forum, all designed by Renzo Piano Building Workshop, as well as a public park designed by James Corner Field Operations.
Buildings facing each other reflect "the fast-paced, high-tech, and highly social character of business in the 21st century," according to DS+R.
Presenting a strong character, the architectural language of the buildings are derived from "dynamic interactions between the University's different populations", which results in "shuffling faculty floors with student floors" and is reflected on the façades of the buildings, creating "a syncopated silhouette."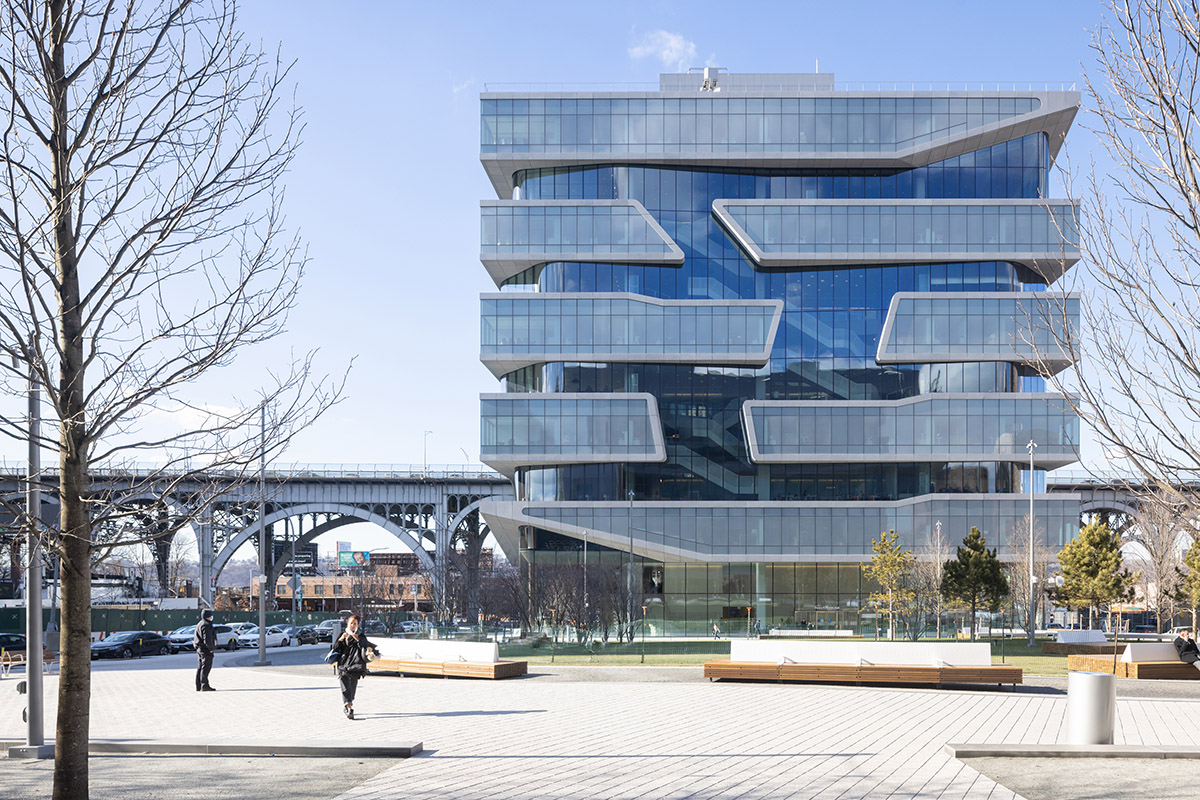 Kravis Hall is one of the buildings the Columbia Business School
"While the design of each of the CBS buildings is distinct, the two, like siblings, share a DNA unique to Columbia Business School," said Charles Renfro, Partner-in-Charge for Diller Scofidio + Renfro.
"Both set the stage for dynamic interactions between the University's different populations by shuffling faculty floors with student floors, made legible in each building's syncopated silhouette."
"Every classroom takes full advantage of being embedded in New York City's urban fabric with views of the surrounding neighborhood and campus as well as the George Washington Bridge and the Hudson River."
"A network of stairs and social spaces emerges from the ground floor, programmed with public spaces that welcome the community. These networks weave through both buildings in dialogue across The Square, animating each façade with the school's daily activities," Renfro added.
Geffen Hall, featuring protruding fully-glazed floors, is another building for the Columbia Business School
The design of both buildings are fostering creativity, innovation, and communication where skills are often nurtured in informal environments, as the studio explained. These are as crucial to business school pedagogy as the traditional, quantitative skills taught in a classroom.
The building organization plays with shuffling alternating floors of faculty offices with student learning spaces in the 11-storey Kravis Hall and floors for administrative offices and learning spaces in the 8-storey Geffen Hall.
The façade system of the buildings are tailored according to the populations and uses, which results in shuffled floors.
Inside, the school's internal spaces are organized around intersecting networks of circulation and collaborative learning environments that extend up vertically through each building, linking spaces of teaching, socializing, and studying, to create a continuous space of learning and interaction that remains vibrant 24 hours a day.
The Network is the key feature in both buildings. As the connective tissue of the school, the Network connects the primary programs of each building to create a generous circulation stair that carves through each building volume. This also help bringing daylight and air into the center of the deep floor plates.
"The Network links a myriad of intimate lounges, flexible seminar spaces, open-breakout, tiered seating, carrels, and informal hang-out spaces into a new type of academic space," said DS+R.
The ground floors of each building provide a porous connection to the surrounding city streets and the broader Manhattanville campus. Each building meets the ground with a social and event space.
Samberg Commons is an auditorium at Kravis Hall
At Kravis Hall, Samberg Commons is an auditorium that brings students together, which creates "an urban-scale living room" for students, faculty, and staff features tiered. The auditorium features undulating seating made of oak that provides an area for multiple group study, breakout meetings, or a place to enjoy lunch.
The tiered seating can accommodate up to 200 people with a direct connection to a dining space on Level 2 with an additional capacity of 199.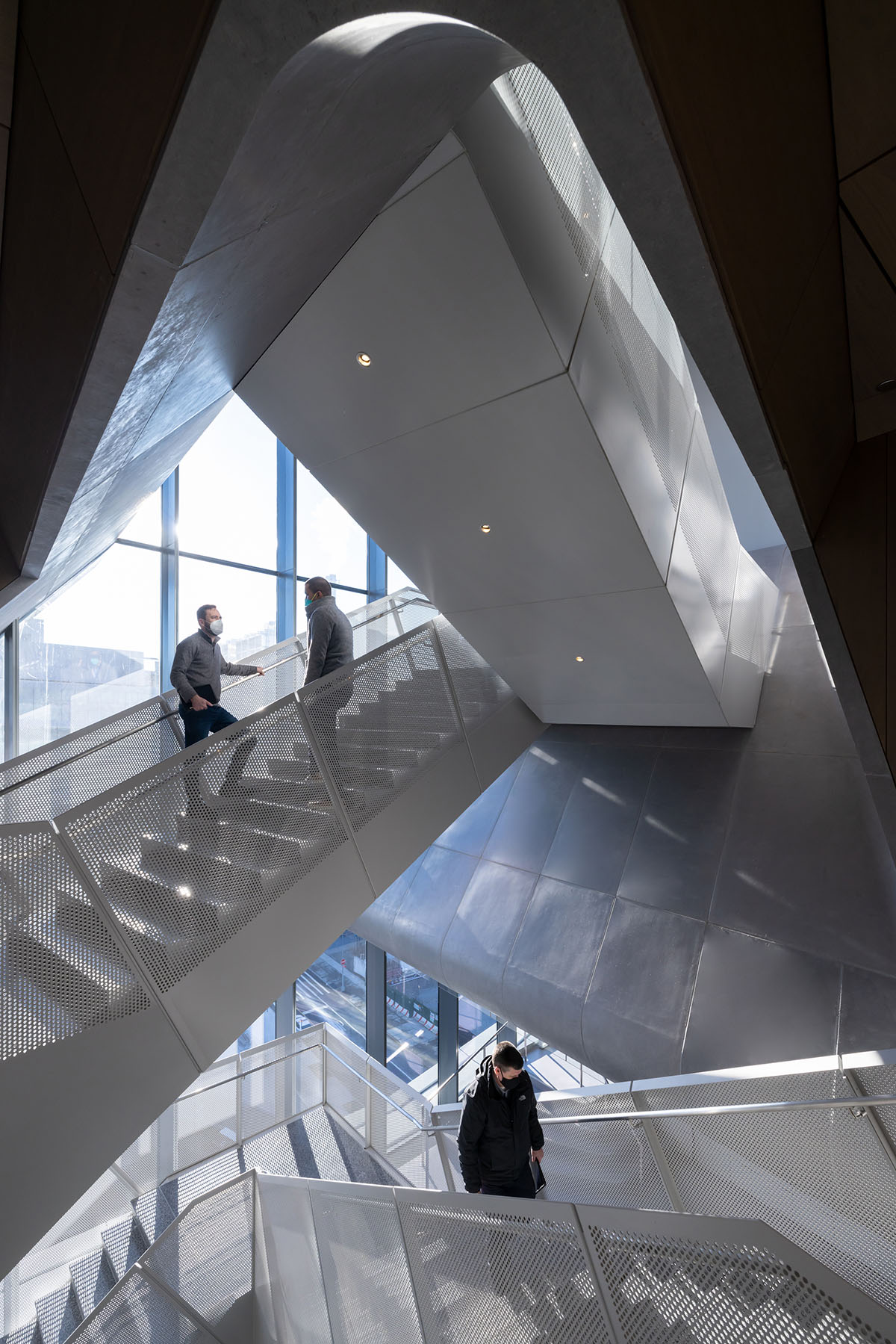 There is another auditorium in the first floor of the Geffen Hall. The auditorium, called Cooperman Commons, provides space up to 274 seats and acts as a day-to-day gathering space for student orientations and faculty meetings.
The Columbia-Harlem Small Business Development Center is designed on the second floor in the Geffen Hall, while a multi-function room is placed on the third floor.
On the fourth level of the Kravis Hall, a Student Social Lounge includes a screening room, game room, and casual dining spaces where students can relax and unwind. On the tenth floor of the Kravis Hall, the building offers a dining room accommodating up to 238 people and provides a panoramic view toward the George Washington Bridge, with access to an outdoor terrace.
The building also include innovative classrooms accommodating up to 25, 50, 74, and 150 seats. "From the onset of the design in 2011, classroom technology was devised to enable remote teaching for Columbia's affiliates from around the world, which is a central part of their international program," added DS+R.
Other spaces include Quiet Study Rooms and Group Study Rooms, located throughout both buildings on the classroom floors, a series of similarly sized rooms can accommodate groups of six and are equipped with small conference tables, fixed monitors, marker boards, and web conferencing technology.
For structural solutions of the buildings, the architects worked with Arup to support the architectural concept of both buildings.
For instance, In Kravis Hall, the studios utilized "skip truss" steel framing system on alternating faculty floors that keep open student floors with nearly column-free classrooms. This also helped to create the building's layered, textured form.
Using spiraling, sculptural circulation stairs in Kravis Hall and Geffen Hall makes double as vertical elements of the structure while fostering interactions between users and providing panoramic views over the campus and New York City.
"The opening of these new facilities marks the beginning of a new era, and an opportunity to shape the future of Columbia Business School and its legacy. Modern business practice is increasingly collaborative and non- siloed and is predicated on an expanded adoption of technology, data, and advanced analytics alongside the fundamentals of traditional business education," said Costis Maglaras, Dean of the Columbia Business School and David and Lyn Silfen Professor of Business.
"Our new, open, light-filled spaces reflect this reality, creating a truly collaborative and immersive experience that is unique to Columbia Business School and ideal for a curriculum that prioritizes team and interdisciplinary work, acting as a nexus across the University and beyond, in areas including digital transformation, healthcare, climate change, and the interface between business and society."
"Columbia Business School is a global institution, with an MBA class representing six continents and 61 countries. Our new buildings on the Manhattanville campus are a home that is global in outlook and deeply rooted in New York City," Maglaras added.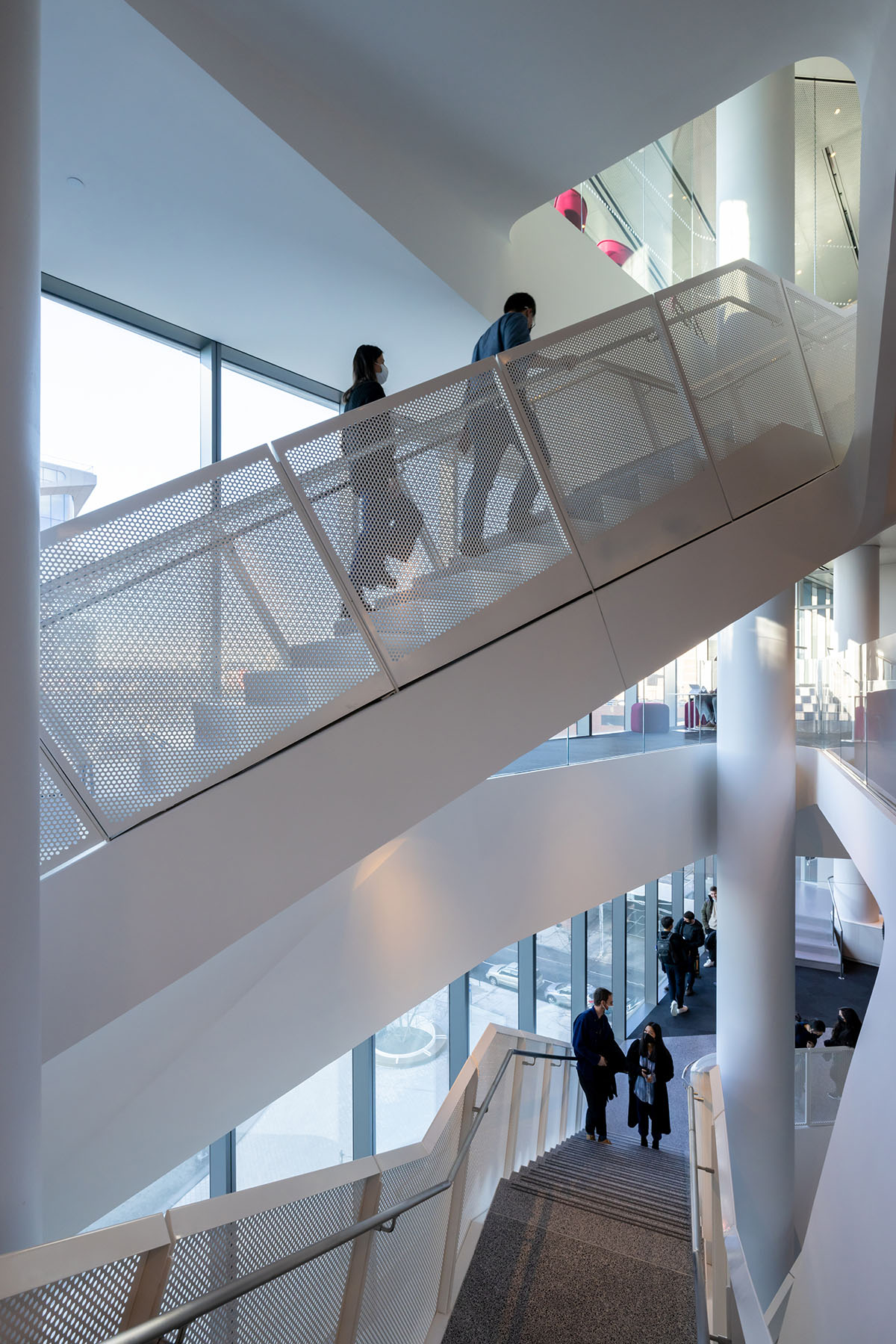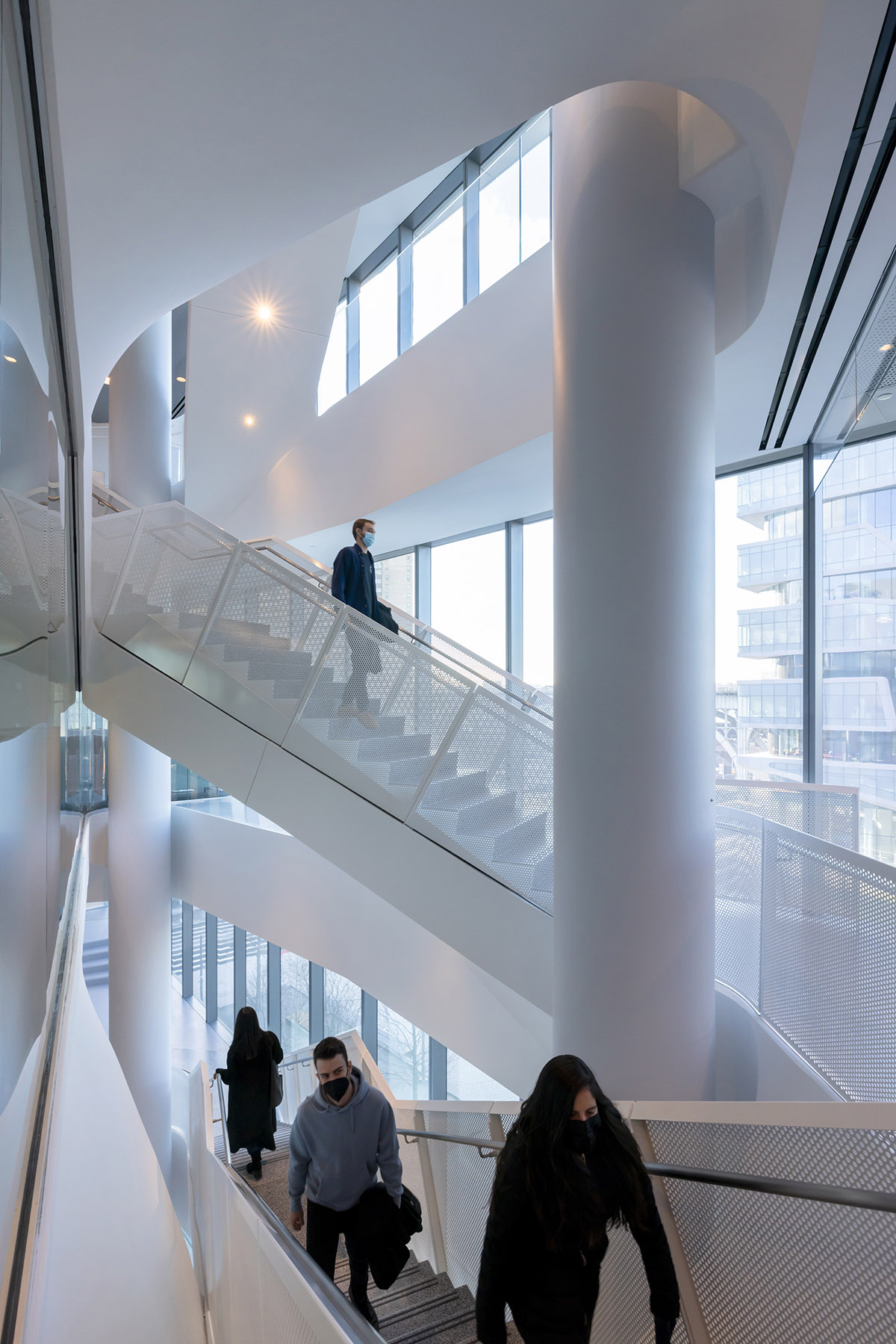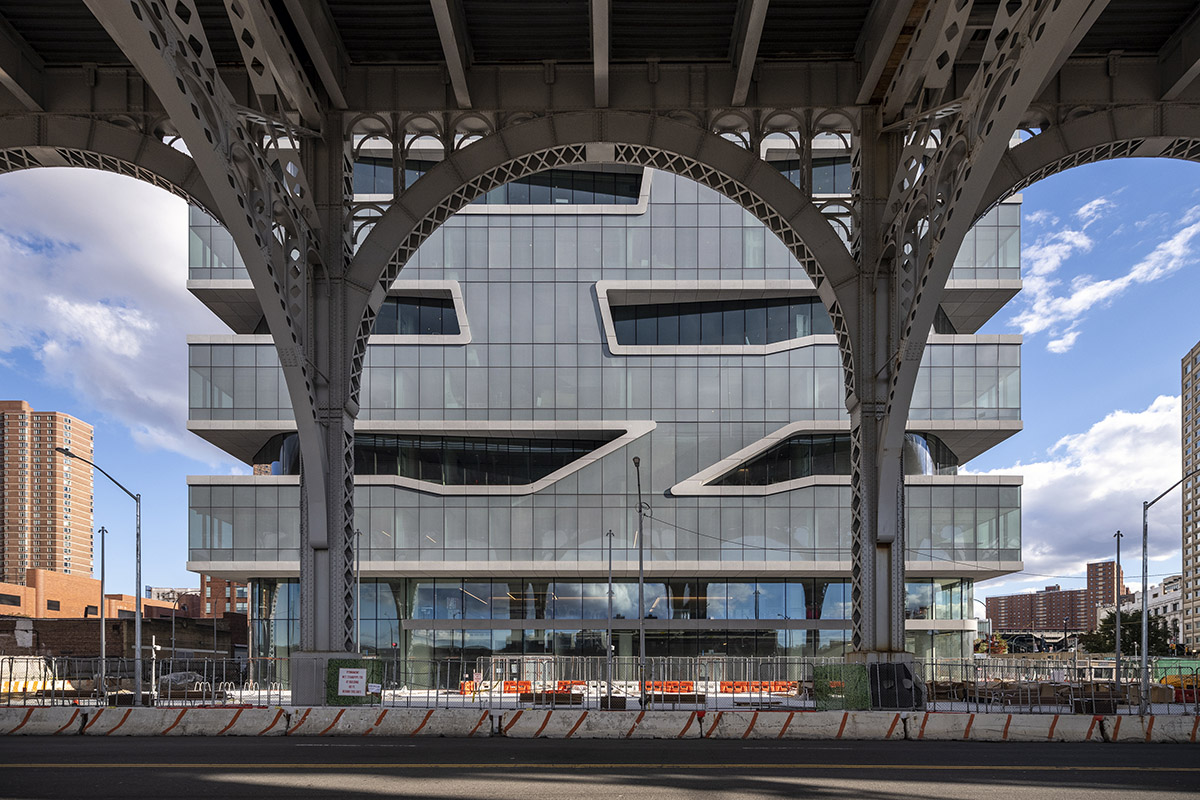 Image © Timothy Schenck
Image © Timothy Schenck
Columbia Business School expects to achieve LEED v3 Gold certification for the project. Sustainable elements include the use of low- VOC materials, high percentages of recycled content from regional sources in which most of the wood was sourced from sustainably managed forests.
Besides, the cooling and heating systems use "chilled beam technology" for user comfort and reduced energy consumption and low-velocity underfloor distribution in the tiered classrooms. The project integrates high-efficiency plumbing fixtures that are used to reduce potable water demand.
Henry R. Kravis Hall and David Geffen Hall are the first project of DS+R has completed for Columbia University. DS+R previously completed the Vagelos Education Center in Northern Manhattan.
Project facts
Architects: Diller Scofidio + Renfro in collaboration with FXCollaborative
Sustainability/ LEED consultant: FXCollaborative
Structural Engineer, Exterior Envelope and Façade Consultant: Arup
Associate Architect (Dedicated Dining, Multi-Function Room): Aaris Design Studios
Mechanical Engineer: Buro Happold
Construction Manager: Turner Construction
Lighting Design: Tillotson Design Associates
Acoustics: Cerami & Associates
Vertical Transportation: Van Deusen and Associates
Civil Engineering: Stantec Consultants
AV: Cerami & Associates, The Clarient Group, Jaffe Holden
IT: The Clarient Group, Jaros Baum & Bolles
Security: DVS Security Consulting and Engineering
Food Services: Romano Gatland
Cost Consulting: Dharam Consulting
Code: Milrose
Graphics and Wayfinding: Pentagram
Landscape Architect: James Corner Field Operations
All images © Iwan Baan unless otherwise stated.
> via Diller Scofidio + Renfro