WXCA and Bellprat Partner share photographs for Polish Pavilion at Expo 2020 in Dubai
Warsaw-based architecture practice WXCA and Swiss studio Bellprat Partner have shared photographs and details about the Polish Pavilion at Expo 2020 in Dubai which closed on 31 March, 2022 in the United Arab Emirates.
WXCA and Swiss studio Bellprat Partner were awarded with Silver Medal for the Best Interiors of the Polish Pavilion by the Bureau International des Expositions.
The pavilion, described as a symbol of mobility, has a dominating motive of natural wood – presence in interior and on elevation – distinguish sophistication and subtlety.
With its "inviting shape", the building constitutes the friendly background for events and meetings. In the same time, object reveals in a very modern way, the idea o mobility.
Dynamic solid, referring to container's shape and as a metaphor of flying flock of birds in the shape of kinetic sculpture, suggests the mobility concept.
At the process of creating the narrative of Poland Pavilion and the exhibition scenario, the motto for Varsovian architecture office WXCA and Swiss studio Bellprat Partner was creativity drawing upon the nature. As a result of the cooperation, architects created the space which intends to motivate to explore the natural, cultural and intellectual richness of Poland, with encouragement to follow the wisdom of the nature.
Experts of Bureau International des Expositions, awarding Poland pavilion in category "Interior design", appreciated the well-thought-out tour route, the unique form of the construction and its "human's scale".
"By designing of the building and exhibition, we wanted to make consistent and immersive space, multi-dimensional experience, encouraging to not only the multifaceted of Poland, but to reflection on cooperativity of human and nature and joint responsibility for the planet," said architect Marta Sękulska-Wrońska – partner in WXCA, co-author of Poland Pavilion at EXPO 2020 Dubai.
"Visiting the pavilion, our guests supposed to feel themselves as an integral part of something bigger, that their really matter," Sękulska-Wrońska added.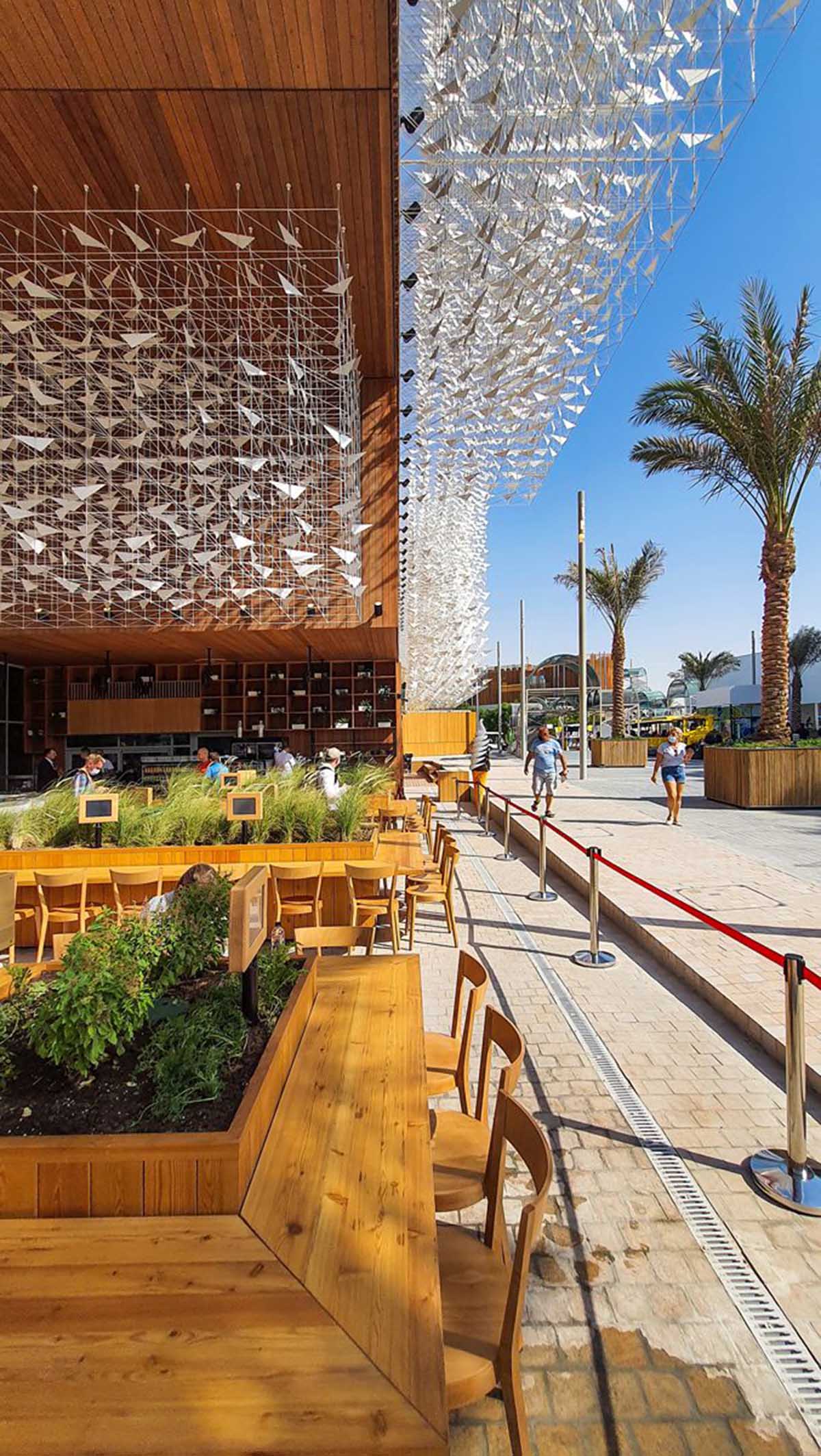 The National Representation
For Pavilion's and exhibit's designers the principal goal was communicating, from the perspective of Poles, what is the most important about Polish country, economy and its natural resources.
Designers referenced to metaphors, in conviction that architecture influences stronger by indirect communication, inviting the recipients do self-interpretation, creating solid and memorable picture, which will stay for long in visitors' minds.
"As a creators of Pavilion we wanted to create the phenomenon – the building integrated with the exhibition – as a solid emerging from the cloud of birds," said Anna Dobek Lenczewska.
"This view aimed to stimulate reflection for co-existence of human with nature, wise gaining from natural resources and influence of the environment for innovativeness of the society," Dobek added.
"We decided to present the nature as a source of ideas and comprehend, which translate into solutions commonly used in many branches of the economy. Simultaneously, we desired to expose Polish inventors as the people understanding nature and being able to leads it into products which, change the world. As an example worth to mention, is Olga Malinkiewicz, thanks to her understanding of photons, she patented her perovskites as energy source," added Marta Sękulska-Wrońska.
Power of flock
The joint project by WXCA and Bellprat Partner, with characteristic motive of flock of birds, could be acknowledged as concept of cooperation, crucial for organizers of the EXPO and WXCA architecture office as well. Since the beginning of WXCA, the office is considered as a platform, where each member of a team can pursue own ideas, supported by energy from synergy of the group.
"Our goal as a creators of Poland Pavilion at EXPO 2020 was showing that individual is the element of 'flock intelligence'. In our daily work we act with conviction that each of us as independent designer, gains more power, without losing the sense of individuality, when we act together. I strongly believe that synergy of the designers' group, or just group of people, which connects the common idea, brings the tremendous transforming contribution to the environment," said Marta Sękulska-Wrońska.
Poland Pavilion on EXPO 2020 Dubai was already honored before, given the main prize in World Expo Awards competition organized by EXHIBITOR Magazine, where jury classified the pavilion as the best in the category. Building received Lazar Khidekel Prize for innovative and ecological solutions in architecture.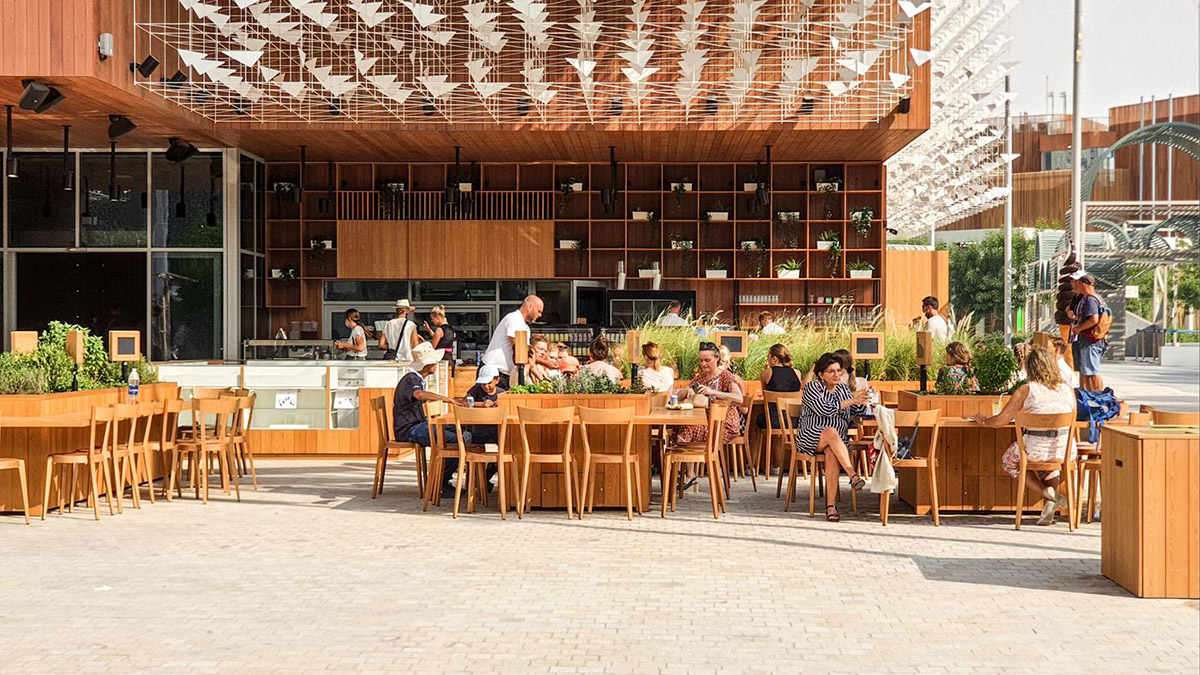 "World exhibition Expo has also educational dimension, I hope, that our work will inspire others to smart use of natural sources or will determine the directions for designing in spirit of circular economy. We are proud that, what we made with Bellprat Partner, is clearly interpreted and appreciated by international community," added Anna Majewska-Karolak.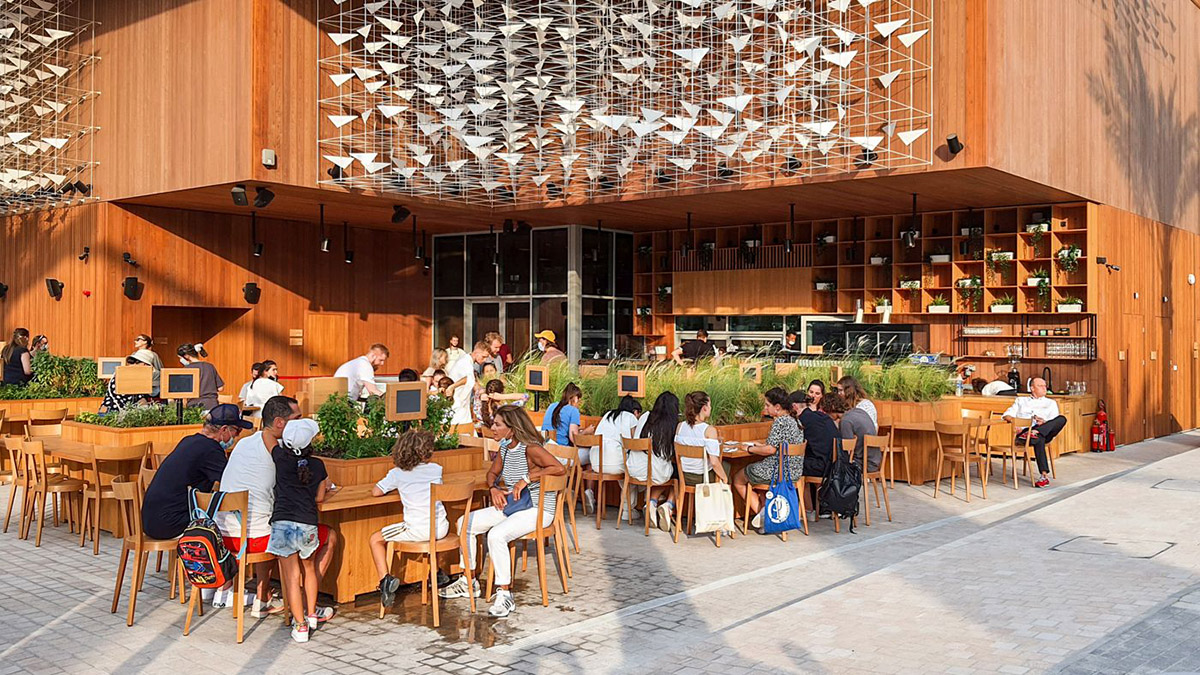 WXCA team
Designers of Poland Pavilion and the exhibition:
WXCA Team: Marta Sękulska-Wrońska, Szczepan Wroński, Michał Czerwiński, Anna Dobek-Lenczewska, Anna Majewska-Karolak, Paulina Kucharska, Małgorzata Gilarska, Piotr Łosek.
Bellprat Partner Team, Switzerland: Xavier Bellprat, Raphael Barbier, Iwan Funk.
Project of construction and installation:
WSP POLAND, WSP MIDDLE EAST: Krzysztof Bielazik, Łukasz Koc, Marcin Zimmer, Kamila Kajczyńska, Piotr Wrzosek, Katarzyna Bednarczyk-Kozłowska, Antoni Balcerzak, Andre Peterson, Alexander Castellanos.
All images © WXCA press materials.
> via WXCA