Call for projects to ARCHI-NOW competition 2022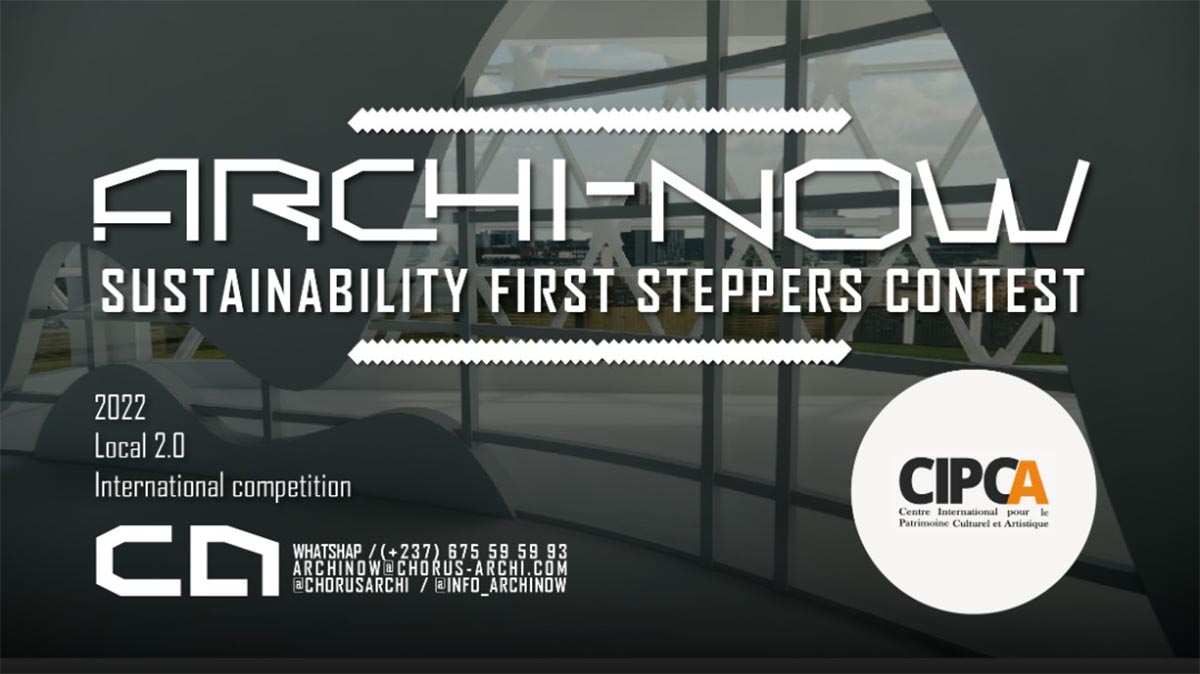 Organizer:
CHORUS ARCHITECTURE is a multidisciplinary platform for research and development in architecture and related fields (art, design, environment, sustainable development, etc.), which reflects on the re-appropriation of endogenous intelligence. In order to change the system of values and the factors of perception which oblige each one to fix on a "distant" and ill-tamed ideal when it comes to finding a solution to the daily problem.
Partner:
CIPCA (Centre International pour le Patrimoine Culturel et Artistique) is established as an associative art center. It brings together cultural actors, researchers, creators, and people interested in the preservation and enhancement of heritage (visual arts and oral culture). The initiative was born from the desire to contribute to energizing, through artistic activities, the approach to cultural heritage in Africa, whether tangible or intangible and to share this ambition with as many people as possible. The CIPCA supports contemporary creation and offers a reflection on ancient and current art, archives, and the promotion of local languages.
Logo © CIPCA
What is Archi-now?
The sustainability first steppers contest. ARCHI-NOW competition is for the" best "thesis in architecture" personal graduation or academic research work "on themes and issues related to resilience and innovation in the built environment" economics, cultural, environmental and energy sustainability ". All eco-approaches and innovative design, contextual or projected solutions are awaited.
The competition focuses on the evaluation of the personal end-of-study project, possibly accompanied by his studies or research dissertation, depending on the option chosen by the student. This award is by nature individual. However, teams can present a collective project if this is the working format chosen by their establishment. Exceptionally, projects or design works from other schools or research than thesis projects can be presented for this edition.
Brief:
Taken as heritage, vestige, or building material of the future. When it comes to using cultural heritage for the construction of the future, the field of possibilities becomes vast and the options plural and diverse.
However, and more than ever, architectural production must show sensitivity and anchor itself locally for a coherent and resolutely resilient global impact…
Whether it is the development of new expertise or the enhancement of the existing in a specific context; this edition of the Archi-Now / Sustainability first steppers competition, on the theme LOCAL 2.0, is aimed at students and young professionals who have developed or highlighted in their end-of-study or end-of-cycle project. A holistic approach that exploits or develops from or in parallel with local heritage (material or immaterial) a solution or a sustainable concept to a situation, a problem in the field of architecture, mobility, or urban planning.
LOCAL 2.0, or how to see or represent in the present the different possible "futures" opens up for the enhancement of research and the promotion of social, technical, technological, and cultural solutions for the resilient habitat of today and tomorrow on earth as elsewhere. All approaches and or concepts are accepted from low to high tech, "in or out of the box".
Modalities
It is free!
English and French applications only
The competition is open for architects that graduated from the years 2017 – to 2022 from all architecture schools all around the world. It is also exceptionally open for research from previous year's graduates Under 35. Applications are individual or a team.
Timeline:
Registration: 11 April, – 31 July 2022
Pre-Selection: 01 August, – 14 August 2022
Project deposit: 15 August, – 04 September 2022
The jury, Final selection: 05 September, – 12 September 2022
Announcement of the winners: 01 October 2022
Exposition of the finalist projects at CIPCA and people choice selection: 01 – 31 October 2022
Rewards:
Gallery opening, Internship, extensive exposure-publications, and others.
Jury:
The jury is composed of members from all walks of life, such as:
Cedrix Tsambang (Architect and researcher, CA - Cameroon)
Christolle Tsambang (Architect & craft woman, Chorus Architecture - Cameroon)
Cyrille Moukoko Ndoumbe ( professor & researcher in sustainable architectural materials – ArBio & partners - Cameroon )
Danielle Khoury Gregorio (Architect, Research Fellow – Holcim Foundation For sustainable construction- Brazil)
Fabiola Ecot Ayissi (Philologist & Curator, CIPCA - Cameroon)
Hermann Kamté (Architect, Forbes Africa, HKA - Cameroon)
Hermine Nguetse (Architect & transport expert- Archi-Mobility - Cameroon)
Kaouthar Jedda (Architect – BIM manager, BIM Africa- Tunisia)
Leandry Jieutsa (Urban planner- AIN - Cameroon)

Leonardo Dias (Architect, Base colab- Brazil)
Manuel Fournier (Architect, international consultant social infrastructure housing and heritage- France)
Martin Pretorius (Architect, designer artist – Workshop and machine- South Africa)
Mipo Edith Flore (Architect, lecturer & Social entrepreneur - FENDA - Cameroon)
Mojtaba Naghizadeh (Architect & researcher design principal at EV Design school- Iran)

Nabila Pronato (Architect, artist & designer – WOHA Architects - Indonesia/Singapore)
Samer El Sayary (International Award-winning Architect, & assistant professor of architecture – University of Alexandria- Egypt)
You can register for the competition on this link and get a design brief here.
All Images © CHORUS ARCHITECTURE
> via CHORUS ARCHITECTURE