ADM Virtual Summit will explore the theme of "Designing the New World Order" on 12–13 November
Architecture, Design & More (ADM) Summit is a virtual summit scheduled for 12 and 13 November 2021 and organised by AnimationXpress.com, as part of IndianTelevision.com Group.
The summit, titled Designing the New World Order, aims to be a catalyst for change by bringing together thought leaders from across the globe to discuss new ideologies, observations, issues, and challenges critical for the architecture and design industry in the new normal, new world.
The diverse interpretation of the word 'future' is unique for every designer, rendering the meaning of the new world order as a paradox in itself! The summit plans to initiate a platform that will inspire, influence and consciously or subconsciously create an awakening. And in its first edition, it aims to have focused discussions around the theme "Designing the New World Order."
The Indiantelevision.com Group, spearheaded by its founder, CEO and editor-in-chief, Mr Anil Wanvari, has covered the media and entertainment industry for over two decades. It has expanded into e-commerce, edu tech, retail, pharmaceutical, information technology, and real estate discourses. ADM is the new brand launched by its sister company, AnimationXpress.
The curator for the summit is Ar. Apurva Bose Dutta, an Indian author, award-winning architectural journalist, curator and editor, with 16+ years of global collaborations in the AEC industry.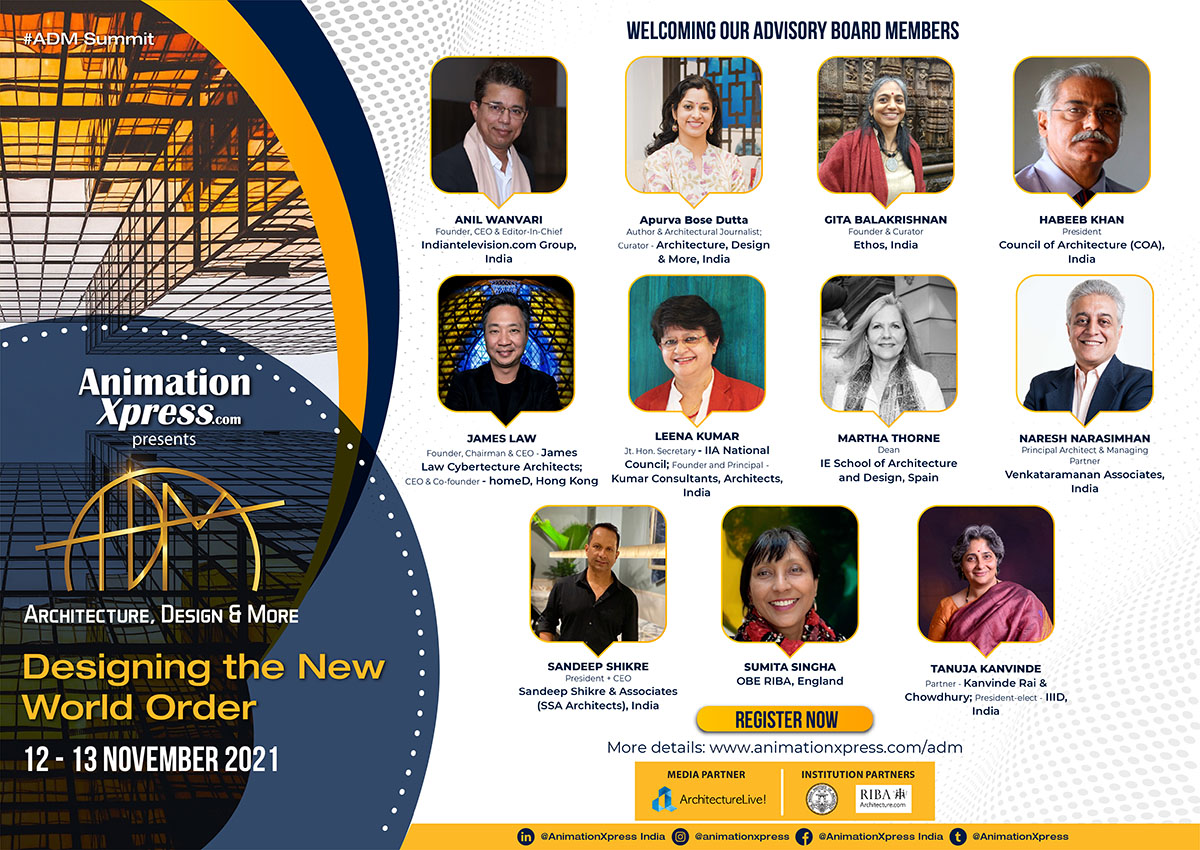 Advisory Board Members of ADM Summit
The summit themes will revolve around the lines of aspects and perspectives that demand more attention in the new age, and the themes are: Society, Diversity & Inclusivity, Technology, and Education & Careers.
The summit will also include a special section with students, "Planning the New World with Young Minds".
The sessions have been ideated with the guidance of several design stalwarts on the advisory board, namely, Habeeb Khan (President, Council of Architecture), Tanuja Kanvinde (President-elect, Indian Institute of Interior Designers), Leena Kumar (Jt. Hon. Secretary, Indian Institute of Architects National Council), Sumita Singha (OBE RIBA), Martha Thorne (Dean, IE School of Architecture and Design), James Law JP (CEO, James Law Cybertecture Architects), Naresh V Narasimhan (Principal Architect & Managing Partner, Venkataramanan Associates), Sandeep Shikre (President + CEO, SSA Architects), Gita Balakrishnan (Founder & Curator, Ethos), Anil Wanvari and Apurva Bose Dutta.
An eclectic mix of speakers and panellists with global expertise will be gracing the summit. Besides the advisory board members, the speakers' list includes Romi Khosla (Romi Khosla Design Studios), Nathalie de Vries (MVRDV),Simon Allford (RIBA President), Anssi Lassila (OOPEAA), Rita Soh (RDC Architects), Boman Rustam Irani (Rustomjee Group), Yasaman Esmaili (Studio Chahar), Sheila Sri Prakash (Shilpa Architects), Mahesh Daas (Boston Architectural College), Sabeena Khanna (Studio KIA), Prasanna Desai (Prasanna Desai Architects), Britta Knobel Gupta (Studio Symbiosis), Sujit Nair (SDeG), Rajiv Mishra (Sir JJ College of Architecture), Ruhul Ubdin (Paraa), Vivek Gupta (Arvind Vivek and Associates), Pravinsinh Solanki (National Institute of Design), Siddhant Shah (Access for All), Kaiwan Mehta (Domus India) and many more.
The virtual sessions will be targeted on the cross-pollination of ideas, philosophies and narratives through the formats of inspiring keynote sessions, engaging dialogues, and stimulating panel discussions.
To register for the summit on 12–13 November 2021, visit www.animationxpress.com/adm/.
World Architecture Community is media partner of ADM Summit and will be bringing you the latest news from the event.
All images courtesy of ADM Summit.
> via ADM Summit