Sou Fujimoto designs House of Music with porous roof evoking varying form of sound waves in Budapest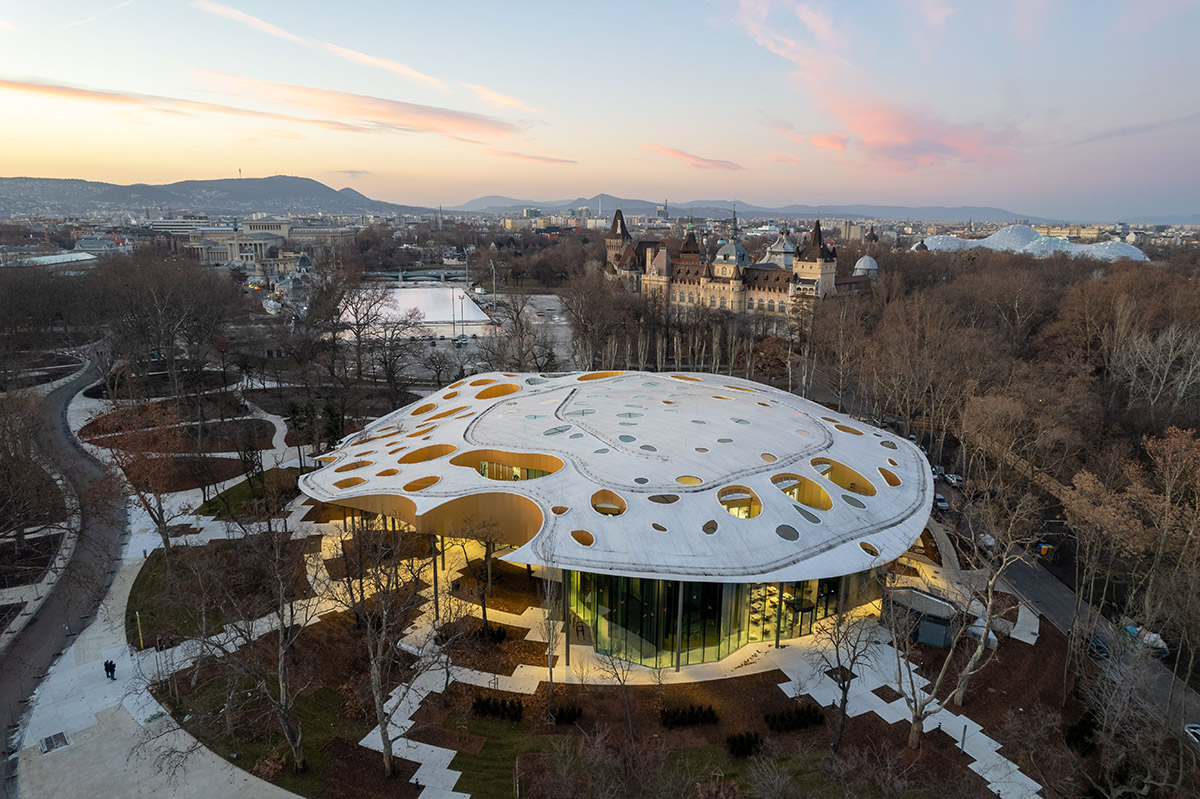 Japanese architect Sou Fujimoto has completed a museum for music in a pastoral setting in Budapest's largest park beside Városliget Lake, near Heroes' Square, one of Budapest's most important attractions, on the site of a formerly demolished office block.
Called House of Music, the 9,000-square-metre building features an undulating porous roof inspired by varying form of sound waves. The project, developed as part of the Liget Budapest Project, Europe's largest urban cultural development programme, was opened to the public on Sunday 23 January, 2022.
The history of music will be experienced under a vast undulating roof and house a range of interactive musical experiences in celebration of music-making, blurring the boundaries inside ad outside.
The program of the building is scattered across three levels to encourage visitors to participate and interact with sound and music, with a subterranean exhibition level, a ground floor performance area, and a roof top level with museum education.
Described as "a spectacular new cultural landmark in Budapest", the man goal of the project is to combine the experience of music to life through the interaction of nature, sound and light.
Situated in Budapest, Hungary, which is a historic centre of music in Europe for both classical music repertoire and Hungarian folk traditions, the House will host a range of live music from classical to folk, pop to jazz, alongside exhibitions and education and learning programmes designed to create opportunities for anyone to play and experience music.
"We were enchanted by the multitude of trees in the City Park and inspired by the space created by them," said Sou Fujimoto, who spoke to Lola Kleindouwel, the Netherlands Country Reporter of WAC, last year as part of WAC's Live Interview Series.
"Whilst the thick and rich canopy covers and protects its surroundings, it also allows the sun's rays to reach the ground. I envisaged the open floor plan, where boundaries between inside and outside blur, as a continuation of the natural environment," Fujimoto added.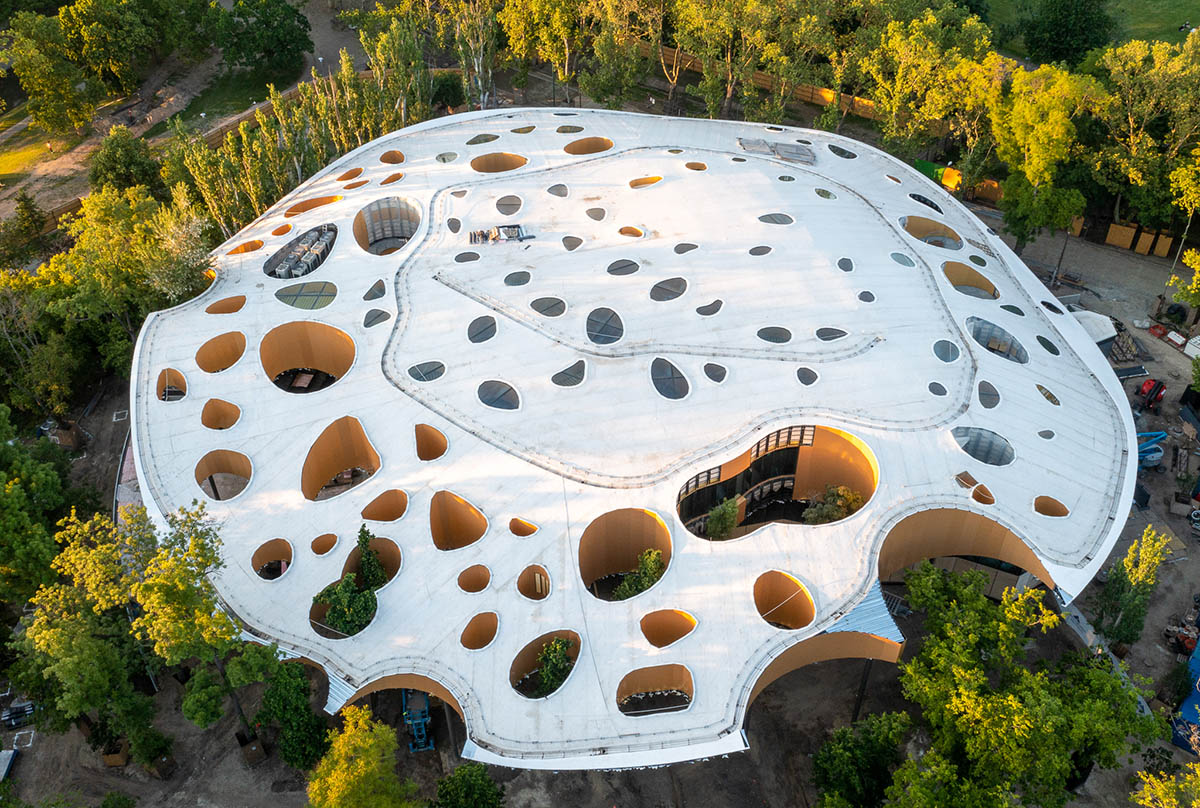 Image courtesy of Liget Budapest Project
"Music making is at the heart of human experience. The House is a one-of-a-kind institution created to introduce the beauty of sound and music, alongside the important role it plays in every aspect of our life," said András Batta, Managing Director of the House of Music, Hungary and former President of Liszt Academy.
Fujimoto created forest of music that inspired architecture
Sou Fujimoto takes cues from from the synergy between sound and nature in which the building is presented "as a continuation of its park context and an ambitious rethinking of a 21st century museum space."
The House's facade is made of panels in a curtain of glass to create a completely translucent building that blurs boundaries between indoor and outdoor space.
The glass facade consists of 94 custom-manufactured, heat-insulated glass panels, horizontally undivided panels and its height reaches almost 12 metres in some areas of the House.
Consistent with its naturalistic setting, the House is equipped with an innovative heating and cooling system; mainly geothermal energy and other renewable sources covering the House's energy requirements.
The architect enhances the feeling of being in nature with a canopy of over 30,000 decorative tree leaves set in the suspended ceiling and secured in place by a steel structure made out of 1,000 honeycomb-shaped elements.
Thanks to its vast undulating roof structure, the roof changes depth and remains below the City Park's foliage. While the roof is designed with nearly 100 unique, crater-like holes in the surface, it also allows the trees to slip through whilst channelling light into the depths of the building, lighting the interiors and creating a special atmosphere, as if visitors are walking under the trees.
The layout of the House is set across three distinctive levels reflecting the three movements of a musical score and interweaving nature and music. While the subterranean level provides a space for permanent and temporary exhibitions and a unique sound dome, the park level becomes home to the glass-walled concert hall and open-air stage.
The top level is dedicated to educational spaces. The hemispherical sound dome makes one of the most notable features of the House – regarded as a rarity across the globe.
As explained in a press statement, "the concept was inspired by the 20th century composer, Karlheinz Stockhausen, who created the first 3D aural experience in the form of a spherical concert hall, which debuted at the 1970 World Exposition in Osaka, Japan."
Under this hemispherical sound dome, designed as a fully immersive experience, it can accommodate up to 60 visitors to experience 360-degree surround sound emitted from every direction from more than 31 loudspeakers, creating 'hologram-like' walls of sound.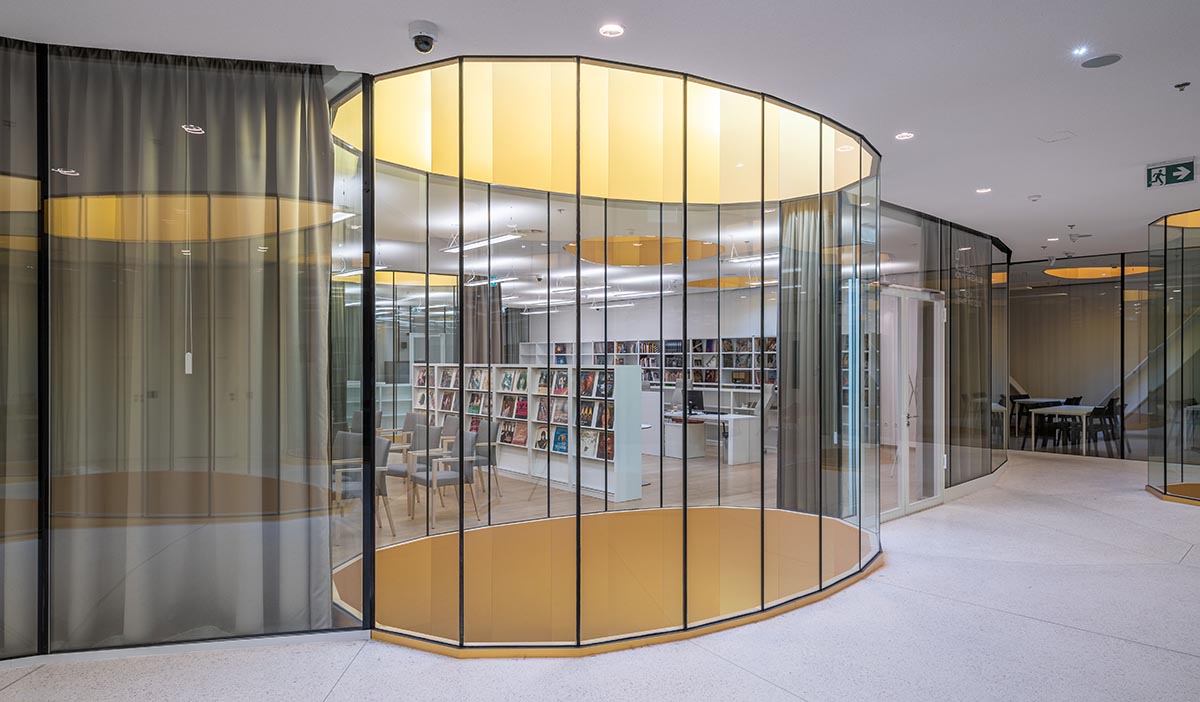 Enhanced visually by a projector, during the day visitors can experience the permanent sound installation composed of sounds of Hungary and from the Carpathian Basin. In the evenings, the dome will act as a venue for DJ sets, screenings and smaller-scale concerts.
The institution's first temporary exhibition will showcase the history of Hungarian pop music from 1957-1990, with a focus on the performers and music scene of the Socialist – so called Kádár - era.
Apart from which, the institution will bring Hungary's rich music traditions and landmark role in the history of European music to domestic and foreign visitors alike with its interactive exhibitions, both permanent and temporary, utilising 21st-century technology, music education workshops as well as music events and open-air concerts.
The permanent exhibition, titled "Sound Dimensions – Musical Journeys in Space and Time", at the basement level will provide an immersive musical journey through 2,000 years of music making in Europe - from the musical exploits of primeval man, the historic turning points in music's history such as musical notation and polyphony, to the wide spectrum of avant garde and popular music driven by the technological revolution of the 20th and 21st centuries.
At the park level, the ground floor houses two indoor concert halls; the smaller hall primarily functions as a lecture and workshop space, alongside acting as a concert venue and an auditorium.
The open-air stage located on the level of the building's entrance will host daytime and evening concert events, allowing visitors sitting on the hillside opposite the stage and in the adjacent garden terrace to observe.
The glass-walled concert hall has a capacity of 320 seats and is equipped with a sinkable stage and suitable for musical experimentation.
Undertaken by Japanese firm Nagata Acoustics, known for the acoustic design of the Walt Disney Concert Hall, Los Angeles, and Elbphilharmonie, Hamburg, Nagata and Sou Fujimoto navigated the challenges of this unique glass design by creating a zigzag-shaped wall that allows incoming sound to reverberate and disperse from the glass indirectly, producing homogeneous sound.
"Music education is another important part of the House's mission to support and enhance learning," stated in a press release.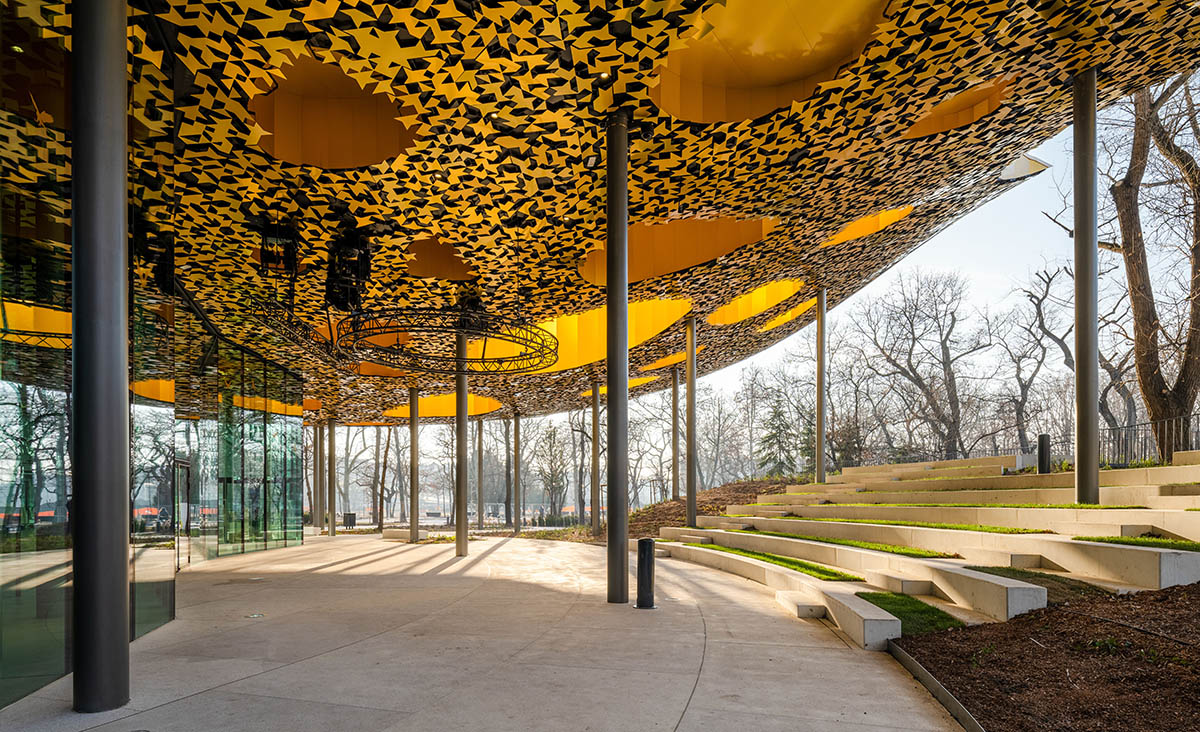 The Multimedia Library and Club will house a large number of important written, audio, visual and film documentation on the history of Hungarian music for researchers and those interested in music to discover.
Inspired by the philosophy of Hungarian music psychologist Klára Kokas and composer Zoltán Kodály, the House will also offer music education, workshops for schools and groups of children, alongside an open university programme of courses and short lectures in which all three functions of the institution play their part: teaching, exhibition discovery and collaborating in a concert hall workshop.
Sou Fujimoto won an anonymous competition to design the House of Hungarian Music in Budapest in 2015. Construction started on the Hungarian music venue in 2018. In a new set of photographs released in early 2021, the building was almost complete.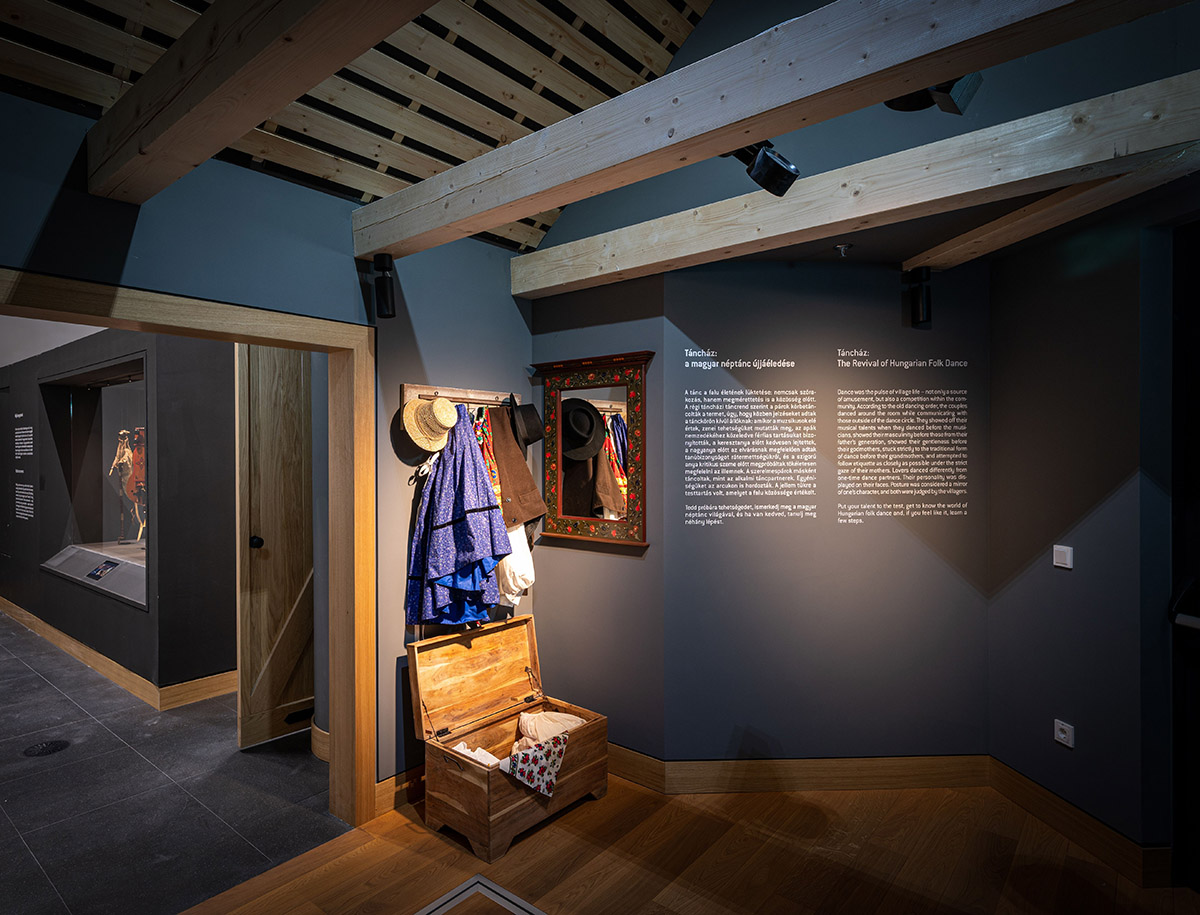 Image courtesy of Liget Budapest Project
Image courtesy of Liget Budapest Project
Image courtesy of Liget Budapest Project
Image courtesy of Liget Budapest Project
Image courtesy of Liget Budapest Project
Image courtesy of Liget Budapest Project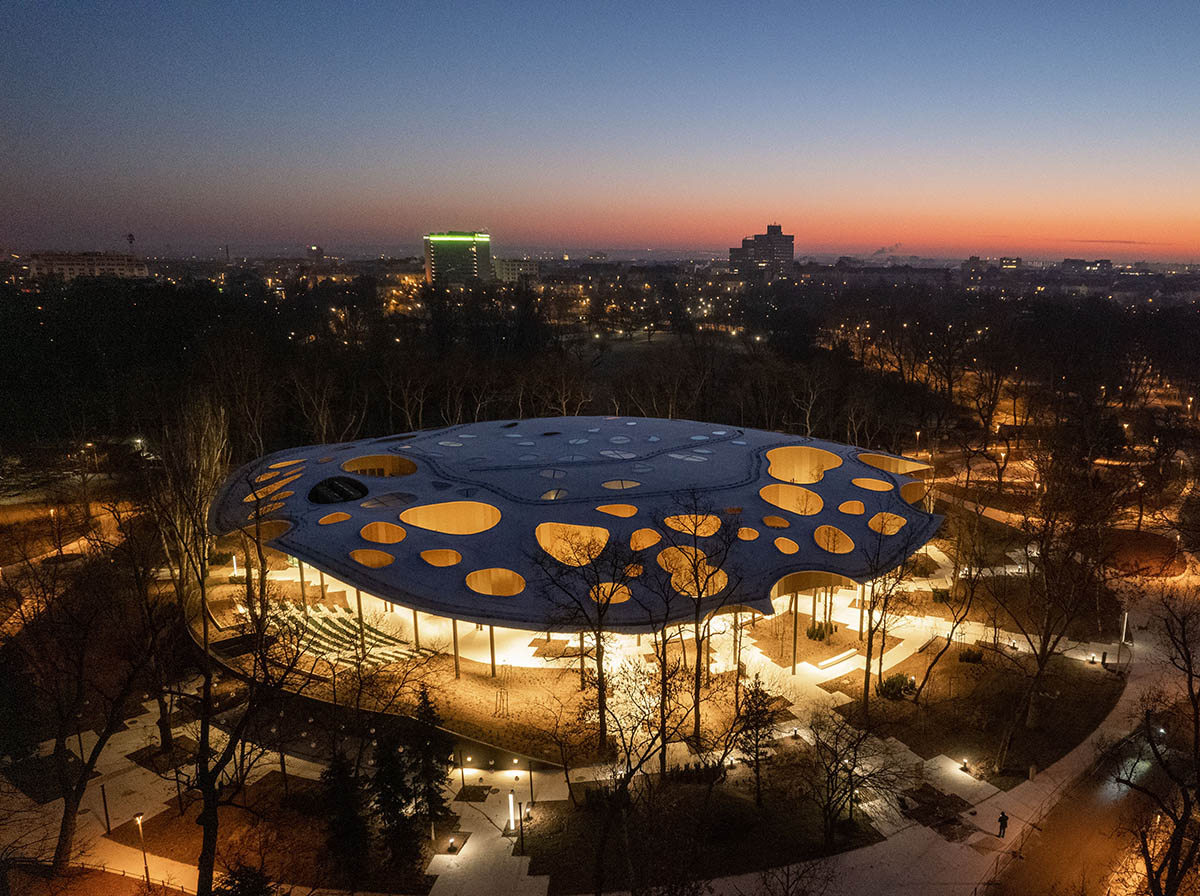 The Liget Budapest Project is developed as Europe's largest and most ambitious award-winning urban cultural development that envisions the renewal of Budapest's central public park.
Completed projects include the Museum of Fine Arts completed in 2018, the National Conservation, Storage Centre designed by Narmer Építészeti Stúdió in 2019 and the Olof Palme House designed by Archikon Kft. in 2019.
Highly awaited projects include Napur Architect's Museum of Ethnography, which will be opened in Spring 2022.
The Liget Budapest Project also includes SANAA-designed Hungary's New National Gallery, which faced with a construction block by Budapest's green mayor Gergely Karácsony in 2019.
All images © Palkó György unless otherwise stated.
> via Liget Budapest Project