Heatherwick Studio updates design for its 1700 Alberni residential towers in Vancouver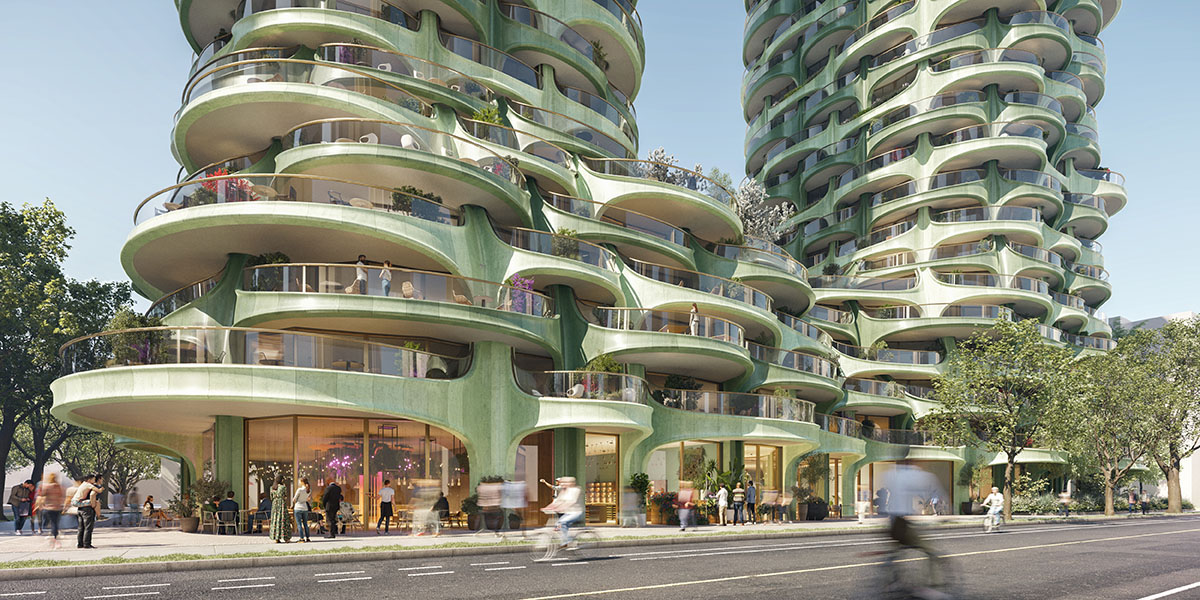 Heatherwick Studio has revised design for its a pair of residential towers in Vancouver, Canada, the new design creates a surprise with its softer, curved terraces featuring sympathetic lines and practical living spaces.
Called 1700 Alberni, the studio first revealed design in earlier 2021, which featured a curvaceous form and vertical strips throughout the towers with a ribbon geometry.
A set of new renderings shows that the new design is completely changed and has a softer look with green-colored, curved terraces that makes a sculptural appearance.
The project is developed by Vancouver-based real estate company Bosa Properties and UK-based real estate company Kingswood Properties in partnership. Once complete, it will be the first high-rise project of the studio in Canada.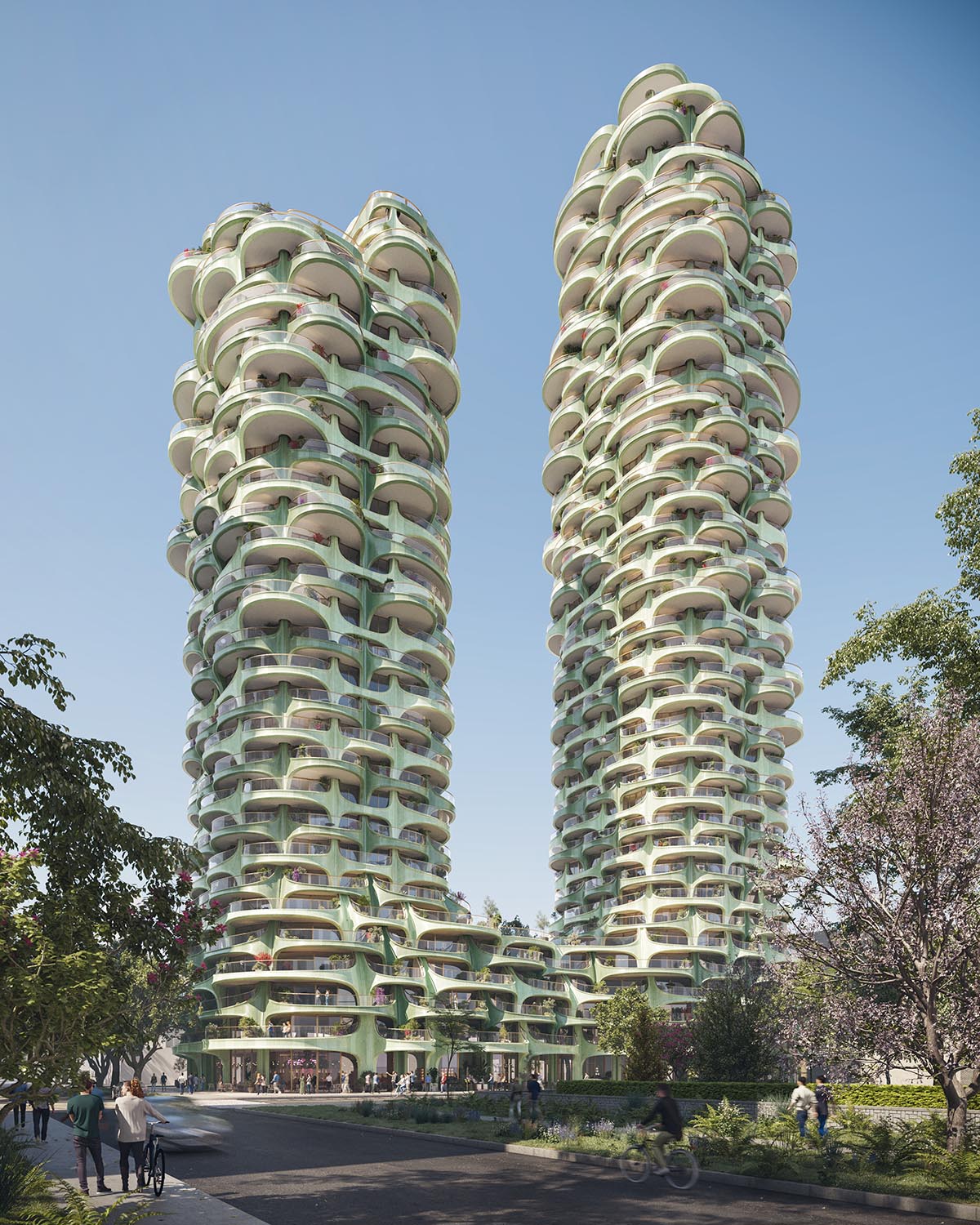 With major revisions, the new design comprises extended outdoor living areas built on a strong connection with the wilderness of British Columbia and the use of sustainable, long-lasting materials.
"We've thought long and hard about how the new design should adapt to what we're hearing not just in Vancouver, but all over the world about what people increasingly expect of their towns and cities," said Thomas Heatherwick, the founder of Heatherwick Studio.
"This is reflected in what they want from new homes."
"People want bigger and more useable outdoor spaces that create extended living areas, allowing them to take their work or recreational time outside. They want buildings with solidity, personality and depth that feel permanent. We saw a real need to better connect the towers with the surrounding nature and to offer substantial materiality that feels long lasting."
"Our vision is based around a three-dimensional framework concepted as ceramic glazed terracotta, which strikes the right balance between privacy and the incredible views in all directions – whether it's Stanley Park and the mountains beyond or towards the harbour and English Bay," he added.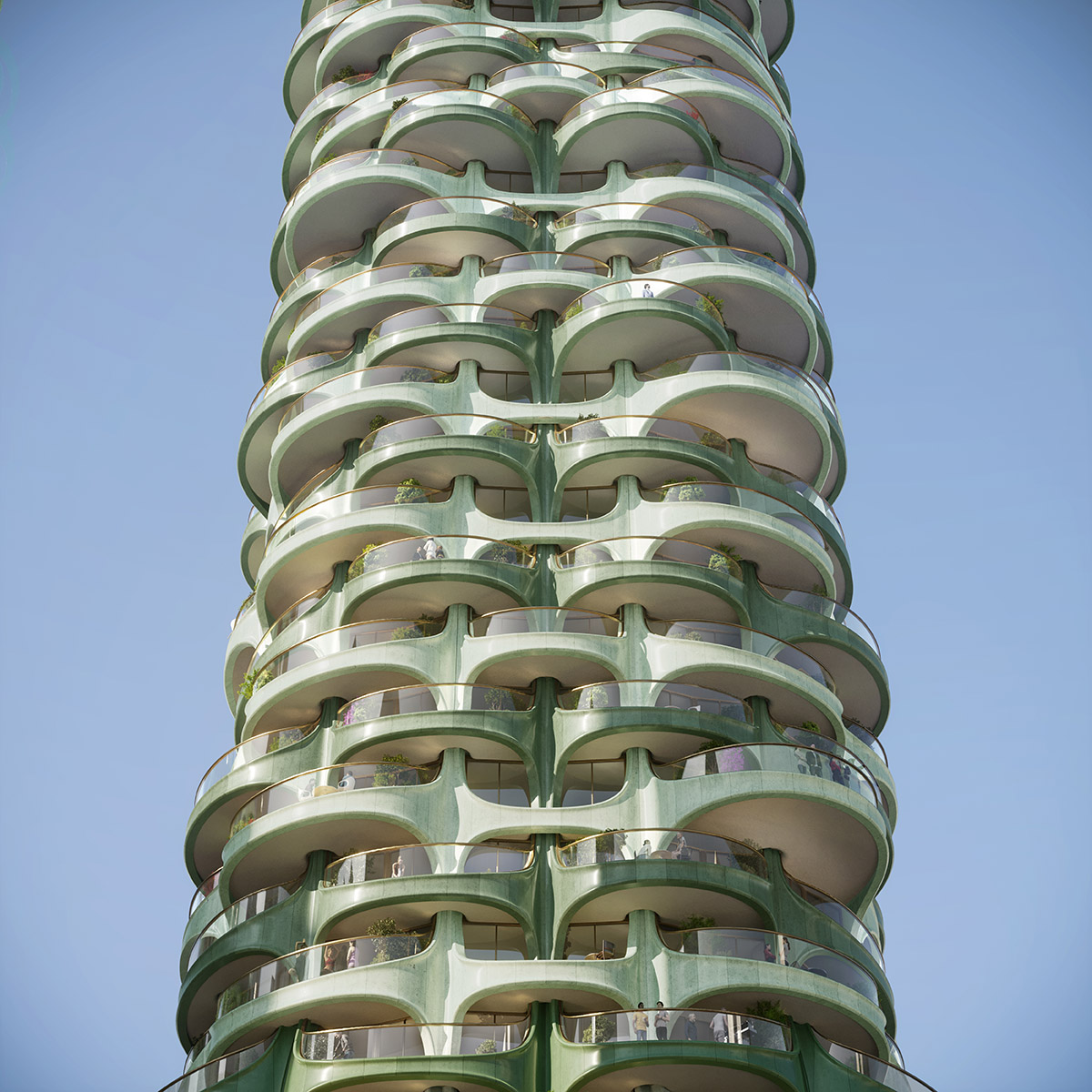 1700 Alberni is set to be built in West End neighborhood of Vancouver, the towers will contain 387 residences in a 30-storey East Tower and a 39-storey West Tower, the two towers will have a shared podium.
The concept includes a range of amenities including a pool, gym, spa, wellness facilities and an outdoor terrace.
The 39-story-hieght building will reach at 117 metres (385 feet).
The general character of the building is informed by "an architectural scale woven pattern that interlocks to create the generous outdoor living spaces that characterise the project," according to the designer Thomas Heatherwick.
As part of the new design, the project's two towers have been repositioned to be adjacent to each other to provide non-restrictive views of the neighbourhood.
The towers' soft lines and intricate latticework, provide a beautifully elegant silhouette. Through a thoughtfully curated ground plane the pedestrian experience is enhanced with continuous podium terraces and recessive balconies allowing for more natural sunlight, and strategically placed plantings offering a rich expression of biophilia.
The sculptural appearance of green-colored balconies is more visible in detail, they are varied in sizes to create "an intricate latticework" in the façade. The studio draws inspiration from "the repetitions, rhythms and softness found within the surrounding nature."
"Our design offers a profound new flexibility for residents to live and work through the creation of generous and flexible outdoor rooms.
"We have taken influence from the repetitions, rhythms and softness found within the surrounding nature to find a more welcoming and less imposing addition to the Vancouver city-scape," said Stuart Wood, Group Leader and Partner at Heatherwick Studio.
"1700 Alberni will create a breathing space for its residents and the local community, with publicly accessible boutique retail amenities likely to include a destination restaurant, as well as covered and open outdoor spaces."
"This building's natural lines and communal outdoor grounds will embrace the local community it serves and is a testament to the innovation and ambition of Kingswood Properties and Bosa Properties, who share our excitement and vision for Vancouver," added Wood.
"It's hard to overstate how spectacular the city of Vancouver really is unless you have had the opportunity to experience it. Heatherwick Studio has translated the wild sensibility of the majestic mountains, lush forests and expansive ocean that surrounds us into an architectural form that will allow people to feel like they are truly within it all," said Colin Bosa, CEO of Bosa Properties.
"It is all about the relationship with the natural world, and we are really excited to see this landmark contribute to the thriving diversity of the West End."
"Each residential building will have generous balconies that function like outdoor rooms, and invite residents to work or socialise with stunning views that stretch from Vancouver harbour and the North Shore Mountains to English Bay and Vancouver Island. This allows a seamless connection between urban living and Vancouver's great outdoors," Bosa added.
Heatherwick Studio was founded by Thomas Heatherwick in 1994 in London to bring the practices of design, architecture and urban planning together in a single workspace.
Known with its nature-driven philosophy, the studio designed 1000 Trees in Shanghai and the studio completed a floating Little Island on the Hudson River which opened to the public last year.
Project facts
Project name: 1700 Alberni
Architects: Heatherwick Studio
Location: Vancouver, Canada
Site area: 38,900 sqft
Building area: 430,000 sqft
Design Director: Thomas Heatherwick
Client: Kingswood Properties / Bosa Properties
Group Leader: Stuart Wood
Project Leader: Laurence Dudeney
Deputy Project Leader: Ana Diez Lopez
Technical Design Leader: Stuart Macalister
Project Team: Keti Carapuli, Luke Squires, Matthijs la Roi, Ondrej Pokoj, Kong Hoang
Head Of Making: Jeff Powers
Site Architect: Perry and Associates
Structural Engineer: Glotman Simpson
Mechanical & Electrical Engineers: Intergral
Façade Consultant: RDH
All images © Narrativ, courtesy of Heatherwick Studio.
> via Heatherwick Studio