A local's view on Heatherwick's 1000 trees in Shanghai as it nears completion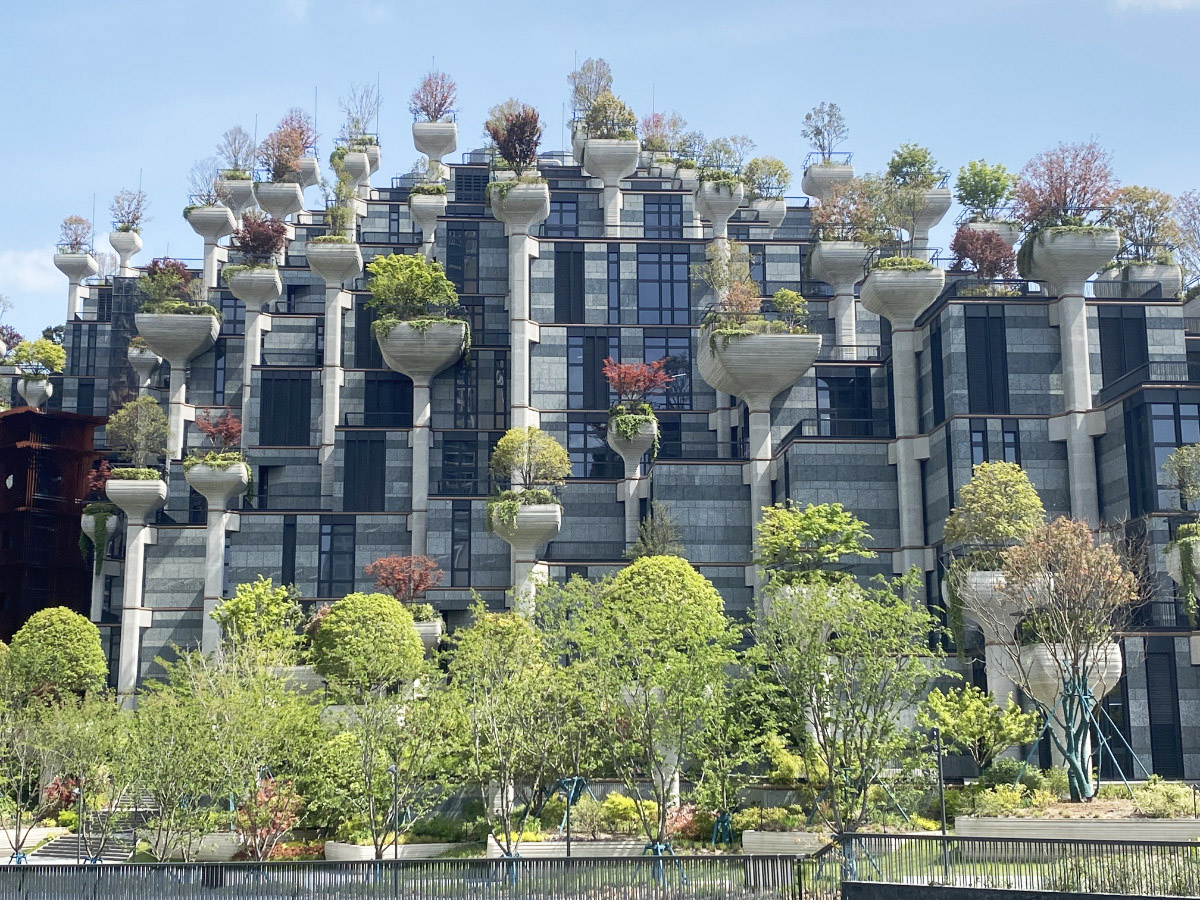 Debuted a little more than 10 years ago, Heatherwick Studio presented a stunning pavilion named The Seed Cathedral at the 2010 World Expo in Shanghai, China. Measuring just 15 metres high, 10 metres tall and 7.5 metres long, the pavilion poetically explores and investigates the relationship between nature and built environment through its ephemeral yet powerful form.
Today, Heatherwick Studio has broken ground again on the same land, anticipating the completion of a multi-use complex called 1000 Trees, spanning 300,000 square meters in the heart of Shanghai, almost 2666 times the size of the studio's first project in China.
Given the immense success of the Seed Cathedral back in 2010, Heatherwick Studio quickly became one of China's most sought after designers to join the country's wave of real estate boom.
The Seed Cathedral. Image © Iwan Baan
Initially conceived in 2013, the project has been under development and construction for over seven years. Anticipation builds as the scaffolding came off recently, revealing a direct and rather peripheral interpretation of the traditional Chinese 'mountain-water' ideology. Within those two 'mountains', the developers hopes to redefine retail experience for consumers in China, and spoil them with a wide range of retail, restaurants, galleries, hotels and entertainment.
Having grown up in Shanghai, I have witnessed much of the demolition and mushrooming of commercial blocks. Uprooted and cleared from this strip of land was a lush and leisurely open green space. Today, it has been replaced by dense engineered terrains made up by thousands of individually potted trees arranged at varying heights, forming the illusion of a 'picturesque' mountain-scape.
It has changed the urban landscape in Shanghai forever.
Notably, the neighboring M50 district to site is a contemporary art district made up of several dozens of warehouse spaces left behind from the 1930s (which attracted many artists to live and work here due to the area's cheap rent and disused large spaces), and offers an edgier subculture to Shanghai's fast-paced metropolitan lifestyle. A popular graffiti wall that runs along the 1km site boundary has been knocked down and the area polished squeaky clean. Not only has the site lost part of its industrial and authentic flavour, the rapid urban growth in China has led to the eradication of heritage and culture, and in this case, thousands of spritz-and-spray artworks by graffiti artists from all over the world.
In an endeavor to retrieve some of the area's street art qualities, the building's north facade is devoid of planting, and instead desires to be a tall mural where the developers have taken to opportunity to invite a few famous street artists around the world to leave their mark on what the area used to be remembered for.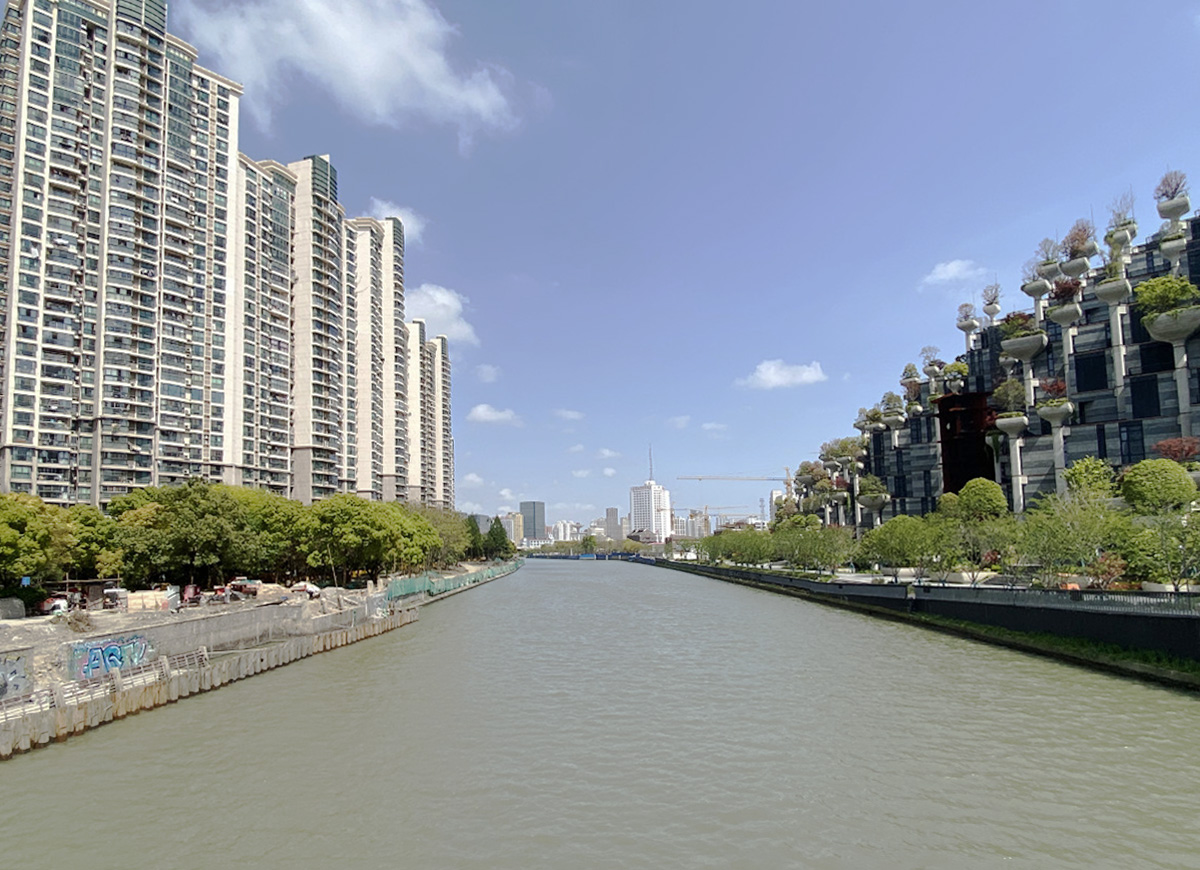 There is undoubtedly a tremendous amount of effort in envisioning "1000 trees" among densely arranged housing blocks. Thomas Impiglia, who leads the design team at Heatherwick Studio, mentioned that "everything around the north side of the river is like a copy paste of high rise tower forming incredibly imposing, claustrophobic and demoralizing wall of facade of almost identical towers."
Indeed, the building appears to be in an odd relationship with its surroundings; architecture that can only be classified as the by-product from Chinese real estate rush that densely houses tens of thousands of people. The dialogue across the river is subtle yet continuous; Should 1000 Trees stand out from its surroundings, become one of them or get muddled in between?
The studio stated that "Our vision was to create a place of respite within the city where we could raise the landscape up into the air in a very gentle and serene cascade from the river, wrapping around many of the previously derelict factory buildings which have been restored and integrated into the mountain-scape', and not only did the scheme have to 'relate to the park and arts district and, while meeting the client's requirement for a large and dense development, would have interest at a human scale."
1000 Trees attempts to find solutions to complex programmatic requirements yet maintaining a level of sophistication and interplay between commerce and architecture, city and nature. Cascading balconies, expressed structural columns, and theatrically composed landscape is nevertheless an improvement from the residential blocks and encourages the artistic character of the area.
The name "1000 Trees" loosely strings our imagination along envisioning a utopian setting, surrounding and supported by nature, or perhaps even a charity project, planting 1000 trees in a greenery-deprived neighborhood in Shanghai? Here the design made a bold move by rooting up trees from the ground and lifting them up several storeys tall on individual planters for decoration. Unfortunately, trees are not static objects for mere visual pleasure; they have been sustaining life on Earth, and live much better when rooted on the same ground.
The studio however, stated that through using the "tops of the columns as large planters for thousands of trees and shrubs' could become a prominent feature of the building and articulate its mass more finely."
Only time would tell how the trees will be able to adapt to their new potted home.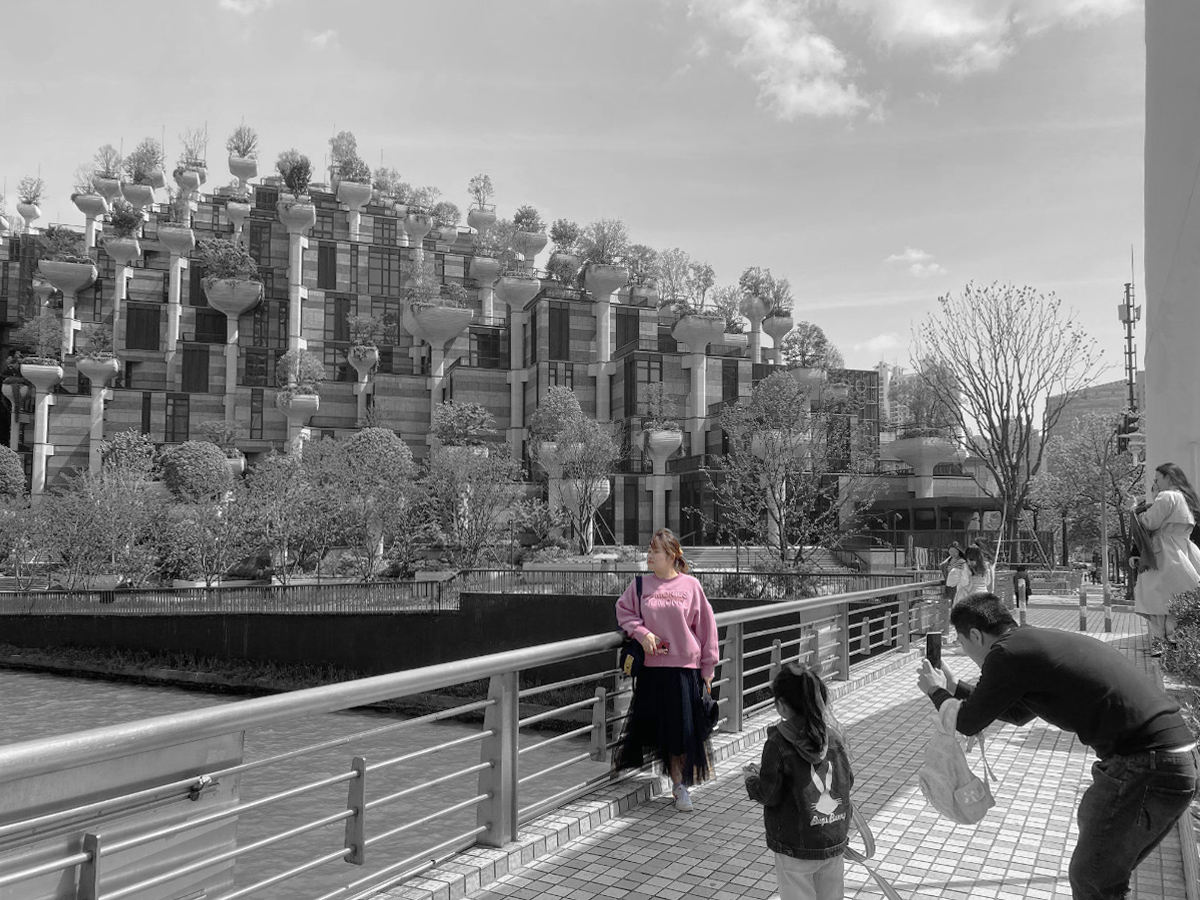 With only a few months left before its official opening, 1000 Trees have already garnered much attention and exposure from locals in Shanghai and netizens around the world. Architecture nowadays not only have to function as practical structures for people to live and work, more and more so, people are expecting architecture to have an exuberance of drama and surprises, accompanied with prime locations and spots to take a nice selfie. A structure that has been consistently pilling and drilling for over the last 7 years; and inserting thousands of concrete pillars and columns with trees as decoration; It undoubtedly raises questions regarding the future of urban design.
Heatherwick studios has been prolific during recent years, having completed the Vessel in New York, as well as the public yet private Little Island that have opened recently to the public, featuring similar potted 'pillars'.
Looking back at the Seed Cathedral, it is a compelling example of how clear and impactful small buildings can elevate public awareness and raises question for the future of urban design, by delicately presenting seeds of plants that symbolise the beginning of life.
All images © Flora Jing Lin Ng unless otherwise stated.